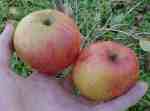 .....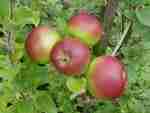 .....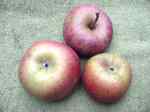 .....
LEICESTERSHIRE APPLES NEWS 2014
...................... 2015..... 2014..... 2013..... 2012..... 2011..... 2010..... 2009



GRAFTING COURSE ON SAT 21 FEB 2015 IS FULL.
GRAFTING COURSE ON SAT 28 FEB 2015 IS FULL.
The course will run again next year. 3rd Sat in Feb 2016.

(Scroll down the page for details/pics from the last course we gave).


FUTURE EVENTS 2014-2015
Wed 28 Jan 2015, Fleckney Gardening Club, Fleckney Silver Band Hall, Apples talk, 8pm. Private group.
Mon 9 Feb 2015, Apples talk, Leicestershire Fuschia Society, 7pm-8pm. Private group.
Tues 10 Feb 2015, Apples talk, Ashby de la Zouch Civic Society, 7.30pm-8.30pm. Private group.
Sat 21 Feb 2015, Grafting Course, 10am - 3pm, Cosby Methodist Church Hall. £25. FULL.
Sun 22 Feb 2015, Grafting Workshop, 11am-1pm. Private group, St. Hugh's Church Hall, Market Harborough.
Sat 28 Feb 2015, Grafting Course, 10am - 3pm, Cosby Methodist Church Hall. Email to book, or for details. £25.
Fri 24 Apr 2015, Apples talk, 7pm-8pm. Details tba. Countesthorpe. Private group.
17 Sept 2015 Apples talk, Oadby Trefoil Guild, details tba.
Sept 2015; exact date tbc. Apples talk, Belper, Derbys.
Nov 2015; 3rd Wednesday. Apples talk, Brooksby Gardening Society. Private group; Queniborough.
-----------------------------------------------------------------

Buy Leicestershire Apples





------------------------------------------


PAST EVENTS & NEWS


ASHBY DE LA ZOUCH HISTORICAL SOCIETY
Melanie Wilson gave a talk on Leicestershire Heritage Apples on Mon 8 Dec to about 40 people. The talk included a mention of our newly-discovered Packington apple, which we intend to propagate in February 2015.

9 Dec 14


LEICESTERSHIRE ORGANIC GROUP
Nigel and Alison Deacon spoke about Leicester Heritage Apples to Leicestershire Organic Group at Knighton Parish Rooms on Fri 14 Nov at 7.45. The talk began with an overview of what makes a heritage apple. The ways in which most of the missing Leicestershire apples were located were described in some detail. The evening finished with an apple tasting; Nigel and Alison had brought samples of about 40 varieties of apple, and fourteen of these were sampled by about half of the audience.

For the curious, the apples tasted were: Allen's Everlasting, Ard Cairn Russet, Burford Redflesh, Croft Late Seedling, D'Arcy Spice, Durrant's Apple, Grenadine, Hidden Rose, May Queen, MM106, Packington, Pitmaston Pineapple and Wickson. The three favourites for the evening seemed to be Hidden Rose (its crimson flesh and good flavour being really striking), Durrant's apple (with its extraordinary flavour and sweetness) and Packington (a very pleasant, low-acid Leicestershire apple with a soft texture).

15 Nov 14


SAPCOTE APPLEFEST
Sat 18 Oct, 11am - 2.30pm, Sapcote Methodist Church Hall. Another worthwhile day at this well-known local apple event. Lots of delicious apple recipes cooked by people in the village using locally grown apples.

18 Nov 14


BROCK'S HILL FOOD FAIR
Held at Brock's Hill, Oadby, Sunday Oct 12th, 10am-3pm. Lots of visitors during the day after a slowish start; apple tastings attracting a lot of interest as usual. The varieties available for tasting were: Laxton's Fortune, Pitmaston Pineapple, Claygate Pearmain, May Queen, Burford's Redflesh, Bieinrode, Weirouge, Packington. The most highly rated were Laxton's Fortune, Pitmaston Pineapple and May Queen. The interesting sweet-sour taste of the redfleshed apple Bieinrode also attracted comment, and the Packington apple was favourably rated.

Some interest was expressed in our grafting workshops, which will be running during February and if there is sufficient demand, in March.


DONISTHORPE APPLE DAY
4 Oct 14 in the community orchard; 11am-4pm. LHAP attended the event; after a wet start it turned into a successful day; lots of visitors in the afternoon, a story-teller (Gareth King), lots of stalls, and the result of a cidermakers' competition with about a dozen entries.

As usual we allowed people to taste the apples on display; we had a different selection from last year because everything is ripening about three weeks earlier. Apples tasted: Laxton's Fortune (slightly past its best), Soulardii (suprisingly good for a crab), Burford's Redflesh, Blenheim Orange, D'Arcy Spice, Redlove Circe, Pitmaston Pineapple, Claygate Pearmain and our new find, Packington, from Leicestershire.

The Pitmaston Pineapple was rated highly by everyone. A surprising number liked the Burford Redflesh, which is often sour and astringent; this year it is better than usual.



4 Oct 14


SURPRISING PICTURE
Yesterday evening I sliced through the first fruit of one of our rare varieties and saw this: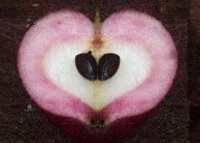 Unfortunately I had to take the picture under electric light, so the picture quality isn't brilliant. The variety is Marriage Maker, from Leicestershire. Other apples from the tree had a similar (but less perfect) pattern. I was surprised that the apple was pink fleshed.

30 Sep 14

APPLE TASTING
Apple tasting held this afternoon; 8 varieties:
Greensleeves (England)
Breunsdorfer (East Germany)
Dubbelman (Sweden)
Redlove Circe (Switzerland)
Ribston (England)
Laxton's Fortune (England)
Packington (Leicestershire, England)
Pink Pearmain (USA)
All of these attracted good comments except Dubbelman's apple, which was somewhat past its best. Redlove Circe was better for having a week off the tree; the acidity had reduced slightly and the flavour was improved.

26 Sep 14

PACKINGTON APPLE
A big day for Leicestershire Heritage Apples: 25 Sept 2014; we have found the Packington Apple, in the village of Tonge, North Leicestershire. Information about the apple is shown on the Packington page. It's a really useful fruit; dual purpose; a very acceptable and pleasant eating apple without being too tart; it ripens around 10 Oct and keeps until Christmas, though we found quite a few to pick on 25 Sept. The tree is healthy and crops every year. It will be an exciting addition to the range of Leicestershire apple trees available from LHAP.

WOODLAND DAY, CARISBROOKE RD ARBORETUM
Another interesting event run by the Botanical Garden. The LHAP display was visited by about 150 people and much interest was shown in the flavours of the various apples we'd brought: Langton Nonesuch, Laxton's Fortune, the redfleshed Burford's Redflesh, Soulardii, Dubbelman's apple and Weirouge; Tom Putt and Ribston. All of these were rated highly by some individuals; it's surprising how much the perception of taste varies from one person to another.

POSSIBLE LANGTON NONSUCH TREE
A possible ancient Langton Nonesuch tree, photographed by LHAP in Church Langton. We have taken scionwood and are waiting to see if the fruit is what we expect. It is difficult to estimate the age since the growth habit is very slender and it has been strictly trained; however it could be upwards of 80 years.

SHUTTLEWOOD CLARKE ORCHARD
Melanie Wilson and I, as suppliers of the Leicestershire Heritage Apples to the orchard, were invited to the official opening ceremony of the 'Grow With Us' allotment project at Ulverscroft Grange at 1.45pm on Sept 5th. The various officials and donors described the recent groundwork carried out during the year. The second picture shows Melanie of LHAP and Alison Darwent of Shuttlewood Clarke about to inspect the apple trees, which can be seen in the background.

WHETSTONE NEW IMAGE
Mel Wilson gave another interesting talk on Leicestershire Heritage Apples to twenty people at Whetstone New Image on Sept 1st.

6 Sep 14

PACKINGTON APPLE
It seems that we may have tracked down the Packington apple. I am told by the owner that it is dual-purpose, ready in mid-October and will keep until Christmas. I should be investigating the tree shortly.

3 Sep 14

ARTICLE ABOUT LHAP: LEICESTER MERCURY
Full-page article in the Leicester Mercury, 2 Aug 14. This hasn't gone onto the Mercury servers yet so I'm including a scan of the newspaper page below. If you want to read it, click on the thumbnail.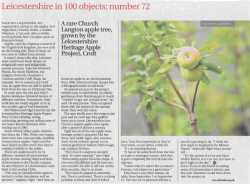 4 Aug 14

BOTANICAL GARDEN, FAMILY DAY & PLANT SALE
Another interesting day at the University Botanical Garden, Sun 29 Jul 2014, 11am-5pm; an excellent selection of plants on sale, and a lot of interest in Heritage apples. One person who had researched the history of Foxton reported that the so-called Foxton Apple does not exist and that it was a marketing exercise done many years ago by an entrepreneur living in the village. This tallies with our own findings; we have found no evidence at all for the existence of 'Foxton's Delight'.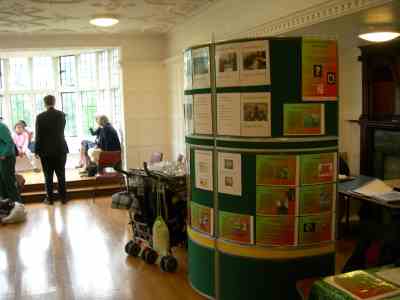 A number of people expressed interest in our grafting workshop, which will be on Sat 21 Feb in Cobsy, South Leicestershire. Please email if you would like to join us. If you prefer one-to-one guidance, we can do that as well ..... and we also had interest in our 'Working with Schools' display. If you would like us to provide the know-how and some time for a schools-based project on grafting apples and setting up an orchard, please contact us. We have done three of these already......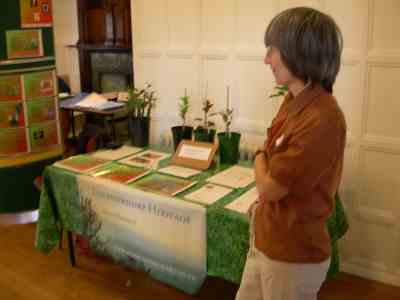 29 Jun 14

QUEENS RD ALLOTMENT SOCIETY
At the Friends' Meeting House, 7.30pm. Apples talk - the talk plus questions lasted about 90 minutes. This is the group which has had many of its apples ID'd by LHAP and which is working to safeguard the future of Queens Road Allotments. Their website is well worth a visit.

15 May 14

NUNEATON ROTARY
Apples talk, Nuneaton Rotary, Abbey Grange Hotel, 31 Mar 31, 9pm. 25 people attended, and the talk plus questions lasted about 90 minutes. We added a section on Warwickshire apples - the Wyken Pippin being the most famous. Hunt's Early and Shakespeare are also from Warwickshire, and the dry and long-lasting Birmingham Pippin; now very rare. An interesting question on rootstocks - does apple have to be grafted onto apple? The answer is generally 'yes' but apple-pear grafts are possible with a careful choice of variety. Deacons of the IOW used to sell a tree bearing both appples and pears.

1 Apr 14

SAPCOTE HERITAGE GROUP
Apples talk, 20 Mar 2014, Sapcote church hall. 25 people attended, and the talk plus questions lasted a little under two hours. Some interesting questions. One person had spotted an apple tree on a walk which was half crab apples and half eating apples and asked about it. There were also questions about apple storage and pruning of over-vigorous trees. It's worth remembering that most of the best apples for storing are those which are picked after Nov 1st. There are some exceptions; Bess Pool picked in October will also keep well.

21 Mar 14
Edited summary from the Harborough Mail:
The annual Leicestershire Heritage Apple Grafting Workshop was held at St. Hugh's Church Hall in Harborough last month. It was well-attended and the organizers, the Harborough Transition Group, succeeded in producing another 28 grafts.
The apple variety of interest this year was the Langton Nonsuch, a recently recognized heritage apple tree from Church Langton. It bears apples early, in August or September, so helps extend the apple season.
Judith Egan, from the Transition group, said "these grafts required practice and skill, lining up the scion to the rootstock, so that the nutrification can supply the newly-grafted scion. For the first year or two, these new trees are kept in pots in a sheltered area, watching and waiting to see if they have been successfully grafted."
Full report.

14 Mar 14

LATE APPLES
We have noticed with some suprise that we still have apples on two trees - Whitwick Pippin and Croft Late. The Whitwick Pippin skins are going rather tough, but the Croft apple is still palateable on 11 Mar. These are the latest apples we've seen this year. They were left on the trees as an experiment; they are best picked, for storing, on or around New Year's Day.

13 Mar 14

NEW GRAFTS
A few of the grafts done in 2014, using scions from collectors, redfleshed seedlings, and ancient trees which may be lost varieties: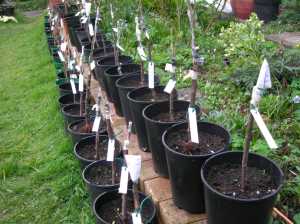 PRIVATE GRAFTING SESSIONS
Two students, five-hour session, 8 Mar.

GRAFTING AT ST. MARGARET'S PRIMARY SCHOOL
Another project arranged by Dave Goodsell; showing young students how apple trees are constructed. This session took place on 27 Feb 2014 at the St. Margaret's Primary School in Stoke Golding. The project was overseen by a number of volunteers and staff members, and Claire and Nigel of Leicestershire Heritage Apples did the grafting. The children taped up the grafts and potted them. In a year's time they will be planted out in a nursery bed, then will progress to a new orchard nearby. Click on the thumbnails for full size pictures. (Thanks to the Principal, Julie L. Wright, for allowing the pictures to go online.)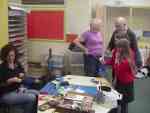 &nbsp &nbsp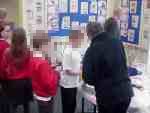 &nbsp &nbsp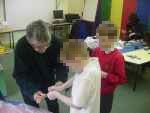 &nbsp &nbsp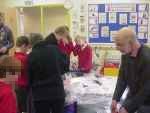 &nbsp &nbsp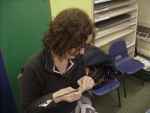 &nbsp &nbsp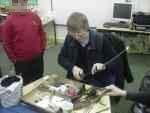 &nbsp &nbsp

28 Feb 14

GRAFTING WORKSHOP, MARKET HARBOROUGH
Another productive workshop took place at Hughes Hall, Granville Rd, Market Harborough, on 23 Feb 2014. Melanie Wilson gave an overview of why genetic diversity is important followed by an introduction to the cleft graft; Nigel described how a tree grows and how one recognizes scion wood and introduced the whip & tongue graft. The twelve participants produced two new trees each in the two and a half hour session.
Trees grafted were in four categories: heritage apples, Leicestershire varieties (Martin's Custard, Langton Nonesuch, Barnack Orange and Annie Elizabeth), redfleshed, and 'other' (the 'Mere Pippin' and 'West Virginia Sweet' being notable apples which are virtually unknown and well worth growing - see our pages on these varieties).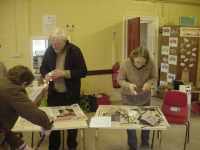 &nbsp &nbsp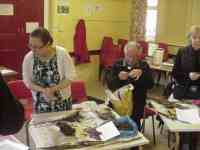 &nbsp &nbsp

23 Feb 14

LANGTON 2014 GRAFTS
Three trees from Church Langton grafted; two possibly Langton Nonesuch; the other a possible William Hanbury seedling. Two trees of each.

ST. CECILIA
The search for the Leicestershire St. Cecilia apple continues. On 18 Feb, scions were collected from three old trees in the St. Joseph's area, near the Abbey. These have now been grafted. We await with interest (in three years' time) the fruit on the new trees.
St. Cecilia is a lesser-known apple bred by Friar Ailred McPike, in the 1940s, at the Abbey. Better known is the St. Ailred apple, which is available from us and from a few nurseries; both apples were bred from James Grieve x Ellison's Orange, but the last known tree of St. Cecilia has disappeared.
Judging by the parents, it will probably be a James Grieve-type apple, perhaps with a hint of anise in its flavour, with black blotches on the skin. We have no written description. The apple we found on the ground in November, which may be St. Cecilia, is shown in the second picture.

19 Feb 14
UPDATE .... trees now grafted; see below.

GRAFTING WORKSHOP, HARBOROUGH MAIL
Our event advertized in the Harborough Mail on 13 Feb 2014.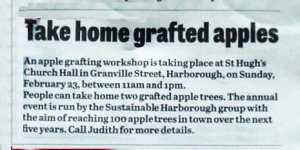 16 Feb 14

GRAFTING COURSE, COSBY
On 15 Feb 2014 seven students gathered to learn how to graft fruit trees at Cosby Methodist Church Hall from members of the Leicestershire Heritage Apples team - Alison, Claire and Nigel.
The course started at 10am and began with two short talks on various aspects of grafting and a budding exercise. The work progressed to practising the cleft graft and the whip-and-tongue graft on scions and stocks of varying thicknesses.
After an excellent apple cake prepared by Alison and an apple tasting (of several very late unusual varieties, all picked after 1st Jan) the afternoon session was used to make two apple trees each. Great concentration was shown (see the pictures below) and there was no blood.
The course concluded at about 3pm. It will be run again next year, same venue, third Saturday in February. We are pleased to see so much enthusiasm for this important horticultural skill, and extend our thanks to Claire Moore for helping to run the session.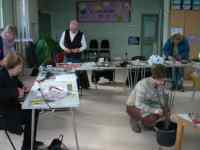 &nbsp &nbsp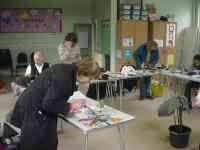 &nbsp &nbsp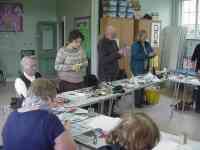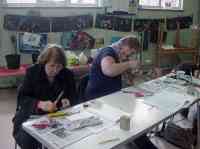 &nbsp &nbsp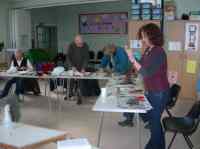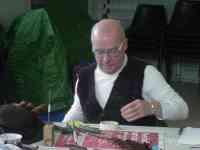 &nbsp &nbsp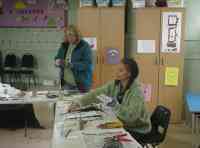 One of our participants, a Leicestershire smallholder, describes what she learned ... www.sencemeadow.wordpress.com.
15 Feb 14


PARK FARM APPLE
Another of our Unique Seedlings - first fruit: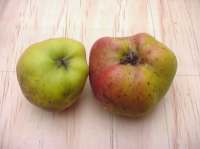 &nbsp &nbsp

The special quality of this apple is its amazingly late ripening. These apples, from a small tree in a container, were picked on 31 Jan. The fruit tastes fresh and firm; no acid, quite sweet, and a very slightly bitter aftertaste. The appearance is quite attractive and the shape is somewhat ribbed and irregular. The growth habit is very vigorous.

31 Jan 14


THIS YEAR....
The grafting season is approaching, so we will soon be busy making new trees; principally the Leicestershire Heritage varieties. However others will be done too; email if there is a particular variety which we have that you can't get anywhere else. If you can arrange collection (we do not use carriers) and can collect, we may be able to help.

We have a large number of trees to re-pot and to plant out, but the very wet weather is causing a delay. Nevertheless the trees will be dormant for a while yet, so there is no need to rush.

31 Jan 14


PLANTING A NEW ORCHARD: RAVENSTONE
Members of LHAP assisted with an apple planting at Woodstone Primary School, Ravenstone on 10 Jan 2014. The trees were Leicestershire heritage varieties. We are pleased to see local schools doing such excellent work with students and increasing their awareness of where food comes from. Click on the pictures to see the detail. (Thanks to Mr. P. Mullins for allowing the pictures to go online.)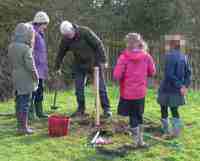 &nbsp &nbsp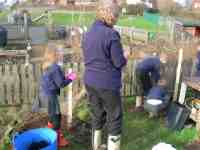 &nbsp &nbsp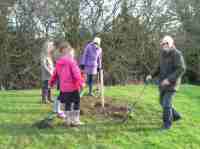 &nbsp &nbsp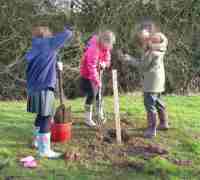 &nbsp &nbsp

10 Jan 14


APPLE TASTING
Late apple tasting done on 4 Jan 2014; these were all very late 'phase 3' varieties with concentrated flavours.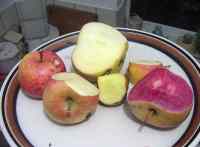 Croft Late (sweet, juicy, hints of grass/celery [hexanol]), High Cross (dry and rather acidic), Croft Late, Durrant (very sweet, parma violets, no acidity), Wickson (tart, fruity, very juicy), Grenadine (past its best; acidity gone and crumbly texture).

4 Jan 14


TREE PLANTING, STOKE GOLDING
LHAP was invited to a tree planting in Stoke Golding on 5 Dec 2013. For two years, students at Saint Martin's Catholic Voluntary Academy have been involved in learning about apples, in a project coordinated by Mrs. Doreen Rose. Stage 1 was to seek permission to investigate the gardens of local people during the apple season to investigate the wide range of apples grown nearby, especially their flavours and appearances. Local people allowed pupils to take apples away to a specially-organized 'Apple Day', and to learn a little about how to identify them.

Stage 2 was to take small pieces of wood from these trees in February, and to use the cuttings (known as 'scions') to make new apple trees.

Stage 3 was to plant a nursery bed, which is shown below. The pictures show the Head of the school, Mrs. Brenda Carson (and a student involved with the project) planting the last two trees. Students are fully involved at each stage, and eventually the young trees will be used to start a new community orchard on part of the land formerly occupied by the old Convent.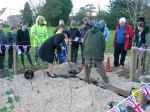 &nbsp &nbsp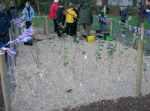 &nbsp &nbsp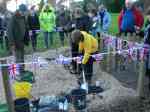 &nbsp &nbsp

9 Dec 13


ORCHARD MAPPING
I am involved with various people in mapping the community orchards (and some other orchards) of Leicestershire. This is an ongoing project. The information is shown here under 'Community Orchards in Leicestershire".

31 Jan 13

------------------------------------------



Please contact us if you would like to assist with promoting Leicestershire apples, or you have a small piece of land where we could plant trees.

Nigel Deacon / Mel Wilson