Packington Apple; a tree located by Leicestershire Heritage Apples in the village of Tonge, North Leicestershire, near Castle Donington.
The tree is a very reliable cropper; it has a crop every year. The fruit is dual purpose and is usually ready to pick around 10th October.
The fruit is a little larger than average. The flesh is white, firm and crisp, and the flavour is sweet without (like many dual purpose apples) being too acidic. The growth habit of the tree is spreading and strong, and fruit covers the whole tree; it is not a tip bearer. The apples keep until about Christmas in most years. The apples dry well, without browning. They cook well and retain some degree of firmness when cooked.
All being well, we will be propagating the apple in Feb 2015.
We have found some documentation about the Packington apple. Taylor describes it as a Derbyshire apple resembling a small Jonathan in shape and colour (ref. 1). It is apparently medium sized, conical and red skinned. (ref. 2)
The samples we have seen were predominantly green, perhaps because of the dense tree canopy; the apples would not have seen much sunlight.




....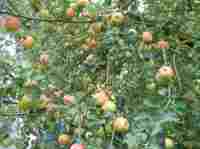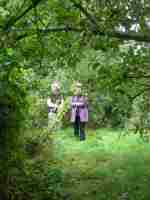 ....





Compiled by ND and MW, 2014 / Diversity website.
We are grateful to Mrs. Ida Wright of Tonge for permission to take these pictures.



REFERENCES
1. Taylor, H.V., The Apples of England, 1946.
2. The National Apple Register.