LEICESTERSHIRE APPLES NEWS
...................... 2013..... 2012..... 2011..... 2010..... 2009..... 2007

BROCK'S HILL APPLE DAY
We were at the Brocks Hill Apple Day on Sunday 11 October 2009, 11am-4pm. Information about the day is here.

Mel was on Radio Leicester's gardening programme "Down to Earth" on Nov 1, 2009, giving an update about the Leicestershire Heritage Apples Project. She can be heard here . ...this recording is reproduced by permission of Radio Leicester, with special thanks to Dave Andrews.


CURRENT WORK

MISSING APPLES
We are looking for the following varieties: French Codlin (a.k.a. Leicester-Burton Pippin), Marriage Maker, Prince Charles, Foxton's Pride (a.k.a.Foxton's Favourite), Belvoir Seedling, Langton Nonesuch, Cross's Pippin, St. Cecilia, Foxton's Delight.

PROGRESS:

UNIQUE SEEDLINGS
About a dozen new unique seedlings have been investigated in Leicestershire in 2009. Most are average, but two or three look very promising and we will be propagating and describing these in early 2010.

FOXTON
Some very old trees have been found in and around Foxton village and locks. These are being investigated. Two trees which may be "Foxton's Pride" have been located, one of them in a private garden. Propagation of these is a top priority. It also seems that there may be a separate 'Foxton's Delight'. Information is sought.

FRENCH CODLIN
A possible lead to a French Codlin tree is being followed up in Derby.

LANGTON NONESUCH
A possible lead to a Langton Nonesuch tree is being followed up in Germany.

OTHER NEWS

ASHBY
A reference has also been found to an Ashby Seedling, mid 1800s, possibly Leicestershire.

APPLE GUARDIANS
Apple guardians have been found for "Martin's Custard" (Leics) and Whitwick Pippin (Leics unique seedling), also George's Red (a lost Essex apple), Mere Pippin (a very late Wiltshire seedling) and West Virginia Sweet (a possible Kidd's Orange clone).

STONEY STANTON
A 150-year old tree, variety unknown, has been located,which propagates from branches. This is being investigated.

KIRBY MUXLOE
Very late eater found at side of motorway bridge on A47 in remains of old orchard; has been propagated from the felled tree. I am indebted to Ken Wheatley who alerted me to it: "orange fruits which hang most of the winter". I have grafted a new tree which will fruit for the first time this year. By some oversight I seem to have missed photographing the blossom. Probably a recognised variety.
UPDATE, Dec 09....this has fruited. I am sure it's MM106.



UNIQUE SEEDLINGS

WHITWICK COOKER
Sister tree to the "Whitwick Pippin" has been located in Whitwick village, thanks to Peter Edwards. Both apples are seedlings, produced from pips from the same apple. The Whitwick Cooker is a rich-flavoured apple keeping until after Christmas; excellent cooker; slightly ribbed, and similar to MM106, Burford Yellow, Stoke Edith Pippin, etc. Will be propagated when our resources allow.

Picture shown below, with Whitwick Pippin (red) for comparison.


....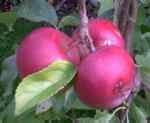 ....

compiled by Nigel Deacon / Diversity website