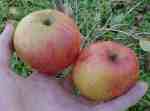 .....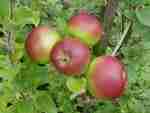 .....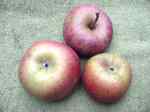 .....
LEICESTERSHIRE APPLES NEWS 2013
...................... 2014..... 2013..... 2012..... 2011..... 2010..... 2009



We are now taking bookings for a grafting workshop, Feb 2014. Please send an email for details. Gardening and volunteer groups especially welcome. The venue will be in South Leicestershire.
UPDATE - COURSE NOW FULL. WILL RUN AGAIN NEXT YEAR.
If you've missed the course ...one-to-one tuition still available. Email to arrange a date.

FUTURE EVENTS

Sat 15 Feb 2014: Grafting workshop, Cosby Methodist Church Hall, 9.30 for 10; email for details.
Sun 23 Feb 2014: Grafting Workshop, Mkt. Harborough. Private group; date/venue tbc.
Thur 20 Mar 2014: Sapcote Heritage Group. Apple talk, private group. Details tbc.
Mon 31 Mar, 7.30pm. Nuneaton Rotary Club. Apple talk, private group.
-----------------------------------------------------------------

Buy Leicestershire Apples

------------------------------------------


PAST EVENTS & NEWS


PLANTING A NEW ORCHARD
Members of LHAP assisted with an apple planting at Woodstone Primary School, Ravenstone on 10 Jan 2014. The trees were Leicestershire heritage varieties.

10 Jan 14


APPLE TASTING
Late apple tasting done on 4 Jan 2014; these were all very late 'phase 3' varieties with concentrated flavours.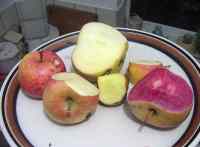 Croft Late (sweet, juicy, hints of grass/celery [hexanol]), High Cross (dry and rather acidic), Croft Late, Durrant (very sweet, parma violets, no acidity), Wickson (tart, fruity, very juicy), Grenadine (past its best; acidity gone and crumbly texture).

4 Jan 14


TREE PLANTING, STOKE GOLDING
LHAP was invited to a tree planting in Stoke Golding on 5 Dec 2013. For two years, students at Saint Martin's Catholic Voluntary Academy have been involved in learning about apples, in a project coordinated by Mrs. Doreen Rose. Stage 1 was to seek permission to investigate the gardens of local people during the apple season to investigate the wide range of apples grown nearby, especially their flavours and appearances. Local people allowed pupils to take apples away to a specially-organized 'Apple Day', and to learn a little about how to identify them.

Stage 2 was to take small pieces of wood from these trees in February, and to use the cuttings (known as 'scions') to make new apple trees.

Stage 3 was to plant a nursery bed, which is shown below. The pictures show the Head of the school, Mrs. Brenda Carson (and a student involved with the project) planting the last two trees. Students are fully involved at each stage, and eventually the young trees will be used to start a new community orchard on part of the land formerly occupied by the old Convent.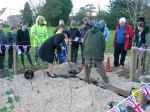 &nbsp &nbsp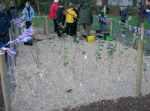 &nbsp &nbsp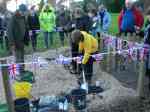 &nbsp &nbsp

9 Dec 13


APPLE HUNT
Three locations visited at Oaks-in-Charnwood, 13 Nov 13. The apples found are shown below.
The first is from a tree which we estimate is probably about 100 years old, close to the church; very tall and either on its own roots or on a seedling rootstock. It resembles Golden Spire in shape, and the two apples we saw both had a pronounced raised line running from the stalk end towards the eye.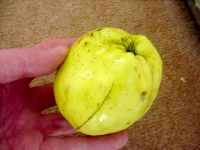 &nbsp &nbsp

The second batch of apples was from a location closer to the abbey. There were two trees planed about three paces apart, and a lot of fruit on the ground, five apples of which are shown below. Some of the apples looked like Blenheims, but a few had a passing resemblance to James Grieve. The trees were so tall it was impossible to decide which fruit had come from which tree. One of the trees is the suspected 'St. Cecilia', which is a cross between James Grieve and Ellison's Orange; see the two apples at the top left of the photo.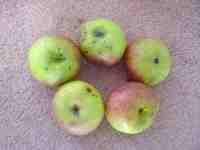 &nbsp &nbsp

The third site was an abandoned garden; part of a larger estate and not touched for many years. There were two ancient apple trees in evidence, but no fruit. A visit next year may be worthwhile.

13 Nov 13


OAKS-IN-CHARNWOOD
Thurs 7 Nov 2013, 7.30pm. Leicestershire Heritage Apples talk, by Mel Wilson.

Also - we have an indication that there may be a 'Saint Cecilia' apple growing locally, raised by Friar Ailred McPike at the Abbey, which is very close by.

8 Nov 13


A DELICIOUS APPLE
A few of you may recognize this famous apple: Wickson. The taste is quite unlike any apple I've encountered; sweet, crunchy, aromatic and tart. It is usually no larger than a golf ball. The tree is vigorous and healthy and judging by the vigour and leaf appearance I suspect it may be triploid. A Wyken Pippin is included, for scale.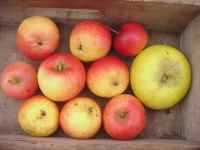 &nbsp &nbsp

3 Nov 13


SAPCOTE APPLEFEST
Sat 19 Oct 2013; at Sapcote Methodist Church Hall; 11am - 3pm. An excellent turnout; the standard of the baking is evidently becoming known around the county. Leicestershire Heritage Apples were there - along with an expert composter, a large number of locally grown apples, and a local honey producer.
We were asked to put names to some local apple trees (Howgate Wonder, Golden Noble, James Grieve and the ubiquitous Bramley, which is sometimes difficult to identify) and gave tastings of some unusual apples, some of which were quite rare. The spectacular colour of Grenadine, an apple originating in California, attracted some attention, as did the locally-discovered "Chapman's Colossus", which was grown from a pip planted by a son of Mrs. Chapman of Croft in about 1955.
It was interesting to compare the this apple with a Howgate Wonder supplied by a resident of Sapcote. The two apples were identical in smell, colour, ripeness, and skin texture; both were starting to become sticky. The eye (opposite the stalk end) was very slightly different, but the other resemblances were so striking that we believe the Chapman's Colossus to be a Howgate Wonder seedling.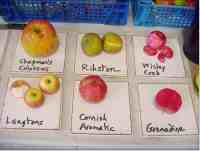 &nbsp &nbsp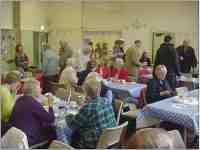 &nbsp &nbsp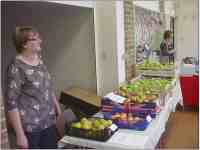 &nbsp &nbsp
&nbsp &nbsp

19 Oct 13


BROCK'S HILL APPLE DAY
Sun 13 Oct 2013; at Brock's Hill; 11am - 3pm. Appalling weather: raining all day, but there was still a reasonable turnout; we spoke to about 40 sets of people over the four hours, and there was some interest in our grafting workshops. The first of these is scheduled for the third Saturday in February. Email for details.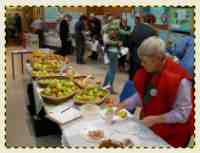 &nbsp &nbsp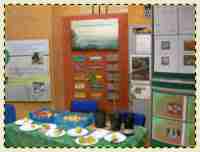 &nbsp &nbsp

13 Oct 13


DONISTHORPE APPLE DAY
Sat 5 Oct 2013; at Donisthorpe Community Orchard; 11am - 4 pm. The event was very well-attended, on a pleasant warm day with no rain. At the apple stall we talked to about 100 people over the five hours. A number of people brought in apples to be identified: we saw Discovery, several Bramleys, James Grieve, Howgate Wonder and Wyken Pippin.
UPDATE....I was also brought three enormous apples by a person local to Donisthorpe, which I thought might be related to Bess Pool, but which didn't appear quite right for that variety. On keeping these for a fortnight, they have gained more colour. If you are the person who brought them, and read this - I am now confident that they are Bess Pool.
There was a wide variety of activities - some interesting historical displays, expert composters giving advice, children's games, and sizzling bacon on offer. There was even a cidermaking competition; to enter, the cider must contain some juice from Donisthorpe Orchard. The ciders will be judged in a year's time.
We had a display of about 50 sorts of apple (some supplied by Sally Cunningham) and a dozen heritage varieties to taste: from Leicestershire, further afield, and abroad: Laxton's Fortune, Scarlet Surprise, Mott's Pink, Chapman's Colossus, Pink Pearmain, Langton's Nonesuch, Sam Bell, Ribston, Sunset, Breunsdorfer, Weirouge and Wyken Pippin; these were varieties from the LHAP collection in good condition on the day.
Laxton's Fortune and Leicestershire's Langton's Nonesuch were enjoyed by many; also the redfleshed varieties. Mott's Pink and Breunsdorfer were rated very highly.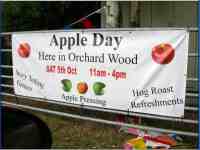 &nbsp &nbsp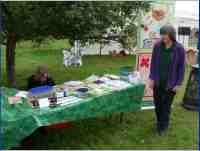 &nbsp &nbsp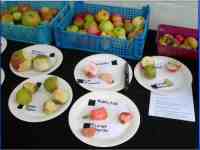 &nbsp &nbsp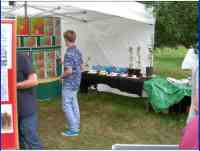 &nbsp &nbsp

6 Oct 13


BURBAGE
Thurs 3 Oct 2013: Melanie Wilson of Leicestershire Heritage Apples gave an illustrated talk to Burbage Gardening Society in Burbage Congregational Church, 7pm. About 50 people attended. Lots of interest, as ever, and many questions from the audience.

4 Oct 13


CHURCH LANGTON
We are involved in identifying some interesting apple trees at Church Langton allotments.

3 Oct 13


EARLY APPLES
A lot of our early apples have been attacked this year by sawfly and will not keep, so priority is being given to cidermaking. There are some notes on how to do this on our cidermaking page.

1 Oct 13


BILLESDON
Mon Sep 30 2013: Melanie Wilson of Leicestershire Heritage Apples gave a well-received talk in the Old Baptist Chapel to Billesdon & District Gardening Society. There is much interest in growing local food, and especially in some of the local varieties which we are making available. We received more invitations to look at ancient apple trees in the neighbourhood; it will be interesting to see what they contain.

30 Sep 13


LANGTON'S NONESUCH
Our last Langton's Nonesuch tree of the year was collected today. However, there are still some other Leicestershire trees left, and we will be grafting lots more in February for collection next September. Those in stock can be ordered from GB-online or you can send us an email if you wish to discuss first.

29 Sep 13


QUEEN'S RD ALLOTMENTS, LEICESTER
We have been asked to identify, as far as possible, the apples from a number of old trees on the Queen's Road allotments, Leicester. Many of the trees have not been tended for some years. This leads to a gradual buildup of disease and virus on the branches, which often affects the colour, shape and size of the fruit. The identifications are a 'best match' based on:
appearance and taste of the fruit
time of ripening
growth habit of the tree
appearance of blossom (photographed earlier in the year)
timing of blossom

Click on the thumbnail for the detail, which shows the work in progress. I am grateful to plant expert Sally Cunningham for help with some of the IDs.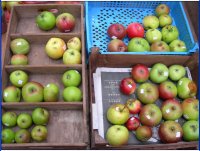 28 Sep 13


STOKE GOLDING HERITAGE SOCIETY
Thur 19 Sep 2013: Talk, Heritage Apples and how we found the lost Leicestershire Apples; Nigel and Alison Deacon. Stoke Golding, Baxter Hall, 7.30pm, organized by Dave Goodsell.

About 30 people attended; the talk covered the origin of the sweet apple, estimating the number of apple varieties, ways of propagating apple trees, how an apple becomes a known variety, apple breeding, and why local varieties are important. We talked about our efforts to recover the lost Leicestershire varieties, and some of the finds we've made on the way.

Samples of about thirty varieties of apple were supplied, some of them unusual, to taste after the talk. A few of them are shown below. The redfleshed and the Langton's attracted some attention, along with the enormous 'Chapman's Colossus' which weighed 16oz (1 lb). Apples were also brought along to be identified. The ubiquitous Paradise Apple surfaced again, along with Spartan, Discovery and a possible Warner's King making a determined attempt to look like a Bramley.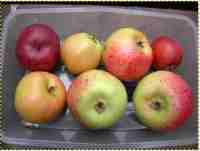 &nbsp &nbsp
&nbsp &nbsp

L to R, top row: Burford's Redflesh, Mott's Pink, Langton Nonesuch, Scarlet Surprise. Front row: Mott's Pink, 2 x Langton Nonesuch.
Second picture, largest to smallest: Chapman's Colossus (Leicestershire Unique Seedling or LUS), Discovery, Hall's Pink, Croft Cider, Croft Red Devil (LUS), Sam Bell (LUS), Wyken Pippin, Scarlet Surprise.
Also available for tasting: James Grieve, Spartan, Grimes Golden, Ellison's Orange, Red Ellison's, St. Edmund's Russet, Newton Wonder, Jonathan, Cox's Pomona, Laxton Superb, Bramley.
UPDATE...there is a brief writeup of the talk at http://www.stokegolding.co.uk/the_stoker/Nov_13.pdf

20 Sep 13


SHARNFORD GARDEN EVENT
Sat 14 Sep 2013: at the Evergreen Hall. 2pm-4.30pm.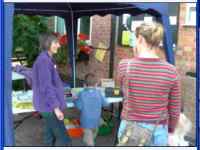 &nbsp &nbsp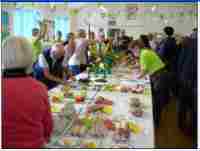 &nbsp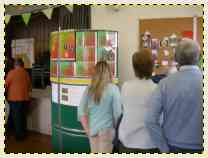 &nbsp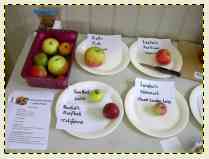 &nbsp

Pictures show 1) a compost expert talking about worms, 2) a full Evergreen Hall, 3) the Leicestershire Heritage Apples display.

There was a lot of interest, particularly in the grafting workshops. Preserving a known apple tree by grafting onto a new rootstock (without necessarily knowing what it is) is an idea which many people like. £25 for a new tree if you're interested - for example, if you have to remove an ancient tree, or move house, but don't want to lose the variety.
Three apples were brought for identification - two of them were straightforward: Golden Spire and Dumelow's Seedling. The third resembled Belvoir Seedling but was from a 150-year old tree. The variety has only existed for about 70 years, so this one we could not identify without further work.

14 Sep 13


HERITAGE APPLES TALK: COSBY METHODIST CHURCH
Thur 5 Sep 2013: 2.45pm. Alison Deacon gave an introductory talk on heritage apples at her local church, followed by a short overview of Leicestershire apples. She also took some apples to taste: shop-bought Golden Delicious and Braeburn, followed by Laxton's Fortune, Langton's Nonesuch and the red-fleshed Almata. The session was well attended.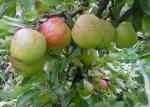 &nbsp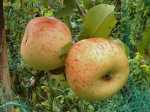 &nbsp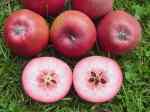 &nbsp


LEICS UNIV BOTANIC GARDEN: ECOLOGY DAY
Sun 4 Aug 2013: 10am - 4pm.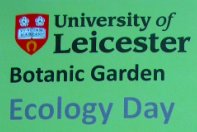 A damp day, but our new display materials attracted some interest:
the effects of excessive inbreeding on apple varieties
difficulties of identifying apples, and
converting a tree from one variety to another.

For those who are interested, the progress of our apple breeding programme (making new varieties) can be found here.

Our new display materials are shown below: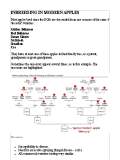 &nbsp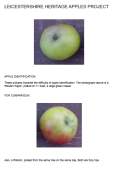 &nbsp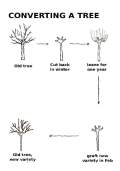 &nbsp

4 Aug 13


MELTON MOWBRAY COUNTY SHOW
Sun 7 July, 10am - 4.30pm. A hot sunny day and lots of interesting events: knights on horseback and a jousting tournament; falconry & sheepdog demonstrations, Victorian Dancing demonstrations, and lots of local food producers and growers, including Leicestershire Heritage Apples.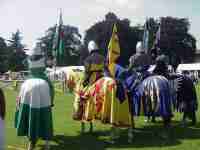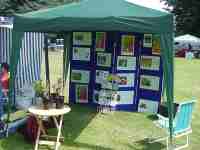 Much was interest shown in local varieties, particularly Annie Elizabeth, Leicester Burton Pippin and Langton Nonesuch. We also had a number of inquiries from people with old unidentified trees which are nearing the end of their life. The best way of preserving these is to re-graft onto a healthy new rootstock, which preserves the variety without needing to identify it. We can do this for the price of a new tree.

7 Jul 13


LEICS UNIV BOTANIC GARDEN OPEN DAY & PLANT SALE
Sun 30 Jun 2013: 10am - 5pm. Another interesting day at the Botanical Garden talking about Leicestershire Heritage Apples, grafting, what happens when pips are sown, and other things. We are grateful to our volunteer, Sue M, for her assistance during the morning session.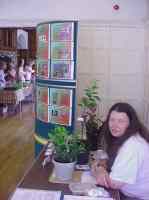 ....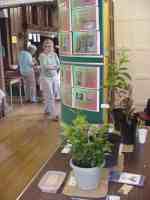 ....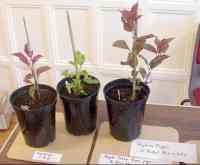 30 Jun 13


WHAT WE DO
A summary of what we do at Leicestershire Heritage Apples, a not-for-profit organization....:
Propagate and sell Leicestershire Heritage Apples, £25 per tree, grafted to order; cash with order.
Grafting tuition: workshops and one-to-one tuition.
Apple tree conversions: change one variety for another.
Give advice on Community Orchards.
Talks on Apples.

29 Jun 13


TICKNALL, DERBYS
Alison & Nigel Deacon gave a talk to Ticknall Preservation & Historical Society, 7.30pm at the Village Hall, Ticknall, 31 May: "Heritage Apples, and how we discovered the lost Leicestershire Apples". About 50 people attended. We took along some samples of seedlings grown from pips from the same apple (astonishingly different), a grafted tree, and rootstocks. Questions from the audience caused us to cover many aspects of apples not in our usual talk, including apple breeding, unusual varieties, red fleshed apples and how one identifies an unknown apple if everyone who once knew it is long dead. We also included a section on Derbyshire apples. For us it was a thoroughly enjoyable evening.

One unexpected development: after the talk we received information which may help us locate the Packington apple.

1 Jun 13


GROUNDWORK LEICESTER & LEICESTERSHIRE CLOSES
Until recently this admirable group, Groundwork Leicester & Leicestershire maintained the nature reserves in Leicestershire on a shoestring budget, looking after woodland and wild areas. It did this by training and leading a large group of unpaid volunteers and others. It even cleared scrubland and replaced it with apple orchards. The group has recently been closed down, presumably because of government austerity measures.

Meanwhile, through our taxes and electricity bills we are building wind turbines and implementing a decarbonization policy which costs many billions of pounds, is entirely paid for by subsidy (us), and which does nothing for the environment.

28 May 13


PACKINGTON APPLE
Chris Miles of Packington has reported that there is a Packington apple which he is trying to trace. The name is apparently 'Packington Summary', but at the time of writing no more information is available. If anyone can supply details, or can suggest where a tree might be found, please contact the website using the 'contact us' button, or use the address diversity(at)suttonelms.org.uk.

15 May 13


APPLE BREEDING
We are producing some seedlings by crossing red fleshed varieties with good flavoured English varieties, to produce red fleshed apples with a Leicestershire connection. The Leicestershire crosses we have done are Langton's Nonesuch x Bieinrode, Langton's Nonesuch x Huonville Crab, Belvoir Seedling x Bieinrode and Chapman's Colossus x Bienrode. The first three crosses may produce a redfleshed eating apple; the last may produce a redfleshed cooker. It will be some time before we know whether the pollinations have worked; the weather for it this year has not been very favourable.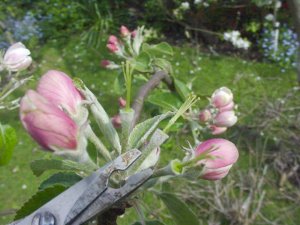 15 May 13


PROMOTING LEICESTERSHIRE VARIETIES
Grafting of Leicestershire (and occasionally other rare) apples is done intensively in February and March; it's a short season. Trees ordered in Dec and Jan are ready for collection in Aug - Sept.

We are grateful to Claire Moore for her assistance in grafting a large number of apple trees for a new community orchard in South Leicestershire.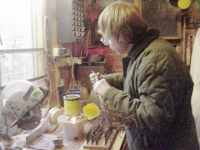 ....

20 Mar 13


LEICESTERSHIRE HERITAGE APPLES TALK
Given by Mel Wilson, 19 Mar 13; Glen Parva Gardening Club. Very well attended; about 50 in the audience. Much interest shown in local varieties, including for local schools' plots.

19 Mar 13


RIND GRAFTING & TOP-WORKING
This generally takes place on established trees from about Mar 10-24, when the bark becomes very soft. It is an excellent (and quick) way of changing the variety on a tree, but the time 'window' for it is very short; about a fortnight. A number of trees have been converted by LHAP in South Leicestershire this year, some to multiple varieties.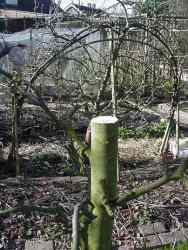 ...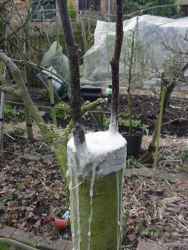 The other way of top-working a tree is to saw off the unwanted branches; then a year later whip and tongue grafts are inserted into the new growth. The time window for this is wider (Jan - late Mar) but it takes a year longer than rind grafting.

Thanks CM for introducing us to rind grafting.....ND

18 Mar 13


ANOTHER ORCHARD
Twelve trees grafted for a school in the Coalville area.

4 Mar 13


PLANTING LEICESTERSHIRE VARIETIES
Setting up a community orchard: supplying 50 trees in North Leicestershire; joint project with Groundworks Leicester & Leicestershire, Leicester Parks Department and Leicestershire Heritage Apples Project. Picture shows Stefan, Kim, Nigel, Sue, Rob, Steve and Stuart after the tree planting.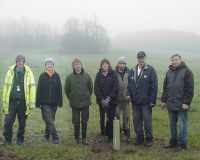 3 Mar 13


TOP-WORKING IN KNIGHTON
Three old apple trees top-worked for "J", in Knighton ... Martin's Custard, Belvoir Seedling, Barnack Orange and Marriage Maker. It is hoped to post pictures here as the grafts develop.

An apple tree can be converted from one variety to another, and as long as it doesn't require ladder work. This uses the existing root system of an otherwise unwanted tree. It is much quicker than planting a new tree, and it can be fruiting heavily again after three years.

Next year when our supplies of scionwood have increased, we may offer this as a service - either Leicestershire varieties or redfleshed or other specified varieties within the Leicestershire Heritage Apples collection. Please email if interested.

1 Mar 13


LEICESTERSHIRE APPLES FOR A COMMUNITY ORCHARD
Leicester Heritage Apples working alongside 'Groundworks Leicester & Leicestershire' and Leicestershire Parks Department grafting Leicestershire apple trees for planting in a community orchard in North Leicestershire. The working group: Kim, Stuart, Nigel, along with Stefan & Mel (not shown).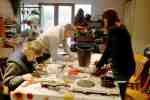 ....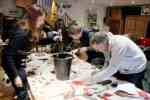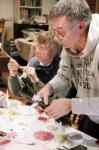 ....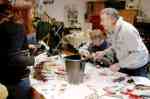 ....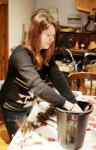 24 Feb 13


GRAFTING WORKSHOPS, MARKET HARBOROUGH
Two grafting workshops took place on Sunday 24th Feb, St. Hugh's Church Hall, Granville Rd. About two dozen students learned the basics of grafting, and made two trees each. Varieties used included Leicestershire heritage apples, Leicesterstershire unique seedlings, redfleshed apples (Pink Pearl, Pendragon and Grenadine) and other well-known heritage apples including Ribston and Devonshire Quarrenden.

Pictures from the workshops are shown below.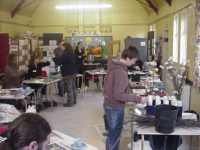 ....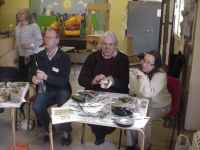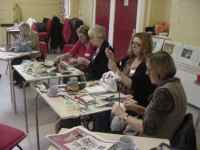 ....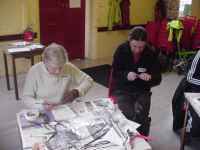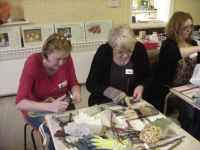 ....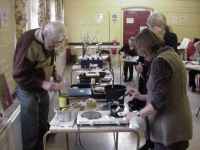 ....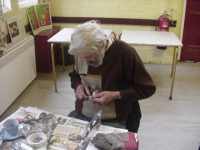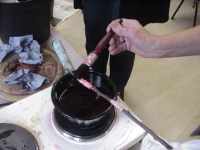 ....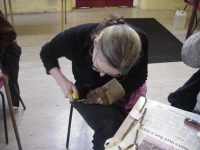 24 Feb 13


GRAFTING UNDER WAY
Leicestershire varieties for which we have been asked have now been grafted. Also done: Grenadine, Mere Pippin, Almata x Laxton seedlings, d'Arcy Spice x Mott's Pink seedlings.

20 Feb 13


GRAFTING
The year's grafting will begin shortly.

5 Feb 13


APPLE TASTING
Visitors arrived for a grafting demonstration and an apple tasting. Five late varieties in good condition were tried - West Virgina Sweet, Burford Yellow, Hidden Rose, Huonville Crab and D'Arcy Spice. The Huonville Crab had stored well and had lost most of its acidity and was a slightly tart, concentrated flavour a little like Pink Pearl. West Virginia Sweet was the sweetest and possibly the best, run close by Burford Yellow and d'Arcy Spice. The redfleshed apples caused (as ever) much surprise.

3 Feb 13


GROWER IN NEWCASTLE
A grower friend in Newcastle collected scions of West Virginia Sweet, D'Arcy Spice, Burford Yellow, and Langton's Nonesuch. It is important that worthwhile rare varieties and good unique seedlings are preserved.

26 Jan 13


ORCHARD MAPPING
I am involved with various people in mapping the community orchards (and some other orchards) of Leicestershire. This is an ongoing project with Groundworks Leicester & Leicestershire, and the well-known website 'Orangepippin'. Three done so far: Broughton Astley, Ratby and Anstey. The information is shown here under 'Community Orchards in Leicestershire".

31 Jan 13

------------------------------------------



Please contact us if you would like to assist with promoting Leicestershire apples, or you have a small piece of land where we could plant trees.

Nigel Deacon / Mel Wilson