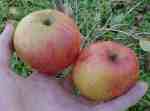 .....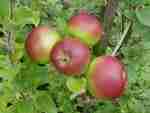 .....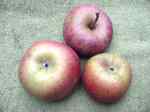 .....
LEICESTERSHIRE APPLES NEWS 2012
...................... 2013..... 2012..... 2011..... 2010..... 2009



FUTURE EVENTS
Sun 24 Feb 2013: Grafting Workshops, St. Hughes Hall, Granville Rd, Market Harborough. Most of the day.
Mon Sep 30 2013: Billesdon & District Gardening Society; Old Chapel, (adjacent to church) Billesdon, 7.45pm
Thurs 3 Oct 2013: Burbage Heritage Group; Burbage Congregational Church, Church St. Burbage, 7pm.
Sun 13 Oct 2013: Brock's Hill Visitor Centre, Oadby, most of the day.
-----------------------------------------------------------------

We do grafting courses for beginners setting up orchards and those with some experience; email if interested. One-to-one tuition also available. This takes place Feb - Apr.

------------------------------------------


PAST EVENTS & NEWS


MORE LEICESTERSHIRE UNIQUE SEEDLINGS FOUND
Two more seedlings have been found in the Broughton Astley area, both dessert apples. Pictures shown below. These may be propagated if the flavours and keeping quality are good. They were both still on the tree in late November so are clearly 'phase 3' apples.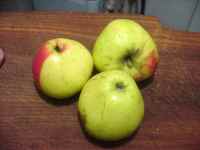 ....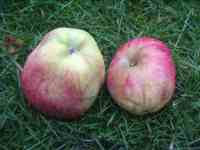 Tasting notes: ....the first apple is a sweet dessert apple of moderate flavour. The second is a dry textured apple, fairly dense, tasting more like a pear than an apple. This one may be worth grafting.

15 Nov 2012


DONISTHORPE APPLE DAY
Sat 6 Oct, 11am-4pm. Nigel and Alison Deacon of LHAP were there. This is the village where we did a grafting workshop in February, and we were pleased that three people brought their grafted trees for inspection! Lots of interest in the apple tastings, and a few apples were brought for identification; with help from Sally Cunningham James Grieve and Ecklinville were identified.

Most of the trees in the orchard were also identified.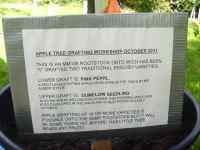 ....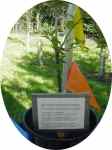 ....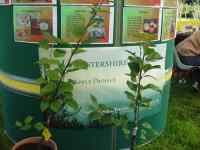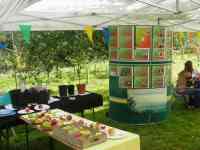 ....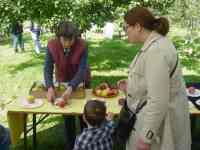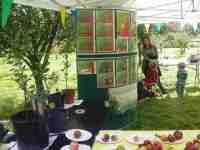 ....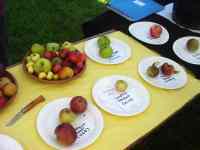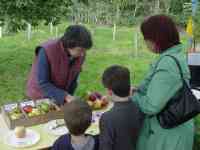 ....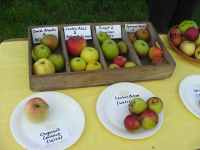 6 Oct 2012


LEICESTER UNIVERSITY ARBORETUM: HARVEST DAY
Sun 30 Sept, 11am-3pm. Melanie Wilson of LHAP was there. A rather breezy and cold day; visitor numbers not as high as usual. Some interest shown in Leicestershire apples; tastings done of several varieties including Pitmaston's Pineapple, Barnack Orange and Grosse Pomme Noir. One person showed interest in constructing a family tree. Pictures below:



....

....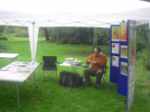 2 Oct 2012


SAPCOTE APPLEFEST



Sat 29 Sept, Methodist Church Hall, Sapcote. Another very successful event; popular English apples on sale, and the lunch and snack menu full of apple recipes.

Leicestershire Heritage Apple Project was there; our third visit. There was much interest in local and heritage apples. We had tastings of a wide range of apple - including Laxton's Fortune (Worcester), Langton Nonesuch (Church Langton), Chapman's Colossus (Croft), Weirouge (redfleshed, Germany), Pink Pearmain (redfleshed, Ettersberg USA), Ribston (Yorkshire), May Queen (Bedford), West Virginia Sweet (WV, USA), Croft Sharp (cider), Tom Putt (Devon), Burford's Redflesh (CA, USA).

Two people needed identifications doing - which turned out to be Paradise Apple (M9) and Reinette du Canada.

We took a few photos, which are shown below. Click on the thumbnail picture for the detail.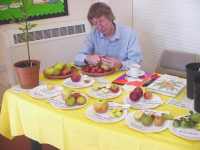 ....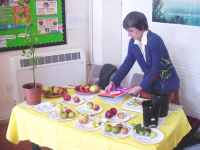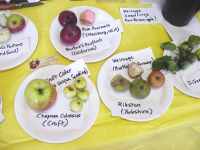 ....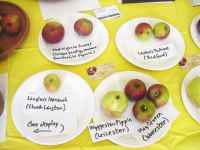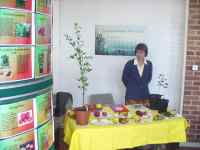 ....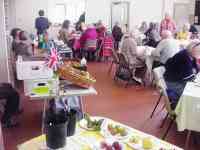 29 Sep 2012


VITAMIN C DETERMINATIONS
I have been doing some more vitamin C determinations. The Leicestershire varieties I've tested are shown below. The vitamin C content depends on freshness and other factors; see here for details. There is no detectable vitamin C in a cooked apple.

Freshness categories: 1=underripe, 2= slightly underripe, 3=fresh off tree and fully ripe, 4=fairly fresh, 5=going softer / mealy; 6=starting to go off....

Langton's Nonesuch appears to be very high in vitamin C though only one apple was tested; this will have to be checked. The 'Sam Bell' apple (Leicestershire unique seedling; an early cooker), looking and tasting very like Golden Noble but rougher skinned and a bit flatter, was also high.

The asterisked apples are Leicestershire Unique Seedlings. Units: mg vitamin C per 100g fruit.


FRESHNESS->
1
2
3
4
5
6
apple
source
LANGTON'S NONESUCH
24.0
Leics 12
SAM BELL*
20.8
Leics 12
ANNIE ELIZABETH
7.7
Brogdale 04
MARTIN'S COSTARD
.
.
3.5
.
.
Leics 08
DUMELOW'S SEEDLING
3.4
Leics 04
LORD BURGHLEY
.
.
.
2.5
.
2.2
Wye 04
WHITWICK PIPPIN*
.
.
3.6
.
.
Leics 06
CHAPMAN'S
COLOSSUS*
1.4
Leics 06
CROFT SHARP*
(Cider)
5.5
3.0
1.7
1.6
Leics 04

12 Sep 2012


HERITAGE PLANTS SALE, UNIVERSITY BOTANICAL GARDEN
A steady trickle of visitors, all intensely interested in plants, visited the Botanical Gardens on Sun 2 September. Lots of Heritage plants on sale, but from our point of view, the most important stand was Leicestershire Heritage Apples, where we'd organized the first public tasting of the long-lost apple Langton Nonesuch, recovered several years ago from a back garden in Germany and now with sufficient fruit to share with the public. This was the first time the apple has been tasted in England since the 1920s.

As for its flavour: it is much more tart than most modern apples, but with an intense appley taste; small size (about two to two and a half inches across) and attractive appearance; it appears a bit like a flattened Laxton's Fortune with a larger and deeper eye. It's an early apple, ripe about 7 Sept this year (a fortnight before Laxton's Fortune) and only keeps in top condition for about 1-2 days, which probably accounts for its disappearance from England.

However it is an excellent apple for the home grower.

Pictures: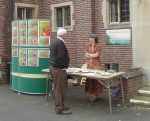 ...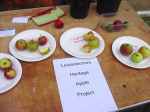 ...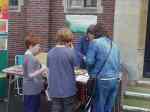 ...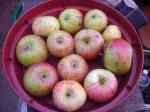 ...

7 Sep 2012


FAMILY DAY, UNIVERSITY BOTANICAL GARDEN
Garden Plant Sale and Family Day: Sun 1 Jul, 11am-5pm: Nigel and Alison in attendance, plus volunteers Claire Moore & Gina Cooper, who were able to give advice on pruning and tree maintenance and the advantages of local growing. A number of people expressed interest in trialling an apple for us, one visitor gave us some tips on chip budding, and we have invites to other events. We saw lots of enthusiasm for promoting Leicestershire varieties, as ever.

Now we need a small plot of land to get more trees in the ground. This will enable us to multiply the trees so that more people will be able to taste the fruit. If you can help with a site, please get in touch. Initially we need 1-2 acres of non-building land for a period of about ten years.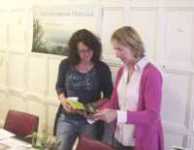 .....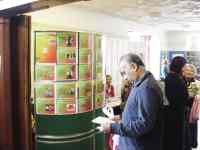 ....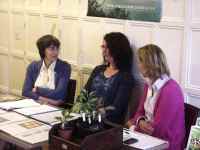 ....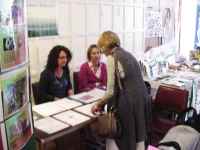 ....


This was the first time LHAP had done two events simultaneously; Melanie Wilson (plus volunteers) covered the Melton Country Fair on the same day.

30 Jun 2012


LEICESTERSHIRE HERITAGE APPLES TALK
Wed 18 Apr: Robert Monk Hall, Middle St, Foxton, 8pm. (Mel Wilson).


NEW SOUTH LEICESTERSHIRE APPLE
Fruit from the newly discovered South Leicestershire apple tree, discovered last year, has kept well, with good flavour, until April. No name as yet. Two trees have been grafted and are growing. The fruit from the original tree have 'phoma pomi' (fruit spot - small red blotches on the skin) which is OK as long as it doesn't get out of hand; the appearance is attractive; the fruit are quite small and extremely sweet, with a slight flavour of honey.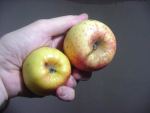 ..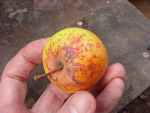 ..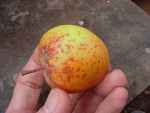 ..

2 Apr 2012


ZORZA, PENDRAGON, NEWTON WONDER
An interesting week: we have obtained an old Polish apple variety, 'Zorza', which apparently produces giant apples, from a friend in Poland. We have heard from the discoverer of 'Pendragon' , the Cornish redfleshed apple, who found our web pages. We have also been contacted on an apple-related matter by the great-great-great grandaughter of Mr. Taylor, the person who raised the variety 'Newton Wonder'.

8 Mar 2012


GRAFTING WORKSHOP
Sat 3 March, Donisthorpe: Community Centre, 10am. 'Why Graft?' followed by guidance in cleft graft / whip & tongue graft. Lots of varieties used in making new trees including Langton's Nonsuch, Dumelow's Seedling, Barnack Orange (Leicestershire), Pink Pearl (redfleshed).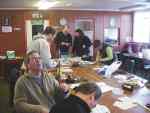 ....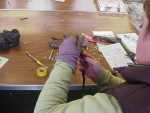 ....


LEICESTERSHIRE APPLES
Eight trees grafted for a garden in Cotesbach. Langtons Nonsuch, Barnack Orange, Dumelow's Seedling.

2 Mar 2012


GRAFTING OVER TO LEICESTERSHIRE VARIETIES
Advice given to a person in Leicester wishing to convert her existing apple trees to Leicestershire varieties.

24 Feb 2012


GRAFTING PROGRESS
Grafting done of the following varieties: Sutton Elms, Weirouge, West Virginia Sweet, Annie Elizabeth (from the original tree), Leicester-Burton Pippin, Whitwick Pippin, Wyggeston Pippin, Spenser Seedless, Blackjack, plus a few un-named redfleshed varieties found by people contacting the website.

17 Feb 2012

------------------------------------------



Please contact us if you would like to assist with promoting Leicestershire apples, or you have a small piece of land where we could plant trees.

Nigel Deacon / Mel Wilson