This is a deeply pigmented red fleshed apple variety from Cornwall. The wood and leaves are red-stained, and the fruit has some resemblance to the redfleshed 'Sops in Wine', but it has a different shape and is less scented.

The fruit is exceptionally dark, and the flavour is OK without being excessively acidic. My tree blossoms rather late; at the same timie as King Edward VII, which is unusual for a redfleshed apple; most of them except Weirouge and Roter Mond have their flowers at the start of the blossom season.

It would probably add quite well to a cider.

Tasting notes .... similar flavour to Burford's Redflesh but gentler; less acidic; less astringent, and a reasonably acceptable eating apple. Weirouge, by way of comparison (also pictured below) is softer, sweeter and less acidic, and is being grown commercially as an eating apple in Italy.


Blossom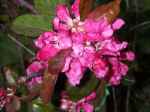 ....
....

Fruit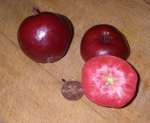 ....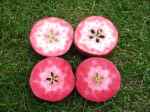 ....

First photo: Pendragon; second picture: Weirouge at top, Pendragon underneath. Click on the thumbnail pictures for the detail.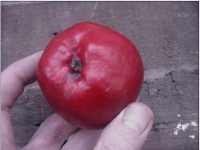 ....&nbsp &nbsp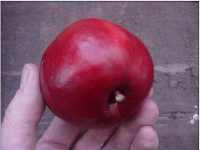 ....&nbsp &nbsp
UPDATE....during March 2012 I was contacted by James Evans, discoverer of 'Pendragon', who writes as follows:

..... This is a very interesting variety which I discovered as a single tree about thirty years ago; named for our own purposes and got into cultivation via some local nurseries. When I found the Pendragon (in Cornwall) the owner thought it was poisonous and didn't even realise that it was an apple! I ate one in front of her and suffered no ill effects. (Photo below sent by JE)

....



compiled by Nigel Deacon / Diversity website