Extract from HOGG:

MARRIAGE-MAKER.
Fruit, small, about two inches and a quarter wide, and two inches high ; roundish, and somewhat depressed, even and regular in its outline. Skin, smooth, entirely crimson, even on the shaded side. Eye, small, with erect convergent segments, set in a basin, which is slightly plaited. Stamens, marginal ; tube, conical. Stalk, short and slender, placed in a shallow cavity. Flesh, yellowish, slightly tinged with red at the eye and under the skin, pleasantly flavoured. Cells, obovate ; axile, open.

A very showy dessert apple, resembling Scarlet Pearmain ; in use from October till Christmas. It was sent me by Messrs. Harrison, of Leicester.

Pictures (click on small images for detail):

Blossom




Fruit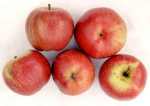 Update - trees are now available for this variety, grafted to order. It is an excellent eating apple, ripening in early October, and which keeps in good condition until about Christmas. The apples are quite small.
The picture above is from Derek Tolman of Bernwode Nurseries (thanks Derek). The pictures below are ours. Our tree has fruited for the first time; we were surprised to see pink flesh, the remarkable internal pattern (though not all apples are as perfect as picture 1) and the way the fruit is distributed on the tree.
The name is rather apt.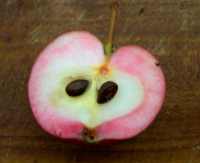 Hogg information located by Mel Wilson: