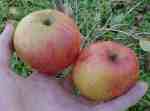 .....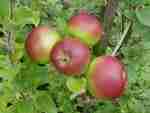 .....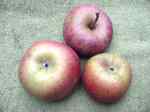 .....
LEICESTERSHIRE APPLES NEWS 2021
.... 2020...... 2019...... 2018...... 2017..... 2016..... 2015..... 2014..... 2013..... 2012..... 2011..... 2010..... 2009

Buy Leicestershire Apples





EVENTS 2021
We are planning a few events for 2021, coronavirus permitting. They will be dependent on social distancing and mask wearing restrictions being lifted.


With that proviso, here are this year's proposed events:
Sun 12 Sep, Garden/Family Day, Leicester University Bot Gdn. 10am-5pm.
Sat 2 Oct, Apple Day, Cotesbach Hall. (event was cancelled)
Sun 10 Oct, Apple Day, Donisthorpe Orchard, 11am - 3pm.
Thur 14 Oct, Leics Heritage Apples Talk, Snarestone School, 7.30pm.
Sat 23 Oct, Apple Day, Cosby Methodist Church Hall. 12.00-3.30 pm.
Sun 24 Oct, Apple Day; private group near Coventry by arrangement, 12.00-3.00 pm.

Our next all-day grafting courses will be in Feb 2022 at our usual venue at Cosby.
Saturday 19th Feb and if oversubscribed, another session on 26th Feb.
Email for details.

-------------------------------------


APPLES TALK, SNARESTON SCHOOL, 14 Oct, 7.30pm
We were pleased to give our first talk since the virus from China hit us last year. Our venue was the Primary school in Snareston, North Leicestershire. The talk was in two parts: some background on apples in general and heritage apples, followed by an account of how we found the lost Leicestershire apples. An enthusiastic audience of 23 people from Snareston gardening group asked lots of questions; so much so that our normal 60-minute talk extended to almost 90 minutes.

We brought a display of about 30 apple varieties and people were able to try nine of them including some of our own seedlings, along with Martin's Custard and the Packington apple; two Leicestershire varieties. Covid precautions were strictly followed during the tasting.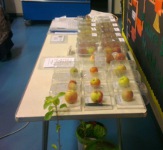 15 Oct 21


APPLE TASTINGS 2021, CONTINUED
Apple Tasting 1, 10 Aug 2021: Earlies
Apple Tasting 2, 28 Aug 2021: More earlies
Apple Tasting 3, 10 Sep 2021: Early midseason
Apple Tasting 4, 21 Sep 2021: Midseason
Apple Tasting 5, 7 Oct 2021: Later Midseason

11 Oct 21


DONISTHORPE APPLE DAY
The apple event went smoothly; lots of things happening: some very melodious folk songs (written for the event and based on local history), LHAP apple tastings, and lots of home-made local produce on sale.

There was considerable interest in the apple tastings; we showed six appples available commercially as trees (though not as fruit in England) plus a couple of our own seedlings: one a novelty variety with scarlet flesh; the other a very sweet apple similar to the American apple Wickson. Click on the thumbnails below for bigger pictures. Over fifty people tried all 8 apples and nominated a favourite. The results were:

18 Honeycrisp
12 Laxton's Fortune
8 Seedling 4213 (scarlet flesh)
8 Norfolk Royal Russet
7 Seedling 2016 (Wickson-related)
4 Limelight
1 Herefordshire Russet
0 Roter Mond

Nevertheless the results should be taken with a pinch of salt; it's difficult designing a good voting system. Many people made favourable comments about Herefordshire Russet (and some about Roter Mond), but coming second meant zero on our very simple scoresheet.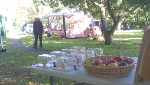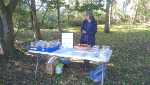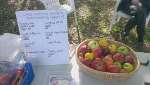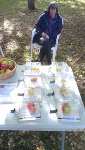 My attempt at identifying the trees in the orchard is here . Note that the 'New Apple' on the map (I drew it several years ago) has now fruited and it looks like Marriage Maker, a Leicestershire variety.

The orchard is the ideal setting for the event.. It is secluded, pictureque and self-contained; ideal for children because there is no nearby traffic. However, nearby birch, poplar and other trees have been planted close by, and one hopes that these can be removed before they get too big. They are beginning to shade the fruit trees. Forest trees and fruit trees do not mix.

Please note our big Apple Day at Cosby on 23rd October at the Methodist Church on Park Rd. 12.00-3.30 pm. You may have seen the posters.

10 Oct 21


LEICS UNIVERSITY BOTANICAL GARDEN
Pleased to report that we were able to run our apple tasting at the Garden Plant and Family Day at the Botanical Garden. This was the first time we had used Beaumont House, and it is an excellent venue; lots of space, no crowding and plenty of interested visitors. The Knoll lawn was in use, and several other areas we had seen before. Apple tasted included three of our own seedlings (we are apple breeders) plus Laxton's Fortune, Summerfield, James Grieve, Discovery and Katy. Each person was asked to taste all 8 and vote for his/her favourite. Laxton's Fortune was most popular with Summerfield second. The results table is shown below:

14 Laxton's Fortune
8 Summerfield
5 James Grieve
5 ND seedling 3614
3 ND seedling 0514
3 ND seedling 4815
1 Katy
0 Discovery

All apples attracted positive comments, including Discovery, which many people liked - though most liked Laxton's Fortune even more.

We will be running other apple tastings at our events at Cotesbach, Donisthorpe and Cosby.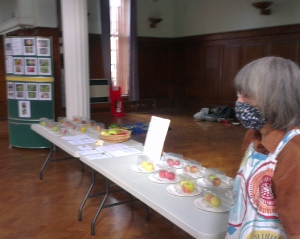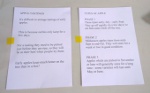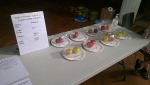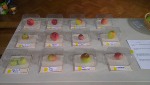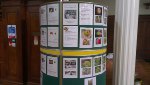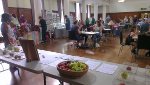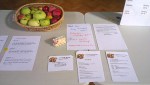 12 Sep 21


APPLE TASTING
Our first apple tasting of the year took place on 10 Aug with Julie Drake - the first we have done since the chaos of 2020. The link for it is below; we hope to do more soon.


Apple Tasting 1, 10 Aug 2021: Earlies
Apple Tasting 2, 28 Aug 2021: More earlies

11 and 29 Aug 21


APPLE CROP 2021
The apple crop in Leicestershire seems to be looking quite good. The blossom was a few days earlier than the average; first blossom for us was about 18 Apr. First apples picked were Sweetings; end-July (about a fortnight late). Norfolk Rattlebox ripened at about the same time and Beauty of Bath is almost ready now (4 Aug).

4 Aug 21


APPLE GRAFTING COURSE, COSBY, 2021 (5hr)
Sorry to report that the coronavirus has led to us having to cancel in-person courses this year.

However Mel is doing some online grafting courses which are being well-received. See her web page for details. I lack the computer expertise.

4 Mar 21





Nigel Deacon / Mel Wilson /Alison Deacon