RADIO DRAMA FORUMS AND MESSAGEBOARDS
ex-R4 forum / 'beebotron' / R3 drama forum /
The above are non-BBC sites. The BBC no longer has a messageboard so use the above.
See also our Facebook page for recent updates and links to other sites.





RADIO ROMANIA ANNOUNCEMENT
A relatively new British radio drama festival has selected 'Ping-pong', a radio play by Sandu Macrinici for its next event: from 19-23 Mar 2018, in Herne Bay, Kent.

'From stage to air' is the theme of this fourth International Radio Drama Festival. The festival celebrates work which links the worlds of live theatre and radio drama: adaptations of stage plays, a work inspired by a stage play, a play recorded in front of an audience, or which shares a common heritage or person from the stage, or a work written by an author who usually writes for stage..

The National Radiophonic Theater also qualified for this festival in 2015, when it won the second prize in the Short Theater category with the Countdown, the script by Mihnea Chelaru and Ion Andrei Puican, produced by Ion Andrei Puican. The festival is supported by the Authors' Licensing and Collecting Society (ALCS) and the WGGB (Writers Guild of Great Britain); the event is becoming well-known in Braitain on the drama calendar.

Ping-Pong is the Sandu Macrinci's first play. It was first broadcast on 21 Sep 2017 with Mihnea Chelaru as the producer, as part of the First-Drama program of the National Radio Theatre. Sandu obtained his degree in History and Philosophy at Babes-Bolyai University in Cluj-Napoca in 2014. He obtained his Masters degree in Drama at the University of Arts Târgu Mures and is continuing his studies in the drama department at Regie. The play is about the relationship between the generations; between the young and the old.

Production details: The radio adaptation, production and sound design are by Mihnea Chelaru. In the cast: Oliver Toderita, Mihaela Betiu, Vlad Bîrzanu, George Ciobotea. Music is by George Mark. Help with land records: Marius Toghina and Bogdan Dumitrescu. Location Manager: Simona Vasiliu. Studio director: Janina Dicu. Editor: Oana Cristea Grigorescu. TNR Production, September 2017.

3 Mar 18


RTE DRAMA
I have been looking on the RTE website to see what drama is on offer; since the demise of radio plays on CBC (Canada) and ABC (Australia), RTE Radio 1 is one of the few remaining stations broasting quality drama regularly.

Drama On One can be heard each Sunday at 8pm. Click the title link to see what's on offer.

There are currently 25 pages of entries; 12 entries per page, most of which are plays. There are some related features. I notice there are entries from RTE for the Herne Bay festival; more details soon.

28 Feb 18


UK INTERNATIONAL RADIO DRAMA FESTIVAL, HERNE BAY, 19-23 Mar 18
There are just under 50 entries for this year's festival, from many countries. There are two BBC entries; these are the only ones I've heard so far. Information about them is below.

The Man with the Hammer
By Phil Porter. (R4 1415, 25 Jul 17) The play touches on the roots and causes that turn cycling enthusiasts into obsessives. It's told through the eyes of Jodie, a schoolgirl given a bike by her father to avoid walking to and from school. Jodie, whose mum died when she was 12, lives with her father, Tony, who increasingly struggles to bridge the widening gap in his relationship with his teenage daughter as she grows up. Jodie meets up with professional cyclist Noah at a race. Noah coaches her to overcome some of the hurdles to succeed in cycling, and a relationship starts to form. (Summarised from www.reviewshub.com)

The title of the play refers to the mythical figure who waits around a distant bend or halfwayup a steep hill in the middle of nowhere.When your body refuses to respond, you are twenty miles from home and cannot pedal another yard, you have met the man with the hammer.

Cast: Jodie: Harriet Slater, Tony: Jonathan McGuinness, Noah: Jonny Holden, Maxine: Chetna Pandya, with Philip Fox, Emilio Doorgasingh and Charlie Clements. Produced by David Hunter.


Alistair McGowan's latest play, The B Word (R4, 1415, 26 May 2017) was about the events leading to the opening night of Shaw's 'Pygmalion' in 1913; the first time that the word 'bloody' was used on stage. At the time it caused considerable controversy. Producing the play also caused strong reactions between Shaw, his leading man, Sir Herbert Beerbohm Tree and his leading lady, Mrs Patrick Campbell, who played the 19 year old Eliza Doolittle at the age of 49. Richard Huggett wrote a play in 1968 (The First Night of Pygmalion) in which he similarly depicts backstage events during the first production. Shaw was played by Alistair McGowan, Beerbohm Tree by Richard McCabe and Mrs. Campbell by Charlotte Page. The producer was Emma Harding. (ND, 'Diversity' website review, Sep 2017).

25 Feb 18


RADIO 3, 1991 DRAMA
Stephen Shaw's page of drama from 1991 on R3 is now online. See main radio drama page and scroll down. Thanks again, Stephen.

22 Feb 18


BETTY DAVIES
Ned Chaillet's obituary of Betty Davies, published in The Guardian, is now online.

10 Feb 18


ARCHERS MATRIARCH SPEAKS
Reported on p.9 of Tuesday's "Times", the sub-heading being 'Archers matriarch, 98, scolds show's lazy youngsters'.

June Spencer, 98, is not impressed with some of the younger members of the cast, implying that they need to spend more time working on their scripts and enunciation. She said that older hands on the series had resorted to helping their junior colleagues master voice techniques which they had not learned at drama school. "..........I don't think many of them have had speech training - and in radio, it's all about the voice". "I work on the scripts and rehearse as soon as I get them..............I see some of the younger ones marking up theirs just before read-through and think : 'you haven't worked on it!' ".

June has been involved with The Archers (apart from a spell in the 1950s) since the pilot episodes were broadcast on the Midland Home Service at the end of May, 1950 prior to its main launch on New Year's Day, 1951, so her observations should be heeded.

10 Feb 18


BETTY DAVIES, RADIO PRODUCER
I have been contacted by David Roberts, who writes as follows:

You may like to note that Betty died last week at the age of 100. She was my father's first cousin. The funeral will take place in Monmouth (where she lived for the last few weeks of her life) on 27 February.

She was an extremely colourful character, who led a long and fascinating life, working well into old age and then travelling the world - from Antarctica to the Karakoram - until too infirm to do so. Until mid-2017, having outlived all her BBC contemporaries, she continued to live alone in the flat in Shepherd's Bush she had occupied for many decades. It was a running family joke that Betty was likely to pop up in the most unusual places. She once stayed with me in Santiago, Chile, but nothing beats the time I bumped into her by accident in the countryside near Cienfuegos in Cuba. This was in 1983 - deep in the Cold War, when western tourists were rare. She really did get about!

David Roberts

31 Jan 18


AUDIO DRAMA AWARDS 2018
These were announced in the BBC Radio Theatre last night and are now displayed on the relevant page, along with my digest of the evening.

29 Jan 2018


GILLIAN REYNOLDS
After 42 years of being their radio columnist, Gillian Reynolds is leaving the Daily Telegraph. Gillian has done a superb job over the years in promoting and defending radio, and her comments and reviews are well-known up and down the country. In the past she has even, on occasion, lent me her review tapes when I have missed a programme. A difficult act to follow, and a kind and considerate lady. Thank you, Gillian.

24 Jan 2018


4/4: INTRODUCTION & ALLEGRO
Very good new comedy drama series on R4, written by Robin Brooks and Sarah Wooley (though Sarah not credited in RT). It's about the exploits of the members of a string quartet. Highly recommended. The first episode went out on Mon 22 Jan at 1415 in the normal 'afternoon play' slot.

24 Jan 2018


CAROL MCSHANE
I am sorry to report the death of my friend Carol McShane, SM with the BBC for 30 years.

I had known Carol for 20 years, since she was introduced to me by Rodney Wingfield in pre-internet days. Carol helped me a great deal with the Diversity site from 2002 until she died. It was she who first put me in touch with a large number of writers and producers, with whom she had a great rapport.

On one occasion Carol was particularly pleased by her sounds effects - which included a battle involving elephants - on Glyn Dearman's mesmerising production of "I Claudius" back in 1985. For those who know the television play 'Radio Pictures' (about making a radio play), the SM is modelled on Carol and the producer on Glyn.

Carol worked with all of the well-known directors from 1963-1993 - Gerry Jones, Graham Gauld, Glyn Dearman (q.v.), Michael Bartlett, Gordon House, Martin Jenkins, John Tydeman, Richard Wortley, Ned Chaillet.

For those who knew her I am reproducing (with permission) part of a piece written in September 2017 in the 'Dennington News'. Dennington is in rural Suffolk.

>>Carol left school like many teenagers, unsure of what she wanted to do in life. Her chief interests were in acting and with animals. She wrote to the B.B.C. and was lucky enough to be accepted for their year-long studio managers' training course, based at Broadcasting House.

From here, Carol went into radio drama, which she loved, and she got to meet many of the stars of the time: Ralph Richardson, Michael Redgrave, Judi Dench, Derek Jacobi and Dirk Bogarde. It was an exciting place to be for a young lady and she developed her career from doing studio sound effects with the actors, to running the sound mixing desk for final broadcast productions. Carol married Ian Sheward, who also worked for the B.B.C. in television drama; they left together in 1993. She'd been with the 'Beeb' 30 years to the day, August 26th and experienced many changes during that time, particularly in the mood and relationship to employees within the Corporation. For some time, Carol had been considering a career change; she took voluntary redundancy in advance of a much larger exodus of studio managers.<<

I was unable to attend the memorial service yesterday, but NC tells me the church was filled to overflowing and memories of Carol were warmly and beautifully expressed. There was a long tribute from Michael Bartlett, and others from John Tydeman, Dirk Maggs, Miriam Margolyes and Kay Patrick.

John Tydeman's tribute consisted of a reference he wrote for Carol on her leaving the BBC, where he commented that Carol had exactly the right way of dealing with those of an 'artistic temperament', including actors, composers, musicians and directors.

She once told me "A good producer has to be able to judge how best to help an actor in difficulty; it's important to be tactful and positive; in spite of appearances, actors are sometimes quite frail creatures and they have to be handled very carefully."

Here's a photo of Carol in action in 1982 in studio B10; Michael Bartlett is in the background on the left. I don't know the identity of the lady on the right.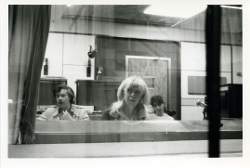 The full article about Carol can be found at Dennington-News, July-Sept 2017
Requiescat in pace.
10 Jan 2018

IMISON & TINNISWOOD AWARDS
The shortlists are now out. Go to main radio page and click on 'Imison Award' and 'Tinniswood Award'.
4 Jan 2018

IMISON & TINNISWOOD AWARDS
I am told that the shortlists should be available in a few days.
19 Dec 2017

MORE ON HERNE BAY FESTIVAL, MARCH 2018
For those who are considering coming to the festival (it is free entrance for audience members), I have put online the full programme, play descriptions, and a list of winners, for the last festival which took place early in 2017. The page is here: irdf-2017.html.
12 Dec 2017

HERNE BAY FESTIVAL, UK, MARCH 2018
Interesting blog by a person who entered a play for the Herne Bay radio drama festival in 2017: Jeffrey Adams, who runs Icebox Theatre: www.iceboxradio.org/fridays-at-the-mic/. He talks about the festival in some detail, and gives five good reasons (my summary shown below) why radio drama should receive backing from NPR:
1. Radio drama fulfils the cultural part of NPR's mission statement better than anything else.
2. Value for money in radio drama has never been better, because of improvements in audio technology.
3. Radio drama could lower the average age of NPR's listenership considerably.
4. Radio drama will assist NPR's case for more funding by increasing soundscape diversity
5. Radio drama gives significant influence over arts and culture.
If this interests you, please click the link and look in detail at what Jeff has to say.
11 Dec 2017



WEBSITE NUMBERS (VISITORS) 2017-2018
Dec:17312 (Don Taylor 545, John Mortimer 140, R.Wingfield 93, Michael Robson 71)

Jan: 19179 (Don Taylor 490, R.Wingfield 106, Michael Robson 66, J.B.Priestley 63.)
We also had 562 visitors to the C.P.Snow 'Strangers & Brothers' page and 291 to the 'Elidor' page.

Feb: 17354 (Don Taylor 525, R.Wingfield 100, Grant Eustace 95, Chris Russell 75)
-plus 165 visitors to the 'Strangers & Brothers' page. .