RADIO DRAMA FORUMS AND MESSAGEBOARDS
ex-R4 forum / 'beebotron' / R3 drama forum /
The above are non-BBC sites. The BBC no longer has a messageboard so use the above.
See also our Facebook page for recent updates and links to other sites.





NEW WELSH WRITING AWARDS - CALL FOR ENTRIES
Notification from Jo McCrum, Society of Authors:

These new awards are in two categories; £1K to the winners.

Aberystwyth University Prize for a Dystopian Novella (a dystopian novella with any theme or setting)

Rheidol Prize for Writing (a novella set in Wales or with a Welsh theme or setting)

Details on the newwelshwritingawards.com website.

27 Nov 18


ALFRED BRADLEY AWARD; DEADLINE 9 Nov 2018

Summarised from the BBC website:

The Alfred Bradley Bursary Award is looking for fresh new radio drama writers living in the North of England and is offering a £5,000 writing bursary and the chance of a Radio 4 drama commission to Northern writers new to radio. You don't need to write a radio drama to enter, but you do need to demonstrate a fresh and original writing voice.

Radio Drama North in conjunction with BBC Writersroom are launching the Alfred Bradley Bursary Award 2018-19. The Award was established in 1992 to commemorate the life and work of Alfred Bradley, the distinguished BBC Radio Drama Producer.

The aim of the Award is to encourage new radio drama writing in the North of England. The award winner will be offered a £5,000 writing bursary, the chance of a Radio 4 drama commission and a 12 month mentorship with a Radio Drama producer.

The judging panel for entries will include Alison Hindell (Radio Drama Commissioner); Sue Roberts (Editor, Radio Drama North and The Verb): Anne Edyvean (Head of BBC Writersroom); Rachel Dixon (daughter of Alfred Bradley) and experienced industry professionals.

What we're looking for:

Original, compelling and imaginative storytelling, in a script suitable for broadcast in the Radio 4 Mon-Fri 2.15-3pm drama slot. The Judges are particularly interested in scripts which focus on stories from the Northern community.

1 Nov 18




HERNE BAY FESTIVAL and the TINNISWOOD AWARD
Dates for the UK International Radio Drama at Herne Bay: 18-22 March 2019. It will be managed again by Nicholas McInerny. I am also pleased to report that Nicholas will be chairman of the judges for the next Tinniswood Award.

30 Sep 18




ANNIE CAULFIELD & MICHELENE WANDOR
Annie Caulfield's play "Almost Always African", with Lenny Henry, is being repeated on Radio 4 Extra. 10am and 3pm on 22 Aug. This is well worth hearing. There's also Sara Paretsky, dram. Michelene Wandor, 21 Aug at 8pm and on listen-again.

20 Aug 18




WEBSITE NUMBERS (VISITORS) 2018
Numbers are down a bit, probably due to the very sunny Spring and Summer weather.

Apr:14169 (Don Taylor 468, Dawn Lowe-Watson 197, Rodney Wingfield 178,Chris Russell: 142)

May:12940 (Don Taylor 422, Rodney Wingfield 141, Chris Russell 140, Nick Warburton 53)

Jun: 13344 (Don Taylor 204, Rodney Wingfield 122, Chris Russell 117, James Brook 58)

Jul: 13671 (David Spenser 244, Don Taylor 240, Chris Russell 181, Melissa Murray 119, R.Wingfield 107)

Aug: 14905 (Don Taylor 241, Chris Russell 194, Giles Cooper 99, R.Wingfield 99)

Sep: 15024 (Don Taylor 176, Chris Russell 115, Sebastian Baczkiewicz 96, Nick Warburton 78)




IMISON AND TINNISWOOD AWARDS - CALL FOR ENTRIES
Authors and producers - I have received notification from the Society of Authors that it's Imison and Tinniswood time again ...

The Imison Award is for the best radio drama script by a newcomer; the Tinniswood is for the best radio drama script overall. The prize for each of these awards is £3000 and the number of entries is not enormous - you may have a better chance than you think. See our Imison Award and Tinniswood Award pages for more information.

2 Aug 18




GORDON NEWMAN & SHELLEY SILAS
New 15-min 5-part drama by Shelley Silas now being broadcast; also a new series (5 x 45m) of Gordon Newman's The Corrupted, set in the Krays' London. Do not miss.

27 Jun 18




THE CANDLE OF DARKNESS
Radio 4 extra are broadcasting this serial from the 1950s. Thank you, Andrew.

18 Jun 18




RIB DAVIS
I have begun a page about Rib Davis , who wrote and compiled a lot of radio drama in the 80s and 90s. Much of his work was about famous legal cases, including three well-known series: Murder Most Foul, Unwritten Law and Beyond Reasonable Doubt. We are looking for recordings of some of his earlier plays; these are listed on his page.

12 Jun 18


CARYL CHURCHILL PLAY
A recent Caryl Churchill play, originally written for the stage, is going out on 2 Jun 18, 1430 R4. ESCAPED ALONE was first performed at London's Royal Theatre in 2016. Four seventy-year-old women are talking, in a garden, gossiping. They interrupt each other, lose their train of thought, and wander off on tangents. However, it turns out that one of them is a prophet of the apocalypse; either that or she is nuts. There will be death and destruction; many will starve; others will eat rats; chemical leaks will poison everyone apart from private patients who will be able to buy gas masks in assorted colours.

The production is adapted from the stage play, with the original cast, and I guess is virtually identical to the stage production. Do not miss. .... Sally: Deborah Findlay, Vi: June Watson, Lena: Kika Markham, Mrs. Jarrett: Linda Bassett. I am told they used no scripts when making the recording - they remembered it all. Producer: Susan Roberts, director: James MacDonald.


UNIDENTIFIED PLAYS
Tony N has contacted me with three plays he remembers and asks if anyone can suggest their titles.

Play 1 (1950s-early 1960s)
Two lovers on the scaffold during the Reign of Terror about to be executed, telling each other they will meet again. The executioner mockingly saying yes, when the bells of ***** ring again. The particular bells had been lost, or hidden for safety, many years before during troubled times and their location had been lost.

In modern time the bells had been unexpectedly recovered, rehung, and were to peal again at an appointed hour, the first time in 200 or 300 years. At about that time a disused well had been accidentally exposed in a small courtyard. A young man (a sailor?) was warned of the danger, but answered that he already knew of the well, yet how could he, it had only just been rediscovered. But he and the girl had been reincarnated to meet again in accordance with the executioner's unintended prophesy.

Play 2 (1950s-1960s)
An inventor with an ailing child had discovered a way of transferring a period of life allotment from other people to extend the life of his own child. The sceptical donors must first agree, and are told the lost time will be repaid to them later. To their surprise, a sudden aging is apparent in the donors, sufficient for their friends to make mention of it. When comes time to repay the borrowed time something goes wrong with the process, the recovered time is unreliable, and unexpected sudden changes of personal appearance create unfortunate consequences for the donors.

Play 3 (1950s-1960s)
A comedy-drama. A middle-aged woman is to be married in a northern town (she has most of the funny lines) and because of her age, certain aspects of the marriage process are less comfortable for her than would be the case with a younger woman. Her lines include: (re her unsupportive uncle) 'You too, Uncle Brutus' and (regarding a nosy neighbour across the street) 'There'll be a face at every window - and they'll all be hers'.

The play has a feeling of a Don Haworth play but I couldn't identify it in the list of his titles.

Tony N, 19 Apr 18


ABOUT THE UK INTERNATIONAL RADIO DRAMA FESTIVAL
The UK international Radio Drama Festival has just celebrated its fourth edition. It is the UK's only outward facing radio drama festival. It is based in Herne Bay, offering anyone and everyone an opportunity to celebrate radio drama through open access to the live listening sessions in person and online. Organised by International Arts Partnership, a theatre producing company, the theme has been focused on radio drama with some connection to the live stage.


The festival aims to bring diverse work from across the world, introducing a UK audience to the European tradition of radio drama often anchored in soundscape whilst celebrating our own more text based tradition. The festival provides a UK audience with the rare pleasure of listening to radio drama in other languages, supported by English language translations of the script. The festival also brings together work from national broadcasters with that of emerging independent producers and is proud that the major prizes have largely been awarded to this exciting but lesser known work.


Awards are made by a jury – membership of which is open to anyone who commits to listening to all the work across the week – and which always includes international producers who have travelled to Herne Bay with their work. An audience award – decided by popular vote and open to anyone anywhere in the world to vote – complements the jury award and usually goes to work which has not achieved a jury award.


Alongside the professional festival, an outreach programme takes the opportunity to make radio drama into local schools and community groups, culminating in a community showcase on the last Saturday of the festival.


This year, 2018, we are looking forward to extending the festival through the UK's first children and young peoples' radio drama festival which will take place in Herne Bay in June.


For further information, please contact
Melanie Nock, Producer (07903168891) mel@international-arts.eu
Jonathan Banatvala, Artistic Director (07968034713) jonathan@international-arts.eu
Nicholas McInerny, Project manager


HERNE BAY RADIO DRAMA FESTIVAL
Note from ND...I spent a couple of days at the festival this year; excellent event - sitting around in comfortable surroundings with other radio drama enthusiasts and programme makers from all over Europe and even further afield. Lots of interesting dramas on offer; from UK, Iran, Belgium, Canada, Australia, Croatia, Czechoslovakia, Romania, Germany, Iceland ....


The winners of the long and short form dramas were from Belgium and Iceland:

Long form:

ALMANAK
By Wederik De Backer, who also took care of the sound design and acted as producer. Production company: De Zieke Steur (which apparently translates as 'The Sick Sturgeon), Belgium. In Flemish.
For more than a hundred years, De Meibloem (The Mayflower) was a special place for the inhabitants of the Brugse Poort, a working class neighbourhood in the city of Ghent. The Mayflower was a socialist party hall; it was also a youth club and at one time a cinema. It provided entertainment for the poor youth of the area. When it fell into decline it remained meaningful to the people who had used it. One recalled how he met the love of his life at the cinema. The building is a place with a long tradition. Last year, it re-opened as a social and cultural centre, where a new generation of brugse Poort could spend their time. To preserve the history of this special place, Wederik De Backer explored the neighbourhood and the archives. He talked to those who spent part of their lives there, and anyone who had special memories about it. This is how "Almanak" arose: a radio play about the buuilding and its role in the lives of the inhabitants of the Brugse Poort.

Short form:
OPHELIA'S HARP By Sverr Gudjonsson, Iceland. In Icelandic. The work is based on the story of the drowning of Ophelia. "Working with my voice sculptures, throat singing and overtones, and reciting the poem by Shakespeare in the Icelandic translation by Helgi Halfdanarson. The broken harp is a symbol for Ophelia's broken heart. The songs are performed by actress Arnbjorf Hilf. The soundscape for this drama was extraordinary. (4m)
The audience award was (unusually) won by one of the winners above: Almanak.
24 Mar 18

RADIO ROMANIA ANNOUNCEMENT
A relatively new British radio drama festival has selected 'Ping-pong', a radio play by Sandu Macrinici for its next event: from 19-23 Mar 2018, in Herne Bay, Kent.
'From stage to air' is the theme of this fourth International Radio Drama Festival. The festival celebrates work which links the worlds of live theatre and radio drama: adaptations of stage plays, a work inspired by a stage play, a play recorded in front of an audience, or which shares a common heritage or person from the stage, or a work written by an author who usually writes for stage..
The National Radiophonic Theater also qualified for this festival in 2015, when it won the second prize in the Short Theater category with the Countdown, the script by Mihnea Chelaru and Ion Andrei Puican, produced by Ion Andrei Puican. The festival is supported by the Authors' Licensing and Collecting Society (ALCS) and the WGGB (Writers Guild of Great Britain); the event is becoming well-known in Braitain on the drama calendar.
Ping-Pong is the Sandu Macrinci's first play. It was first broadcast on 21 Sep 2017 with Mihnea Chelaru as the producer, as part of the First-Drama program of the National Radio Theatre. Sandu obtained his degree in History and Philosophy at Babes-Bolyai University in Cluj-Napoca in 2014. He obtained his Masters degree in Drama at the University of Arts Târgu Mures and is continuing his studies in the drama department at Regie. The play is about the relationship between the generations; between the young and the old.
Production details: The radio adaptation, production and sound design are by Mihnea Chelaru. In the cast: Oliver Toderita, Mihaela Betiu, Vlad Bîrzanu, George Ciobotea. Music is by George Mark. Help with land records: Marius Toghina and Bogdan Dumitrescu. Location Manager: Simona Vasiliu. Studio director: Janina Dicu. Editor: Oana Cristea Grigorescu. TNR Production, September 2017.

RTE DRAMA
I have been looking on the RTE website to see what drama is on offer; since the demise of radio plays on CBC (Canada) and ABC (Australia), RTE Radio 1 is one of the few remaining stations broasting quality drama regularly.
Drama On One can be heard each Sunday at 8pm. Click the title link to see what's on offer.
There are currently 25 pages of entries; 12 entries per page, most of which are plays. There are some related features. I notice there are entries from RTE for the Herne Bay festival; more details soon.
28 Feb 18

UK INTERNATIONAL RADIO DRAMA FESTIVAL, HERNE BAY, 19-23 Mar 18
There are just under 50 entries for this year's festival, from many countries. There are two BBC entries; these are the only ones I've heard so far. Information about them is below.
The Man with the Hammer
By Phil Porter. (R4 1415, 25 Jul 17) The play touches on the roots and causes that turn cycling enthusiasts into obsessives. It's told through the eyes of Jodie, a schoolgirl given a bike by her father to avoid walking to and from school. Jodie, whose mum died when she was 12, lives with her father, Tony, who increasingly struggles to bridge the widening gap in his relationship with his teenage daughter as she grows up. Jodie meets up with professional cyclist Noah at a race. Noah coaches her to overcome some of the hurdles to succeed in cycling, and a relationship starts to form. (Summarised from www.reviewshub.com)
The title of the play refers to the mythical figure who waits around a distant bend or halfwayup a steep hill in the middle of nowhere.When your body refuses to respond, you are twenty miles from home and cannot pedal another yard, you have met the man with the hammer.
Cast: Jodie: Harriet Slater, Tony: Jonathan McGuinness, Noah: Jonny Holden, Maxine: Chetna Pandya, with Philip Fox, Emilio Doorgasingh and Charlie Clements. Produced by David Hunter.

Alistair McGowan's latest play, The B Word (R4, 1415, 26 May 2017) was about the events leading to the opening night of Shaw's 'Pygmalion' in 1913; the first time that the word 'bloody' was used on stage. At the time it caused considerable controversy. Producing the play also caused strong reactions between Shaw, his leading man, Sir Herbert Beerbohm Tree and his leading lady, Mrs Patrick Campbell, who played the 19 year old Eliza Doolittle at the age of 49. Richard Huggett wrote a play in 1968 (The First Night of Pygmalion) in which he similarly depicts backstage events during the first production. Shaw was played by Alistair McGowan, Beerbohm Tree by Richard McCabe and Mrs. Campbell by Charlotte Page. The producer was Emma Harding. (ND, 'Diversity' website review, Sep 2017).
25 Feb 18

RADIO 3, 1991 DRAMA
Stephen Shaw's page of drama from 1991 on R3 is now online. See main radio drama page and scroll down. Thanks again, Stephen.
22 Feb 18

BETTY DAVIES
Ned Chaillet's obituary of Betty Davies, published in The Guardian, is now online.
10 Feb 18

ARCHERS MATRIARCH SPEAKS
Reported on p.9 of Tuesday's "Times", the sub-heading being 'Archers matriarch, 98, scolds show's lazy youngsters'.
June Spencer, 98, is not impressed with some of the younger members of the cast, implying that they need to spend more time working on their scripts and enunciation. She said that older hands on the series had resorted to helping their junior colleagues master voice techniques which they had not learned at drama school. "..........I don't think many of them have had speech training - and in radio, it's all about the voice". "I work on the scripts and rehearse as soon as I get them..............I see some of the younger ones marking up theirs just before read-through and think : 'you haven't worked on it!' ".
June has been involved with The Archers (apart from a spell in the 1950s) since the pilot episodes were broadcast on the Midland Home Service at the end of May, 1950 prior to its main launch on New Year's Day, 1951, so her observations should be heeded.
10 Feb 18

BETTY DAVIES, RADIO PRODUCER
I have been contacted by David Roberts, who writes as follows:
You may like to note that Betty died last week at the age of 100. She was my father's first cousin. The funeral will take place in Monmouth (where she lived for the last few weeks of her life) on 27 February.
She was an extremely colourful character, who led a long and fascinating life, working well into old age and then travelling the world - from Antarctica to the Karakoram - until too infirm to do so. Until mid-2017, having outlived all her BBC contemporaries, she continued to live alone in the flat in Shepherd's Bush she had occupied for many decades. It was a running family joke that Betty was likely to pop up in the most unusual places. She once stayed with me in Santiago, Chile, but nothing beats the time I bumped into her by accident in the countryside near Cienfuegos in Cuba. This was in 1983 - deep in the Cold War, when western tourists were rare. She really did get about!
David Roberts
31 Jan 18

AUDIO DRAMA AWARDS 2018
These were announced in the BBC Radio Theatre last night and are now displayed on the relevant page, along with my digest of the evening.
29 Jan 2018

GILLIAN REYNOLDS
After 42 years of being their radio columnist, Gillian Reynolds is leaving the Daily Telegraph. Gillian has done a superb job over the years in promoting and defending radio, and her comments and reviews are well-known up and down the country. In the past she has even, on occasion, lent me her review tapes when I have missed a programme. A difficult act to follow, and a kind and considerate lady. Thank you, Gillian.
24 Jan 2018

4/4: INTRODUCTION & ALLEGRO
Very good new comedy drama series on R4, written by Robin Brooks and Sarah Wooley (though Sarah not credited in RT). It's about the exploits of the members of a string quartet. Highly recommended. The first episode went out on Mon 22 Jan at 1415 in the normal 'afternoon play' slot.
24 Jan 2018

CAROL MCSHANE
I am sorry to report the death of my friend Carol McShane, SM with the BBC for 30 years.
I had known Carol for 20 years, since she was introduced to me by Rodney Wingfield in pre-internet days. Carol helped me a great deal with the Diversity site from 2002 until she died. It was she who first put me in touch with a large number of writers and producers, with whom she had a great rapport.
On one occasion Carol was particularly pleased by her sounds effects - which included a battle involving elephants - on Glyn Dearman's mesmerising production of "I Claudius" back in 1985. For those who know the television play 'Radio Pictures' (about making a radio play), the SM is modelled on Carol and the producer on Glyn.
Carol worked with all of the well-known directors from 1963-1993 - Gerry Jones, Graham Gauld, Glyn Dearman (q.v.), Michael Bartlett, Gordon House, Martin Jenkins, John Tydeman, Richard Wortley, Ned Chaillet.
For those who knew her I am reproducing (with permission) part of a piece written in September 2017 in the 'Dennington News'. Dennington is in rural Suffolk.
>>Carol left school like many teenagers, unsure of what she wanted to do in life. Her chief interests were in acting and with animals. She wrote to the B.B.C. and was lucky enough to be accepted for their year-long studio managers' training course, based at Broadcasting House.
From here, Carol went into radio drama, which she loved, and she got to meet many of the stars of the time: Ralph Richardson, Michael Redgrave, Judi Dench, Derek Jacobi and Dirk Bogarde. It was an exciting place to be for a young lady and she developed her career from doing studio sound effects with the actors, to running the sound mixing desk for final broadcast productions. Carol married Ian Sheward, who also worked for the B.B.C. in television drama; they left together in 1993. She'd been with the 'Beeb' 30 years to the day, August 26th and experienced many changes during that time, particularly in the mood and relationship to employees within the Corporation. For some time, Carol had been considering a career change; she took voluntary redundancy in advance of a much larger exodus of studio managers.<<
I was unable to attend the memorial service yesterday, but NC tells me the church was filled to overflowing and memories of Carol were warmly and beautifully expressed. There was a long tribute from Michael Bartlett, and others from John Tydeman, Dirk Maggs, Miriam Margolyes and Kay Patrick.
John Tydeman's tribute consisted of a reference he wrote for Carol on her leaving the BBC, where he commented that Carol had exactly the right way of dealing with those of an 'artistic temperament', including actors, composers, musicians and directors.
She once told me "A good producer has to be able to judge how best to help an actor in difficulty; it's important to be tactful and positive; in spite of appearances, actors are sometimes quite frail creatures and they have to be handled very carefully."
Here's a photo of Carol in action in 1982 in studio B10; Michael Bartlett is in the background on the left. I don't know the identity of the lady on the right.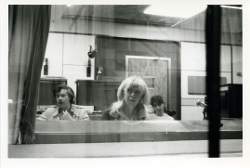 The full article about Carol can be found at Dennington-News, July-Sept 2017
Requiescat in pace.
10 Jan 2018

IMISON & TINNISWOOD AWARDS
The shortlists are now out. Go to main radio page and click on 'Imison Award' and 'Tinniswood Award'.
4 Jan 2018

IMISON & TINNISWOOD AWARDS
I am told that the shortlists should be available in a few days.
19 Dec 2017

MORE ON HERNE BAY FESTIVAL, MARCH 2018
For those who are considering coming to the festival (it is free entrance for audience members), I have put online the full programme, play descriptions, and a list of winners, for the last festival which took place early in 2017. The page is here: irdf-2017.html.
12 Dec 2017

HERNE BAY FESTIVAL, UK, MARCH 2018
Interesting blog by a person who entered a play for the Herne Bay radio drama festival in 2017: Jeffrey Adams, who runs Icebox Theatre: www.iceboxradio.org/fridays-at-the-mic/. He talks about the festival in some detail, and gives five good reasons (my summary shown below) why radio drama should receive backing from NPR:
1. Radio drama fulfils the cultural part of NPR's mission statement better than anything else.
2. Value for money in radio drama has never been better, because of improvements in audio technology.
3. Radio drama could lower the average age of NPR's listenership considerably.
4. Radio drama will assist NPR's case for more funding by increasing soundscape diversity
5. Radio drama gives significant influence over arts and culture.
If this interests you, please click the link and look in detail at what Jeff has to say.
11 Dec 2017



WEBSITE NUMBERS (VISITORS) 2017-2018
Dec:17312 (Don Taylor 545, John Mortimer 140, R.Wingfield 93, Michael Robson 71)

Jan: 19179 (Don Taylor 490, R.Wingfield 106, Michael Robson 66, J.B.Priestley 63.)
We also had 562 visitors to the C.P.Snow 'Strangers & Brothers' page and 291 to the 'Elidor' page.

Feb: 17354 (Don Taylor 525, R.Wingfield 100, Grant Eustace 95, Chris Russell 75)
-plus 165 visitors to the 'Strangers & Brothers' page.

Mar: 18306 (Don Taylor 528, R.Wingfield 159, Grant Eustace 117, Nigel Baldwin 97).
We also had 626 visits to our main page about the Herne Bay radio drama festival.