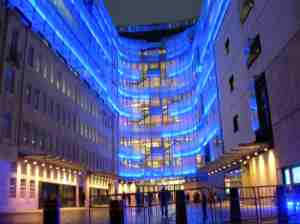 Awards for radio plays broadcast between Oct 2016 and end-Oct 2017.
The BBC Audio Drama Awards celebrate the range, originality and quality of audio drama on air and online, and give recognition to the creativity of actors, writers, producers, sound designers and others who work in the genre. This is the seventh year of the Audio Drama Awards.
The event was introduced by Alan Davey, controller of Radio 3. Alan thanked all of the participants for their contributions. He remarked that the BBC's radio drama is famous for its quality, both adaptations and original works. Most go out on radio 4 but some are broadcast on radio 3. They show great dedication; it is worth remembering that Louis MacNeice lost his life as a consequence of recording sound effects for one of his radio plays. (He died of pneumonia in 1963, contracted in a most unlikely way - he caught a chill working down a mineshaft as he was checking sound effects - probably for his play "Persons from Porlock". - ND)
MC for the evening was Tracy-Ann Oberman, an actress and writer who has worked on theatre, television and radio. She is well-known on TV; less well-known are her appearances in 600 radio dramas. She has also written some good radio plays of her own, including "Mrs. Robinson, I presume' (about the making of the film "The Graduate") and "Rock and Doris and Elizabeth" (about the film star Rock Hudson). Tracy-Ann remarked that radio plays inspire millions of radio listeners every day... the people making it .......the producers and the production teams ..... are geniuses.........the act of listening, which is much more active than watching television, is still hugely popular. "Radio drama is in great shape".
There were also two short tributes. Tracy-Ann mentioned the very recent death of Betty Davies, aged 101. Betty was an outstanding radio play producer from the 50s to the 80s. The BBC Genome project lists about 1300 of her productions and adaptations, and she probably had a hand in about two thousand radio dramas in all, many of which were for 'Saturday Night Theatre'. This website lists a small fraction of her work (see 'Producers' page). Her first radio play went out in 1943 and she retired in 1980.
The other tribute, by Celia de Wolff, was to playwright John Peacock, who died in 2017. Celia and John had worked together for 27 years. He began writing in 1979 and ended up with over thirty plays; his first ever play, Attard in Retirement, won a Giles Cooper Award. For more information about his work, see our John Peacock page.


SHORTLISTS, FINALISTS* and **WINNERS**:
Best Original Single Drama
Judged by Paterson Joseph, Marcy Kahan and Emily Maitlis; presented by Simon Armitage
*Dangerous Visions: Culture by Al Smith, producer Sally Avens (commended)
Foxes by Padraic Walsh, producer Peter Kavanagh
Jayne Lake by Matthew Graham, director Kate Rowland, producer Russell Finch
*The Music Lesson by Hannah Silva, director Susannah Tresilian, producer Mel Harris
*The Red by Marcus Brigstocke, producer Caroline Raphael **WINNER**
Solitary by Hannah Silva, producers Steve Bond & Nicolas Jackson
Best Series or Serial
Judged by Baz Bamigboye, David Eldridge, Ruth Jones; presented by Monica Dolan
*Black Eyed Girls by Katie Hims, producer Sasha Yevtushenko **WINNER**
*Dangerous Visions: Resistance by Val McDermid, producer Sue Roberts
*Home Front by Katie Hims, director Allegra McIlroy, producer Jessica Dromgoole
Lifeafter by Mac Rogers, producers John Dryden and Rachel Wolther
The Pursuits of Darleen Fyles by Esther Wilson, producer Pauline Harris
Tumanbay by Mike Walker, Ayeesha Menon & Andy Mulligan, producers John Dryden, Emma Hearn and Nadia Khan
Best Adaptation
Judged by James Mannion, Elan Closs Stephens, Roy Williams; presented by Roy Williams
*A Clockwork Orange by Anthony Burgess, producer Gary Brown **WINNER**
Crime Down Under: Prime Cut by Alan Carter, ad. Adrian Bean, producer Helen Perry
Isaac Asimov's I, Robot ad. Richard Kurti, producer Andrew Mark Sewell
Kafka's Metamorphosis ad. Alan Harris, producer James Robinson
*Midnight's Children by Salman Rushdie, ad. Ayeesha Menon, producers Emma Harding and Tracey Neale
Oedipus the King by Sophocles, ad. Anthony Burgess, producers Polly Thomas and Eloise Whitmore
*Terrible Beauty by Gerald Doyle, adapted and produced by Bernard Clarke (RTE)
Unmade Movies: Hammer Horror's The Unquenchable Thirst of Dracula , ad. Mark Gatiss and Laurence Bowen, producers Laurence Bowen and Peter Ettedgui.
Best Actor
Judged by Jane Anderson, Ed Hicks and C.W.Hill; presented by Robert Glenister
James D'Arcy, The Dark Earth and the Light Sky
*Paapa Essiedu, Wide Open Spaces
*John Hurt, The Invisible Man, Chapter 1 (commended)
Adam Nagaitis, The Archivist
*Nikesh Patel, Midnight's Children **WINNER**
Joe Sims, Oliver Park: The Easter Riot
Best Actress
Judged by Neil Dudgeon, Ben Lawrence and Tig Teague; presented by Neil Dudgeon
*Christine Bottomley, Solitary **WINNER**
*Anastasia Hille, Long Day's Journey into Night
Shauna Macdonald, Falling
Gina McKee, The Mother
*Julia McKenzie, John Finnemore's Double Acts 'Mercy Dash'
Maxine Peake, The Thrill of Love
Sian Phillips, The Things We Never Said
Alison Steadman, Our Hylda
Best Supporting Actor/Actress
Judged by Samuel Barnett, Kirsty Lang, Nick Warburton, presented by Louiza Patikas
*Roger Allam, The Government Inspector
*Amelia Bullmore, The Beard
*Rupert Evans, Long Day's Journey into Night **WINNER**
Henry Goodman, The Birthday Party
Samuel James, War of the Worlds
Sian Phillips, Pygmalion
Best Debut Performance
Judged by Jane Dauncey, Elspeth Morrison, Indira Varma; presented by Adrian Scarborough
Michelle Keegan, On Kosovo Field
*Andrew Leung, Crime Down Under: Prime Cut
Will Merrick, Tolkien in Love
Georgie Morrell, Jayne Lake
*Kate Phillips, Gudrun's Saga
*Sabrina Sandhu, Black Eyed Girls **WINNER**
Ruby Ashbourne Serkis, In Here
Best Use of Sound
Judged by Catherine Nixey, Nina Perry and Piers Plowright; presented by Catherine Nixey
Isaac Asimov's I, Robot, sound by Wilfredo Acosta, Imran Ahmad & Alistair Lock, producer Andrew Mark Sewell
*Kafka's Metamorphosis, sound by Nigel Lewis, producer James Robinson (commended)
Lifeafter, sound by Steve Bond & John Dryden, producers John Dryden and Rachel Wolther
Manfred, sound by Steve Brooke, Paul Cargill, Olly Fox, producer Pauline Harris
*Midnight's Children, sound by Peter Ringrose, Anne Bunting, Jenni Burnett, producers Emma Harding and Tracey Neale (commended)
*War of the Worlds, sound by Cal Knightley, Mike Etherden, Alison Craig, producer Marc Beeby **WINNER**
Best Scripted Comedy (Longform)
Judged by Bruce Dessau, Katherine Jakeways, Paul Schlesinger; presented by Pippa Bennett-Warner
Ankle Tag by Gareth Gwynn & Benjamin Partridge, producer Victoria Lloyd
A Charles Paris Mystery: The Cinderella Killer by Simon Brett, ad. Jeremy Front, producer Sally Avens
John Finnemore's Double Acts 'Penguin Diplomacy' by John Finnemore, producer David Tyler
*Ladhood by Liam Williams, producer Joseph Nunnery
Mr Muzak written & produced by Richie Webb
Parental Guidance by Max Davis, producer Sam Michell
*The Penny Dreadfuls: Le Carré On Spying by David Reed, producer Julia McKenzie
*Sarah Kendall: Australian Trilogy: A Day in October by Sarah Kendall, producer Carl Cooper **WINNER**
Best Scripted Comedy (Sketch Show)
Judged by Steve Bennett, Marilyn le Conte, presented by Miles Jupp
*The Absolutely Radio Show by Pete Baikie, Morwenna Banks, Moray Hunter, Gordon Kennedy & John Sparkes, producers Gus Beattie and Gordon Kennedy
The Brig Society by Marcus Brigstocke, Toby Davies, Nick Doody, Jeremy Salsby, Steve Punt & Dan Tetsell, producer David Tyler
Dead Ringers by Ed Amsden, James Bugg, Jack Bernhardt, Sarah Campbell, Tom Coles, Max Davis, Nev Fountain, Laurence
Howarth, Tom Jamieson and Laura Major, producer Bill Dare
Desolation Jests by David Renwick, producer Gareth Edwards
*Harry and Paul Present: The Gentlemen's Club by Harry Enfield & Paul Whitehouse, producer Sam Bryant
*It's Jocelyn by Jocelyn Jee Esien, Ed Amsden, Liam Beirn, Sarah Campbell, Tom Coles and Laura Major, producer Suzy Grant **WINNER**
Best Online or Podcast Audio Drama
Judhed by Annette Badland, Matt Hemley, Sofie Mason; presented by Annette Badland
Blood Culture by Philip Connolly, Lance Dann, David Wigram, producer Lance Dann, Resonance
*Can't Get You Out of My Head by Charlotte Bogard McLeod, producer David Hunter, BBC
*Inside Donald Trump by Andy Hamilton, producers Claire Broughton and Andy Hamilton, Hat Trick
King Lear by William Shakespeare, ad. Nicholas Pegg, producer David Richardson, Big Finish
The Prisoner – I Met a Man Today by Nicholas Briggs, producer Scott Handcock, Big Finish
*Rathband: A Digital Tragedy by Christopher Hogg, producers John Wakefield and Jeremy Mortimer **WINNER**
IMISON & TINNISWOOD AWARDS
THE BOOK OF YEHUDIT won the Imison and BORDERLAND won the Tinniswood. Details shown on the Imison and Tinniswood pages.
OUTSTANDING CONTRIBUTION TO RADIO DRAMA
Presented by Alan Davey
AYEESHA MENON (adaptor) and the Midnight's Children Production Team, with Emma Harding and Tracey Neale, 27 actors, Sound Design: Peter Ringrose, SMs Anne Bunting and Jenni Burnett; production coordinators: Maggie Olgiati and Jenny Mendez;p BBC Radio Drama London. An outstanding piece of radio drama in every way.
LIFETIME ACHIEVEMENT AWARD
Presented by David Suchet
Presented to Dame SIAN PHILLIPS, who has dedicated 74 years to radio, acting and drama.
Sian said that her most intense professional experiences occurred in her first ten years in radio, from the age of 11. In those days, they broadcast live. "A few years later I became a continuity announcer, then a newsreader, then an interviewer, and I loved every minute of it". Ever since then, in her acting career, Sian has been grateful for the things which only radio can give. It gives opportunities not available in any other medium; there is nothing like radio."Thank you, BBC."
A clip from THE MINISTER, by R.S.Thomas was played, with Sian doing the reading.