This group of apples has the distinction of red flesh under an apple skin of regular appearance. I have been a collector of redflesh apples for several years, but please note this page is just an index to more authoritative sources. I am not an expert. Pictures below.

There is a wealth of experience below. Visit their sites. There's also an interesting 8-minute talk on 'Youtube' by Richard Espley, a plant molecular biologist working in Auckland, New Zealand, on the development of a red-fleshed apple.

A friend has made a short video of a few of my redfleshed apple blossoms illustrating the spectacular colours of some of the varieties below.

Greenmantle Nursery, Garberville, California.
www.greenmantlenursery.com/fruit/rosetta-apples.htm
(Ram Fishman, the authority on Albert Etter, breeder of a line of redfleshed apples from the variety "Surprise". Ram's website has some amazing photographs and tells the story of how he rescued genetically valuable apple varieties from Etter's abandoned experimental orchard many years later. Make sure you visit this site. The seven red-fleshed apples he propogates and sells are known as the Rosetta apples and are indicated below "Property of Greenmantle Nursery").

Four Seasons Cabins, Hocking Hills Nursery, Logan, Ohio, USA.
www.fourseasonscabinrental.com/redfleshedapples.html
(Derek Mills, apple collector, grower of forty-five varieties of red-fleshed apple)

Tree-Mendus Orchards, Eau Claire, Michigan, USA.
(article, no longer on-line) by Theo Grootendorst, 30-year owner of Southmeadow Nursery. Tree-Mendus sell five red-fleshed apple trees: Hidden Rose, Pink Pearl, Surprise, Almata and Pink Sparkle, and the Tree-Mendus Orchards are owned by Herb & Liz Teichman.

Siloam Orchards, Uxbridge, Ontario, Canada.
www.siloamorchards.com/apple_tr.html
(comprehensive fruit catalogue and information)

Deacon's Fruit Nursery, Godshill, IOW, England.
www.deaconsnurseryfruits.co.uk
(comprehensive apple catalogue; more information than most textbooks)


THE VARIETIES

My sources of information are numbered 1-8 after each apple. These numbers refer to:

1. Siloam's online fruit catalogue, from Ontario
2. Joan Morgan and Alison Richards: The book of Apples, 1993, Ebury Press.
3. Own remarks, based on my limited experience (N.D, Leicestershire, UK)
4. Remarks by an apple collector friend living in Pennsylvania.
5. Graham Deacon, Deacon's Nurseries, IOW.
6. Derek Mills' website, Four Seasons Cabins, Ohio.
7. Ram Fishman's website, Greenmantle Nurseries, California .
8. Tree-Mendus website, article by Theo Grootendorst, Michigan.

PICTURES
The pictures below are mine. As more trees blossom and fruit, or people send photos, more will be added.

The Greenmantle nursery has spectacular pictures of its seven Rosetta apples.

I am responsible for any errors in the list which follows. Corrections and additions - and pictures - are welcome - please email. All contributions will be credited.

So... the varieties:-


AIRLIE RED FLESH
Also known as Hidden Rose (see below).


ALDENHAM PURPLE(?) - DUBBELMAN'S APPLE
Possibly Aldenham Purple Apple.... quite sweet and good flavoured when fully ripe. There is another variant (darker colour but bitter taste) growing at a genome preserving orchard in Sweden. I grow this in England from scionwood supplied by a person in Stockholm.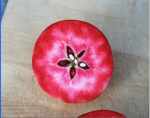 .....

ALMATA
1942 South Dakota, USA .(Beautiful Arcade x Fluke 38) x Redflesh cross. Medium size; solid red skin covered with a greying bloom. Striking watermelon red flesh, tart flavor. Makes excellent apple sauce and can be used for pickling.

Ripens in late July to August. (6)

Pink cortex wood, red-green leaves. Sweet, pleasant favour, reminiscent of strawberry and raspberry; hint of pomegranate. Mine do not have a tart flavour; the tree is extremely healthy and not readily attacked by pests. (3) Vigorous, healthy grower. (4)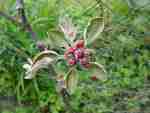 .....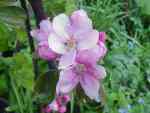 .....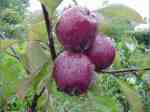 .....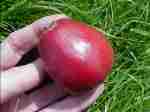 .....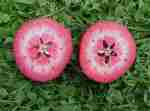 .....

The red pigment is pervasive in the fruit, flowers, the leaf and the wood under the bark. Solid purplish-red skin with striking red flesh. (8)

APRICOT APPLE
Orange flesh, large, round orange-red apple. Flesh is very crisp. Sweet tart flavour; ripens in late October. (6)

BALDWIN RED FLESH
No information.

BAKRAN
Very dark flesh indeed (homozygous for red flesh, possibly); extremely tart. About the size of a golf ball. Hansen type; red wood, blossom and reddish leaves.

BAYA MARISA
A new German redfleshed variety, newly released, autumn 2009. See www.obstzentrum.de. ....thanks Reinhard.
UPDATE......

Baya® Marisa was developed by the Bayerisches Obstzentrum (Bavarian Fruit Centre) in Germany. This variety is marketed in the UK as 'Tickled Pink' and is available from the Orangepippin online shop.

The apples are medium-sized red apples with attractive lenticels (white specks) but with red flesh. We are informed that the flavour is slightly tart but good. In the UK it is ready at the end of September and should store until January. Its parent is Weirouge, which it resembles.

Baya® Marisa is a registered in Germany and the European Union. I have no pictures yet but there are some on the Orangepippin site, along with more information.


BELLE FLEUR KRASNY
Russian; raised by Michurin; sweet, red-stained white flesh. Part descendant of Niedzwetzkyana. (4)
Tania Scully (Syracuse, New York) tells me that Krasny is Russian for "red". Info from "Directory of Apple Cultivars" written by Martin Crawford: Fruit: bright red flushed, Flesh: white, stained red, sweet, dry, firm , aromatic, Tree: vigorous, heavy cropping.Parentage: Belfleur Kitaika x Jahontonoye. Origin: Russia.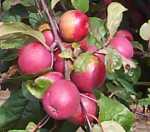 .....

BILL'S RED FLESH
Also known as Scarlet Surprise. (4)

BLUSH ROSETTE
Property of Greenmantle Nursery, Garberville, CA. One of Etter's varieties. Ripens Sept. Can suffer heat damage in some years. Pink flesh through cream background. Aromatic, rich flavour high in acids and sugar. (7)

BREUNSDORFER
Variety from East Germany almost lost when the orchards containing it disappeared under opencast coal mines. A lady visiting the area took an apple home to England before the bulldozers moved in and planted the seeds. One seedling produced apples true to type. The lady contacted the site, sent scion wood, and the tree was re-grafted. Skin all-over red but rather pale; flesh pink, and red wood and blossom. Delicate flavour sometimes reminiscent of peaches,and the pink flesh sometimes has a hint of violet about it.

BROWN'S APPLE
Early Devon sharp cider apple. Pictures from Mark Shirley of Rockinghamforest Cider. Produces pink juice.



...

...

...




BUDAVGOSKY 118
(Bud.118) Rootstock; about the same vigor as MM.111, but as winter-hardy as Antonovka. Burrknots and suckers are rare. Productive; well-anchored. Red leaves, red wood, red blossoms, red fruit. .....thanks Richard.......

BUNDY'S RINGWOOD RED
Redfleshed English apple; edible but rather sharp. This is listed in Derek Tolman's catalogue as coming from an old tree on the edge of the New Forest. Medium to large dessert redfleshed apple keeping until about November, and probably has some Niedzwetzkyana in the parentage. Probably an old named variety, the orignal name now lost.

BURFORD'S RED FLESH
Discovered by Tom Burford, U.S. Cortex wood is red stained. Pretty red blossom. As for the fruit - grey bloom on skin which marks on handling. Browns rapidly when cut. Not to be confused with Burford Red, English apple from Oxfordshire. Mine ripened fully on about 1st October and although the appearance was spectacular the taste was not good. Juice flavour pleasant, little acidity, flesh texture rather dry and unpleasant; a bitter high-tannin aftertaste, though better than wisley crab. The bitterness disappears entirely on cooking though the flavour is bland. However the spectacular colour makes this worth mixing with Bramley etc. Stays on tree until early Nov.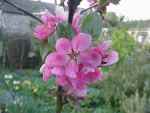 .....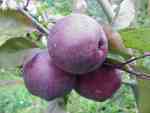 .....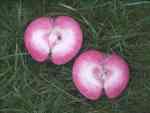 .....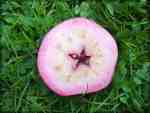 .....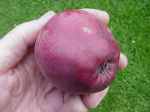 .....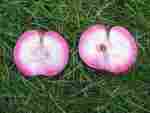 .....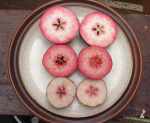 .....

BURGUNDY
Mentioned on one U.S. site (Bob Sorenson, Native Wines, Mt. Pleasant, Utah) as a cider variety.

CLIFFORD
American. Medium size fruit; solid red skin with light russeting. Red flesh, juicy, very tart flavor. Ripens mid September. (6)

CHRISTMAS PINK
Property of Greenmantle Nursery, Garberville, CA. (7)

Deep pink flesh; creamy translucent skin. Brisk, tart. Stored fruit mellow into rich flavour, melting flesh by Christmas, hence the name. (7)

DEVONSHIRE QUARRENDEN
Not a red-fleshed apple unless the year is warm and sunny, when there's a distinct pink colouration. Probable ancestor of DISCOVERY (q.v.); parent of Worcester Pearmain.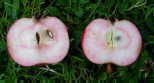 ....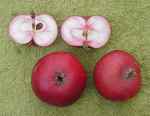 ....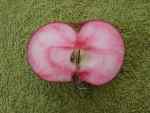 ....

DIRLETON RED
This is listed by Derek and Judy Tolman ( www.bernwodeplants.co.uk), located and propagated by them. It is an redfleshed variety, introduced to them by Bill Anderson of Dirleton, East Lothian, Scotland, and very hardy. The apples show some similarity to the redfleshed crab Niedzwetzkyana, but the fruit is larger and less bitter. The young foliage is copper tinted and the wood red stained. The apples are translucent deep red over deep pink, usually flattened round but occasionally conical. The blossom is deep carmine pink. The flesh is quite tart, stained to the core deep pink. (details taken from the Bernwode Plants catalogue). I would be interested to hear from anyone who has grown it.

DISCOVERY
(1949 Essex, England, UK) (JRHS) Worcester Pearmain x Beauty of Bath (?) cross Medium to large size, skin greenish yellow flushed bright red, light dots, fine scattered russet, solid russet at base. Flesh crisp, yellowish white tinged pink. (6)



.....


This isn't usually a red fleshed apple, but some pink staining is found if the weather conditions are right. The picture above, sent by Andy Brown, is a spectacular example of what can happen. Merton Knave, Devonshire Quarrenden (q.v) and Laxton's Fortune also show this trait.

Discovery is quite acidic at the start of the season. Early apple; not worth keeping more than a day or two.(3)

EAGLE POINT STAR
Australian apple. When cut, shows a red star in the centre of the fruit, surrounded by white flesh. Red stained wood, beautiful purple flowers. Small fresh eating apple with a hint of crab apple. Available from a few nurseries in Australia.

FIRECRACKER
Remarks by "Dave", Airlie, Oregon: "I found your site while looking for information on the Airlie Red apple - I live about 15 miles SE of Airlie, became interested in it when researching what types of apple to plant. Jim Gilbert of Northwood's Nursery (www.onegreenworld.com) stocks this apple and other red-fleshed types". His picture shows bright red skin and crimson flesh....C.P. tells me that this apple is the same as "Bill's Redflesh" / Scarlet Surprise. ND.

GENEVA
Seedling of Niedzweckyana. Medium size fruit. Red skin, dark red foliage. Red flesh, very tart flavor. Can be used for cider, ripens late August to early September. (6)

GEORGE'S RED
Similar to Red Devil in appearance but pre-dating it by about 100 years. Original tree located by George Humphrey, Roundbush, Essex, where it is growing on an ancient parish boundary. The tree has been propogated. Cortex wood is pink, leaves have a stronger reddish tint than most other redfleshed apples. Flavour similar to Red Devil but but more delicate; less hints of strawberry. The flesh colour varies between deep crimson and pale pink or off-white, depending on the season.. Keeps a few days. Ripe early to mid Sept. Unfortunately biennial.(3)

This variety (or one extremely similar to it) has also been located in Croydon by J.M; two very old trees.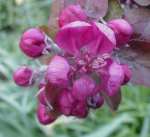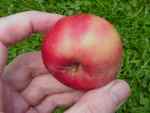 ....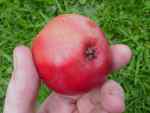 ....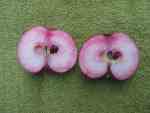 ....

GIANT RUSSIAN
Small to medium size fruit. Red skin, dark red foliage. Red flesh, very tart flavor. Ripens late August to early September. (6)

GLOWING HEART 
One of Fred Jansen's selections, described as looking like a beet inside and out due to its very deep purple / red colouring. Ripens September, quite tart.(1)

Very cold hardy. (4)

GRENADINE   
This Albert Etter apple ( 1940 ) has the deepest and darkest purplish red flesh, dull grayish transparent skin and has been compared to a pomegranate. Late ripening, brisk at harvest, mellowing after a few weeks in storage. (1)

California, USA, medium to large size fruit. Solid red skin, medium pink flesh, tart flavour. Developed by Greenmantle Nursery. (6)

Property of Greenmantle Nursery, Garberville, CA. (7)

Ripens mid-Nov on tree at Greenmantle nursery, but probably best picked Oct and stored. Very heavily pigmented flesh; darkest of the Rosetta group. (7)

HALL'S PINK
Cortex wood is green. Fruit has a pink tinge where the skin is bright red. Beautiful delicate flavour, a little like Mott's pink, with very thin paper-like skin which can often be removed without a knife. Flesh soft but firm, very juicy. Very similar to Merton Knave in shape, size and colour. Biennial. (3)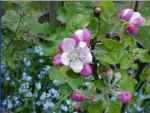 ....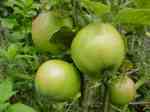 ....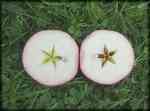 ....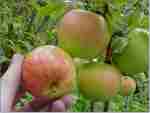 ....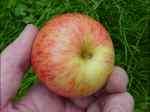 ....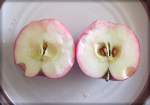 ....

HANSEN'S RED FLESH
No information.

HARRY BAKER
Rosy blooms, large red fruit, dark red flesh. Good for crab apple jelly. (4)

HIDDEN ROSE
Also known as Airlie Redflesh. (4) Airlie, Oregon, USA. Medium size conical fruit. Dark red flesh with a crisp texture and sweet tart flavor. Ripens in late September. (6)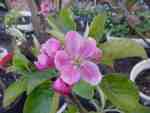 ....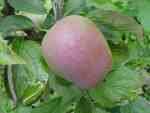 ....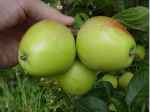 ....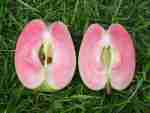 ....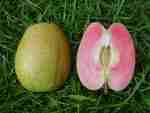 ....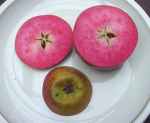 ....

Green cortex wood; leaves green. Sweet-tart flavour with thick mottled skin. Possibly the richest-flavoured red-fleshed apple I have grown. Remarkable appearance - vivid red flesh under greenish skin. In UK this is not ripe until early Nov, when it has an excellent flavour and is sweet rather than tart. (3)

HUONVILLE CRAB
Tasmanian red-fleshed apple, thought to be a hybrid of a domestic apple crossed with a crab apple. Scion wood is red stained. There is a picture of this on the website of an Australian nursery, http://woodbridgefruittrees.com.au .

A reduced-size copy of their photograph is shown to the right of the scion picture below. The site says that the original tree was found by Bob Magnus of Huonville, and describes the fruit as large, purple crabs with deep red flesh.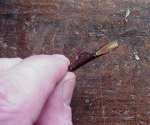 ....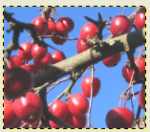 ....


KINGSBURY PRIORY APPLE
Sweet red-fleshed dessert apple, England.

KULDZHINKA KRUPNOPLODNAYA
Information from "Directory of Apple Cultivars" written by Martin Crawford. Fruit: large, oblong, bright red. Flesh: white, stained pink, very sweet. Tree: vigorous, often grown as an ornamental; parent of many crab varieties. Flowers: ornamental (purple). Possibly one of many Niedzwetskii genotypes. Parentage: Malus siversii ssp. niedzwetzkyana. Origin: Russia. Common synonyms: Niedzwetskii Apple.


....

LAURA
Hugh Ermen variety. Dwarf columnar crab, pink/white flowers, dark green leaves, medium size maroon fruits with dark red flesh. Good for jelly. (4)

LAXTON'S FORTUNE
Occasional red flesh seen with this variety when the weather is right.(3)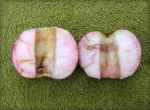 ....

MAYPOLE
Ballerina apple; grows with very few side breaks. Large dark redfleshed crab apples a little over an inch in diameter. Blossom is reddish pink along the main stem; the apple is self fertile. See Maypole page.

MERTON KNAVE
Not really a red fleshed variety, but flesh has a pink hue in some years. Early apple; good flavour, but not worth storing for more than 1-2 days. White flesh in dull years.



.....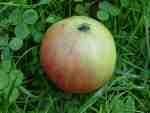 MERYLINN
I think this is a German redfleshed apple. See
Haberli nursery website.

MOTT'S PINK
Cortex wood green. One of the better-flavoured redfleshed apples. Almost luminous orange-pink in sunshine; smooth translucent skin; slightly sticky when fully ripe. Slight similarity in flavour and texture to Laxton's fortune, but more delicate; tart, firm, crisp, very juicy. The apple is pleasantly scented. Prone to scab. Very prone to mites; attracts them like a magnet. Biennial.


....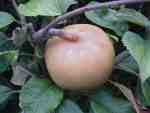 ....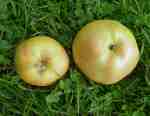 ....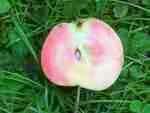 ....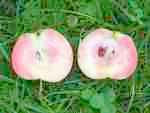 ....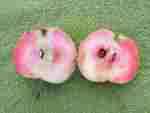 ....

NIEDZWECKYANA
Small to medium size fruit. Solid red skin, dark red flesh, tart flavour. Deep red scion wood. Ripens in October. (6)

NORFOLK RATTLEBOX
A very rare Norfolk variety. Presumably the pips rattle when the apple is ripe. Apple with pink rather than red flesh. No other details at present. Pictures supplied by Danny Cotgrove - many thanks. (3)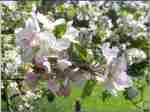 ....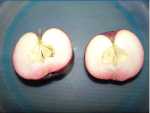 ....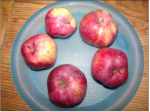 ....

PENDRAGON
Red-fleshed cider variety available (I think) in Devon. (3) Some authorities think this is the same as 'Sops in Wine'.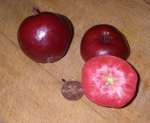 PEACH MELBA
Medium to large size fruit. Yellowish orange skin with red blush and some russeting. Orange flesh, tart flavor. Ripens late September. (6)

PINK BEAUTY
No information 

PINK BOUQUET
No information    

PINK PARFAIT
Property of Greenmantle Nursery, Garberville, CA. (7)

Large fruit; best flavoured and latest of the Rosetta apples. Flesh is mottled pink and cream. Ripens end-Nov. Needs long growing season. (7)

PINK PEARL  

From the noted California plant breeder Alfred Etter in 1944. Bright pink flesh and crimson pink blossoms. The fruit is crisp with a sweet/tart flavor, conical shape; skin is a creamy pale green. Parent is red-fleshed Surprise.(1) This apple was the Etter Surprise hybrid singled out for patenting and official introduction in the mid 1940s. (7)

1944 Humboldt County, California, USA. Medium size fruit. Cream and light green skin blushed with a red cheek. Rich flavor. Excellent dessert quality and for making apple sauce and pies. Ripens late August to September. (6)

My own impressions - the flavour is crisp; fruit texture is good. Skin not too coarse. Ripens end-Oct. in Midlands. The flavour is slightly better than Hidden Rose but more tart. The flesh is an attractive light pink and white. The apple is to my taste but if it was put in a child's lunch box it would probably be only half eaten. It is very acidic for a dessert apple. It would dry well (apple rings - superb flavour and colour) and would probably cook well, given its acidity. (3)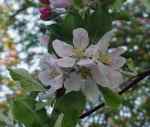 ....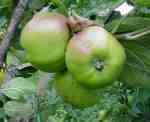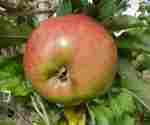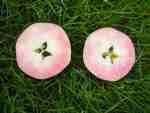 ....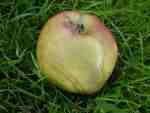 ....

Cortex wood is green. (3)

PINK PEARMAIN
Found growing in an old orchard near Whale Gulch, California, USA by Ram and Marissa Fishman of Greenmantle Nursery. Thought to be one of Albert Etter's apples. Medium to large size. Red with red stripes when ripe. Flesh color deep pink. Tart, mildly sweet, aromatic flavor. Ripens late September.(6) Distinctly sticky when ripe; England - ripens at end of October / beginning of November. (3)

Property of Greenmantle Nursery, Garberville, CA. (7)

Also known as Pink Sparkle. (4) Must be fully ripe for maximum sweetness and colour. Ripens early September. Late blossom. Does better if climate not too hot. (7) ....Picture emailed to me from U.S.A. by unknown apple grower, Aug 08. Many thanks.

Another grower in England reports that this apple ripens mid October to early November. It keeps for about 3 weeks. Sweet, pleasant aromatic flavour, slightly richer and denser texture than Mott's Pink.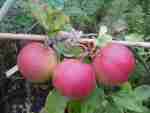 ........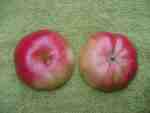 ......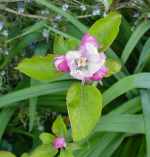 .......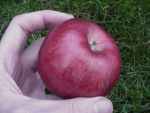 .......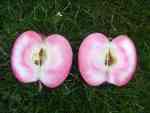 .......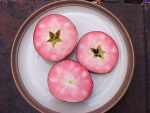 .......

PINK PRINCESS 
Fred Janson of Ontario developed this pink fleshed variety, originally named Pink Lady. He did not patent the name, as he did not believe in fruit patents, and an Australian variety was subsequently patented as Pink Lady, which is the one now available commercially. In 1997, Mr. Janson changed the name of his apple to Pink Princess which has pastel to dark pink flesh, is sweet/tart and aromatic, medium sized, skin color is carmine striping over pink. The parentage is Pink Pearl x Bronze Leaf Crab. Not sure (after a message from Richard B) whether BLC in this instance is a specific variety or a reference to a generic BLC such as Niedzweckyana. (1)

A medium sized apple, light green skin turning yellow with a few faint red stripes. Pink colored flesh similar to that of Pink Pearl, but sweeter, with a nice fruity flavor.(4)

PINK SPARKLE
aka Pink Pearmain (see above).

PIXIROSSO
This appears to be a new variety and trees are being sold by Thompson and Morgan. I have paraphrased their information and written a short Pixirosso page.

POMFITAL
German redfleshed apple. See Karl Schneider nursery.

PURPLE PASSION
Redfleshed apple sold in Canada by 'greenbarnnursery' - see Suppliers page.

PURPLE WAVE
Red fleshed apple. Reddish purple scion wood. Tiny crab-apple sized fruit; sharp and bitter.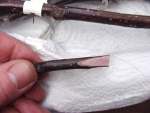 ....

RAVEN
Waldren Island, Washington, USA. Small to medium sized apple. In full sun the skin is dark burgundy, almost black. Yields bright red juice with excellent flavor. Makes good dried fruit, wine and cider. Ripens late October. (6)

RED DEVIL
Mid season dessert apple, scarlet flushed skin with pronounced bloom on skin. Keeps quite well - for several weeks. Good decorative tree; slender, good cropper; somewhat prone to scab in Leicestershire. Pink blossom. Cortex wood is pink; young leaves dark reddish-green going to green as they mature.(3)

Raised 1975 by Hugh Ermen, Faversham, Kent. Discovery x Kent. Strong fruity taste, some strawberry flavour; crisp, juicy, pink stained flesh. Produces pink juice. Pick late Sept. Store until Oct-Dec.(2)

Ideal garden cultivar, superb flavour, with pink juice. Tip and spur bearing. (5)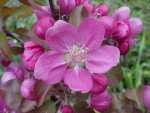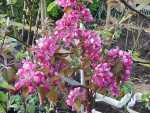 RED FLESH
Niedzweckyana x Malus Ioensis cross. Medium to large size deep red fruit with russeting on crown. Makes a clear red jelly. (6)

REDFIELD
1938 Geneva, New York, USA. Wolf River x Niedzweckyana cross. Medium to large, waxy pink to red fruit with russeting. Deep red flesh is slightly dry making it excellent for baking. Produces an exceptional jelly or blood red cider or vinegar. Ripens in October. (6)

REDFORD
1938 Geneva, New York, USA. Wolf River x Niedzweckyana. Medium to large size fruit, flesh red. (6)

RED HOOK
(1938 US) McIntosh x Carlton cross. Medium to large light red fruit blushed with dark red. Pink flesh that is firm, coarse, juicy and subacid. Ripens in September. (6)

REDLOVE
I am aware of two new (June 2010) redfleshed releases from Switzerland called REDLOVE. One of them is pictured below. More information on the Suttons website; I think they are the sole UK supplier. Said to be tart, good flavour, scab-free. Blossom deep pink. See also the Redlove page.

RED MOON (ROTER MOND)
German red-fleshed variety. Red cast to the leaves. Very similar to (but more consistent flavour than) Weirouge. Blossoms at the same timie as Weirouge. (3)

RED MILLER'S SEEDLING
An old market favourite variety. Striking red stripes. Very early season; self-fertile. Compact tree. Worcester type flesh: crisp and tangy. Flesh tinged pink. (5)

ROTER HERBSTKALVILL
German redfleshed apple. See link.

ROSETTE
Red-fleshed early apple. Judging by the pictures on 'Orangepippin', which sells this variety, this is probably a 'Discovery' sport.

RUBAIYAT
California, USA. Developed by Ram and Marissa Fishman of Greenmantle Nursery. (6)

Property of Greenmantle Nursery. (7) "Gem" of the Rosetta-Apple collection. Radiant red inside and out.Ripens late - Oct. (7)

SCARLET SURPRISE
Also known as Bill's Redflesh / Firecracker. (4) Cortex wood is dark red; leaves predominantly red. (3) Bright red blossom; fruit crimson; ripens early August in England. Tart but not unpleasantly so; rather like 'Discovery' in texture and flavour but a hint of raspberry. Does not keep.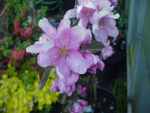 ....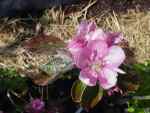 ....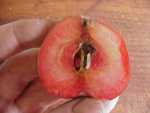 ....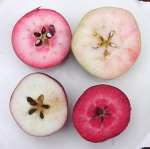 The fourth pictures above shows (clockwise from top left) Almata, Mott's Pink, Scarlet Surprise and Devonshire Quarrenden. Picked 20 Aug.

SCUGOG
Seedling of Niedzweckyana. Red flesh. (6)

SOPS IN WINE ???
A person in Suffolk sent these apples and suggested they are the ancient variety "Sops in Wine". They certainly fit the name; their colouring is as if they had been soused in red wine. If anyone recognises them, I would appreciate an email. They are highly scented, season August to November, and, as you can see, of spectacular appearance. The flavour is quite strong and pleasant, with a hint of blackcurrant. These apples are from an ancient tree (100 years+, rather spindly and slow growing) in a Suffolk village. There cannot be many varieties looking like this.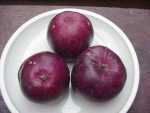 .....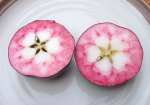 .....

Sops in Wine is a reputedly pink-fleshed apple from the18th century. Brogdale's trees, however, are not red fleshed. I have also come across a variant with red wood and smaller fruit, similar to the Dubbelman apple.

HOGG, 1884, gives this description:- "Fruit, rather above medium size, two inches and three-quarters broad, and the same in height ; roundish, but narrowing a little towards the eye, and slightly ribbed on the sides. Skin, covered with a delicate white bloom, which when rubbed off exhibits a smooth, shining, and varnished rich deep chestnut, almost approaching to black, on the side exposed to the sun, but on the shaded side it is of a light orange-red, and where very much shaded quite yellow, the whole strewed with minute dots. Eye, small, half open, with long, broad, and reflexed segments, placed in a round and slightly angular basin. Stamens, marginal or median ; tube, conical. Stalk, half an inch long, inserted in a deep funnel-shaped cavity. Flesh, red, as if sopped in wine, tender, sweet, juicy, and pleasantly flavoured. Cells, round ; axile, slit.

A very ancient English culinary and cider apple, but perhaps more singular than useful ; it is in use from October to February. The tree is vigorous and spreading, very hardy, an excellent bearer, and not subject to canker.

For more on this apple, see Sops-in-Wine page.

SOULARDII
Malus Soulardii: redfleshed apple; red scion wood. This is a beautiful decorative tree with red blossom and small regular-shaped crab apples. See Soulardii page. Rather cold flavour but not unduly acidic or bitter.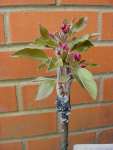 ....

SURFLEET SOUR
Seedling found in Surfleet, Norfolk. Ready Oct. Acidic, reddish flesh some years; other years no trace of colour. Cooker with dessert character later in the season. The tree has been propagated. (3)
UPDATE... on MM106 the apple is not unduly sour; perhaps it needs re-naming.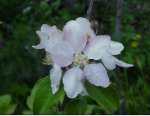 ....

....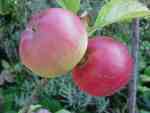 SURPRISE      
The name refers to its startling red flesh which lies under a pale yellow skin. Listed in USA nursery catalogues as early as 1824. This formed the basis of Etter's apple breeding work; reputedly it is from Turkey. (1)

Joan Morgan's book: Predominantly yellow, smooth skinned, midseason cooker and dessert; received 1905 RHS Wisley. Cooked, keeps shape or makes stiff puree; brightyellow; sweet, rich flavour. Culinary flavour fades by New Year, by which time it serves as a pleasant eating apple.(2) no mention of red colour, surprisingly- I think the NFC tree is probably a different variety -N.D.

One of the parents of Pink Pearl. (6)

First noted in 1831 catalogue of fruits, garden of Horticultural Soc. of London, Chiswick. (8)

THORNBERRY 
One of Albert Etter's red fleshed varieties, found growing in an abandoned orchard near Whitehorn California. The skin is translucent yellow that when fully ripe reveals a hint of the raspberry pink flesh inside. The flavor is spright, refreshing and berry-like. Ripens late season, in October and hangs well on the tree. (1)

Thornberry is a registered trademark of Greenmantle nursery. (6)(7)

Similar appearance to Pink Pearl but smaller and less translucent skin. Flesh is colour of raspberry ice cream. Some susceptibility to scab.(7)

TOTEM
Distinctive redfleshed apple with deep purple leaves, columnar growth habit. No other information.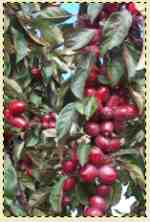 .....

VAMPIRE APPLE
This is an apple with blood-red flesh; I think it's a crab. See www.vampirapfel.de. The blossom is deep pink.

WATERMELON
Medium size fruit, light red skin. Crisp, juicy, medium pink flesh. (6)

WEBSTER'S PINKMEAT
Medium Sized fruit. Greenish yellow skin with red blush. Crisp, juicy, medium pink flesh. (6) Red-stained wood. My tree is four years old and has finally set a heavy crop of fruit. The apples are similar in size and shape to Burford's redflesh but a little flatter (3). The skin is deeply pigmented.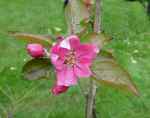 .....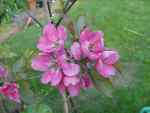 Cortex wood pink. Leaves red - bronze.(3)

WEIROUGE
Registered redfleshed German commercial variety. Does not brown on cutting. One person has told me that this is the same as "Roter Mond" but I have no evidence for this. I'll add comments after seeing apples of both. More pictures and tasting notes on the Weirouge page.
Another apple enthusiast tells me that 'Roter Mond' was brought to Germany during WW2 from the Ukraine, and that 'Weirouge' was a discovery in German garden.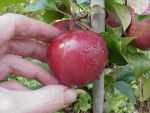 ....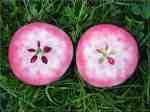 ....

WINTER REDFLESH  
A winter hardy red fleshed variety with purple flowers and bronze-red foliage. Sasha x Redflesh cross. (1)

Medium size fruit, red skin, red flesh. Purple blossoms and bronze red leaves. Ripens mid October. (6)

WISLEY CRAB
Very large-fruited crab apple, conical; red stained throughout. (4) Flavour average to poor; sometimes like juiceless watermelon; can be sweet and slightly sickly. (3). Photo from Deacon's Nursery, Isle of Wight. Beautiful red blossom; highly decorative.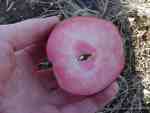 ......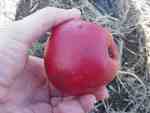 ......

UNIDENTIFIED, possibly seedlings
Two varieties of apple growing wild in Whetstone, Leicestershire, England. Both have a hint of strawberry in their flavour. The darker one (left of both pictures) has a much firmer, denser texture and produces red juice.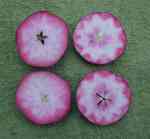 ......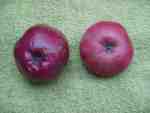 SOURCES

1. Siloam Orchards' Fruit Catalogue, Uxbridge, Ontario, Canada.
www.siloamorchards.com/apple_tr.html

2. The Book of Apples, by Joan Morgan and Alison Richards, Ebury Press, 1993.

3. Own remarks (N.D.)

4. Remarks by C.P., an apple enthusiast and collector in Pennsylvania, who has kindly written some comments on growing red-fleshed apples for us.

5. Remarks from Deacon's Fruit Nursery, Godshill, IOW, England.
www.deaconsnurseryfruits.co.uk

6. Remarks by Derek Mills, Four Seasons Cabins, Hocking Hills Nursery, Ohio .
www.fourseasonscabinrental.com/redfleshedapples.html

7. Notes from Greenmantle Nursery, Garberville, California.
www.greenmantlenursery.com/fruit/rosetta-apples.htm

8. Article by Theo Grootendorst, 30-year ex-owner of Southmeadow Nursery, writing for "Tree-Mendus" website, Michigan. Originally at http://www.tree-mendus.com/articles/red_fleshed_apples.html but the piece is no longer on line.


OTHER INFORMATION from:
Gerrit de Boer (Germany), Richard Borrie, the late Hugh Ermen, Stefan Dubbelman (Sweden), Reinhard Schomberg-Klee (Germany), Mark Scott, Mark Shirley, 'Pomona', Derek Tolman, Mel Wilson.

Many thanks.




UPDATE, May 2014
I have written an article 'The Diversity of Redfleshed Apples' - click on the link to read it. Other information on red-fleshed apple seedlings is shown on Pomona's page . See also the Purple Radish page.

Nigel Deacon / Diversity website