Registered redfleshed German commercial variety which crops every year. Does not brown on cutting. One person has told me that this is the same as "Roter Mond". I'll add comments after seeing apples of both.
Another apple enthusiast tells me that 'Roter Mond' was brought to Germany during WW2 from the Ukraine, and that 'Weirouge' was a discovery in German garden.

There is now a commercial planting of several thousand trees of Weirouge in Italy.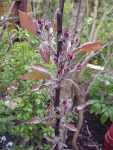 ....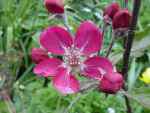 ....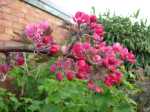 FRUIT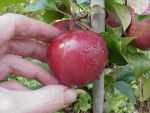 ....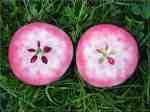 ....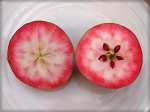 ....

TASTING NOTES
Slightly tart but sweet; quite similar in flavour to 'Discovery' but not as acidic. The pips are bright red, as can be seen from the photograph. The colours are most accurate on the third photograph (white backbround). Fruit texture is crisp and pleasant. Ripe end-August to mid- Sept.

2013 pictures: flesh much darker, especially if kept for a week or so; the cool evenings seem to develop the red colour. Taste ok, but not so much 'strawberry' or 'berry' flavours as Sops-in-Wine or some of the other redfleshed apples.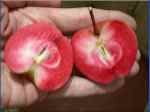 ....

Another redfleshed apple, Baya Marissa, is a descendant of Weirouge.I hope to have photographs of fruit and blossom in 2011.

update- Baya Marissa graft has died - but I now have a tree purchased from Orangepippin - will try again in 2012.


Roter Mond - update
I have now seen Weirouge and Roter Mond together. Reinhard and I are agreed that they are not the same, though the blossom looks about the same and flowers at exactly the same time.


Weirouge: Vitamin C content quite high; apples well past their best which had been stored for three weeks were analysed in Nov 2011 and contained 8.6mg per 100g fruit.

UPDATE - Roter Mond - analysed 7 Sep 2012 ... 10.0 mg per 100g fruit from a freshly picked apple.


note from nurseryman Helmut Müller, Switzerland........we have grown Roter Mond and Weirouge, and they are not the same. We've been told that Roter Mond originates in Russia (probably from Michurin researches). As for Weirouge, it is known that a Mr. Zwintscher was starting a collection and researching red fleshed varieties. He was responsible for the finding of 'Weirouge'.


More pictures of WEIROUGE from Hans Parneel, Belgium....



....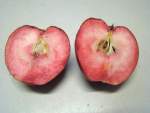 ....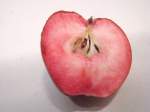 ....


To compare Roter Mond, go to this page .

UPDATE 2016
Weirouge very unpleasantly flavoured this year; tannins too high and low in sugar, resulting in a sour taste (Brix reading about 11). I am having to dry them to make apple rings, and the rest will be used in cooking. See apple tasting, 1 Oct 2016. (Leicestershire Heritage Apples 'Events' page)




compiled by Nigel Deacon / Diversity website