Redfleshed apple suppliers: here is my list so far. I have tried to link to the plants directly, but for some sites the method does not work. Note that some are doubles because there is overlap between nurseries.
...... H.P.

AUSTRALIAN NURSERIES
Woodbridge Fruit Trees
Huonville Crab.

BELGIAN NURSERY
De moerbeiboom
Rode dries (difficult to get the tree now, but still possible)



CANADIAN NURSERY
Green Barn Nursery

- Purple Passion apple; picture © greenbarnnursery.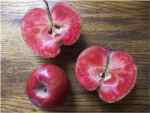 FRENCH NURSERY
Graines-Baumaux Nursery
Maggy


This company does send out of France.

GERMAN NURSERIES
Baumschule Boysen
Geneva


Rote Sternrenette


Roter Astrachan


Roter Mond



Kayser & Seibert
Apfel Vitalstar



Obstbaumschule Schreiber
Weirouge, Roter Mond, Baya Marisa, Pomfital

PflanzenSpezl
Redlove Circe, Redlove Era, Redlove Sirena.

Hans Fenzl
Rubens Liliputäpfel rotfleischig

Karl Schneider
Here you find Pomvital , Roter Mond and Weirouge; also a blood pear.

Obstzentrum
Developer of the Baya Marisa

.

Baumschule Ritthaler
Malus 'Baya Marisa


Malus 'Rote Sternrenette


Malus 'Roter Alatau-Apfel


Malus 'Roter Herbstkalvill (it seems not red fleshed)



Gartner Potschke
Red Cathy

Baumschule Walsetal
Malus soulardii redflesh, Rotfleishiger findling Gottingen, Rote Sternrenette, Geneva, Roter Mond, Niedzwetskyana, and others. Next year: Christmas Pink, Grenadine; presumably with agreement from Greenmantle Nurseries (see below).

Baldur-Garten
The bio - active apple 'Aroma Best'

SWISS NURSERIES
Haberli
Red Merylinn ....Note: they don't send small orders but when I ordered about 15 plants of different species they did send them.

Lubera
Lubera sells all of the Redlove apples, bred by Swiss nurseryman Marcus Kobelt. They only send to Switzerland and parts of Germany, but Planzenspezl usually sells them more widely about a year later. In the UK you can only get Redloves from Sutton's (see below).
Redlove Era


Redlove Circe


Redlove Sirena


Redlove Calypso


Redlove Odysso



UK NURSERIES
Deacon's nursery
Devonshire Quarrenden


Red Miller's Seedling


Red Devil



Keeper's nursery
Bloody Ploughman


Discovery


Devonshire Quarrenden


Purpurroter Cousinot


Red Astrachan


Red Devil



Orangepippin
Discovery, Baya Marisa (aka Tickled Pink), Rosette (spectacular 'Discovery' sport judging by Orangepippin's photo)

Suttons
Redlove Era and Sirena; also a blood peach.

U.S.A. NURSERIES
Greenmantle Nursery, Garberville, California.
Pink Pearmain, Rubaiyat, Christmas Pink, Thornberry, Grenadine, Blush Rosette, Pink Parfait. These are the Etter apples; only available in USA; Greenmantle Nurseries are the sole suppliers and buyers must sign a non-propagation agreement.


STILL LOOKING FOR THESE:
Pomme Sanguine (blood apple)
Good pictures here from the House of Diversity, Manosque, Alpes de Haute-Provence, which has an orchard of 500 fruit trees.
compiled by Hans Parneel; / Diversity website