RADIO DRAMA FORUMS AND MESSAGEBOARDS
ex-R4 forum / 'beebotron' / R3 drama forum /
All of these are non-BBC sites.


FACEBOOK
Facebook seems to be getting less private and more interested in advertising. I am disconnecting some of the links which don't seem to be contributing anything to the site and thinking of other ways in which facebook might be used. Twitter, on the other hand, seems to be on the up. I'm mentioning our updates on Twitter fairly regularly.

30 Dec 12


SIMENON & MAIGRET
A new page on Simenon and Maigret is now finished. The Roger Frame page is also updated.

27 Dec 12


UPDATES
I have just finished the 2006 whole-year listing for afternoon plays, Classic Serials and Saturday drama. The 2011 and 2012 listings need expandinging and will probably be next. The shortlisted candidates for the Imison Award are on that page; nothing heard yet for the Tinniswood Award.

20 Dec 12


UNIDENTIFIED PLAY ABOUT CHESS
An interesting email from Jon G arrived a couple of days ago .... it concerns a radio play about chess, which has stuck in his mind for thirty years:

...........the broadcast date would be about 1975-1983. It was probably on Radio 4, but it could have been Radio 3; can't remember the day of the week or time of day.

The plot concerned a man (a teacher?) who was given a talking chess computer as a retirement gift. He became more and more obsessed with beating it, to the exclusion of everything else. If he tried to cheat, it would respond with the phrase "That is an illegal move, George", in a robotic-sounding voice.

Eventually, in desperation, he attempted to unplug the machine, but somehow was killed by electrocution. As he died, he heard the words "That is an illegal move, George" from the computer. I would be most grateful for any help you could provide, or hints as to where else I could try.

4 Dec 12


NOVEMBER
14,717 visitors for November; most-visited writer page was Wally K Daly (503 visits) followed by Ellen Dryden (130) and Nick Warburton (127). Work is continuing on the 2006 Radio 4 page. The 1997-2003 Radio 3 pages are done.

3 Dec 12


ABC DRAMA
I am sorry to report that ABC (Australian Broadcasting Corporation) has decided to abandon radio drama from 2013 onwards. This is a great shame; ABC has been producing quality radio drama almost as long as the BBC; for 80 years. They are also abandoning story readings.

1 Dec 12


OLWYNNE MACRAE
Olwynne was a well-known radio writer who wrote many plays for Radio New Zealand over a period of thirty years, and several for the BBC. She died about two years ago. I am currently digitising and archiving a number of her recordings, sent to me by her daughter Merrily Willis. I have just found and transcribed an interesting interview done in 1979, which is online on the following page:

interview with Bill Leatwick

28 Nov 12


OCTOBER
Barry Hodge has completed the Radio 3 page for the year 2000. I am currently improving the 2006 Radio 4 listing. Numbers for October: 16,363 visitors. The top radio writer pages were Rodney Wingfield (355 visits) following a R4 Extra repeat of Outbreak of Fear; then Nick Warburton (315) Juliet Ace (143) and Don Taylor (137).

5 Nov 12


SEPTEMBER
The new radio review for September is now online.

The numbers for September were pleasing; 14,773 visitors, of whom 300 were online for an hour or longer. The top three writer pages visited were Marcy Kahan (138) followed by Sheila Hodgson and James Follett. The 'Toytown' archive, by auctioneer Toby Jenkins, attracted 107 visitors.

2 Oct 12


GARDENERS' QUESTION TIME
I was interested to be contacted by Chris Hastings, reporter from 'The Mail on Sunday', on 15 September. He was writing an article to celebrate 65 years of Gardeners' Question Time, due for publication the following day.

I spent an hour locating and supplying some audio clips including one from the very first show back in 1947, two from the sixties, and one from the 25th anniversary programme of 1972. We also supplied programme details from the broadcast of 9 April 1947, and Daphne Ledward talked to Chris about the show.

For GQT enthusiasts, the resulting article is reproduced here.

A new edition of GQT from the same venue was broadcast on 30 Sep. Two of the people present at the very first show in 1947 were in the audience, and they were interviewed.

17 Sep 12


NUMBERS FOR AUGUST
12,741 visitors in August. Most popular author pages: Jimmy Chinn (92 visitors), followed by Charles Chilton and Philip Levene.

7 Sep 12


WORLD SERVICE DRAMA
New pages now online, compiled by B.H.:
intro .... 1980-1989 .... 1990-1999 .... 2000-2011 ....


RADIO 3 DRAMA
Drama pages now updated and expanded:
1997.. 1998.. 1999..

5 Sep 12


RADIO DRAMA SITE
A friend in Ireland has alerted me to a website which lists radio drama sites. Click here for details.

26 Aug 12


RADIO 4 ALL-YEAR PAGES
New 1997 page completed by Barry Hodge, and online. This is expanded and now includes readings, Classic serials, Woman's Hour Dramas and comedy dramas.


GREAT LIVES: LEONARD MAGUIRE
Tues 21 Aug, 1630 hrs; rpt 11pm Fri 24 Aug, featuring Bill Paterson; researched by his daughter Susue Maguire. 'Diversity' supplied some of the audio material.
More info: Susie's research / BBC programme informatiion

19 Aug 12


SOME OUTSTANDING PLAYS DURING JULY-AUG
Notable during July-August: Jane Rogers' dramatization of 'The Chrysalids' (Classic Serial) by John Wyndham; The Third Eye and the Private Eye (about the reincarnated Tibetan Lama, Lopsang Rampa, a.k.a.Cyril Hoskin), and a repeat of Mike Walker's play about the most famous plane in history - the Spitfire.

11 Aug 12


NUMBERS FOR JULY
Total visitors 13925; most visited writer pages 1)Wally K Daly (214 visitors), 2)Tom Stoppard, 3)Philip Levene, closely followed by Andrew Rissik. Work is continuing on the 2001 Bob Thirsk / Barry Hodge page which should soon be online, and on 1997, where Barry is extending and amplifying the entries.

5 Aug 12


THE MAGIC OF RADIO DRAMA
I am grateful to a friend in Ireland for pointing a Youtube broadcast out to me from 1988; a short 36m documentary, by the BBC, on how they make radio plays. See The Magic of Radio Drama , which includes interviews with John Tydeman, John Moffatt, Joan Morgan, Adrian Mourby and Tom Stoppard; plus appearances by Edward de Sousa, Peter Donaldson and one or two people whom I didn't recognize...


JONAS, by J.C.W.BROOK
We are looking for an original BBC radio script of this play. It went out in 1975. Please email if you can help. Perhaps you were involved in the original production? There is a good reason for this request. Details: Produced by Ian Cotterell : R4 17-Feb-1975...with Julian Holloway, Anna Cropper, John Rye, Prunella Scales, Carole Boyd, David March. Unfortunately I do not know who the SMs were....

Update - script obtained ... thanks for your replies!

17 Jul 12


OFF-TOPIC
Going off-topic for a moment, some young friends of ours have formed a girl band, and are working hard to become better-known. If will help them if you visit their youtube page/

If you like them, please visit their facebook page too.... thank you.


Also-my cousin is selling a yacht........'Tawa Kachina' ... because he wants to buy a smaller one. It is a Moody 376. Video link here....please email me ('contact us' button) if you might be interested. http://www.yachtgrot.com/featured-home-page/moody-376-centre-cockpit-fin-keel-sailing-cruiser-yacht.html

15 Jul 12


GILLIAN HUSH
Gillian Hush, radio producer, has died. She was a well known figure in radio, and produced Alan Bennet's curious autobiographical tale 'The Lady in the Van', as well as many other radio plays and features.

12 Jul 12


JAMES GROUT
The actor James Grout has died. For many years he played the Professor in Andy Hamilton's comedy "Old Harry's Game". The 'Olympic Special' episode broadcast on 12 July 2012 was dedicated to the memory of James Grout.

6 Jun 12


AUDIO DRAMA WIKIA
Justin Rivers continues to expand his excellent Audio Drama site, which now has about 1500 pages ... it's becoming a substantial resource, run on the same lines as Wikipedia, and all contributions are welcome. Please pay it a visit, and if you have the knowledge, take part by contributing to the information being assembled. I've linked to the main radio play writers' page. It is gratifying that 'Diversity' gets a substantial mention. Thank you, Justin.

28 Jun 12


NEW RADIO DRAMA LISTS ONLINE
New listings being compiled or expanded for Radio 4 Dramas:
2012 ... 2010 ... 2004 ... 2003 ... 2002 ... 2001 ... 2000 ... 1999 ... 1998 ... 1997 ...

Sunday Plays, radio 3:
1997... 1998... 1999...

5 Jun 2012


NUMBERS FOR MAY
Total visitors 13218; down a little because of the good weather. Top writer page Bruce Bedford (279 visitors), second Sebastian Baczkiewicz, third Wally K Daly / John Dryden.

3 Jun 2012


CURRENT WORK
I am currently working on the R4-2010 plays page and have reached 31 Oct. The partial file is online. Barry Hodge is working on the R4-1999 plays page and the list for the first six months is online. He has done a very thorough job and has included (as well as the afternoon plays) the late night readings, Friday plays, Woman's Hour drama serials, late night plays, and dramas broadcast in the mornings. Also, more of Jim's reviews are being put on the Radio 3 page.

20 May 2012


DEAR ARTHUR, LOVE JOHN
Excellent play by Roy Smiles about Arthur Lowe and John le Mesurier and the making of Dad's Army, 7 May 12. The audience for this weekly comedy show reached 21 million, and it made John le Mesurier a household name. Anton Lesser was John and Robert Daws was Arthur.

7 May 2012


NUMBERS FOR APRIL
Total visitors 14588; top writer page Nick Warburton (466 visitors), second Wally K Daly; third Julian Simpson. I was also pleased to see 306 visitors to Jim's review of "The Devil's Province" by Pete Roberts, a tale about a troubadour and the horrors of the Albigensian Crusade. .


RADIO REVIEW
The April 2012 radio review is finally online. Annie McCartney's play (24 April) "The Biggest Issues" missed my internal deadline by three days, but is covered on Annie's own page.

29 Apr 2012

CHRIS PALING: THE FINAL TEST
Chris Paling, who wrote ' Way Station' years ago, tells me that he has a new stage play: a touching and poignant comedy about marriage, cricket, and the dangerous lure of Bexhill-on-Sea.

Peter and Ruth have had a long and happy marriage. Or so Peter believes. They both have their own interests – he loves listening to the cricket on the radio, she likes to travel. But all is not well as Peter discovers one afternoon when he's dozing on his deckchair and listening to the last test from The Oval. His wife announces that she has sold the house and she's moving to Bexhill-on-Sea with her lover. When the new owners move in they discover they have an elderly cricket-loving squatter living in the garden…

More information on iandickeninternational.com

27 Apr 2012


NUMBERS FOR MARCH & UPDATES
Total visitors 13348; top writer pages Nick Warburton (214 visitors), second Wally K Daly, third John Dryden. I've enjoyed Nick's series 'The People's Passion' - five plays last week - set in and around a fictional cathedral.

The pages for Annie Caulfield and Annie McCartney have been rewritten. I'm also expanding the entries on the 'complete-year lists' - presently working on 2010.

Also - watch out for the new Annie McCartney play, 24 Apr.... "The Biggest Issues".

8 Apr 2012


ALF RAMSEY STAGE PLAY TO RAISE FUNDS FOR DARLINGTON FOOTBALL CLUB'S SURVIVAL

Darlington first team coach Craig Liddle will be at the launch of the stage play Alf Ramsey Knew My Grandfather on (THIS) Friday, Mar 30, at 3pm at the 900-seat Darlington Civic Theatre.

The play is being organised to raise money for Darlington Football Club (youth team) - as part of the campaign to save Darlington Football Club.

This is a first, as football and theatre have rarely mixed, never mind being used for fundraising.

All enquiries and for further details/images (including Alf Ramsey Knew My Grandfather) must be directed to Shaun Campbell on 07854473516 or (01325) 362363 or Doug Embleton on 07887 690140 or (01325) 365679

www.edwaughandtrevorwood.co.uk


NUMBERS FOR FEB
13,949 visitors for the month; top three writer pages S.Baczkiewicz (389 visitors) followed by Nick Warburton and Peter Tinniswood. Note that Nick's excellent series 'On Mardle Fen' is now in progress, on Wednesday afternoons.

8 Mar 2012


T.D.WEBSTER
Tom Webster's page is being updated with information about plays which we haven't (so far) been able to locate.

2 Mar 2012


SITE UPDATING
We are updating some of the complete-year lists of plays produced by Bob Thirsk. Barry Hodge contacted the site and has offered to help. This will involve tidying up the formatting, adding information, and compiling pages for the missing years (1998-2002). Many thanks, Barry.

1 Mar 2012


IT'S GRIM UP NORTH
The new radio drama sitcom about Roman auxiliaries building Hadrian's Wall in 126AD. First broadcast: BBC Radio Cumbria next week (Monday, March 5). Here's the cast and crew: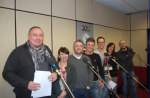 ....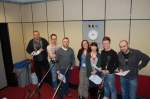 ....

28 Feb 2012

I have also begun an author page for Kevin Fegan . If anyone has any reviews for these plays, or synopses, I would be pleased to receive them for possible inclusion. I am also (slowly) adding more of Jim's notes .

24 Feb 2012


NEW TINNISWOOD AND IMISON AWARD SUBMISSIONS
Just received from Jo McCrum, Society of Authors....

Thank you for all those who have already submitted scripts for the 2011/12 awards.

To coordinate with next year's BBC Audio Awards we requested 18 months of scripts (January 2011 – June 2012) rather than the usual 12 months. We appreciate that it has been difficult for producers to submit scripts to be broadcast over March-June 2012 and wish to extend the deadline for those plays (and those plays only) to 1 May. After this date we will not accept any late entries.

The following year we will accept entries for 2012/13 awards from July 2012-December 2013. After this, our judging procedure should be in synch with the BBC Audio Awards, should they continue.

Imison entries should be sent to Jo McCrum, The Society of Authors, 84 Drayton Gardens, London, SW10 9SB. Tinniswood entries should be sent to Anne Hogben, Writers' Guild of Great Britain, 40 Rosebery Avenue, London, EC1R 4RX. For further information and entry forms please see www.societyofauthors.org

10 Feb 2012


GILES COOPER WINNERS
We are looking for recordings of the following plays:
1978 Is It Something I said? (Richard Harris)
1978 Who Goes There? (Tom Mallin)
1979 Coxcomb (John Kirkmorris)
1981 The Jumping Mimuses of Byzantium (Peter Barnes) *FOUND*
1981 The Dead Image (J.P.Rooney)
1982 Hoopoe Day (Harry Barton)
1983 No Exceptions (Steve May)
1983 Scouting for Boys (Martyn Read) *FOUND*
1984 Transfigured Night (Robert Ferguson)
1985 Menocchio (James Saunders)
1986 Myths and Legacies (Valeris Windsor) *FOUND*
1987 Nobby's Day (Anna Fox)
1989 Baby Buggy (Elizabeth Baines) *FOUND*
1990 O Ananias, Azarias and Misael (Jennifer Johnson)
1990 Song of the Forest (Tina Pepler)

5 Feb 2012


NUMBERS FOR JANUARY
Total visitors 14,328; most visited radio writer pages Sebastian Baczkiewicz (765 visits), followed by Paul Dodgson and Stephen Sheridan.

4 Feb 2012


BRIAN THOMPSON
A new series of Brian's "Trueman & Riley" will be recorded next week, for broadcast w/b 26 March on R4 Extra. The lead actors will be Bob Dawes and Duncan Preston (as usual) and Toby Swift & Marion Nancarrow will be directing.

3 Feb 2012


CHARLES CHILTON
Charles Chilton's autobiography "Auntie's Charlie" is now available through Amazon. (....thanks RH)

2 Feb 2012


AWARD WINNERS - REPEAT BROADCASTS
Gerontius, by Stephen Wyatt, 8 Feb 2012, R4.
Referee, by Nick Perry, 7 Feb 2012, R4.
Setting a Glass, by Nick Warburton, 8 Feb, 11.15 R4Extra.
Atching Tan by Dan Allum, 9 Feb, 11:15, R4Extra.
The Barber and the Ark by Marcia Layne, 10 Feb, 11.15, R4Extra.

30 Jan 2012


IMISON AWARD, TINNISWOOD AWARD, BBC AUDIO AWARDS
Winners were announced at the inaugural BBC Audio Awards, hosted by David Tennant and presented by David Edgar. Click the headings for the relevant pages.

Authors are reminded that the submissions deadline for the next Imison Award is 10 Feb 2010. Imison entries should be sent to Jo McCrum, The Society of Authors, 84 Drayton Gardens, London, SW10 9SB.

Tinniswood entries should be sent to Anne Hogben, Writers' Guild of Great Britain, 40 Rosebery Avenue, London, EC1R 4RX.

For further information and entry forms please see the Society of Authors website.

29 Jan 2012


DAWN LOWE-WATSON
I am sorry to report the death of my friend Dawn Lowe-Watson , radio writer & novelist, on Jan 12, after a short illness. We send our condolences to the family.

Dawn was one of a small group of radio writers who contacted me in the early days of our 'radio drama' pages and gave much encouragement and advice. Without her help, these pages probably wouldn't be online. I am very grateful to her.

20 Jan 2012


AUDIO DRAMA AWARDS
The shortlists for this new awards ceremony have been announced. The Imison and Tinniswood Awards, formerly dealt with in October, are tagged on at the end, it seems..... anyway, here's my edited version of the press release: Awards 2011 .


PATRICE CHAPLIN
Clive Lever has supplied information for a page on Patrice Chaplin's radio work; this is now online.

12 Jan 2012


LUCY CATHERINE
Lucy Catherine's page has been updated. Lucy did an excellent dramatization of 'The Witches' by Roald Dahl in 2007.

11 Jan 2012


USING CDS TO STORE AUDIO FILES AND PHOTOGRAPHS
Several years ago I wrote a long article about CD reliability for long-term data storage. I have now written an update based on my experience since then.

9 Jan 2012


T.D.WEBSTER
More information has come to light ... see Tom Webster's page .

7 Jan 2012


NEW FINDS
Recordings just arrived: - On a West Wind Rising by Allan Peacock (1968), Willie Banks and the Technicolour Revolution by Allen Sadler (1973), Adventures of a Card, by Arnold Bennett (1973) ... thanks to an anonymous donor.... ND..

1 Jan 2012 .