=====================================




A CURIOUS YEAR FOR APPLE GROWERS
It has been a strange year for growers of apples. Some varieties have performed well in spite of the severe weather in spring and early summer, but the fruit on some trees is shrunken and cracked, and other trees have no fruit at all.

Some of the fruit lacks flavour, and is clearly low in sugar. However others retain their usual flavour. Either their sugar production is unaffected or some of their sweetness derives from compounds which are not sugars.

Of the common varieties which I grow, Hidden Rose, Claygate Pearmain and Allen's Everlasting are sub-standard this year.

Unaffected varieties include Laxton's Fortune, D'Arcy Spice (slightly small but still good), Wyken Pippin, Ribston, Suntan, MM106 grown as a fruiting tree, Webster Pinkmeat, Burford's Redflesh, Metton Roy, Bieinrode, Burford Yellow, Tom Putt, Devonshire Quarrenden, Langton's Nonesuch and Blackjack.

The trees which were in blossom during the storms and rainy weather in April-May set no fruit at all, unless the tree had a second flush of flowers. So no Bramleys and no Whitwick Pippin.

My brother had a good first crop of Martin's Custard and I'll be putting the pictures online shortly.

We hope for better weather next year.

10 Nov 2012


MORE REDFLESHED APPLES
First picture below of three small redfleshed apples: Clockwise from top left: Maypole, a ballerina variety (pole tree), Rubaiyat (an Etter Variety) and Soulardii (a well-known red-blossomed crab). Other two pictures show the variety Grenadine.


....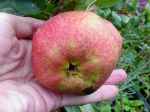 ....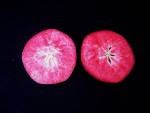 2 Oct 2012


OWN-ROOT BRAMLEY TREES
There's an interesting article in Matthew Wright's Great Food magazine this month, which champions local produce. There's an article about the fruit grower Sir John Starkey, and his own-root Bramley trees. Very few commercial trees on on their own roots, but these were cloned in 1988 at Nottingham University using tissue culture from a piece of leaf. Sir John reports that the fruit is tastier than that from grafted trees, and says that no sugar is needed; they are slightly sweeter. He says that the trees have outgrown his grafted ones.

This was a favourite topic of the late Hugh Ermen, with whom I was in touch for a short time. He found that own-root trees, if they could be obtained, produced fruit of better quality than grafted trees. He also found that the trees were longer-lived.

This is presumably because there is a better 'match' between the nutrients supplied by the rootstock and those required by the branches and fruit.

30 Sep 12


RED FLESHED APPLES
Red-fleshed apples are becoming more widely known in the food industry. I have been given two recent articles about them.

The first is from a French cider maker, www.cidre-ecusson.com; this company is making pink cider from a variety described as 'Rouge Délice':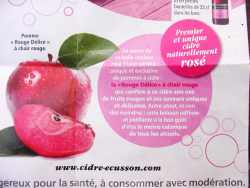 ....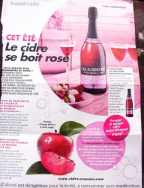 Secondly, the Daily Telegraph, on 29 September 2012, mentioned a new variety "Raspberry Ripple" going on sale for the first time in three Tesco branches. The only other information, apart from a photo, is that it was bred in Worcestershire. The apple photographed, judging from the colour of the pips, was under-ripe: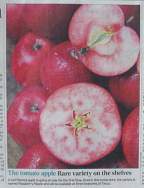 30 Sep 12


NEW FRUIT THIS YEAR
It seems that we will have apples from some trees which have not fruited before - Eden Crab, Grenadine, Rosette, Christmas Pink, and one or two others. These will be added to the apple index when they appear. I am also doing a few more vitamin C analyses; this afternoon I have done Langton Nonesuch, Sam Bell, Roter Mond and Breunsdorfer. See vitamin C page.

7 Sep 12


STAR APPLES
Some of you will be aware of the so-called 'Star Apple', Api Etoile. The picture below is a descendant of Api Etoile but the star shape is much more pronounced. It would make a beautiful ornamental tree.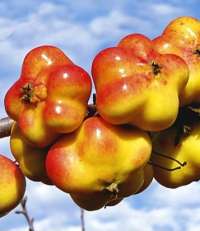 ;

A bigger image is here. The tree is supplied by a German nursery, www.baldur-garten.de . Apparently the apple is a cross between Api-Etoile and Malus sylvestris, the European crab. If you want a tree, or more information, or if you wish to use the image, please visit the nursery's website - and if you order a tree - please mention the 'Diversity' website! (Thanks to my friend Roberta in Poland for alerting me to this ... ND)

21 Jul 12


LONG-STORING APPLES
We have just eaten the last of our apples from last year, fresh (raw) in a fruit salad, July 19th. Variety: High Cross , a Leicestershire Unique Seedling. The flavour had faded but it was still reasonable.

19 Jul 12


OFF-TOPIC
Going off-topic for a moment, some young friends of ours have formed a girl band, and are working hard to become better-known. If will help them if you visit their youtube page/

If you like them, please visit their facebook page too.... thank you.


15 Jul 12


MORE BLOSSOM PICTURES



Weirouge (left) & George's Red (centre & right).



Bieinrode (left) and Grenadine.



Brian Durrant's apple (Norfolk) and Malus Soulardii.


REDFLESHED APPLE BLOSSOMS



5 May 2012: Maypole, Rubaiyat, and for comparison, an ordinary blossom: Golden Noble.



30 Apr 2012: Breunsdorfer, Red Devil, Bieinrode.



30 Apr 2012: Malus Soulardii crab, Roter Mond; redfleshed apple from Stockholm - possibly an Aldenham Purple clone.



24 Apr 2012. Reinhard's Purple Radish, Weirouge, Burford's Redflesh.



20 Apr 2012. George's Red, Huonville Crab, Mott's Pink.



18 Apr 2012. Hidden Rose, Almata, Pink Pearmain.



13 Apr 2012: Webster Pinkmeat, Pink Pearl, Scarlet Surprise.


NEW GRAFTS IN FLOWER


Sometimes new trees will blossom just a few weeks after grafting. It often happens when the graft wood is old. This tree is 'Blackjack', grafted about six weeks ago. Flowers mean less woody growth in the first year.

27 Apr 2012


ORNAMENTAL MALUS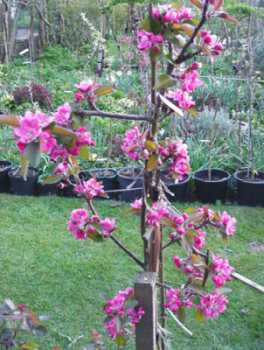 ....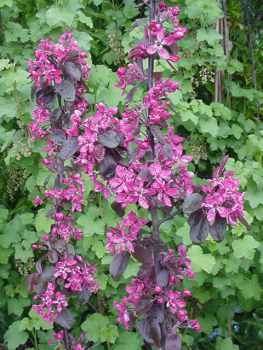 ....
Red blossom of 'Webster Pinkmeat' and 'Hounville Crab". These are beautiful ornamentals. The fruit quality is described on the separate pages for these trees.

15 Apr 2012


REDFLESHED APPLES ABOUT TO BLOSSOM
Redfleshed apples usually flower very early. Here are leaves and buds on six redfleshed apples.....




Above: Huonville Crab, Croft Red Devil, Hidden Rose; below: Burford Redflesh, Almata, George's Red.




5 Apr 2012


PEAR-SORBUS HYBRIDS
A friend in Belgium has made me aware of fruit resulting from the crossing of a rowan with a pear. These trees are sometimes known as pyrosorbus. This would be an interesting area for research, and there are a few images of such fruit on the internet; possibly a project for the future. Apple-pear hybrids also exist, though the pollination needed to make the trees is not straightforward.

28 Mar 2012


APPLE-SORBUS GRAFTS
A friend in Poland reports that she has occasionally grafted apple scions onto sorbus (Rowan) if she has no rootstocks. I am trying this out, and have made four grafts of the apple variety 'Twenty Ounce' onto strongly-growing rowan shoots in the garden. I will report on this in a few weeks.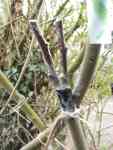 25 Mar 2012
UPDATE, 30 April ..... It's a month later and the grafts look exactly the same as when I started ..... they've not died but they haven't grown....

UPDATE, 30 Sep ..... Three of the grafts have died; the fourth is not dead but has shown no growth.

WILLOW-LEAVED APPLE
A picture of an amazing apple variety, one with willow-shaped leaves, has been sent to me this week by a friend in Germany. It is a bud sport from a commercial apple. Take a look.... it will be interesting to see how it fruits. I imagine that the limited leaf area might make it rather sour.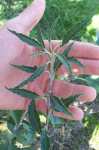 8 Mar 2012


VITALITY OF NEW APPLE VARIETIES
An interesting new article on modern apple inbreeding and how this is causing susceptibility to disease. By Hans-Joachim Bannier, originally published in Erwerbs-Obstbau Volume 52, 2011, Numbers 3-4, 85-110, DOI: 10.1007/s10341-010-0113-4; translated into English by 'Diversity' and republished by permission.

18 Feb 2012


TRIPLOIDS
I have recently seen a paper produced by DEFRA describing work where the genetic material of large numbers of trees in the National Fruit Collection was examined. The surprising conclusion is that there are many more triploid apples in circulation than commonly realised. Bramley, Blenheim, Gravenstein are well-known triploids, but additions to the list include Claygate Pearmain and Tom Putt; in fact 14% of the apples tested were found to be triploid. I may be writing about this when I've had time to read the paper properly.

17 Feb 2012


NEW REDLOVE APPLES
Two more 'Redlove' redfleshed apples have been released by Lubera: See Redlove Calypso. and Redlove Odysso. (....(thanks to Hans P for this information) . This brings the total of Redlove releases to 5. The earlier ones were Circe, Era and Sirena.

11 Feb 2012


SEEDLESS APPLES
I was grafting some Spenser Seedless today, because my original tree died from collar rot (it was on MM106). I'd just finished the first tree when a friend called in with a photo of a similar apple, Wellington Bloomless.

These trees are peculiar because they fruit without needing to be pollinated. Information about the two apples can be found by clicking on the links Spenser Seedless and Wellington Bloomless . I have grown the first of these before and can report that the apples are late ripening, good keepers (until Feb-Mar this year), firm fleshed and with a pleasant refreshing flavour.

6 Feb 2012


'WITNEY PEAR'
Another good crop on this very unusual tree: large pre-commercial Asian cooking pears. These were picked on 4 Jan.

9 Jan 2012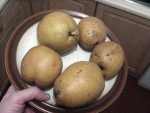 APPLE CONFUSION
I was surprised to see in a national paper last week the following headline: "Balmy climate confuses nature", followed by a photograph of a typical late apple tree (click on the thumbnail). The reporter apparently thinks that a mild winter causes apples to stay on the tree, or as he put it, creates 'chaos in the natural world'.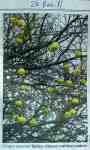 The reporter may be interested to learn that this is normal behaviour for late apples. Similar trees can be seen every year; it's nothing to do with climate. Late apples mature slowly and hang until about January; sometimes later. Some will hang until April if they're not blown off by the wind.

More examples below, from 2004 and 2005...



.....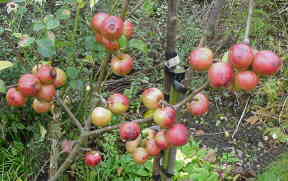 9 Jan 2012

VITAMIN C DETERMINATIONS
I have just completed some vitamin C determinations of different apples , continuing the work begun in 2004. When time permits I intend to compare the two analysis methods:


(i) DCPIP
(ii) Iodine

because figures for vitamin C content on the internet vary widely. I suspect that the two assays are not equivalent, and this may account for the disparity.

As I understand it, DCPIP is good at testing specifically for vitamin C.

Iodine, on the other hand, probably detects a range of similar compounds, one of which is vitamin C.

This would account for official figures (obtained using iodine) being generally higher than mine.

6 Jan 2012