This is a very strong-flavoured, rather acidic apple, only just tolerable as an eater. However it is excellent with cream or as an ingredient of fruit salad, and I've not found a better apple for drying; the strong flavour (a little like Yellow Ingestrie) makes it ideal.

The apple is extremely late and hangs on the tree until late Dec or early Jan. The flavour is intensely fruity and tart, mellowing by March, by which time it is an excellent eater. Some years the flavour is tolerable in June or even July.
Jan 10: After a long warm autumn this apple matured properly - an extremely good eater, at its best in mid-Jan, very strong flavoured, fruity, sweet, fresh. Bright red on sunny side.

Nov 11: Freshly picked: vitamin C content 3.2mg per 100g fruit.

Jun 12: Some fruit still good.


Pictures (click on small images for detail):

Blossom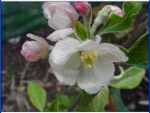 Fruit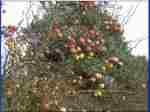 .....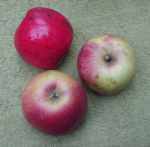 .....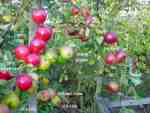 .....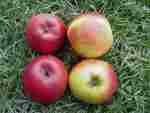 .....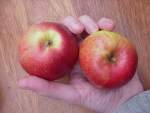 .....

compiled by Nigel Deacon / Diversity website