This is a PEAR, despite its appearance, and very large- click on the thumbnail for the actual size picture. The texture is like cardboard, very hard and tough like a turnip, until cooked, when the graininess disappears entirely; the flavour is excellent. The fruits on the tree (which I found in Oxfordshire, and which is at least 60 years old) are magnificent; between a pound and a pound and a half in weight, and all look like giant apples. It could be a lost variety, though I'm no pear expert. Ripe in mid-Dec; a few pears still on the tree in early Jan. Jim Bastian (USA) suggests that it might be a giant Asian pear. Sarah Lovett (Washington, U.S.) agrees.

If so, what is an old Asian pear tree doing in the middle of England?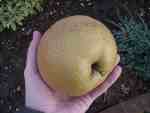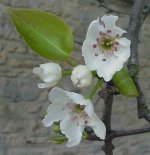 I'll give the last word to Bill from Vancounver Island, who offers the following comments:
I agree the mystery pear is an Asian type - the bloom also appears to have the five sepals, five petals, many stamens, and a single pistil of the usual pear bloom, and your description fits the 'basic' (pre-commercial) Asian pear character. No reason someone couldn't have brought the stock in from their travels back when.....
Update, Apr 2009: The tree has been propagated by D.T. (thanks Derek) and is now growing in Leicestershire.
Update, Feb 2010: The tree made very little growth last year, and the shoot tips look strange. It may be due to scion / stock incompatibility. This is being followed up - see witney pear grafts .


Update, Nov 2010: "I've found a line of similar trees in a street of Victorian and Edwardian houses"...... (Mike K, Kent).
compiled by Nigel Deacon / Diversity website