Red-fleshed apples are not rare; once you start noticing them you'll probably come across several trees during the course of a year. They are common in parks, hedgerows, and the planted areas around significant buildings (schools, old manor houses, etc) and industrial estates.

A number of people have sent me pictures of apples they've spotted. The photographs below are used by permission.


Ken from Maidenhead supplied the following pictures and commented as follows:

..... I've just been looking at your web site, prompted by the discovery of a tree that produces shiny-skinned red apples with a dense, crisp, tasty flesh that is almost entirely red.

I have only seen the tree in the dark, but it seemed to be a fairly mature and quite large tree. It exists on open land nearby.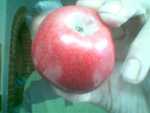 ....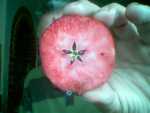 ....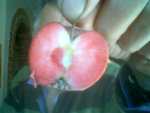 D.D.R, who also lives in the UK, supplied pictures of a tasty red-fleshed apple a little while back. The tree is in her garden, and is probably Discovery, which often has pink flesh.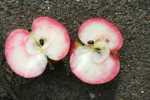 ....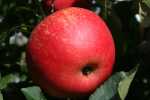 This is a photograph of an apple I found in a park in Leicester, 31 Aug 2010; there were several trees all shedding large quantities of red-fleshed apples. The taste was slightly tart, slightly dry texture, bland but unobjectionable flavour.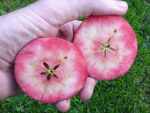 ....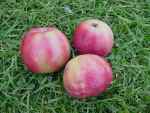 ....


Jonathan M contacted me a while back with another red-fleshed apple sighting in Croydon, the tree growing on London clay.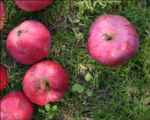 ....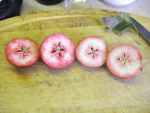 ....


Here's another sighting, the pictures sent to me on 31 Aug 10 by 'Michele' in rural Suffolk. This apple is a different shape but is probably another seedling.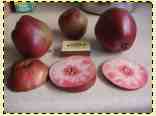 ....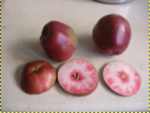 ....


P.W. sent this picture of an apple near Worcester: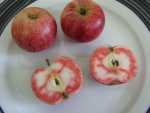 ....


And here are some growing wild on a very old tree in a little village just outside Salisbury. These have an excellent flavour and are quite scented. Thanks, JB, for the pictures.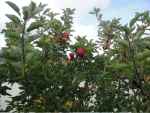 ....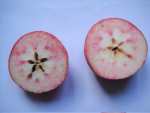 ....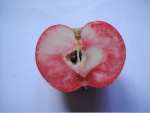 ....


Lesley S. sent me some interesting pictures of an unidentified apple she found: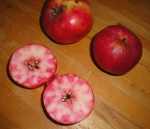 ....

and I saw these in an old orchard near Castle Donington, Leicestershire. A week later someone brought in some similar apples to the Brock's Hill Apple Day, to be identified. Unsurprisingly, no-one could put a name to them: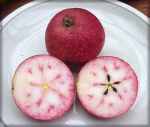 ....


Some of these apples are remarkably similar: flattened conical in shape, dull to bright pink skin, usually with a greyish 'bloom' which rubs off when handled; fairly crisp texture, early season (late Aug / early Sept), red flesh, taste unmemorable but usually reasonable. Some are likely to be Wisley Crab, a favourite foliage / decorative tree for parks and gardens.

The others will have grown from discarded cores and pips or, more rarely, will be ancient trees of lost varieties.







edited by Nigel Deacon / Diversity website