This is a large uncommon apple from Poland. The appearance is similar to Bramley but it is much lower in acid. In 2014 it was a pleasant, scented eating apple which kept for about a fortnight after ripening in early September. In 2015 it ripened more slowly and reached maturity in mid-October. The apples were strongly scented and the taste and texture were richer; if blindfolded one would have thought that it was pineapple, not an apple.
Blossom dates: about 4 days earlier than Laxton's Fortune and Ribston Pippin.

Pictures (click on small images for detail):

Blossom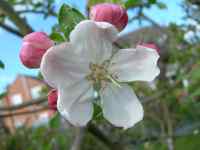 Fruit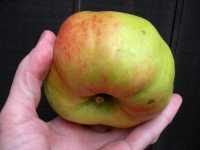 ........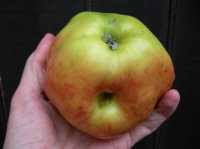 compiled by Nigel Deacon / Diversity website