A smooth, shiny red / yellow apple. Pick in early octiber; keeps until about March. Raised in Indiana, USA, 1876. Has aroma of bananas. Flesh yellow; OK in hot climates.

Pictures (click on small images for detail):

Fruit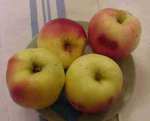 ....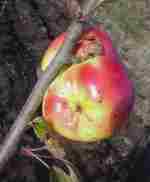 First picture taken at Church Stretton Apple Day; second picture at Deacon's nursery, IOW, by permission of Graham Deacon.
compiled by Nigel Deacon / Diversity website