I am a keen visitor to the Mittelrhein area of Germany, and generally stay in St. Goar at a little family-run hotel. It's interesting how the area and the wines have changed since I started going there in 1988.

On my first visit, the vineyards were plentiful and spectacular, and grew mainly white grapes - predominantly Riesling, with a few Sylvaner and Portugieser for lower-quality and pink wines. Most wine books don't mention the Mittelrhein at all, but the Rheingau, the best wine-growing area in Germany, is only a few miles down the river, and is within walking distance of St. Goar, if you're young and fit. The wines they make in the Mittelrhein, particularly Bacharach, Kaub, Oberwesel and Niederheimbach are not far short of Rhinegau standard, and some are as good, though they aren't of much interest to wine writers because they don't get exported.

In 1988, the Rhinegau and the Mittelrhein made white wine, most of it sweet. I went that year to the Josef Nies vineyard at Lorch and watched the last tractorload of grapes of the season get brought into the yard - and was surprised (as a perfect stranger) to be invited inside to join in the celebrations. In the course of tasting some excellent wines I spoke to an old lady (his mother, I think) who blamed Queen Victoria for the narrow choice of wines offered by German winesellers - the only export style was white and sweet, and anyone producing other types was unlikely to get a look in.

What a difference now ... a fair proportion of recently abandoned vineyards all along the Mittelrhein. Above Kaub, around the Schloss (now turned into a hotel), no vineyards in use, where in 1988 there was a bustle of activity. (The vineyards are still there on the postcards, but they're based on 15-year old pictures).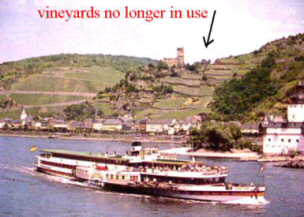 The Steeg valley adjoining Bacharach - a quarter or so of the vineyards overgrown ... at Oberwesel, the best slopes still growing vines, but those a little further up the valley either not used or falling into disuse.

There was another surprise - at the St. Jost vineyards at Bacharach (Toni Jost, I think): lots of red grapes, some with yellow leaves (it was late October) and some with crimson, like Russian Vine. We wandered along the vine roads, and saw a little buggy - like device used for scuffing up the soil between the rows, with some light plough blades and a seat on top, being winched up and down with a tractor, and a guy steering it, and another buggy for hoisting up trays of grapes. I never thought mechanisation could be brought to these incredible slopes. Many are at 30 degrees; some are steeper.

We spoke to a man crushing grapes with an electric screw press in a shed, lower down. He told us that the crimson leaved vines were Dornfelder and the yellow-leaved were Spatburgunder. At a rough estimate, about a third of the grapes we'd seen on our afternoon walk around the Steeg and Bacharach vineyards were red; the other two-thirds were Riesling.

We went into a local supermarket and found that about a third of the German wines on sale were reds, either Dornfelder, Spatburgunder or Portugieser. Dornfelder were the darkest, though not as dark as a typical French or Australian red, Spatburgunder was a bit lighter, and Portugieser was generally used to make pink wines.

Back at the hotel in St. Goar we talked with the owner. He reckoned that cheap travel had affected demand; Germans had become used to enjoying decent reds in Europe and elsewhere, and when they came home, the only reds they could find were foreign. For a while, Germany was a major importer of red wine. About 10 years ago, one or two of the big producers in Rheinhessen started making reds, and 3 to 4 years ago, lots of smaller producers joined in. There was a gap in the market. There was also an increasing trend for dry whites. Some of these (though not from the Mittelrhein) reach England, and they are very fine

I looked around the restaurant and noticed more people drinking reds than whites. The wine list had 12 whites, all locally grown, 3 pinks, based on Portugieser or Spatburgunder, and five reds (two Dornfelder, two Spatburgunder, one Domina). Prices were (in Euros): about 2.80 for a white, 3.00 to 3.50 for a pink, and 3.00 to 4.00 for a red.

We tried two reds - both Dornfelder - one sweet, one half-dry. They were like country wines - fruity, not much tannin, not heavy. No trace of a headache if you drank too much, unlike full-bodied reds from some parts of Europe.

These wines are still in their infancy. One or two areas (e.g. Assmanshausen) have made similar wines for years, but reds are now grown much more widely. They need to be good; the labour costs on the steepest wine slopes are very high. Only the best vineyards are going to survive, what with cheap wine from Chile, Eastern Europe and elsewhere providing stiff competition. Premium, high quality wines on the steeper slopes can be profitable, but only if the grower knows what he is doing. The days of tiny vineyards on amazing slopes producing a few hundredweights of grapes for the local co-operative are over. Perhaps in the steepest parts of the Rhine gorge some of the more precipitous terraces can be kept in production (for the benefit of the scenery) by subsidy, but without it, they will go the same way as ridge and furrow - forever visible, as a historical curiosity.

This article is copyright. Any commercial organisation wishing to reproduce it should contact me. Non-profit organisations are welcome to quote it, but please give the source.

Nigel Deacon / Diversity website / Oct 05