WEBSTER'S PINKMEAT
Medium Sized fruit. Deeply pigmented skin and flesh. Red-stained wood. My tree is four years old and for the first time it has set a heavy crop.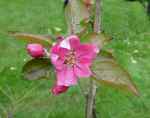 .....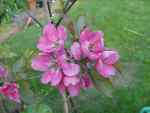 ..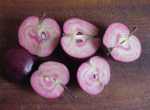 .....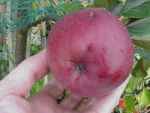 .....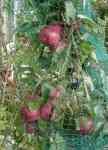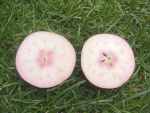 .....

Cortex wood pink. Leaves red - bronze.

2011 Tasting Notes .... It may not be a representative year, but we've found the flavour of this apple disappointing; worse than Burford's Redflesh. The tree is healthy, the blossom good, and the apples large, but the taste is slightly sour with a bitter aftertaste. It might cook reasonably well, and would make a passable addition to cider, but the taste is not strongly 'apple', and there is no scent.

Ripens about ten days after Mott's Pink; about the same time as Ribston.


Report from my mother on cooking quality....

About as appetising as a sloe when raw; similar bitterness / acidity. Dries out the mouth instantly.

I cooked one, sliced, simmering in a small quantity of water / butter. It looked rather liked smoked salmon after this treatment; very unappetising. However there was a big surprise; it had an attractive sweet-tart flavour, with no bitterness. It doesn't mush down like Bramley. Good with yoghurt or cream; probably less good is a pie as it's still crunchy after cooking. Slightly reminiscent of dried apples.



One other observation - the apple is deeply pigmented when small, but the flesh colour fades as the apple grows. At full size it is pink rather than red. This is the opposite of, say, Hidden Rose, the flesh of which remains colourless until nearly ripe.







compiled by Nigel Deacon / Diversity website