Radio Drama: In Memory of Hamish Wilson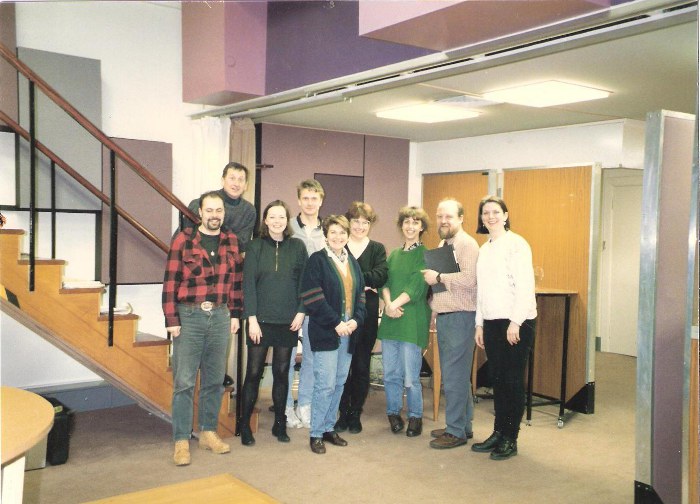 Hamish, second from the right: 'Running Before the Wind.'
March 31, 2020
My career as a writer began with radio drama. And one of the finest, funniest, most intelligent and creative producers I ever had the good fortune to work with, died last week. For his family, of course, he is irreplaceable. But the outpouring of sadness from so many people who worked with him over the years, both as a producer/director (in radio the jobs are conflated) and as an actor too, is genuine and heartfelt.
Quite simply, Hamish was one of the good guys.
Courtesy of the excellent Nigel Deacon who runs the Diversity website , keeping track of and celebrating radio drama, I acquired a list of all the productions I have ever done. My first radio production was in 1975 (I was pretty young!) and my last radio production was - incredibly, because it doesn't seem so long ago - in 2007, although of course the odd repeat crops up on R4 Extra. I felt tired just looking at it. I'm in the habit of saying that I have about 100 hours of produced radio to my name, including original plays and series, dramatizations, abridgments, readings and talks, but seeing the actual titles, the episodes, the actors and directors I had the good fortune to work with, the sheer time and effort involved in all of it, gave me pause for thought.
The majority of my work - albeit not all of it - was produced by two excellent producer/directors: Marilyn Imrie and Hamish Wilson. I began by working with another fine producer, Gordon Emslie, who died tragically young. Then I worked very happily with Marilyn on productions as diverse as Kidnapped and Catriona, and (perhaps my favourite of everything I wrote at that time) an original play called Bright as a Lamp, Simple as a Ring. But when she moved away from Scotland, I was 'passed on' to Hamish, who had moved to the BBC from Radio Clyde, where he had been making award winning radio drama, back when commercial stations still did that kind of thing.
We got on. And we immediately discovered that we shared a fascination for Scottish history, tradition and music. Of the various productions we worked on together, including several dramatizations of other work, the ones that chiefly stay in my memory are three original serials with very Scottish themes: The Peggers and the Creelers, about families of Ayrshire bootmakers and fisherfolk, and Running Before the Wind, about a fictional family of Clyde Coast yachtbuilders and the Curiosity Cabinet, which I eventually wrote as a novel. It's unusual for the drama to precede the book, but that's the way it was!
Hamish was a joy to work with. He was imaginative, perceptive and generous. He always understood your intentions as a writer. When you sent him a first draft of a script, he wouldn't change things. He would just ask you a series of extremely tricky questions - often about just those parts of the script that you had been unsure about yourself - and in finding the answers to them, you would make the whole thing better.
Hugely experienced in radio, he would never ever allow you to take the easy path of - for example - introducing superfluous narrators, to make things easier for yourself. 'Dramatise, Catherine!' he would say. 'Find a way to dramatise!' - which is advice I have carried with me ever since, even now that I'm writing fiction.
He loved his family and his pride in them was always obvious. He was a raconteur and his tales were funny. He was fascinated by all things historical, but military history in particular, and he would occasionally come out with the most bizarre anecdotes that always turned out to be true. Studio time is invariably limited and you are often 'imprisoned' in small spaces for hours at a time when you're making radio drama. Writers are expected to be able to edit on the hoof. Tempers can fray, but Hamish was adept at running a tight ship, while dispersing professional tensions by making people laugh. It was a gift, one that Marilyn Imrie possessed too.
He was kind to actors, giving them space to work their magic, and he was respectful to the technical staff without whom he knew that nothing good could happen. All drama is collaborative, and he was a consummate professional. The results were obvious in a string of fine productions. This was a producer who had won many awards and indeed had been a juror and jury chairman in the Prix Italia, Prix Futura Berlin and the Prix Europa - but he wore his distinction lightly.
In 1996, we worked on a play about the writing of Robert Burns's epic poem Tam O'Shanter, to mark the 200th anniversary of the poet's death. This was followed by a trio of dramatizations of Ray Bradbury short stories, matched by another trio dramatised by Brian Sibley, first broadcast in 1997, I think. Ray himself topped and tailed the recordings. We were honoured to be asked.
I was married and living in Ayrshire, trekking through to Edinburgh for script meetings and productions, working in theatre as well. But we always had plans for future work simmering away. One of those plans involved a series of Scottish plays based around traditional occupations and social change. After all, we were both fans of Ewan MacColl, both keen on folksong too.
So what happened? Well, suffice to say, John Birt in London happened, and one of the BBC's finest Scottish talents quite suddenly became surplus to requirements. After that, I did some more productions with Marilyn, who was working in London as an independent producer, including fulfilling our long held desire to dramatise Tove Jansson's Summer Book. I also dramatised Ben Hur with the late, great Glyn Dearman who wanted to work with me and had the clout to ask for me.
But all too soon, I realised that for me too, it was time to go. It was sad, but it provided the push I needed to get back to writing fiction, which is mostly what I do today, still with a profound interest in Scottish history and tradition. For Hamish it meant a return to acting, and appearances in many popular shows. I saw him and his wife briefly at the Wigtown book festival last year, but had a meeting arranged and couldn't linger. Before that, when I had been invited to the town to talk about my novel, The Jewel, all about Robert Burns's wife, Jean Armour, we had tea and cakes and reminisced about radio, and about the way in which the research for Tam O' Shanter had first triggered my desire to write about Jean.
It's impossible to exaggerate the positive influence he had over my work. And it's sad to think of him not being there, even though we had stopped working together so many years earlier. As the actor friend who told me the news said, 'it's our Hamish.' Hamish, wherever you are, here's to you. You were and remain one of the best.
Catherine Czerkawska
This piece is published by permission - thank you, Catherine. It first appeared on CC's website, www.catherineczerkawska.co.uk



Sitemap