LEICESTERSHIRE SWEETINGS
We have grafted several trees of this variety.

My father remembers these apples from about sixty years ago; his grandfather used to have a tree. The fruit were very small, mainly yellowish, sweet, and very early.

There is a reference to Sweetings in 'Google Books'.

.....It is remarked I think justly that the early sweet Bough is worthy of particular attention as being an excellent sweet apple and as far as my knowledge extends quite the best of the early varieties There are two kinds of this Bough; the smaller kind is raised and much preferred in the county of Dutchess as being much the richest and most valuable and quite as early both excellent eating apples. The latter kind I have never seen in the western counties. The early Leicester Sweeting is also an apple of equal value but about two weeks later. This is an excellent bearer and will keep well to October.




("Hamburg", 1836, in "Railway Locomotives and Cars, Vol. 5, 1836, American Railroad Journal, repr.)

John Palsgrave, linguist and translator for Henry VIII, describes Sweetings as " a particular kind of apple of a luscious flavour " (1530).

The term seems to be applied to a variety of small sweet apples. There are American nurseries selling apples described as "Sweetings"; they are small, yellow, and usually early in the season.
UPDATE, 11 Aug 2010
Mel has found an ancient tree, known to be 'Sweetings', containing fruit. Here is a picture:

....

Mel has also pointed out that the Leicester reference above may be Leicester, Massachussets, but I'll leave it online for now.


Meanwhile we have found another old tree with early apples, predominantly red, which are ready about a fortnight before 'Discovery'. In 2010 they were ready in mid-July. Perhaps they are a variant of "Sweetings"; if anyone can cast light on their identity we would like to hear. Pictures below. The variety is certainly worth propagating.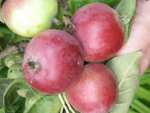 ....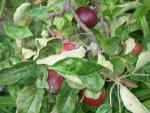 ....


UPDATE, 6 Aug 2015
We now have first fruit on our oldest tree. Here is a picture: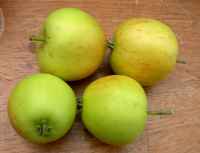 ....
The apples are very small; about the size of golf balls. They are unusually sweet and if eaten just before they are ripe, pleasantly crisp. They are an interesting addition to the Leicestershire Apples collection. Some of these were used at our apple tasting in Osgathorpe, 5 Aug 2015.

I have passed a sample to my father to see if they are what he remembers.
ND / Diversity website