Tree found by D.L, Surfleet (thanks Daphne). In spite of the name, this is a very good-flavoured dessert apple, ready in mid-November or later; it is sweet and firm, but the flavour is not of the Cox type; there are overtones of other fruit. The original tree was in an unfavourable location and its fruit showed promise but was very sour - hence the name. So far it has blossomed at about the same time as Bramley.
The flavour has a hint of parma violets (beta-ionone) in some years.

Pictures (click on small images for detail):

Blossom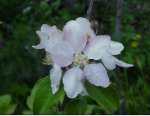 .....

Fruit



.....
compiled by Nigel Deacon / Diversity website