St. AILRED
from Mount St. Bernard Abbey, Coalville, c.1942. James Grieve x Ellison's Orange. Tastes a bit like James Grieve, resembles Ellison's Orange. Quite sweet, juicy, soft; cream flesh but taste can be a bit medicinal. Skin tougher than James Grieve. Pick and eat in Sept; doesn't really keep.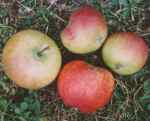 Br. John-Paul Sanderson of Mt. St. Bernard Abbey adds the following:
....Just to add a little to your information on the St. Ailred apple: the monk who developed the variety was Fr. Ailred McPike, and he named it after St. Ailred, his patron saint, and the 12th century Abbot of Rievaulx Abbey in Yorkshire. For a long time we didn't have a St. Ailred tree in our orchard, that is until a couple of years ago when a group of apple enthusiasts, who look after a village community orchard, came on a trip to see our orchards, and brought us a St. Ailred tree as a gift.





compiled by Nigel Deacon, originally written in 2002 / Diversity website