Tree found by J.B., Seagrave. This is a very good-flavoured, firm dessert apple, ready late December; more or less frost proof, as shown by the picture below, taken in late Dec 2008, when there was a heavy crop. Its provenance is being checked. There was a lighter crop in 2009, and the fruit was about 4 weeks earlier.

The tree has been propagated (two trees so far) as part of the Leicestershire Heritage Apples Project.

Pictures (click on small images for detail):

Blossom

picture not yet available

Fruit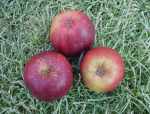 .....
compiled by Nigel Deacon / Diversity website