Sandi Johnson (aka Sandra Shippy) is an experienced author who has been writing since the early seventies . She has written short stories , novels, and radio and tv scripts in the intervals of bringing up a family; now they have flown the nest she is writing again. Sandi has lived in South Africa, England, America, France and is now settled in Spain.

Here's her Amazon bio page, and there are samples of her short stories lower down the page. They remind me of Ray Bradbury, and they show an astonishing variety. Here are the Amazon links for...

A CASKET OF WORMS (short stories)

BLOODLINES (science fiction)

More soon....


UPDATE.... MORE BOOKS FROM SANDI JOHNSON
Regular readers will be aware that I love short stories, and novellas, and good science fiction. Sandi Johnson (who did some radio work a long way back) has been busy, and more of her work is now available as Kindle editions; a total of twelve books! The fiction is excellent and difficult to put down; the 'Fragments' books are a fascinating kaleidoscope of large and small experiences from Sandi's life, and ideal for dipping into... I commend all of these to you.

The links below go to the Amazon pages. Download and enjoy!

A FISTFUL OF FEATHERS The twists and turns of life... and every story here involves, somewhere, a Harley ...

SHADOW DANCING A varied collection of longer short stories, all entertaining; there's a novel take on the Icarus story, the life story of a guy who cleans up the room where a loan shark beats people up....the last tale, with the title 'Shadow Dancing', is a gem. It reminded me of Gerry Jones' radio play 'Time after Time'.

FAR SIDE OF THE MOON A gripping new sci-fi novel which reminded me a little of the Arthur C. Clarke classic "A Fall Of Moondust".

FRAGMENTS It is a wild journey we take with Johnson - 60s London, South Africa, Spain and the US and along the way she tackles the major themes of life, love, sex, marriage, friendship, family, death and time. The descriptions of her childhood in SA - landscape, friends, adventures - are evocative and haunting.

FRAGMENTS TOO More meditations on life, the universe, and everything....

22 Jan 2013


BBC RADIO PLAY:

LEMON TEA....1974
Producer John Theocharis. Reh/Rec Sat 29 Jun 74 & Sun 30 Jun 74, studio 6a, 1000-1800hrs. Edit, Tues 2 Jul, H54. Broadcast Wed 21 Aug 2015-2100 R4; rpt Thurs 22 Aug 1505-1550.

Cast:
Rosie - Betty Hardy
Paul - Len Jones
Johnson - Timothy Bateson
Miss Sweetman - Carole Boyd
Frank - Peter Pacey
Reggie - David Sinclair
Det. Inspector Childs - Stephen Thorne
Sgt. Pennyman - Sean Arnold
Barman - Kerry Francis

SMs - Len Leighton, Allyson Reid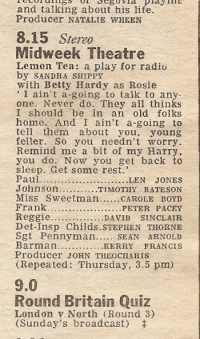 ..................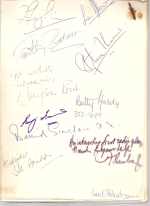 The recording of the play is recounted in
A day at Portland Place - Sandra Shippy


WRITING BY SANDI JOHNSON

FACTUAL

Why I Write........ A Memory from Childhood - Africa........ Time........




SHORT STORIES

The Bargain........ Julius Craister........ In the Wilderness........

Afternoon Tea........ Career Move........ Leaving Helen........

The Princess........ Dead Day........ Adventures in the Web........

Shedding Skin........ Cracking the Code........ The Light In Their Eyes........



LONGER STORIES

Not Quite Tijuana........


compiled by Nigel Deacon; reproduced by permission/ Diversity website