Mid season dessert apple, scarlet flushed skin with pronounced bloom on skin. Does not really keep. Good decorative tree; slender, good cropper; somewhat prone to scab in Leicestershire. Pink blossom. Cortex wood is pink; leaves dark reddish-green when young.

Raised 1975 by H.F. Ermen, Faversham, Kent. Discovery x Kent. Strong fruity taste, some strawberry flavour; crisp, juicy, pink stained flesh. Pick late Sept.

Ideal garden cultivar, superb flavour, with pink juice. Tip and spur bearing.

Pictures (click on small images for detail):

Blossom



........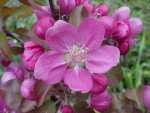 .....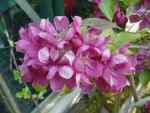 .....

Fruit



compiled by Nigel Deacon / Diversity website