This is stocked from time to time by Sainsbury's. They look rather like Salad Blue with very deep blue flesh. However the shape is slightly different (longer and thinner), the skin is shinier, and the tubers are smaller.. The flowers, when they appear (not very often in containers) are much lighter in colour; very pale blue. Salad Blue flowers profusely every time and most plants produce potato fruit.

Here is some information compiledfrom a brief iinternet search:
A newly-released variety developed by Colorado State University. 'All Blue' crossed with a white fleshed chipping variety has produced a potato very high in anthocyanins. Resistant to most viruses, susceptible to fusarium dry rot. Good for early market or summer eating.

They are sold by "Albert Bartlett", the Scottish growers, which reportedly grew 400 tonnes of them last year and who describe them as follows: .... natural deep purple colour inside and out, retained on cooking and processing. They are good for mashing, baking, roasting and microwaving, and make spectacular chips and crisps.

SCRI have done some research on the possible health benefits of using them. The antioxidant levels are extremely high, as with most blue-fleshed potatoes, and this is mainly associated with the anthocyanin pigments. The research is shown on the Albert Bartlett website. They are good all-rounders; can be cooked in most ways.

End-bruising is a problem if handled in bulk but this doesn't affect amateur growers.

There's a good link here which describes one person's experiences with them in the kitchen.... Purple Majesty Cooking Qualities


Pictures (click on small images for detail):

Flowers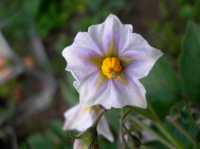 ....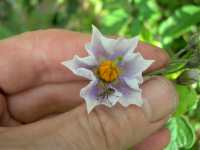 Tubers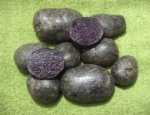 ....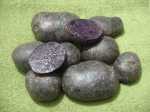 ....


UPDATE ... freshly harvested potatoes, July 2012. They are darker in colour and slightly greyer than Salad Blue. More of the colour is retained on cooking; the vivid blue is scarcely changed on boiling, in contrast to Salad Blue which needs to be steamed to retain a bright colour. I would also rate the flavour more highly than that of Salad Blue.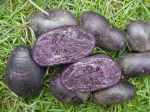 ....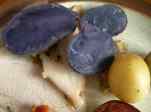 ....







Nigel Deacon / Diversity website