PRINCE CHARLES
Dessert, September-October. Lord Lambourne x Cox's Orange Pippin. Raised between 1940 and 1945 at Victoria Nurseries, Burbage, Leicestershire, by Herbert Robinson. Joan Morgan's book describes the taste as follows: "Fruits have creamy white flesh with a sweet, slightly subacid, slightly aromatic flavour". (seen at Brogdale apple exhibition, Oct 2004)
My impressions - they are very similar in flavour and appearance to Laxton's Fortune but without the hint of aniseed; there is also a slightly different background taste. Sweet, light, slightly aromatic; this is a very good apple.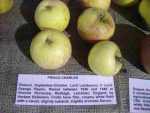 ....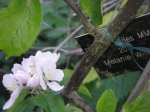 ....

Update - we have located scion wood and grafted some trees. These can be ordered from us.
Fruit from our trees pictured below.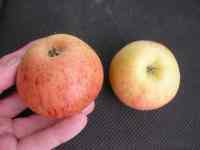 ....

Info. located by Mel Wilson