FORUMS AND MESSAGEBOARDS FOR DRAMA (all non-BBC)
ex-R4 forum/ 'beebotron' / R3 drama forum /



4 Jan: Deceit, Desire and the Viking Helmet
By John Hegley, comedian and poet. A surreal and tragi-comic love story, with songs and poems. "John Shuttleworth" (Graham Fellows) is in the cast. The story is inspired by an Anthony Thwaite poem. Background action is provided by the football-playing children and members of the audience. Recorded in the Lowry Centre, Manchester. John: John Hegley, Mr. Cooper: Graham Fellows, Mrs. Cooper: Alison Belbin. Producer: Anne Edyvean. Rpt.

5 Jan: Saturday Play - The Canterbury Tales, 2
By the cast of The Archers, dram. Nick Warburton. The tales are set within the frame of the performance in David Archer's barn. Tellers of the Tales: Felicity Finch, Timothy Bentinck, Carole Boyd, Charlotte Martin, John Rowe, Simon Williams. THE PARDONER'S TALE: James Cartwright, Ian Pepperell, Barry Farrimond, John Rowe and Charlotte Martin. THE FRIAR'S TALE: Simon Williams, Timothy Bentinck, Ian Pepperell, Felicity Finch. THE FRANKLIN'S TALE: Barry Farrimond, James Cartwright, Annabelle Dowler and Charlotte Martin, THE BAILIFF'S TALE: Timothy Bentinck, Barry Farrimond, Ian Pepperell, Felicity Finch and Annabelle Dowler. Producer: Alison Hindell. Director: Kim Greengrass. 60m.

12 Jan: Saturday Play - Riot Days, 1
By Maria Alyokhina; her account of her activism, trial and imprisonment as part of the Russian feminist punk protest group Pussy Riot. Part 1 of 2; conclusion tomorrow. Maria: Katie West,Nadya: Kerry Gooderson, Katya: Kathryn Drysdale, Petya: Cameron Percival, Lena: Alexandra Meyrick, Olga: Roslyn Hill, Violetta: Clare Corbett, Investigator and Judge: Ronny Jhutti, Oksana: Lucy Doyle, Bass Player and Beautician: Saffron Coomber, Prosecutor: Tony Turner, Major: Michael Bertenshaw, Prisoner: Alexandra Constantinidi, Guards: Carolyn Pickles and Jeanette Percival. Producer: Emma Harding.

13 Jan: Classic Serial slot: Riot Days, 2
By Maria Alokhina; conclusion. Production team: see above.

14 Jan: Into the Maze, 1
By Ayeesha Menon. Thriller set in London, Riyadh and Mumbai, exploring problems faced by women when it comes to sexual assault and personal freedom. Hotel worker Saira is raped by a rich Saudi guest. It throws her life, and that of her sister, into chaos. Jamila: Maya Sondhi, Saira: Aysha Kala, Najma: Fatima Adoum, Majid: Silas Carson, Zafar: Amir El-Masry, Purab: Ronny Jhutti, Clare: Clare Corbett, Sharon: Jeanette Percival, Andy: Lewis Bray, Ms. Morgan: Carolyn Pickles, John McKinley: Tony Turner, DC Price: Alexandra Constantinidi, Officer Megan: Lucy Doyle, Barfly: Christopher Harper, Fisher: Waleed Elgadi, Wheeler: Sam Dale, Jamila's boss: Waleed Elgadi, Guide: Ronny Jhutti, Judge: Sam Dale, Colleague: Christopher Harper. Producer: Emma Harding. Research consultant: David Rhodes, Doughty Street Chambers.

15 Jan: Into the Maze, 2
Jamila decides to use her vlog to bring her sister's rapist to justice, but someone wants to silence her.

16 Jan: Into the Maze, 3
Conclusion. Clare confronts Najma about the true identity of Saira's rapist. Production details: see 14 Jan.

17 Jan: Torch no. 1
By David Pownall. Broadcast to mark the 50th anniversary of the year when Russian tanks invaded Czechoslovakia. Rpt from Jan 2009. Jan Palach set himself on fire in the centre of Prague 50 years ago. He was not a fanatic or a terrorist. The play explores Palach's state of mind and asks why he did it. Indie production (Pier). Karl Davies stars as Palach; produced by Martin Jenkins.

18 Jan: The Ethical Hacking Bureau
By David Leddy. Barbara recently thought that her Tory grandee husband was having an affair. With the help of her Zumba teacher she hacks his phone, only to discover he wasn't. But it doesn't end there; next she starts to investigate her son-in-law, an MP. She encounters something more serious. Barbara: Patricia Hodge, Lucinda: Anita Vettesse, Nicky: Sarah Niles, Tom: Robin Laing, Celine/Kapoor/Miss Simmonds: Maryam Hamidi, Mr. Hooper: Finlay Welsh. Producer: Kirsty Williams.

19 Jan: Saturday Play - The Double
By Dostoyevsky, dram. Jonathan Holloway. A lonely civil servant is driven to madness when his life is stolen by a doppelganger. The scene is changed in this adaptation; we're in a steampunk version of St. Petersburg, and there are intrusions from the 21st century along with a cyber-weapon. Golyakin and his doppelganger: Joseph Millson, Andrei: Sean Murray, Dr. Rutenspitz: Elizabeth Counsell, Klara / Needles: Kerry Gooderson,. Marmeladov: Lauren Cornelius, Raskolnikov: Joseph Ayre, Fatboy: Ryan Whittle, Maitre d': Ryan Early. Producer: Gemma Jenkins.

21 Jan: 19 Weeks
By Emily Steel. The story of a woman whose life is in utter turmoil; she is pregnant but there is a suspicion that the child may have Down's Syndrome. Gradually the odds get shorter. Eva Myles as Emily, with: The Doctor:Vanessa Hehir, social worker: Mufrida Hayes, sonographer: Kali Hughes, Frank: Milo Robinson. Producer: Helen Perry. Eva Myles received the Audio Drama Award for Best Actress for her outstanding performance in this play.

22 Jan: County Lines
By Amelia Bullmore, rpt. from June last year. A young black woman sits opposite a middle-aged white woman on a train. Neither of them is what she seems. Joy: Brid Brennan, Umi: Tamara Lawrance, with Sean Murray as the steward, Ryan Early, Nahel Tzegai, Ryan Whittle and Lauren Cornelius. Producer: Mary Peate.

23 Jan: Spike and the Elfin Oak
By Ian Billings, rpt. First-class comic fantasy inspired by Spike Milligan's attempts to preserve the Elfin Oak in Kensington Gardens fifty years ago. Spike: David Threlfall, young Spike: Charlie Brand, Norma Farnes: Kerry Gooderson, Laura: Rosie Boore, Sile: Charlotte Emmett, Mother Superior: Georgie Glen, park keeper: Luke Bailey, Mrs. Grumples: Lauren Cornelius, Groodles: Ryan Early, Huckleberry: Clive Hayward, George: Neil McCaul, council boss: Philip Bretherton, vandal: Rupert Holliday Evans, man with dog: Ghazanfar Hyder. Producer: Gemma Jenkins. David Threlfall won the Best Actor in a Radio Drama award for his extraordinary performance as Spike, and the play reached the finals (down to the last 3) for the Imison Award 2019.

25 Jan: Hello Caller
By Jonathan Holloway. A good example of a play which works best on radio. Decommissioned telephone boxes reveal their secrets; a myriad of voices in trapped phone calls. Very spooky. Annette Badland, Luke MacGregor, Sean Murray, David Reakes and Alex Tregear supply the voices. Producer: Alison Crawford.

1 Feb: Suspicious Minds
By Tom Fowler. A time-travelling fantasy, with the settings ranging from the Titanic to Ancient Rome. Mark is trying to repair a troubled relationship with his unfaithful partner so he books the trip of a lifetime involving visits to different periods of history, but without the ability to change known events. Will it work? Fran: Susannah Fielding, Mark: Tom Motherdale, Simon: Christopher Harper, Duchess: Lucy Doyle, Duke: Tony Turner, Ada: Carolyn Pickles, Greg: Ronny Jhutti. Producer: Sasha Yevtushenko.

4 Feb: Tumanbay, 1
Series 3 of John Dryden's historical saga, co-written with Mike Walker, inspired by the Mamluk slave rulers of Egypt. The city is recovering from a brutal occupation of the city by the followers of Maya, with Manel now ruling. Gregor: Rufus Wright, Manel: Aiysha Hart, Cadali: Matthew Marsh, Bavand: Peter Polycarpou, Alkin: Nathalie Armin, Herod: Amir El-Masry, Heaven: Olivia Popica, General Qulan: Christopher Fulford, Frog: Finn Elliot, Matilda: Humera Syed, Akiba: Akin Gazi, Selim: Farshid Rokey, Spider: Yusuf Hofri, Librarian: Antony Bunsee, Cafe owner: Muzz Khan, Deiner: Vivek Madan, swords trader: Nadir Khan. Producers: Emma Hearn, Nadir Khan and John Dryden. Director: JD.
An 8 x 45m epic; return of the popular series begun several years ago. The nearest radio will get, I suspect, to TV's "Game of Thrones".

8 Feb: Control
By Adrian Penketh, rpt. A play about dramatic events in the world of air traffic control. Rob: Robert Emms, Megan: Michelle Terry, with Priyanga Burford, John Bowler, John Dougall, Karen Bartke, Gavi Singh Chera, Nick Murchie, Luke MacGregor. Producer: Emma Harding.

9 Feb: Saturday Play - Pandora's Box
By Katie Hims. The drama goes in search of Wedekind's 'Lulu' - older readers may remember the famous radio production by Martin Esslin in 1975. Lulu is every man's erotic fantasy, and therefore, worst nightmare as well. Wedekind and Lulu: Kate O'Flynn, Justin/Aiwa: Joseph Ayre, Simone/Geschwitz: Ayesha Antoine, Kerry: Kerry Gooderson, Dr. Schoen: Tony Turner, Schigolch: Michael Bertenshaw, Piani: Ronny Jhutti, the kind-faced man: Christopher Harper, Rodrigo: Don Gilet, Dr. van Zarnikov: Sam Dale, Charlotte: Franchi Webb. Producer: Toby Swift.

10 Feb: Classic Serial: The Door in the Pillow
By F.C.Boyce; a play about dementia. He weaves its impact into a ghost story. Annie's fractured sense of the world is held together by stories. Her daughter Terri starts to wonder where the tales are coming from. Annie: Anne Mitchell, Terri: Samantha Spiro, Bernie: Carolyn Pickles, Eric: Tony Turner, Father Burns: Don Gilet, soldier: Chris Harper, children: Grace Doherty, Eviee Lavery,and other roles performed by Saffron Coomber, Jeanette Percival and Alexandra Constantinidi. Producer-Director: Allegra McIlroy.
As people's lives get longer due to medical advances, the incidence of dementia and Alzheimer's disease among the population rises rapidly. It is distressing and, so far, incurable. There can be very few families whose lives remain untouched by dementia.

14 Feb: The Love Test
By Brian Coyle. Valentine's Day comedy about meeting the perfect partner. Kate, a journalist, is writing an article about a pshchological test capable of saying when you've met the perfect partner. She tries it herself. Kate: Kate O'Flynn, Sam: Carl Prekopp, Mark: Stephen Hogan, Sarah: Deborah Findlay, Gerri: Samara MacLaren. Producer: Bruce Young.

16 Feb: Saturday Play: China Towns,1
New series of 11 episodes. A reinterpretation of the "Five Town" novels by Arnold Bennett, set in the Stafforshire Potteries, dram. Shaun McKenna and Lin Coghlan. It is the middle of the Industrial Revolution. Edwin Clayhanger leaves school with dreams of becoming a painter, but his father refuses to tolerate such an idea. Ephraim: Neil Dudgeon, Darius: Tim McInnerney, Edwin: Cameron Percival, Auntie Hamps: Carolyn Pickles, Big James: Ian Conningham, Constance: Bryony Hannah, Sophia: Alexandra Constantinidi, Mrs. Baines: Clare Corbett, Mr. Povey: Lewis Bray, with Michael Bertenshaw, Tony Turner, Christopher Harper, Don Gilet, Saffron Coomber, Jeanette Percival and Evie Killip. Producers: Marion Nancarrow and Gemma Jenkins. Director: MN.

7 Mar: First Do No Harm - Elaine
By Al Smith. Drama about the NHS. I think fictional but the RT doesn't make it entirely clear whether this is a drama-documentary. Elaine Newton's husband died whilst under NHS supervision, but attempting to find exactly what led to the tragedy is like stirring a hornet's nest. Elaine: Rosie Cavaliero, Greg: Michael Bertenshaw, Rhys: Joel McCormack, Caz: Jade Croot, Niall: Joseph Ayre, Joy: Kelly Williams, Maggie: Clare Corbett, DJ: Don Gilet, Lenny: Sam Dale, Keith: Christopher Harper, Jane: Sarah Ovens, Dave: Ronny Jhutti, Martha: Franchi Webb. Producers: Jessica Dromgoole and Sally Avens. Director: JG.

12 Mar: Seven Five Zero Zero
By Adrian Penketh. A desperate pilot hijacks his own plane. Set in and around an airport. Steve: Don Gilet, Neil and Tanner: Shaun Mason, Megan: Katherine Press, Chris: Christopher Harper, Tim: Ronny Jhutti, Giles: Tony Turner, GG: Chetna Pandya, Prime Minister: Susan Jameson, Helen: Sarah Owens. Producer: Emma Harding.

15 Mar: Five Rachels
By Katie Hims. A play about the nature of memory. Rachel seems to have discovered memories she didn't used to have. She thinks the memories are from her past, but the doctor doesn't agree. She tries to work out what is happening to her. Rachel Ridley: Rachel Davies, Rachel2: Kika Markham, Dr. Jones: Michael Bertenshaw, girl in the newsagent's: Sarah Ovens, library customer: Christopher Harper. Producer: Allegra McIlroy.
(......I only counted two Rachels - Ed. )

26 Mar: The Cairn
By Donna Franceschild. Set on the Kintyre peninsula. Two sisters are reunited when their ailing father approaches his death. They decide to construct a cairn for him, to the annoyance of the local Forestry Commission. Agim: Nebil Basani, Eilidh: Fiona MacNeil, Arlene: Olivia Morgan, Isla: Rosie Smith, Wilma: Gerda Stevenson, Alex: Paul Young. Producer: Kirsty Williams.

28 Mar: News From Nowhere
By Sarah Woods; an adaptation of a work by William Morris; rpt. from 2016. The story was first published in 1890. Will wakes up and finds he has travelled a century into the future; a world where poverty no longer exists and work is a pleasure. Woven into the tale is a romance. Will: Ron Cook, Ellen: Catrin Stewart, with Keiron Self, Claire Cage, Richard Nichols, Roger Evans, Kristy Phillips and Crystal Yu. Producer: Polly Thomas.

Offshore .... 2019
By Penelope Fitzgerald, 30Mar19, dramatised by Michael Butt. Set amongst a small community of eccentric barge-dwellers on the River Thames. Nenna and her two daughters have tricky decisions to make. Director: David Hunter.

30 Mar: Saturday Play slot - Rosencrantz and Guildenstern Are Dead,1
By Tom Stoppard. Part 1 of 2. A new production. R and G are two minor characters from Shakespeare's Hamlet who are condemned to an existence in the wings, with no control over their destinies. Rosencrantz: Mathew Baynton, Guildenstern: Andrew Buchan, the Player: Toby Jones, Tragedian: Sam Dale, Alfred: Ronny Jhutti, Ophelia: Sarah Ovens, Polonius: Michael Bertenshaw, Hamlet: Parth Thakerar, Claudius: Don Gilet, Gertrude: Clare Corbett. Producer: Emma Harding.
31 Mar: Classic Serial slot - Rosencrantz and Guildenstern Are Dead,2
Conclusion. Rosencrantz and Guildenstern puzzle over the roles they are meant to play.
This was reviewed in some detail by Jane Anderson in RT. It is a stage play adapted for radio; originally performed by the National Theatre, and there have been other radio productions (WS 1983, R3 1990, R3 2007. ) This is the play in which the action of HAMLET takes place largely off-stage, while the Prince's hapless school friends twiddle their thumbs and toss coins to pass the time. It was broadcast in 1978 with Edward Petherbridge as Guildenstern, repeating his stage performance for the National. This new production stars Mathew Baynton, Andrew Buchan and Toby Jones. Jane comments "I really struggled with this and am not convinced ....that it can ever work as well in audio form. It requires full-on attention or one is baffled, lost and confused within minutes'. This is exactly the effect it had on me; it was certainly interesting but I couldn't pretend to have followed it very well.

3 Apr: Ability
11.30am slot; return of the comedy drama series (4 parts) by Leed Ridley (Lost Voice Guy, winner of Britain's Got Talent 2018) and Katherine Jakeways. Matt, who has cerebral palsy and speaks via a computer, is still sharing a flat with his best mate, Jess. He's in love with her, but she's not in love with him. In the opening episode he introduces himself as a bloke who suffers from a terrible affliction - "I'm a Geordie". The programme was reviewed very favourably by Jane Anderson in RT. Matt: Lee Ridley, Bob: Allan Mustafa, Jess: Sammy Dobson, Matt's inner voice: Andrew Hayden-Smith. Producer: Jane Berthoud.

8 Apr: The Ferryhill Philosophers
By Michael Chaplin; new series. More moral dilemmas examined by an ex-miner and a philosophy lecturer. A man burdened with terrible guilt returns to Ferryhill to find forgiveness for his part in the death of a child. Joe: Alun Armstrong, Hermione: Deborah Findlay, Mark Comforth: John Bowler, Barry Hardwick: Trevor Fox, Kathy/Kylie: Jackie Lye, bus driver: Dean Logan, barmaid: Tracy Gillman. Indie: Catherine Bailey Productions; producer CB, director Marilyn Imrie. [This series is excellent and very thought-proking - it examines problems and incidents which many of us are likely to meet at some point - Ed.]

8 Apr: Ship of Lies (15m drama)
By Ron Hutchinson. Set in New York. Emma Heyer is a distressed young English woman who has travelled to the city to see if she can find out the final song played on the Titanic before it sank..... What she doeesn't realise is that her persistent research puts her own life in danger.... a conspiracy thriller. (.....summarised from Jane Anderson's review of the play in RT)

12 Apr: Read the Room
By Viv Groskop. Sally seems to have obtained a key role in an important movie trilogy. The producer insists on meeting her in his hotel before confirming the deal. This does not go smoothly. Sally Hall: Melody Grove, Richard Donovan: Tim McInnerny, Kate: Dona Croll, Jack: Owen Findlay, Anna Kane: Rebecca Saire, Maddie: Katy Ellis. Producer: Eoin O'Callaghan.
27 Apr: Saturday Play - The Battle of San Pietro
By Nick Perry. Fact-based biographical drama about the pairing of Eric Ambler (writer of spy thrillers) and John Huston (film director) to make a documentary to support the Allied effort in WW2. Ambler was conscripted to work with JH on a US Army propaganda film about the Italian campaign. This is an odd coupling - the reserved, cautious British novelist and the gregarious film director. This glimpse of their relationship helps to sketch out Ambler's own story and personality. This is a good introduction to Ambler's world of suspense, thrills and intrigue. Acknowledgements to David Crawford's review in RT; I have used parts of it in compiling this summary.
28 Apr: Classic Serial slot: Journey into Fear, 1
By Eric Ambler, adapted for radio by Nick Perry. This is taken from a WW2 thriller about an engineer who is marked for death whilst working for the Turkish government. Alec: Daniel Rigby, Berlinks and Jose: Simon Scardifield, Dr. Haller: Matthew Marsh, Josette: Olivia Ross, Mr. Kuvetli: Atilla Akinci, Colonel Haki: Raad Rawi, Mathis: Sam Dale, Mme, Mathis: Carolyn Pickles, steward: Ronny Jhutti. Producer: Sasha Yevtushenko.
30 Apr: What's He Building in There?
By Rachel Smith. Kate is a busy teacher who is also trying to sell the family home. Her younger brother Ryan refuses to leave his bedroom as the sale approaches. He has created an online gaming channel on his computer which has attracted thousands of subscribers, but he still doesn't have a job. Kate: Christine Bottomley, Ryan: Mike Noble, with Wyllie Longmore as John and Angela Lonsdale as Maeve. Producer: Nadia Molinari.
1 May: Where This Service Will Connect
By Katherine Jakeways; third episode of this occasional romantic comedy, rpt. from Aug 2018. Suzie arrives at the office to see David; she is the worse for wear after a party the night before. It's months since they sat next to each other on a train journey; now she needs his help. Suzie: Rosie Cavaliero, David: Justin Edwards, Joe: Richard Nicholls, Receptionist: Katherine Jakeways. Producer: James Robinson. For other episodes - see 27-28 Apr 2017.
4 May: Saturday Play: James Bond - Live and Let Die
90m. By Ian Fleming, dramatised by Archie Scotney. Bond is sent to New York to investigate an underworld leader called Mr. Big, who is importing gold coins to finance Russian spy operations. Mr. Big: Kevin Daniels, Solitaire: Rutina Wesley, "M": John Standing, Leiter: Josh Stamberg, Tee-Hee: Michael A Sheppard, with Lovensky Jean-Baptiste, Ron Cephas Jones, John Cothran, Jonathan Cake, J.D.Cullum, Jake Green, Gilbert Brown, Anna-Louise Plowman, Janine Barris, Larry Powell, Anna Mathias, Martin Jarvis as narrator Ian Fleming, James Morrison, Darren Richardson, Alan Shearman, Andre Sogliuzzo and Matthew Wolf.Producer: Rosalind Ayres. 90m. Jarvis & Ayres Indie production.
6 May: Road to Oxford
By Douglas Livingstone, rpt. from Nov 2016. The latest in a long line of 'Road' plays by this writer and producer Jane Morgan. This one centres on young David as he goes up to Oxford: the first member of his family to go to university. The drama is set at the celebration of the dawn on 1 May, when choristers sing from the top of Magdalen tower and after a night of partying the students shiver in their evening clothes at the base. The production team went to Oxford to record the overnight festivities, and a number of the actors are making their radio debuts as graduates of the Oxford School of Drama or from the University itself. Bernard: John McAndrew, David: Michael Gilbert, Shirley: Annabel Smith, Mary: Jane Whittenshaw, Julian: Jordan Metcalfe, Christopher: Charlie Bateman, the porter: Christopher Benjamin, The senior tutor: Frank Stirling, The guide: Ella Road, The policeman: Christopher Royle. Producer: Frank Stirling, director: Jane Morgan.
7 May: My Cambodian Twin
By Annie Caulfield and Martin McNamara. When diagnosed with lung cancer, Annie was determined to complete her book about Cambodia and her friendship with a young dancer named Sophea in that country; her 'Cambodian twin'. The radio adaptation was done by Annie's partner Martin, who introduces the play. Annie: Pippa Haywood, Martin: Paul Ritter, Sophea: Uma Jackson, Dr. Tom: Christopher Harper, Guru: Chike Chan, other parts played by Kenny Blythe and Sarah Ovens. Producer: Emma Harding.
13 May: Madame Tempy
By Winsome Pinnock. Fact-based play about the American pianist Tempy Smith, who in the 1920s set up music schools and became wealthy. Madame Tempy: Adjoa Andoh, Sylvia: Lisa Davina Phillip, Warren Stuart: Edson Burton, Mrs. Dupont: Zara Ramm, Geri: Debbie Korley, Mr. Williams: David Houslow, Herself: Sylvia Smith Lewis. Producer: Maggie Ayre.
14 May: The Macefield Plot
By Daniel Thurman. Edith Macefield was a householder who received worldwide attention in 2006 when she turned down an offer of about $1 million to sell her home to make way for a commercial development in the Ballard neighborhood of Seattle, Washington. Instead, the five-story project was built around her 108-year-old farmhouse, where she died at age 86 in 2008. In the process, she became something of a folk hero. After she died, Macefield willed her house to the new building's construction superintendent, Barry Martin, in gratitude for his friendship and caretaker role. Edith:Sian Phillips, Barry: Stanley Townsend, Joe: Joseph Balderrama, Cops: Helen Clapp and Christopher Harper. Producer: David Hunter.
15 May: Where This Service Will Separate
Episode 4 of the occasional romantic comedy about a couple who met a while back on a train and who, after that, have encountered each other in two other dramas. This time they're at a funeral. Suzie's husband, from whom she was separated, has just died, and her erstwhile partner, David, has arrived to give her some support. Unfortunately he's not known to any of her family. Suzie: Rosie Cavaliero, David: Justin Edwards, Josh: Luke Nunn, Gareth: Michael Bertenshaw, Pam: Katherine Jakeways. Producer: James Robinson.
4 Jun: Body Tourists
By Jane Rogers. In the 'Dangerous visions" series. It is 2045 and scientists have found a way to store memory and personality digitally. A dead person can have his chip inserted into other living bodies. A consultant is the first to experience this technology. Octavia: Susan Brown, Luke, the consultant: Joseph Kloska, Paula: Lotte Rice, Ryan: Will Naylor, Gemma and the Bot: Alana Ramsey. Producer: Clive Brill. Indie (Brill Productions).
7 Jun: Rita, Sue and Andrea Too
By Sean Grundy. A play about Andrea Dunbar, the schoolgirl playwright whose play "Rita, Sue and Bob" was briefly popular in 1982. It's told through the words of Jennie Howarth, a film director and friend of Andrea. The play follows how she struggled to make money and how she fought to protect the authenticity of her work as it transferred from stage to film. Andrera: Natalie Gavin, Jennie Howarth: Claudia Jessie, Maz and Alan: Duncan Wisbey, Oscar: James Quinn, Alma and Peggy: Anjella Macintosh. Other parts played by Cara Jennings, Sophie Trott and members of the cast. Producer: Sally Harrison; director: Sean Grundy.
8 Jun: Saturday Play: One Day in the Life of Ivan Denisovich
By Alexander Solzhenitsyn, dram. Robin Brooks. A day inside a Soviet labour camp. Ivan has been sentenced to ten year's hard labour for being a spy. The fact that he was never a spy is irrelevant. Ivan: John Hollingworth, Buinovsky: Nigel Cooke, Tsezar: Joseph Kloska, Alyosha: Joshua Akehurst, Tiurin: Nick Murchie, Pavlo: Pat Marlowe, Kolya: Christopher Buckley, Volkovoi: David John, Fetuikov: San Donnelly, Narrator: Olivia Darnley. Producer: Clive Brill. Indie; Brill Productions.
10 Jun: Torn
By Eve Steele. A woman with a troubled past who wants to put things right and rebuild her relationship with her estranged daughter. Sasha: Eve Steele, Marvin: Simon Trinder, Nicole: Sade Malone, Del: Will Ash, Tony: Jim English. Producer: Gary Brown.
21 Jun: Base Lines
By Mark Lawson. A play about transgender individuals. Do men who have transitioned (been surgically altered) to become women have an unfair advantage if they take part in women's athletics? Secondly, are surgical and hormonal alternations sufficient for a person to become a member of the opposite sex? Peter / PJReaney: Rosie Sheehy, Sheila Reaney: Haydn Gwynne, David Harvey-Lane: Dermot Crowley, Rachel du Prez: Kerry Fox, Andy: Tom Glenister, with Adrian Decosta and Marieme Diouf. Producer: Eoin O'Callaghan.
24 Jun: Our Trees
By Frances Byrnes; docu-drama, narrated by Robert Glenister. A play about the destruction of urban trees in Sheffield by seemingly deaf, blind and stupid people in positions of authority. Based on recent events, as reported in the press. Ordinary people living there were arrested for refusing to move away from healthy, threatened trees. Frances has turned the voices of Sheffield's urban tree campaigners into a melancholy fairy tale. Producer: Kate McAll. Sound design: David Thomas.
26 Jun: Everybody's Got Conditions
By Sarah Wooley. A play about Tennessee Williams, playwright, set in 1961. His next play, The Night of the Iguana, has some good parts for women but Katharine Hepburn turned down his offer of a long run so he did some rewriting and offered the supporting role to Bette Davis, who (if the play is accurate) seems to have had a lot more ego than tact or diplomacy.. Tennessee: Justin Salinger, Bette Davis: Amelia Bullmore, Chuck Bowden: Simon Harrison, Paula Laurence: Teresa Gallagher, with David Sturzaker, Simon Ludders and Georgie Glen. Producer: Gaynor MacFarlane.
27 Jun: The Len Dimension
By Peter Strickland, rpt. from June 2017. Sequel to 'The Len Continuum', Peter's first radio play, also broadcast in 2017. Len's first big opportunity is a part in a public information film. Will he be up to the job? To paraphrase Jane Anderson in RT: this is actually a sitcom, but the psychological insights into a man who believes himself to be a failure, despite his outward bravado, puts it into the same league as 'Fawlty Towers or 'Reginald Perrin'. Jane also remarked on the very unusual sound effects. Len: Toby Jones, Alice/Trish: Belinda Stewart-Wilson, Josh: Steve Oram, Miles: Harry Mead, Richard: Ted Tomlin, Mandy: Claudia Duffy, Pericles: Pano Masti, Hamish and the radio presenter: Miranda Hinkley. Producer: Russell Finch, director: Peter Strickland.
6 Jul: Saturday Play - Between the Lines
45m play by Rebecca Lloyd-Evans, rpt. A jobless divorcee attempts to put her life back together. She does it by writing and reading erotic fiction to a group of partially-sighted care home residents. They love her. Scarlett: Meera Syal, Soph: Sophia di Martino, Janey/Faith: Llewella Gideon, William/Ronnie: Paul Herzberg, Hettie: Fenella Fielding, Tom: William Gaunt. Producer: Melanie Harris, director: Rebecca Lloyd-Evans.
13 Jul: Saturday Play - The First Man on the Moon and how they Done It
By Patrick Barlow, John Ramm and Martin Duncan. 60m. National Theatre of Brent production. Desmond Olivier Dingle and Raymond Box describe those earth shattering moments in 1969 when the astronauts first stepped onto the lunar surface. Desmond: Patrick Barlow, Raymond: John Ramm. Producer Liz Anstee; director Martin Duncan.
14 Jul: Classic Serial: The Last Judgement of Giorgio Vasari, 1
By Eileen Home and Sarah Dunant. Story of the painter, artist and biographer, told using his own words. Florence, 1570: Vasari was commissioned by his patron to paint the city's cathedral dome. Vasari: Tom Conti, Piero: Will Taylor, Grand Duke Cosimo: David Troughton, Tommaso: Tristan Beint, Duke Francesco: John Hollingworth, Michelangelo: Nick Murchie, yound Vasari and Dante: Joshua Akehurst, Giotto as a teenager: Jay Mailer, as a child: Alexander Ryan. Papal envoy: Jamie Newall. Producer: Clive Brill. Indie (Brill Productions).
20 Jul: Saturday Play - Black Water
Novella by Joyce Oates, adapted by Sarah Wooley for radio. A young political writer, Kelly, meets a U.S. senator and the pair hit it off. They leave in the evening by car but there is an accident. The story is clearly based on the Kennedy / Chappaquiddick Island incident, in which Ted Kennedy drove off a bridge into swampy waters, got out of the car, left the scene and did not report the accident for several hours. His female companion drowned. Kennedy was found guilty of leaving the scene of an accident. Kelly: Lydia Wilson, the senator: Elliot Cowan, narrator and mother: Laurel Lefkow, Buffy: Kelly Burke, Ray: Chris Pavlo, Felicia / Operator: Emma Lau, Stacey / woman at party: Hannah Wood. Producer: Gaynor Macfarlane.

25 Jul: Faded Glory
By Rebekah Harrison. Childhood sweethearts Dave and Sue meet again after 22 years. They find out how life has taken them in very different directions. Sue: Shobna Gulati, Dave: Roger Evans, Gemma: Annie-Rose Tate. Producers: Nadia Molinari and Rebekah Harrison. (....This play was way above the average; very affecting and bitter-sweet - Ed. )

30 Jul: The Music Lesson
By Hannah Silva, rpt. from 11 Jul last year. I know this is a repeat but it's a superb play and production. Mika is a music student of the recorder. A famous teacher offers to help her. Things don't work out as she planned. Fiona Shaw, Erin Doherty. Producer: Melanie Harris; director: Susannah Tresilian.
2 Aug: The Interrogation, 4: Billy
Max and Sean interview Billy, who is already well known to the police. This time is different; he has come of his own free will. Max: Kenneth Cranham, Sean: Alex Lanipekun, Billy: Daniel Kendrick, Officer: Joseph Ayre, Trevor: David Houslow. Producer: Mary Peate.
4 Aug: Classic Serial: Ulverton
This is a twelve-episode epic by Adam Thorpe. A novel set in a fictional village in Berkshire. It traces family stories through the generations, from 1650 to the late 1980s, using diaries, letters and other formats to create the voices of each era. The novel is being broadcast as ten radio adaptations (by Sara Davies). There will be serialised readings from tomorrow (5 Aug) sandwiched between dramatizations of the first and last episodes, including a newly commissioned epilogue by Adam, set in 2019. This instalment covers 1650, 1689 and 1712. William: John Sackville, Anne: Emma S Hussey, Gabby: Tristan Sturrock, Thomas Walters: Rory Wilton, Rev. Brazier: David Threlfall, Farmer Plumm: Richard Goulding. Producer: Jill Waters. Note that the readings which follow are not in the usual drama slot; they are at noon and each lasts for fifteen minutes.
6 Aug: In His Kiss
By Lucy Montague-Moffatt; romantic comedy rpt from 12 Jul 17. An aspiring stand-up comic, Anna, joins a dating site, looking for excitement but also for material for her comedy routine. George, an undertaker, has also joined the dating site, for more usual reasons. When he meets Anna, things develop in a way neither of them had foreseen. Anna: Niamh McGowan, George: harry McEntire, Tash / Daisy: Kimberly Hart-Simpson, Will: Ste Johnston. Producer: Melanie Harris, director: Julia Ford.
7 Aug: Rumpole and the Golden Thread
Another repeat. By John Mortimer, ad. Richard Stoneman. Whilst in Africa defending an old pupil in a murder trial, Rumppole is arrested. From May 2018. Rumpole: Julian Rhind-Tutt, Mrs. Rumpole: Jasmine Hyde, Sam: Michael Cochrane, Claude and Hugh: Nigel Anthony, Phillida and Tina: Cathy Sara, Sir Worthington and prison guard: Joseph Mydell, with Adrian Scarborough, Okorie Chukwu, Nadine Marshall, Ben Crowe, Deboran Findlay, Amy Morgan, Ewan Bailey, Timothy West, Hetty Russell and Jason Knopf. Producer Catherine Bailey, Director: Marilyn Imrie. Indie (Catherine Bailey Productions).
8 Aug: The Summer Snows
By Christopher Nicholson. Dramatised by the author and Jonathan Smith. A writer has a compulsion to seek snow - the last remnants of winter. He sets off from Dorset for the Scottish mountains. Christopher: Robert Bathurst, Hugh: Christopher Harper, Helen: Helen Clapp, young Christopher: Oliver Zetterstrom, mother: Catherine Cusack, Richard: David Hounslow, Ranger: Kenny Blyth, Mrs. Cameron: Mary Maclean. Producer: Bruce Young.
9 Aug: The Interrogation, 5: Carly
By Roy Williams. An interview with Carly, who bit (sic) a police officer. Max: Kenneth Cranham, Sean: Alex Lanipekun, Carly: Lizzy Watts, Nathan: Joseph Ayre. Producer: Jessica Dromgoole; director: Mary Peate.
11 Aug: Classic Serial slot - Inspector Chen: Hold Your Breath, China
One-off story by Qiu Xiaolong. Chen is out of favour but then he's needed when a serial murderer is active in Shanghai. Inspector Chen: Jamie Zubairi, Yu: Dan Li, Qin: Liz Sutherland-Lim, Lou and Huang: Andrew Leung, Shanshan: Rebecca Boey, Zhao: David Houslow, Qiang: Sean Baker, Bian: Chris Pavlo, Bei: Kenny Blyth, neighbour: Debbie Korley. Producer: David Hunter.
12 Aug: Father's Land in Mother Tongue
By Kamal Khan. Mya travels to Bradford to Bangladesh accompanied by her father. Secrets are revealed about the Liberation War of 1971. Mya: Bhavna Limbachia, Zain, her father: Richard Sumitro, Lovely and Nani: Ayesha Dharker, Zahid, railway guard and the police: Ikky Elyas. Producer: Pauline Harris.
13 Aug: I'm Dying to Help
By Jon Canter. A play in the "Dangerous Visions" series. A future female Prime Minister comes up with a plan to deal with growing life expectancy by putting a drain on the NHS. Sam: Tony Robinson, PM: Haydn Gwynne, Ella: Sophia di Martino, Gerry: Paul Hickey, Mr. King: David Houslow, Chrissy and Bianca: Debbie Korley, Sue: Helen Clapp, Mrs. Griffin: Susan Jameson. Producer: Sally Avens.
15 Aug: Fire in the Bookshop
By Tim Atack. A documentary-maker looks at how bullying has changed over the last 30 years. He finds a school where a bully is employed to keep pupils under control. Jeremy J Wylie: Tom Meeten, Juliet: Pippa Haywood, Hartcliffe: Tom Edward-Kane, Dulcie: Ayesha Antoine, Shawnessa: Evlyne Oyedokun. Producer: Alison Crawford.
16 Aug: The Tiny Problem
By Tamsin Oglesby; family comedy. A couple ignore their own problems and just concentrate on their 16-year-old daughter. They end up in therapy. Then they think of another solution. El: Tanya Franks, Jim: Paterson Joseph, Tiny: Pearl Chanda, officials: Smauel James, Emilio Doorgasingh, teen: Tom Forrister. Producer: Jonquil Panting.
17 Aug: Saturday Play: Ulverton, 12, conclusion.
By Adam Thorpe. (See 4 Aug for details of the set of 12 broadcasts). This final instalment contains a dramatization by the author and Jill Waters of the last stages of the book, covering 1953 and 1988, and a newly commissioned epilogue set in 2019. Readers: David Timson, Jack Flammige, Tristan Sturrock and Ewan Bailey. Producer: Jill Waters.
19 Aug: The Bulbul was Singing
By Judy Upton. A young British woman who has been fighting with the Kurds against ISIS finds herself charged with terrorism. Laura: Rebecca Humpries, Ariman: Shaniaz Hama Ali, Dad: Paul Hickey, Jonas: Jonny Holden, instructor: Saya Zahawi, Insp Kent: Catherine Cusack, PC Miller: Shaun Mason, Serena: Debbie Korley, custody assistant: Chris Pavlo. Producer: Emma Harding.
20 Aug: Found
By Katherine Chandler. A woman's husband comes home from the shops. Instead of a bottle of wine he is carrying a tiny baby. What should they do? RT says: "....forcing them to make a difficult decision in a drama about the power of parental instincts, social responsibility, sex, class, greed and good intentions. Annie: Nia Roberts, Mike: Oliver Ryan, Sam: Rebecca Hayes, Leah: Gabrielle Creevy. Producer: Helen Perry.
21 Aug: Rumpole and the Quality of Life
Rpt. from 2018. By John Mortimer, ad. Richard Stoneman. The final (ever) Rumpole drama. Rumpole faces a life-changing decision about his marriage. Hilda wants him in Cornwall but Phillida wants him too.Rumpole: Julian Rhind-Tutt, Mrs. Rumpole: Jasmine Hyde, Sam: Michael Cochrane, Claude and Hugh: Nigel Anthony, Phillida and Tina: Cathy Sara, Sir Worthington and prison guard: Joseph Mydell, with Adrian Scarborough, Okorie Chukwu, Nadine Marshall, Ben Crowe, Deboran Findlay, Amy Morgan, Ewan Bailey, Timothy West, Hetty Russell and Jason Knopf. Producer Catherine Bailey, Director: Marilyn Imrie. Indie (Catherine Bailey Productions).
23 Aug: Twelve Weeks
By Viv Groskop. Set in an Airbnb in Suffolk, June 2019. The friends from university days are away for a weekend break. They know each other well, but something happens which threatens to wreck the weekend and their friendship. Jen: Flor Montgomery, Anne: Barbara Fylnn, Carolinie: Jane Slavin, Sorcha: Nimmi March, Will: Oliver Le Sueur, Doctor: Viv Groskop. Producer: Eoin O'Callaghan.
24 Aug: Saturday Play slot: In Search of Lost Time
By Marcel Proust. 12-hour epic. First 2 parts of 10: 2 hours. Narrated by Derek Jacobi. I can't attempt to summarize it. RT says .... novel reflecting on time, memory, art and love. Young Marcel takes walks with his parents and sees for the first time Gilberte, daughter of family friend Swann and his courtesan wife Odette de Crecy. Cast list: too long to type - but I may be able to manage the names of some the actors: Derek Jacobi as narrator, Oliver Cotton, Susan Brown, Sylvestra la Touzel, Joanna David, Pamela Miles, Mary Glen, Bessie Carter, Paterson Joseph, Charlotte Blandford, Fenella Woolgar, Robert Glenister, Frances Barber, Robert Glenister ...etc, etc, etc...... it goes on and on; I'm only a third of the way through. 37 actors playing about 70 parts. Let's have a photograph.... Episode 3 at 9pm (60 min).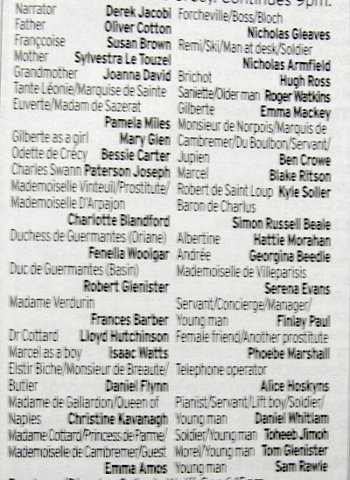 25 Aug: Classic Serial slot: In Search Of Lost Time, 4 & 5 followed by 6 & 7
2-hour session, starting at 3pm.
4: Marcel is rejected by Gilbert Swann in Paris and sometime later visits the seaside town of Balbec with his grandmother. He meets three people who will have a significant impact on his life. One of them is the Baron de Charlus, played by Simon Russell Beale. Then at 4pm: episode 5: Marcel and his grandmother return from Balbec and move to a new flat in Paris. Episode 6 follows at 8pm and 7 at 9pm.
26 Aug: In Search Of Lost Time, 8,9,10
12 noon (60min): Albertine and Marcel's relationship grows more impossible; 2.15pm (45min) War looms, 3pm (60min) Conclusion - the society and culture are changing.... The one time in my life it would've been useful to attend that Seaside Summarising Proust competition - Ed.
27 Aug: Glue
By Louise Wallwein, rpt. from Sep 2017. Louise tells her life story, which includes not knowing the identity of her birth mother for thirty years. Part of the CSL season. Louise: herself, Social Worker: Julie Hesmondhalgh, with Fiona Clarke and Eileen O'Brien. Producer: Susan Roberts.
28 Aug: Blend
By Archie Maddocks. On the night they had planned to conceive, the couple talk about their reasons for and against having a child and expose some relationship problems.Paris (the man): Jake Fairbrother, Layla (the woman): Rebekah Murrell, Guillermo: Mika Osei-Owusu. Producer: David Hunter.
30 Aug: Tinsel Girl and the Pain Clinic
By Lou Ramsden. The life and encounters of a wheelchair user. Inspired by Cherrylea Houston. Maz: Cherrylee Houston, with Kathryn Pemberton, Krissi Bohn, Julie Hesmondhalgh, Kevin Davids and Toby Hadoke. Producer: Nadia Molinari.

14 Nov 19 THE PALLISERS
Edited summary from a review by Gerard O'Donovan.
"...Mike Harris's adaptation took Trollope's major characters and plot lines, shook them about, jettisoned everything dispensable, and grippingly refashioned them for the 21st century..." ..."What an unexpected treat The Pallisers turned out to be... a six-part adaptation of Anthony Trollope's sprawling novels set around the parliamentary and intramarital shenanigans of the Victorian elite..."
"Jessica Raine's memorable "Cora" was not only handed the newly minted role of narrator but – with an added oomph of Sunset Boulevard-style intrigue – performed it from beyond the grave. It was impossible to resist such an opening line as: "The story begins 15 years before I died, in the 1860s, when things were very different."
"What Cora presented was a world that pinged sonorously of our own – "where young women were denied power but sought it all the same, very rich men dominated the Cabinet, the people were bitterly disaffected and a general election had given us a divided government with a tiny majority".
"Against that background, Trollope's canvas of colourful but time-worn males – newly-elected idealist Irish MP Phineas Finn (Edward MacLiam), lovelorn patrician Plantagenet Palliser (Tim McMullen), charming wastrel Burgo Fitzgerald (Blake Ritson) – emerged washed in a reviving coat of contemporaneity. Meanwhile, Cora and her politics-obsessed friend Violet (Scarlett Courtney) enjoyed a welcome edge of modernity while exemplifying no less painfully just how little agency women, even those of the upper classes, had in Victorian times."
(Gerard O'Donovan, The Daily Telegraph 13th November 2019)
Produced by Gary Brown. Episodes 4, 5 and 6 continue in the new year, the last two written by Sharon Oakes. Episode 1 available to hear again on BBC sounds or at: https://www.bbc.co.uk/programmes/m000b7 ...

HAPPINESS ....2019
Ian Billings' tribute to the brilliant comedian and singer Ken Dodd, HAPPINESS (R4, 1415, 23 Dec 19) was set in the year in which the Inland Revenue accused the madcap comedian of tax evasion. Ian also wrote 'Spike and the Elfin Oak' in which David Threlfall won the Audio Drama Award for best solo performance when he played Spike Milligan. In 'Happiness', David gave another uncannily accurate impersonation. The play imagines what it must have felt like for a man confronted with the prospect of being cut off from doing what he loves most in the world: performing in front of an audience and making them laugh. The story tracks his year-long battle with the tax-man including the 1989 trial where the entertainer is finally acquitted on all charges. The tax fraud allegations came to light in 1989 and related to activity by the Liverpudlian, spanning about 15 years. Dodd even had his passport seized because of fears that he would flee the country. The court was told about his eccentricity, including hiding wads of cash in wardrobes, cupboards and under the stairs. He escaped the criminal charges largely thanks to the brilliance of George Carman QC who insisted the case must be heard by a jury in Liverpool. As a friend remarked at the time ' there's no way Dodd will be found guilty in his home town.' George Carman was played by Clive Hayward, the judge by Neil McCaul, and the music was arranged and performed by Neil Brand. The producer was Gemma Jenkins.
Note added in Jan 2020:
I have just found out that David Threlfall has also taken the part of Tommy Cooper in "Not Like That, Like This", a film made in 2014.Anyone hearing these performances will conclude that David has an astonishing facility for impersonation. The voices are indistinguishable from the real thing - ND.