FORUMS AND MESSAGEBOARDS FOR DRAMA (all non-BBC)
ex-R4 forum/ 'beebotron' / R3 drama forum /

WINTER EXERCISE....2013
Drama-documentary, partially dramatized by Philip Palmer. 14 Dec 13; Saturday Play, 60m. It's set in 1981, during the Cold War. Tensions have increased, and war between the Soviet and Western blocs seems a real possibility. And so, for two weeks in March, a group of top civil servants meets daily as part of Wintex-Cimex, a biennial exercise to test the UK Government's readiness for each stage of a descent into nuclear conflict. David Aaronovitch presents a documentary drama based on the recently released Cabinet Office file.
A nationwide exercise of military and civil defence personnel, Wintex-Cimex, would reveal how prepared Britain was for dealing with the consequences of a nuclear exchange and what would inevitably follow: internal unrest, breakdown of law and order, food shortages, attacks by enemy special forces at large in the country; perhaps even chemical warheads. The full detail of this scenario - the assumptions and decisions made - was released in 2012. David Aaronovitch is joined by Beatrice Heuser of the University of Reading, Kristan Stoddart of Aberystwyth University and Richard Vinen from King's College, London to discuss it.
During the exercise, Extreme nationalist prisoners break out of gaol. Protestors leaflet army bases, discouraging soldiers from fighting. Troops are threatened. There are strikes and demonstrations. The Leader of the Opposition and the Archbishop of Canterbury are briefly put under arrest, after marches are banned. 'Cabinet' is forced to decide whether the UK should use its nuclear weapons, and how many, and where they should be targeted.
Cast: Prime Minister:Tim Woodward, Foreign Secretary: Thomas Wheatley, Home Secretary: Simon Treves, Defence Secretary: Steve Tuson (sp?), with John Norton, Sean Murray, David Seddon. Narrated by Carolyn Pickles. Directed by Toby Swift. Produced by Phil Tinline.

THE BUTTERFLY....2013
8 Dec 13. Adrian Bean adaptation of a story by James Cain. A farmer's marriage has broken down; he has lived alone for 20 years. He gets a visitor who claims to be his daughter. A story of illegal hooch, bar-room fights and ... money. With John Chancer and Ashleigh Haddad as father and daughter; Solomon Mousley and Jess Mash play the villains and Martin T Sherman is the deputy. Producer Kate McAll.

ANGEL MAKER....2013
By Carine Adler; Saturday Play, 60m. A romantic story though with sombre overtones; just think for a moment of the implications of the phrase 'Angel Maker'.....a young Jewish Hungarian immigrant arrives in London, penniless, with a young daughter. She has nowhere to live and only a temporary visa. She contacts a well-off Englishman she met a few years earlier under more auspicious circumstances, and he offers her somewhere to stay. It becomes clear after a while that he is attracted to her, but her low social status means that his family is unlikely to accept her as anything more than a skivvy; much less a wife. She looks for a way of solving the problem. Anamaria Marinca as Lili, Adam Levy as Sam, with Ashley Ogden, Harriet Chandler Judd, Edward Akrout, Rosina Carbone, Stuart Richman, Maggie Fox. Producer Charlotte Riches.

HEART....2013
By Mike Bartlett. 6 Dec 13; rpt (not sure of the original broadcast date but I think it was 2011). A primary school teacher has just retired, but she is bewildered by the violent mood swings of her husband; the result of stresses at work. It may threaten their marriage. Susan: Alison Steadman, Steve: Nicholas Farrell, Jackie: Joanna Monro. Produced by Claire Grove. The play was repeated as a tribute to Claire Grove, who had died about a fortnight before.

THE SECRET GARDEN....2013
4 Dec 13; rpt from 11 May 2011: A 'Father Brown' story by G. K. Chesterton, adapted by Bert Coules. Paris, 1911. A dinner party given by the Chief of the Paris Police is disturbed by the discovery of a stranger lying murdered within the grounds of his high-walled garden. Father Brown, intuitive and unassuming, his unremarkable exterior concealing a profound knowledge of human frailty, gets to work.Cast: Father Brown ..... Richard Greenwood, Brayne ..... Angus MacInnes, Valentin ..... Liam Brennan, Dr Simon ..... Jimmy Chisholm, Lord Galloway ..... Paul Young , Lady Galloway ..... Eliza Langland, Margaret Galloway ..... Francesa Dymond, O'Brien ..... Robin Laing. Producer Kirsteen Cameron.

LOST AND FOUND....2013
2 Dec 13. By Ian Kershaw. An elderly man suffering from dementia tries to connect with his daughter... essentially a two-hander between Tom Courtenay and Sally Carman. Stan is at work in his lost property office at Manchester Piccadilly railway station; a middle-aged woman, Zoe, comes in to reclaim a missing item, or so it seems. But it gradually transpires that he is not at work; he is in an old people's home, and the woman has not lost anything... it's his daughter. Producer Gary Brown.

DOUBLE INDEMNITY....2013
1 Dec 13. Stef Penney adaptation of another thriller by James Cain. A woman is unhappily married. She wonders if she can insure her husband's life without him knowing. Then the insurance man calls, and their plotting begins. Cast: Walter...Trevor White, Phyllis....Christy Meyer, Keyes....Mitchell Mullen, Lola....Ashleigh Haddad, Nino....Martin T. Sherman. Producer Kate McAll. Classic Serial slot, 55m.

THE POSTMAN ALWAYS RINGS TWICE....2013
30 Nov 13, Saturday play. 60m. Charlotte Greig adaptation of the James Cain thriller. A drifter travelling through California is offered a job by the proprietor of a Greek diner, and becomes attracted to his daughter. They start an affair, but for it to go anywhere, they have to get rid of the Greek... Ronan Summers as the dirfter, Chris Pavlo as the Greek, Samantha Dakin as Cora, Kerry Shale as Sackett. Producer Kate McAll.

THE VERTIGO TRUST....2013
By Jon Canter. 29 Nov 13. Comedy drama about a millionaire entrepreneur who suffers from vertigo. A person claiming to be a counsellor for that ailment offers to help him. It leads to an unlikely partnership. Gerard Murphy, James Fleet. Producer Clive Brill. Indie (Pacificus).

ARLO....2013
26 Nov 13. By John Retallack. Two young students marry, whilst young and foolish but very much in love. This was the story of that marriage, viewed by their son, Arlo. With Madeleine Worrall, Joel MacCormack, Kasper Hilton-Hille, Jonathan Forbes and David Seddon. Producer David Hunter.


SOLOMON AND MARION....2013
Sat 23 Nov 13. By Lara Foot. A drama inspired by an act of senseless violence in Cape Town, South Africa. The plot of the play: a middle-aged divorcee living alone in her isolated home in the country is visited by a figure from her past. They are opposites - male / female, black / white, young / middle-aged, and yet somehow they 'click'. A two-hander for Janet Suzman and Khayalethu Anthony. Some of the content was grim - a murder - but it was an outstanding broadcast, immaculately produced by Alison Hindell. It lasted about 65 minutes. Janet Suzman spoke about the production afterwards, and the event which caused it to be written:
I was directing a production of Hamlet in Cape Town, which had been invired to open the RSC's 'complete works' festival, and we were due to fly off on the Thursday after Easter 2006, but a terrible trauma happened that Easter weekend, which has scarred us all ... ...continued...

LEWIS AND TOLKIEN - THE LOST ROAD....2013
22 Nov 13. By Robin Brooks. The play was written to mark the 50th anniversary of the death of C.S.Lewis. It explores the writer's early friendship with J.R.R.Tolkien. Tom Goodman-Hill as Tolkien, Pip Torrens as Lewis. Producer Jonquil Panting.


PILGRIM....2013
21 Nov 13. More strange tales from Sebastian Baczkiewicz, over a period of four weeks. Paul Hilton plays William Palmer, the man cursed with immortality. Producers Marc Beeby and Jessica Dromgoole.
Jane Anderson, RT, edited summary...... William Palmer.....searching for a mysterious figure, the Radiant Boy, whose appearance has more to do with death than anything bright, shiny or remotely happy. He revisits Lyall Park, a country mansion with an ominous door which opens nightly onto a ballroom inhabited by the undead....



TEN LESSONS IN LOVE....2013
20 Nov 13. I didn't like this when it first went out, but this was a repeat and I gave it another chance. It was excellent. Short plays by Nick Warburton, Josie Long, Rebecca Lenkiewicz, Tim Key, Nick Payne, looking at various aspects of love. Sean Baker, Nyasha Hatendi, Alex Tregear, Zawe Ashton, Femi Oyeniran, Tim Key, Stuart McLoughlin, Sally Orrock, Daniel Rabin, Jane Whittenshaw, Josie Long. Producer James Robinson.


TWO-PIPE PROBLEMS....2013
18-19 Nov 13. By Michael Chaplin. I think these are probably the final two episodes, after the recent death of Richard Briers. Geoffrey Palmer takes over the role of William, alongside Stanley Baxter as Sandy. Interesting stories, as ever. Producer Marilyn Imrie.


THE RUSSIAN GAMBLER....2013
A modern-day interpretation of Dostoievsky's story The Gambler, by Dolya Gavanski. 2 x 55m, Classic Serial. An upperclass Russian living in London pays a hard-up pianist to give his daughter music lessons. He gets drawn into the family problems of his employer, and into gambling. Ed Stoppard, Matthew Marsh, Dolya Gavanski, Isabella Blake-Thomas, Graham Seed. Producer John Dryden. Indie (Goldhawk Essential).


AIR FORCE ONE....2013
The aftermath of the John F Kennedy assassination. 16 Nov 13; Saturday Play. Fifty years since it happened. By Christopher Lee.


SORRY BOYS, YOU FAILED THE AUDITION....2013
14 Nov 13. By Ray Connolly. A highly entertaining flight of fancy about the Beatles, and what might have happened if they'd failed their audition with producer George Martin. Andrew Knott, Stephen Fletcher, Luke Broughton, Daniel Crossley as the Fab Four, with Jonathan Keeble as George Martin / Brian Epstein, Sara Bahadori holding everything together as the teenage secretary of the ex-Beatles fan club, with Ruth Alexander-Rubin and Hope Brownhill. Producer Gary Brown.


MOVING MUSIC....2013
8 Nov 13. By Sarah Wooley. Philip Glass and Steve Reich worked together, in more ways than one, for a while early in their careers. The play tells the story of the time when they had no money, before they became recognized as composers. Bryan Dick, Justin Salinger, with Ian Batchelor, David Seddon, Nancy Crane. Producer Gaynor Mac Farlane.


QUEENS OF THE COAL AGE....2013
4 Nov 13. By Maxine Peake. This play was based on the story of how four miners' wives went down into a coal mine and stayed there for a prolonged period (Parkside Colliery, Merseyside) in an attempt to save the pits from closing down. Maxine Peake as Anne Scargill, wife of the union leader, with Julie Hesmondhalgh, Lorraine Cheshire, Rachel Austin, Gerard Kearns, Peter Slater. Producer Justine Potter.


THE RIGHT HONOURABLE....2013
2 Nov 13; by Mike Bartlett. Interesting political play; a young female MP starts in the House of Commons. A minister, to her surprise, offers to be her personal tour guide around the House. She can't quite work out why he is being so generous, until she gets involved in a series of events which tests her integrity and her ability to compromise. Alexandra Roach as the newcomer, with Peter Firth, Anton Lesser, Alun Raglan, Gerard McDermott, Paul Bazely, Di Botcher. Producer Clive Brill; director Claire Grove.
Extract from Jane Anderson's remarks in RT, summarised by ND:
....Alexandra Roach .... takes on a complex role as Nerys Jones, the youngest MP in the House and a woman determined to stick to her principles of putting her constituents first. But when she finds herself embroiled in a cover-up of the truth behind the death of one of her party's main sponsors, the political machinations shock her out of her naivety..... Peter Firth gives a strong performance as her party leader, and Anton Lesser is perfectly cast as his Machiavellian political adviser.

THE CORRUPTED....2013
By G.F.Newman. 21 Oct onwards; every afternoon play slot for a fortnight (10 x 45m). It's about the London underworld. Unfortunately I was away for the period and missed it. It is from Newman's novel Crime and Punishment, spanning one family's history across six decades. The omission should be made good eventually; I heard excellent reports of it from a friend. The producer was Clive Brill. (.......UPDATE.... I now have a recording.... many thanks CL)
Update 13 Dec.....I've listened to it; a riveting seven and a half hours. Moira Petty's review mentions that it's set mainly in the 1950s and 1960s; it's magnificently detailed; in her words "pungent with the stench of bent coppers, judges and society figures climbing into bed – metaphorically and literally – with villains". The opening scene has the narrator's mother, Cath, played by Denise Gough, clubbing her father to death after discovering that he has been abusing her son.

Her husband Joey Oldman is a Jewish immigrant determined to make his way in the world. He has a dogged determination and the persistence of a dripping tap. His family is perpetually threatened by criminal gangs demanding protection money; he has no choice but to pay it, or his shop will be trashed.

However he slowly continues to work long hours, month after month, year after year, and he is shrewd with cash. The day eventually comes when his own family has enough muscle and money to turn the tables on some of the extorters. This is when Joey Oldman's brother and son become involved in terrifying acts of violence in operating their own protection racket because it brings them into conflict with, amongst others, the Krays.

There are some good sub-plots, too; the possibility of a brilliant boxing career by Joey's brother Jack if he plays his cards right; the building of a property empire taking advantage of immigrants with nowhere to live, the way Brian avoids military call-up. The story moves with tremendous pace. It's an 'indie' production; Pacificus, produced by Clive Brill.

Cast: Narrator: Ross Kemp (old Brian), Toby Jones (Joey), Denise Gough (his wife), Rory McMenamin (Brian as a child), Joe Armstrong (Brian as a young man), Tom Weston-Jones (Jack), Ruth Gemmell, Robert Glenister, Jonathan Tafler, Jasmine Hyde ...... the entire cast will eventually be listed on the 2013 listings page.

CALUM'S ROAD....2013
Saturday Play, 5 Oct 13, by Colin MacDonald, based on the true story by Roger Hutchinson.. I heard good reports of this play, but missed it. It's set on the island of Raasay and is about a man who petitions the council to build a road linking the schools and medical facilities in the south with the isolated area in the north. The council refuses, so Calum spends the next ten years building the road himself. Iain McDiarmid, Bryan Dick, Monica Gibb, Iain Macrae, Helen Mackay, Robin Laing, Finn Den Hertog. Produced by Kirsteen Cameron.


SWORD OF HONOUR....2013
By Evelyn Waugh, ad. Jeremy Front, 7 x 55m, Classic Serial beginning 29 Sep 13. Wartime satire. After his marriage breaks up, Guy Crouchback returns to England after spending most of the 1930s in Italy. In the buildup to WW2 he enlists as a British army officer, to fight the Nazis. This isn't quite as lavish as the 11-part version which went out in 1974 (11 x 55m and involving 90 actors; this one had a cast of about 40 ) but it was an excellent rendition of the story. Cast for episode 1: Tim McInnerney as narrator, with Paul Ready as Guy, Adrian Scarborough, Tim Piggott-Smith, Robert Daws, Lee Ingelby, Oliver Chris, Priyanga Burford, Harry Jardine, Sean Murray, Michael Bertenshaw, Joanna Brookes, Arthur Hughes, George Fuller, Joel McCormack, Ben Crowe, John Norton. Producer Jeremy Front (I think ... not credited in RT).


RUMOURS....2013
21 Sep 13; Saturday Play. By Colin Shindler. This is a look behind the scenes at what was happening in British politics at the time of the Profumo affair in 1963. Private Eye editors Richard Ingrams, Willie Rushton and Christopher Booker (better known these days for his hard-hitting journalism on the wind turbine scandal) are in-the-know when it comes to the rumours circulating key people in the Macmillan government. The government itself is in crisis, and then it's found that John Profumo, the minister for war, may have to resign; he's involved in a relationship with a call girl. To paraphrase David Crawford in Radio Times, the play encapsulates the struggle between the establishment and the younger, less deferential generation happy to chip away at the facade of respectability. Richard Ingrams.... Harry Hadden-Paton, Willie Rushton ... Ewan Bailey, Christopher Booker ... Gunnar Cauthery, Harold Macmillian ... John Rowe; produced by Marc Beeby.


THREE MEN IN A BOAT....2013
Classic Serial beginning 15 Sep 2013; two episodes. Dramatization by Chris Harrald of Jerome's tale of three men messing about on the river. It's so well-known that comments about the story are almost superfluous. There have been at least two other BBC versions: one by Hubert Gregg, with Hubert Gregg, Kenneth Horne and Leslie Phillipps (1962) and another in 1994 by Tom Stoppard (can't remember the cast, but I think Jeremy Nicholas was in it). Here's an extract from the preface to the first edition, written in 1889:
'The chief beauty of this book lies not so much in its literary style, or in the extent and usefulness of the information it contains, as in its simple truthfulness. Its pages form the record of events that really happened. .......George and Harris and Montmorency are not poetic ideals, but things of flesh and blood - especially George, who weighs about twelve stone. Other works may excel this in depth of thought and knowledge of human nature...but for hopeless and incurable veracity, nothing yet discovered can surpass it......'

The cast of Chris Harrald's version: Julian Rhind-Tutt as 'J', with Steve Punt, Hugh Dennis and Katherine Jakeways; producer Melanie Harris.


THE WATCHER ON THE WALL....2013
6 Sep 2013. By Louis MacNeice, dramatized by Lucy Caldwell, former Imison winner. The play is taken from the letters between MacNeice and Eleanor Clark, an American writer, and is about their love affair and the poetry it inspired him to create. Richard Dormer as MacNeice, with Stuart Graham, Christopher Houseley, Samantha Dakin as Eleanor, Anna Clarence, Sally Orrock, Michael Bodie, Patrick Brennan and Susie Riddell. Producer Heather Larmour.


MY BRILLIANT DIVORCE....2013
5 Sep 13; by Geraldine Aron. A window-dresser is deserted by her husband for a younger model. This is an adaptation for radio of a monologue for stage; full of wit and humour. Caroline Quentin, with James Lance, Claire-Marie Hall, Sally Grace, Matt Addis. Producer Liz Anstee.
Summary of Jane Anderson's remarks in RT:
Angela suddenly has to cope with being independent and isolated when her husband deserts her for a much younger woman. The play is a comedy but with an underlying sadness; we hear about Angela's hypochondria, her dating disasters, her relationship with a disapproving mother... this is a woman who seems to define herself through the views of others.

JOHN OSBORNE, THE AUTHOR OF HIMSELF....2013
2 Sep 2013. Peculiar title for an excellent afternoon play by Stephen Wakelam about the first meeting between theatre manager George Devine and John Osborne, writer of 'Look Back In Anger'. Osborne is in his mid-twenties and doesn't have much money. He takes bit parts in plays in provincial theatres, and lives on a boat. He is anxious when Devine arrives not to say the wrong thing. If the play has a run at a major theatre it could change his life... Cast: Samuel Barnett as John Osborne, Joanna Brookes as his mother, Jonathan Coy as George Devine, with Harry Livingstone and David Seddon. Producer David Hunter.

GEORGY GIRL....2013
2 Sep 2013. By Margaret Forster, dram. Rhiannon Tise. A quiet girl in her late 20s is desperate to fall in love. 5 x 15m. Rather short dramatization but it works very well. Previous version was dramatised by Joe Dunlop and produced by Adrian Bean, 6 x 30m, June/July 1992, with Caroline Strong, Kenneth Cranham, John Hollis. Cast for new version: Lucy Speed, Paul Ready, Stephen Critchlow, Philippa Stanton, Ella Smith, Ben Crowe, Joanna Brookes. Producer Tracey Neale. Woman's Hour Drama.

THIS SPORTING LIFE....2013
90m Saturday Play. 31 Aug 2013. Dramatization of David Storey's novel, by Andrew Lynch. BBC blurb: "The trapped needs and desires of Arthur Machin are juxtaposed with the stark physical aggression of the rugby pitch". The play certainly contains more angst than rugby. James Purefoy, Emily Watson, John Thomson, Sheridan Smith, Philip Jackson, Julia Davis, Peter Temple. Producer Sally Harrison; director Johnny Vegas.

DARKSIDE....2013
By Tom Stoppard, 26 Aug 2013, R2, 60m. A play juxtaposing the Pink Floyd Album 'The Dark Side of the Moon', which I never liked, and a strange story whose plot left me somewhat mystified. Cast: Bill Nighy, Rufus Sewell, Amaka Okafor, Iwan Rheon, Adrian Scarborough, Peter Marinker, Robert Blythe, Ben Crowe, Philippa Stanton. Producer James Robinson. The play is reviewed in detail on 'The Stage' website by Moira Petty, who evidently got more out of it than me. Tom Stoppard describes it in RT as a live broadcast interweaving his play with an orchestrated version of the album. He had to honour the tracks as Pink Floyd had recorded them and do the best he could with the time he had in between the lyrics. The album is concerned with madness, deatth, greed and anxiety; it's a polemnical album which uses simple language to deliver a sermon on 'don't be afraid to care'.

WHEN GREED BECOMES HUNGER....2013
21-22 Aug 2013, two parts broadcast on successive afternoons. A financial trader finds a way of cornering part of the food derivatives market. It has devastating consequences. Cast: Matthew Gravelle, Carys Eleri, Stuart Milligan, Zoe Tapper, Ronan Summers, Amaka Okafor, Amita Dhiri, Ben Crowe, Nathan Sussex, Carla Turner. Producer James Robinson.
Edited summary of Moira Petty's remarks on the second part of the play, from 'The Stage'.
..............the play depicts the Armageddon that follows financial meltdown after a manipulation of the world grain market. A rogue dealer has taken his riches and is playing at farming in a facsimile of a rural arcadia. He is persuaded to take up factory farming on an industrial scale to help feed the world, until he discovers that the cruelly reared meat will bypass the needy. Britton is soft on the ex-dealer, regarding him as a sinner who has repented, but the scenario he creates is unnervingly real.

THE AENEID....2013
Virgil's classic, broadcast as the Classic serial in two episodes beginning 18 Aug 2013. Adapted by Hattie Naylor. Narrated by Daniel Morden, with Richard Harrington, Robert Pugh, Sara McGaughey, Fiona Shaw, Matthew Gravelle, Elry Thomas, Michael Bertenshaw, Rachel Atkins, Annette Badland, Daphne Alexander, Amita Dhiri, Ayesha Antoine, Ben Crowe. Producer Kate McAll. .......an epic tale of battles, stormy seas and doomed love affairs; music by Will Gregory (of Goldfrapp) .... Jane Anderson (RT)

RED AND BLUE....2013
Three excellent plays broadcast a week apart, beginning 16 Aug 2013, by Philip Palmer, featuring his war-gaming ex-soldier Bradley Shoreham, played by Tim Woodward. They covered a wide range. Play 1 (Sacrifice) was about the spread of a deadly ebola-type virus in the UK; play 2 (Ransomeware) was set in the offices of a financial dealing house subject to cyber attack, and play 3 (Shadow) took place on an oil rig. The dialogue and conflict in these dramas was utterly compelling. This was series 2, and one hopes that more will be forthcoming. Cast: Play 1: A two-hander with Harriet Walter, Tim Woodward; Play 2: Michael Bertenshaw, Nathan Stewart-Jarrett, Lydia Leonard, Matthew Watson, David Seddon, Philippa Stanton, Ben Crowe, Hannah Wood; Play 3: Liam Brennan, Sean Murray, Christine Kavanagh, Roshan R Rohatgi, Philippa Stanton, Ben Crowe, David Seddon. Producers for the series: Sasha Yevtushenko & Toby Swift; series director Toby Swift.

MISS YOU STILL....2013
By Lenny Henry, 1 Aug 13. Lenny Henry's second radio play; a harrowing social story with supernatural overtones. A Midlands bus-driver has lost his wife and then his daughter. He has become a recluse, and is unable to come to terms with his grief. Lenny Henry as Charlie, Clare Perkinis as Joyce, with Bunmi Mojekwu, Amit Shah, Alex Lanipekun and Tranae Sinclair. It's an excellent piece of writing which holds the listener's attention throughout. Producer: Claire Grove.
Partial summary of Jane Anderson's remarks from RT:
....Miss You Still is an unusual mixture of wit and the supernatural. Roxanne and her mother have moved to the Midlands after Roxanne's father died playing football. Joyce throws herself into church and charity work to keep her mind occupied. One of the people she reaches out to is Charlie, a West Indian-born bus driver who has withdrawn from the world after a double bereavement. Lenny Henry has described all-consuming grief with taut and often jovial dialogue .... and has written a believable teenage character too....

THE GESTAPO MINUTES....2013
By Adam Ganz; 31 Jul 13. Set in Mainz in 1945. The war is over, and Michel Oppenheim, a Jewish lawyer, has escaped the death camps because he married an Aryan. Nevertheless his home has been destroyed, and some of his family have been killed by the Nazis. He is approached by his boss, who needs a testimonial to avoid being being accused of war crimes and perhaps even execution. He's a an ex-Nazi, a former Gestapo officer. The play proceeds in present (1945) and past by means of flashbacks. Cast: Oppenheim: Julian Rhind-Tutt, Schwoerer, the ex-Nazi: Ed Stoppard, Oppenheim's wife: Tamzin Griffin, Speaker: Robin Lustig. Producer Catherine Bailey. (Indie - Catherine Bailey Productions).

IRONGATE....2013
By Nick Warburton. 23 Jul 13. A masterclass in how to write a good play; a two-hander starring Emma Fielding and James Fleet. A woman walks along the River Thames to celebrate an anniversary. She meets a man who is celebrating one of his own. Some excellent twists at the end. Producer Peter Kavanagh.

WHEN I LOST YOU....2013
19 Jul 13. By Rachel Wagstaff and Duncan Abel. Beautifully written bitter-sweet play; reminded me of Nick Warburton's "Setting a Glass" (q.v.). A teacher who's suffered a loss has written a novel about his experiences, but he leaves the manuscript on a train. It's found by a woman who has suffered something similar. Matthew - Greg Wise, Jenny - Claire Rushbrook. Other parts by Christine Absalom, Michael Bertenshaw, Philippa Stanton, David Seddon, Joanna Brookes, Sean Murray, Ben Crowe. Producer Lucy Collingwood.

LUNCH....2013
By Marcy Kahan, 15-19 Jul 13; Woman's Hour serial, 5 x 15m. Stephen Mangan and Claire Skinner play a couple who haven't met for 20 years since they were at college together. Now they meet once a month for lunch, and are more open and honest with each other than they are with their partners. No topics are off-limits; they talk about almost everything. Described in RT by Jane Anderson as a 'rom-com'. Producer Sally Avens.

THREE PIECES IN THE SHAPE OF A PEAR....2013
15 Jul 13; afternoon play. A first radio play by Alistair McGowan. It is about the composer Erik Satie, who wrote for the piano in a way which had not been done before. He was highly idiosyncratic, giving some of his pieces whimsical titles, and he was known as an obsessive collector of umbrellas. He was a friend of Claude Debussy, who is rather better-known, and Debussy's music owes a lot to Satie's influence. Cast: Satie - Alistair McGowan, Debussy - Nathaniel Parker, Suzanne Valadon - Imogen Stubbs, Gauthier-Villars and Ravel - both played by Kevin Eldon; other parts played by Charlotte Page, Michael Bertenshaw, Philippa Stanton, David Seddon, Jonathan Storey. Producer Emma Harding.

JAMES LEES-MILNE....2013
8-10 Jul 13; three interesting plays by Christopher William Hill broadcast on successive days about the man who fought to save English country houses in the 30s and 40s by placing them in National Trust ownership. They have strange titles: 1)Sometimes into the Arms of God; 2)The unending battle, 3) What England Owes. Tobias Menzies as Lee-Milne, with Victoria Hamilton, David Seddon, Sam Barnett, Joanna Brookes, Sean Murray, Ben Crowe. Producer Marion Nancarrow.

THE MARTIN BECK KILLINGS....2013
Beginning 6 Jul 13, Saturday Plays, 60m. A set of five bizarre murder tales by Maj Sjowall and Per Wahloo, dramatized by Katie Hims and starring unorthodox detective Martin Beck, played by Steven Mackintosh. These stories are set in about 1970 and are police-detective thrillers with a difference.
6 Jul: Ep. 1: Murder at the Savoy. An industrialist is shot whilst eating lunch at a prestigious hotel.
13 Jul: Ep. 2: The Abominable Man. The murder victim is a police inspector who has been ... butchered.

20 Jul: Ep.3: The Locked Room. A man's body is found in a room but there is no gun. Narrator: Lesley Sharp and Nicholas Gleaves, with Steven Mackintosh, Neil Pearson, Ralph Ineson, Wayne Foskett, Michael Maloney, Rick Warden, Nicholas Murchie, Rick Warden, Ewan Bailey, Ben Crowe, Joanna Brookes, Hannah Wood, David Seddon, Nadine Marshall, Jow Sims, Matthew Watson. Music by Elizabeth Parnell, producer Mary Peate.

Note: Bert Coules dramatized one of the Martin Beck stories: "The Laughing Policeman", many years ago. See Bert's page for the information we have.

BIRTHDAY SHOES....2013
By Pat Davis, 28 Jun 13. A thoughtless act between a mother and her six-year old daughter has repercussions half a lifetime later. Jasmine Hyde, Bethan Walker, Kate Binchy, Joanna Brookes; producer Tracey Neale.
Summary of Tom Goulding's review in RT:
......Tolstoy said that happy families are alike but each unhappy family is unhappy in its own way. This rings true in 'Birthday Shoes', as Kate tends to her dying mother. Memories of favouritism and neglect culminate in a shocking discovery which threatens to poison their last hours together.

SUSPICION FOR TEN VOICES....2013
Another excellent play by Mark Lawson. 22 Jun 13; R4 Saturday Drama. Based on the Protestant - Catholic conflict in the late 1500s. William Byrd, court musician, is prospering; but he finds himself accused of hiding secret Catholic messages in his musical scores. One wonders if he will escape with his life. Meanwhile his mentor and business partner Thomas Tallis is dying. Simon Russell Beale as Byrd, Jon Glover as Thomas Tallis, with Rebecca Saire, Anton Lesser, Gerard Murphy, Neil Brand (as Fr. Rodrigues), Joseph Hancock (boy singer). Producer Eoin O'Callaghan.
Summary of Jane Anderson's remarks in RT:
.....the play gives a real flavour of life in Elizabethan Britain, particularly in art, religion and politics. William Byrd is the Queen's favourite composer, but he is accused of not attending church services on a regular basis. In those days, it was a serious matter. His music and polyphony are analysed by his accusers, who say that references to the Virgin, Mary, reveal his support for Queen Mary, which amounts to treason. That's a hanging offence.

DANGEROUS VISIONS....2013
This was a sci-fi collection of 9 plays broadcast during June 2013, inspired by the work of J.G.Ballard:

15 Jun: The Sleeper, by Michael Symmons Roberts
16 Jun: The Drowned World (Classic Serial slot), by JGB
17 Jun: Billions, by Ed Harris
17-21 Jun: The Testament of Jessie Lamb, by Jane Rogers
18 Jun: Invasion, by Philip Palmer
19 Jun: London Bridge, by Nick Perry
20 Jun: Death Duty, by Michael Butt
21 Jun: Mind Hackers, by Lou Stein & Charlotte Harris
22 Jun: unrelated play - Suspicion for 10 Voices (above)
23 Jun: Concrete Island, by JGB

ONE WINTER'S AFTERNOON....2013
By Guy Meredith, R3, 19 May 13. A play about the antipathy between composers Wagner and Verdi, with imagined conversations between the two composers. In life they never met, but the antipathy is actual, not imagined. After the popular success of his opera Aida, Verdi has been persuaded to write one more: Otello, but is finding it a struggle. Wagner's voice inside his head mocks him. Wagner: Kenneth Cranham, Verdi: Paul Rhys, Guiseppina: Kate Buffery, Ricordi: Clive Merrison, Boito: Nick Boulton, Cosima: Lydia Leonard, Stolz: Zalie Barrow, Liszt: Scott Handy, Minna: Emily Bruni; Mathilde: Clare Corbett, Mariani: Sean Baker, Ludwig: Mark Straker, Waiter: Christopher York. Producer Cherry Cookson.

THE DAM BUSTERS 70 YEARS ON....2013
Radio 2 (2000-2200, 17 May 13) celebrated the 70th anniversary of the bouncing-bomb raid on the Ruhr valley dams, which proved to be a turning point in the war. The programme was broadcast in the 'Friday night is music night' slot, presented by Jeremy Vive & Dermot O'Leary, from Biggin Hill airport, in front of an audience of 1700 people. It was a mixture of music, the voices of those who were involved, and some dramatic reconstruction, recounting the invention of the bouncing bomb by Barnes Wallis, the training of the pilots, and the eventual destruction of two dams in Germany's industrial heartland, along with much loss of life on both sides.
George Johnson is now the last British survivor from 617 Squadron which was given the job of destroying the three hydroelectric dams which powered Hitler's armaments factories. The operation involved flying at very low levels; about 60 ft above ground, releasing the bomb at exactly the right height and speed, so that it would bounce on the surface of the lake and then detonate either on hitting the dam or, in Johnson's case at the Sorpe dam, without hitting it but very close to its centre.

Johnson explained that his flight was slightly different from the others, which were front-on attacks. The Sorpe dam was in a valley; for the bomb to work they would have to fly down and along it and drop the bomb as near as possible to its centre. It was Johnson's job to aim the bomb; he lay face down in the perspex nosecone and guided the plane in. "We flew down over the hillside, over a church steeple we used as a marker, and then swooped down along the dam wall - but I wasn't satisfied. I hadn't done all that training to get it wrong and waste a bomb. I called it Dummy Run."

He did more dummy runs before deciding the position was right. On the sixth dummy run, rear-gunner Dave Roger shouted 'Will somebody get that bomb out of here!' He was feeling the full effects of the g-forces as they swooped lower and lower. On the tenth run, they were almost touching the lake; just 30ft above at a speed of 220 mph, when they made the drop. The dam disintegrated and disappeared in a huge explosion as the bomb,weighing 9,000 lbs, detonated.

The Dambusters won a host of medals, including a VC for Guy Gibson, who led the squadron, and Distinguished Flying Medal for Johnson, but the casualty rate was high. 53 of the 133 aircrew never returned.

Those involved in making the programme: the BBC Concert Orchestra, the RAF's Central Band, the RAF Squadronnaires, the Military Wives Choir; actors Carl Prekopp, Nick Boulton, Sam Dale, Will Howard, Clare Corbett. Carl Prekopp supplied the photo - thank you.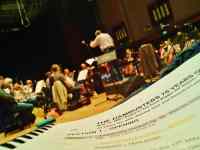 There's just one more thing to say about the programme ... Brilliant!

Related plays involving the wartime RAF: Spitfire, by Mike Walker (2012), Bomber, by Len Deighton (1999), Barnes and Molly, by Ray Brown (2000), The Navigator's Log, by Don Haworth (1989), Talk of Love and War, by Don Haworth (1981). These are discussed on the WW2: The War in the Air page.


THE GUEST OF ST. PETER'S....2013
10 May 13; an interesting flight of fancy by Hugh Costello, with two Popes living in the Vatican; one retired through ill-health and his successor, a reactionary authoritarian, increasingly out of touch with ordinary people and the way society has altered in recent years. David Warner, Amaka Okafor, Jude Akuwidike, with Anton Lesser and Andrew Sachs as the Popes, new and old. Producer Eoin O'Callaghan.
Summary of Emma Finamore's review in RT.... the play is initially intriguing; hushed whispers in dark corners of the Vatican, dodgy dealings with an ambitious journalist, and a loose cannon as secretary of state. Then the institution closes ranks against the outside world....

DEAD MAN'S SUIT....2013
3 May 13; by Michael Stewart. An interesting bit of science fiction by Michael Stewart. A nerdy outsider finds an expensive suit in a charity shop and finds that it turns his life around. Jeremy Swift as the outsider, with Conrad Nelson, Kate Coogan, Natalie Grady, Lisa Allen, Isaac Whitmore, Jenna Addinall and Hamilton Berstock. Producer Gary Brown.
Summary of part of Jane Anderson's review in RT ...Ian is a loser; never had a girlfriend, stuck in a dead-end job since he left college, and he's just been sacked. Then he finds a beautifully-tailored, silk-lined suit he picks up for a snip at a charity shop. It comes with a surprise.....and suddenly he becomes a force to be reckoned with, both with women and at work....

THE COLOUR OF MILK....2013
By Nell Leyshon; 2 May 13. It's 1830 and a farmer's young daughter is asked to care for the vicar's sick wife, and live in. The invalid gradually deteriorates and dies, but the girl is kept on. The vicar starts to teach her how to read and write. But there is a dark side to the drama; to paraphrase JA in RT: She's direct and outspoken and bold, but the vicar seems to enjoy her frankness.............he pleasures in her company too much. He makes excuses to keep her in his service and takes her new duties to an unpleasant new level. Cast: Carly Bawden, Peter Hamilton Dyer, Jonathan Keeble. Producer Susan Roberts.

LOVE, WAR AND TRAINS....2013
1 May 13; by Ian MacMillian. Regular readers will know my blind spot for poetry, and my tendency to hit the 'off' button rapidly when encountering anything in rhyme. As a scientist I like ideas to be expressed as clearly as possible, and my 'ideal' writer is perhaps Paul Dirac, who wrote with crystalline clarity in everything he published. Imagine my surprise when I found the rhyme and rhthym of MacMillan's narration fitted my criteria exactly. The play was essentially true; it was based on the story of how his parents met. His father, a sailor, briefly glimpses a woman in the WAAF. They write to each other as penfriends for a while; then they meet. The story goes from there; effervescent, quirky and quite charming - it certainly charmed me. Cast: Ian MacMillan (narrator), Billy Boyd, Verity-May Henry, Henry Devas, Natalie Grady, Hamilton Berstock. Producer Gary Brown.

THE BROWNING VERSION....2013
27 Apr 13; Saturday Play. By Terence Rattigan; recent production, repeated from 2011, 90m. Rather emotional tale about a classics teacher at the end of his career who receives a surprise retirement present from a pupil. With Matthew Wolf, Ioan Gruffudd, Joanne Whalley, Michael York, Ian Ogilvy, Stuart Bunce, Kate Maberly. Indie production (Jarvis & Ayres).

MISFORTUNE AT SEAHAM....2013
R4 Extra, 16 Apr 13; by Graham Fife. Story of an explosion in a coal mine in 1880, Seaham, Durham, based on true events. With Nigel Anthony and Paul Copley. 45m.

THE SECOND SON....2013
By Peter Whalley, 17 Apr 13. When Robert was young, his parents separated. He went to live with his mother. Now she's died, twenty years later, he wants to find his father again. When it happens, he discovers that a stranger has taken his identity... ....Cast: Jason Stone and Stephen Fletcher as the two Roberts, Gillian Kearney, David Fleeshman, Denise Black. Producer Pauline Harris.

THREE TALES BY WALTER SCOTT....2013
Broadcast as the Classic Serial, three successive weeks, starting 14 Apr 13.

1. The Fair Maid of Perth, dram. Scott Cherry. Narrated by David Tennant, with Morven Christie, Hugh Ross, Bryan Larkin, Kenneth Cranham. A glover's daughter is pursued by four possible suitors.

2. Rob Roy, dram. Robin Brooks. Narrated by David Tennant, with Paul Ready, Denise Gough, Mark Bonner, Christian Rodska. A young poet defies the wishes of his father and is banished to the north to live with his uncle, where he falls for his beautiful cousin, Die Vernon. (incidentally the name of a very beautiful early potato; now I know why...)

3. Waverley, dram. Mike Harris. With Rupert Evans, Christian Rodska, Alison McKenzie, Olivia Morgan, Forbes Masson. A young officer is sent to Scotland on the eve of Bonnie Prince Charlie's attempt to seize power; he falls in love with two girls when he arrives.

All produced by Clive Brill of Pacificus Productions, though the indie credit seemed to be missing in RT. - ...ND

GREAT ESCAPE - THE JUSTICE....2013.
13 Apr 13. 60m, Saturday Play. Most people have seen the film 'The great Escape', based on the astonishing escape in March 1944 of 76 men from a German prisoner-of-war camp by means of a tunnel of their own construction. Nearly all of them were recaptured fairly quickly, and Hitler decided that 50 of them would be shot, a sentence which was carried out by the Gestapo. However shooting men in cold blood during a war is not acceptable in any way, shape or form; it is murder.

This play has been put together by novelist Robert Radcliffe and dramatist Robin Brooks, and tells of the true events which led to the murderers being brought to account. A team of RAF investigators and a detective from Blackpool CID work through the chaos of the beaten German nation in bringing the killers to justice.

Cast: Stephen Tomkinson, Gunnar Cauthary, Ewan Bailey, Nicholas Murchie, Rick Warden, Robert Blythe, Ben Crowe, Michael Shelford (as Paul Brickhill, who wrote 'The Dam Busters'), Will Howard, Amaka Okafor, Hannah Wood. Produced by Jonquil Panting.

LEGACY - EDEN....2013
12 Apr R4; by Cathy Staincliffe. Two probate investigators find a substantial sum of money owed to a person whose late husband was involved in the Mau Mau rebellion in Kenya in 1952. William Ash, Jo Hartley, Alexandra Mathie, Olivia Cooke, Henry Devas, Yusra Warsama, Hugh Simon. Producer Nadia Molinari.
BBC blurb:When the weekly list of unclaimed estates is published probate detectives, ex-police officer Dan and his ruthless sister Rachel, hunt for a body backwards through the family line to find the true heir and get a slice of the fortune. When Gordon Willshaw dies intestate Dan and Rachel's only lead to an heir is through a woman's journal from 1952 written in Kenya. Their investigation leads them to a shocking discovery of the terrible events of the Mau Mau rebellion and their search for an heir unearths long buried secrets.
UPDATE....see also the SIXTH headline in this news broadcast from 1963.

BEATRIX POTTER....2013
By Lavinia Murray; 11 Apr 14. Odd title ('Once upon a time there was a Beatrix'); highly stylised treatment of the early years of the well-known children's writer. Amelia Clarkson as Beatrix; producer Pauline Harris.

JILL...2013
Classic serial, 31 Mar 13. A dramatization of Philip Larkin's first novel, written when Larkin was 21 years old and described by him later as 'juvenilia'. Adapted by Robin Brooks. A grammar school boy, John Kemp, goes up to Oxford and has to share digs with a person who takes advantage of him. Nothing wrong with the dramatization, but I found John's imitation of a human doormat difficult to stomach. Cast: Samuel Barnett as John, Richard Goulding as his room-mate, with Jessica Raine, Frank Dillane, Nigel Pilkington, Grace Englert, Sarah Eedle, Andrew Wincott, Violet Taylor, Molly Drnec, Cressida, Victoria Easey. Producer Fiona McAlpine.

SHANE....2013
Second of two Westerns. 30 Mar 13, 60m. This one was written by Jack Schaefer and dramatized by Frances Byrnes. A ruthless cattle baron, Fletcher, is in conflict with a group of farmers including Joe and his wife Marian, who are at the centre of the story. Fletcher has a hired gunman, and is ruthless in the pursuit of what he wants. Things look hopeless for the homesteaders, until a mysterious stranger wearing a six-shooter rides into the valley. His name is Shane.
To paraphrase part of David Crawford's review in RT:
...... It's the lack of gunplay which gives the drama its strength. As the tension increases towards the showdown, there's only one word of gunfights until we hear the final shots echo across the valley. Throughout, the pathos of the play is hinted at by a beautifully haunting score by Fernando Macias-Jimenez.

RT described this as the first radio production of the novel. Not true; Nick McCarty adapted it in 1995 in a superb 90-minute version. There is a short description of this on the 1995 page.

The film version, which many of you will have seen, starred Alan Ladd. He was very short so in some scenes he had to stand on a box.

THE MANHATTAN BEE TESTIMONIALS....2013
27 Mar 13, R4 .....RT blurb: For decades there have been rumours of a man living in Manhattan who keeps 250,000 bees in his apartment. This broadcast includes the voices of some New Yorkers being interviewed, alongside drama by Sebastian Baczkiewicz. Cast: Simon Lee Phillips, Sasha Pick, Stuart Milligan, Nancy Crane.Producer Joby Waldman.

ND....It's a curious programme; snippets of research held together with a dramatic thread supplied by the author. Interesting.

LOST IN MEXICO....2013
25-26 Mar 13, written by Ingeborg Topsoe and put together by Goldhawk Productions. Successive afternoon play slots were used for this drama, based on the true story of an insurance fraud carried out by two female backpackers in Brazil. The story is re-set in Mexico and recorded on location. Tempted to report a non-existent theft at the end of an expensive holiday, the girls rapidly get sucked into the Mexican penal system. The production uses local actors (they are excellent) and on-location recording to produce the realism for which Goldhawk is well-known. The play makes for uncomfortable listening.

Cast: Olivia Darnley and Lucy May Barker as the two girls; with Saskia Wickham, Enrique Arreola, Emilio Savinni, Norma Angelica, Aida Lopez, Israel Islas, Diego Hernandez, Karla Souza. Producer Nadir Khan; script editor Mike Walker, director John Dryden.
David Crawford, RT: ....While the girls' relationship is the main focus, the wider story explores unsettling themes of poverty tourism and the sobering reality of life on Mexico's streets.

HOMBRE....2013
Saturday Play, 23 Mar 13. A Western by Elmore Leonard, dram. Robert Ferguson. A white man raised by the Apaches gets hassle from his fellow passengers on a stagecoach. But later, when the coach gets ambushed by outlaws in the desert, he is the only one capable of leading them to safety.
Jane Anderson, RT: .(paraphrased by ND)......
Published before Elmore Leonard turned from Westerns to crime fiction, this story has the gritty realism and subtle character development which later made him famous as a writer. The dramatization is faithful to the novel, though some of the descriptions of the landscape had to be trimmed for time reasons. It can be read as a straight Western, since the stagecoach travellers face a terrifying encounter with gunslinging outlaws, or as a powerful piece on racism. The central character has been raised by Apaches and so his white companions refuse to sit with him. Later, abandoned in the desert, they have to turn to him for help.

Cast: Trevor White, Elliot Cowan, Javier Marzan, Kelly Burke, Nicholas Murchie, Steven Hartley, Laurel Lefkow, Ben Crowe, Will Howard, Rick Warden, Michael Shelford. Producer Sasha Yevtushenko. Sound design: Colin Guthrie, production co-ordinator: Selina Ream, SMs: Martha Littlehailes, Graham Harper, Michael Etherden.


THE EDISON CYLINDERS....2013
R4, 22 Mar 13. By Mike Walker. Science fiction play, where the story centres around some old wax cylinders. A person who specialises in audio recovery attempts to restore the recordings which they hold, but as she works, a frightening message emerges. There's an interesting mention of de Martinville at the beginning of the play. More about this play on Mike Walker's page. Cast: Clare McCarron, Jonjo O'Neill, Harry Hadden-Paton, Stephen Critchlow, Laura Hyde. Fiction Factory production, produced by John Taylor.


THE ROAD FROM HERAT....2013
By Abigail Youngman, 18 Mar 13. A biographical play about an extraordinary individual who died in 2010 aged about 60: Clare Holtham. She was abandoned by her mother, who was a communist. She ran away to London and slept on the streets. I think after that she went into care. It became obvious she was very bright but most schools couldn't handle her. She earned money by becoming a bus conductor and she taught herself Persian. Then she was told to apply for Oxford and Cambridge Universities because they were the only Universities likely to take a chance on such an oddball. She was interviewed and got into Newnham, and was academically outstanding, but had no home; she spent her vacations in Afghanistan. She was befriended by her tutor at Newnham, who gave her a base and who is heard in the drama. Cast: Harriet Walter as Clare, with Sharif Dorani, Viss Elliot Safavi, Kaveh Beyk, Hakan Silahsizoglu, Paul Dodgson. Producer Sara Davies.

from RT blurb: ........dramatized documentary telling the story of traveller poet Clare Holtham, who left behind a volume of verse and a minutely documented chronicle of her adventures. Making use of extracts from Clare's work, the programme provides an insight into her journeys in Turkey, Iran and Afghanistan, and the happiness she found in exploring the wild landscapes of the Middle East.


NEVERWHERE....2013
R4, 16-22 Mar 13; first 60m episode on R4, the rest (30m episodes) on R4 Extra, 18-22 Mar. By Neil Gaiman, based on his novel and dramatized by Dirk Maggs. It makes a brillianr radio serial. The total running time is 3½ hours.

Comments by Jane Anderson, summarized from Radio Times...
Hundreds of feet beneath the streets of London is a city of shadows. In the sewer canals and disused Tube lines another world exists, home to the people who have slipped through society's cracks through choice or accident. This is the setting ... a fantasy as dark as the subterranean sewers and stations.The intricate layers of sound (by Dirk Maggs), the sumptious orchestration and the haunting rendering of life underground .... it's a cliche to say that the best pictures are on radio, but this is as close to a cinematic effect as it gets....

Dirk Maggs' introduction to episode 2:

.....Richard Mayhew is a young Scotsman who's come to London and got a super job; then he's messed things up by going and rescuing a poor injured girl in the gutter, who turns out not to belong to London as we know it, but to be someone from London Below, which is the world under London, a mythical historical and magical world of warring factions and baronial fealties; a rich mixturer of sub-cultures we have no idea exists down there. Richard is now part of a group, trying to find his way back up to the world he knows, but it's not as easy as that ...

Complete cast list:
Richard - James MvAvoy, Door - Natalie Dormer, Islington - Benedict Cumberbatch, Earl of Earl's Cour - Christopher Lee, Tooley - Andrew Sachs, Marquis de Carabas - David Harewood, Hunter - Sophie Okonedo, Croup - Anthony Head, Vandemar - David Schofield, Old Bailey - Bernard Cribbins, Jessica - Romola Garai, Gary - Paul Chequer, Lord Ratspeaker - Johnny Vegas, Mr. Figgis - Neil Gaiman. With Yasmin Paige, Paul Stonehouse, Stephen Marcus, Karen Archer, John Glover, Don Gilet, Will Howard, Ben Crowe, Robert Bylthe, David Tughan, Patrick Brennan, Abdul Salis, Georhe Harris, Lucy Cohu, Clodagh Casey, Tom Maggs, Theo Maggs. Producer Heather Larmour, director Dirk Maggs.



THE IRAQ DOSSIER....2013
Saturday drama, 2 Mar 13, by David Morley. The dossier "Iraq's Weapons of Mass Destruction", lead to the headline "just 45 minutes from attack", persuaded MPs to vote for an invasion of Iraq, and hardened public opinion against Saddam Hussein. Fallout from accusations by the BBC that the claims had been exaggerated subsequently led to the death of Dr David Kelly and the Hutton Inquiry.

This drama goes behind the scenes of MI6, the Ministry of Defence and Downing Street to dramatise one of the most controversial episodes in British politics. The author created the script from the emails, memos, and first-hand accounts submitted to the various inquiries into the 2003 invasion of Iraq, as well as from interviews with Dr Brian Jones, who died in 2012 and who was the MoD's leading expert on nuclear, biological and chemical weapons. Producer: Richard Clemmow; Perfectly Normal Productions.


FEWER, NOT LESS....2013
By Sarah Buckley. R4, 1 Mar 13; set in Japan. A serial traveller gets stuck at a railway station. A young woman comes to his rescue and helps him come to terms with his past. Adrian Scarborough, Meg Kubota. Producer David Hunter.


KING DAVID....2013
24 Feb 2013, R3, by Katie Hims. 90m. A happy marriage is in danger of disintegrating when the husband, who operates a building business, receives two enormous shocks. The first is related to his work; the second to his family. A thoughtful play exploring what can happen to an ordinary person's life when disaster strikes. Cast: Lee Ross as David King, Claire Rushbrook as his wife Jules, with Lizzy Watts, Ben Crowe, Madeleine Power, Susan Jameson, Nicholas Murchie, Hannah Wood, Robert Blythe, Will Howard. Producer Mary Peate.
Edited summary of RT review by Tom Goulding:
At first glance, Katie Hims' first R3 production is a midlife crisis tale about infidelity, greed and kitchen-sink misery. A series of unfortunate events unravels to topple David King from his suburban throne. But it becomes more like a Shakespearean tragedy, and his road to redemption is long and difficult. The dialogue is witty and sarcastic with some humour, which makes the unsettling themes a little more palateable. "A spiritual journey into the midst of Middle England".


Edited summary of Moira Petty's review, 'The Stage'
David King, the boss of a building company, shows poor judgement and faces ruin when the cheap scaffolding he has commissioned on a building site results in the death of a man, the husband of his lover, Alice.

It would be easy for the plot to seem contrived and sentimental, but Katie Hims shows convincingly how chance rules our lives and how good can come out of bad. She weaves in other stories, including an alcoholic father, Alice's attempt to become pregnant after an infertile marriage, and a family disaster. King visits a church and there, in a bible, finds echoes of his problems in the life of King David.



EARLY WARNING....2013
By Richard Monks, R3, 23 Feb 13 (more on Richard's page).RT details - Taking refuge in a bunker under a 'sound mirror', Ella hears a noise and believes she has witnessed a murder. However her evidence is dismissed as unreliable; she is young, and she is deaf. more here ...

Ella ... Rose Ayling-Ellis, Birdman .... Robert Pickavance, Leanne .... Rachel Austin, Clare / PC .... Ruth Alexander-Rubin, Alastair ..... Jason Done, Audiologist / Craig ..... Matthew McNulty. Producer .... Nadia Molinari.

Acoustic aircraft detection

Prior to World War II and the invention of radar, acoustic mirrors were built as early warning devices around the coasts of Great Britain, with the aim of detecting incoming enemy aircraft by the sound of their engines. There are some at Denge on the Dungeness peninsula, at Hythe in Kent, and in other parts of Britain.

THE WIND IN THE WILLOWS....2013
16 Feb 13, R4. An adaptation of Kenneth Grahame's famous tale of Toad, Rat, Mole and Badger, by Neil Brand. The adaptation is unusual because it is arranged for actors, the BBC Symphony Orchestra (conducted by Tim Brock), and the BBC singers. It was commissioned to mark the 90th anniversary of the BBC's first broadcast of this well-known classic. Cast: Toad - Stephen Mangan, Mole - Claire Skinner, Badger - Philip Jackson, Rat - Carl Prekopp, Otter - Patrick Brennan, Bargee - Liza Sadovy, Judge - Paul Stonehouse, Girl - Stephanie Racine. Producer David Hunter.


DUSTY WON'T PLAY....2013
R4, Tues 12 Feb 2013; by Annie Caulfield. The true story of Dusty Springfield's refusal to perform in front of segregated audiences in South Africa, in the days when apartheid was regarded by many in the UK as perfectly acceptable. The play looks at the harrowing days of her short South African tour, using eye witness accounts. To remind you in the language of the day: the 'terrorist' Nelson Mandela had just been jailed for life, and liberals were spied on, detained and destroyed.

At the height of her fame, Dusty Springfield was popular worldwide, having hit records and presenting the television show Ready Steady Go. Glamorous and outspoken, she took a sharp interest in politics but underestimated the trouble her personal stand in South Africa would cause. Cast: Charlie Brooks, Jack Klaff, Vincent Ebrahim, Jonny Freeman, Danny Lee Wynter, Rasmus Hardiker. Director Marilyn Imrie, producer Gordon Kennedy.
Except from John Mount's comments in Radio Times, slightly edited:
...... Dec 1964; Dusty Springfield steps onto the tarmac at Cape Town Airport. Nelson Mandela is in prison and apartheid is ruthlessly enforced, but Dusty Springfield has insisted on a clause in her contract that she will only play to mixed audiences. Annie Caulfield's dramatization reveals her moral conviction as she insists on honouring her contract despite growing harassment from government agents.

1984 ....2013
Dramatized by Jonathan Holloway. 10 Feb 2013, R4.
Summary of Moira Petty's review in 'The Stage' .....this is the best of BBC Radio 4's George Orwell season. He begins as he means to go on with the dumping of the famous opening line. The characters are more than ciphers in a totalitarian nightmare. Christopher Eccleston is outstanding as the unsettled Winston. With Pippa Nixon as his co-rebel and lover Julia, the performances enrich the familiar narrative.

Cast: Christopher Ecclestone, Pippa Nixon, Tim Pigott-Smith, Kim Wall, Robert Blythe, Sam Alexander, Susie Riddell, Christine Absalom, Don Gilet, Joe Sims, Joshua Sweeney. Producer Jeremy Mortimer. The performance is available on CD from the BBC shop.


RT (Tom Goulding) .....a window into Cold War politics, closed-circuit surveillance and blanket censorship.

CHEQUEBOOK AND PEN....2013
R4, 14 Jan 13, rpt. from Dec 2010. Johnny Vegas shows his writing talents in a joint effort with Andrew Lynch; this is a tribute to Les Dawson, one of England's finest comedians. Les is a much-loved stand-up comic; he has a way with words but is from the north, doesn't have the right friends and is regarded with suspicion by the BBC management. Then a job opportunity comes up - taking over one of the BBC's most popular gameshows. Dawson puts his name forward, and sparks start to fly. The play is a farce, imagining what happened behind the scenes before the BBC set him loose on 'Blankety Blank' - probably the best host the show ever had. Nicholas Parsons plays Farson, representing the attitudes of the traditional BBC; a nemesis to Les and all he stands for and aims to subvert. Cast: Les ..... Johnny Vegas, Farson ..... Nicholas Parsons, Helen ..... Shobna Gulati, Dave Parkins ..... Mick Miller, BBC Executive ..... Mark Chatterton, Number Two ...... Paul Foot, Doris (Barmaid) ..... Catherine Kinsella, Other parts ..... Peter Slater (and cast). Directed by Jim Poyser. Producer: Sally Harrison. A Woolyback Production for BBC Radio 4.

DIGGING FOR VICTORY....2013
By Moya O'Shea. Afternoon play. 13 Jan 13. A family desperately needs more space; the house is no longer big enough.. Unfortunately, digging another room under the flat isn't simple... Mum .... Cathy Murphy, Dad.... Don Gilet, Gran..... Christine Lohr, Gil.... Harry Livingstone, Alec..... Scott Smith, Henry..... Daniel Cooper, Tess..... Rhianna Hosmer, Mick..... Carl Prekopp, Doctor... Tracy Wiles, Mr. Mowson ... Paul Moriarty.

TOM THUMB REDUX....2013
11 Jan 13; by Melissa Murray. A fascinating bit of science fiction, where a research biologist triggers a weird process which makes him start to shrink. As a scientist I have sometimes wondered what it would be like to get smaller and smaller ... what would happen to the senses, especially sight and hearing? Isaac Asimov pointed out in 'The Incredible Voyage' that muscular strength would increase enormously since weight decreases as the cube of the linear dimension, but muscles would only decrease as the square. So if you shrank to half the height, your weight would decrease 8 times but your muscular strength would only shrink by a factor of 4. You would be able to lift twice as much, relative to your body weight. If you shrank to one-hundredth the size, you would be probably be able to lift fifty to a hundred times your body weight...... Cast: Ron Cook as the shrinking man, with Helen Longworth, Jonathan Forbes, Patrick Brennan and Sarah Thorn; producer Marc Beeby.

SECOND BODY....2013
9 Jan 13; by Trevor Preston. Afternoon play, 45m. Cast: Tara Fitzgerald as the artist, with Raymond Coulthard, Kenneth Collard, Ben Crowe, Stephen Greif, Liza Sadovy, Patrick Brennan, Sarah Thorn.
Edited summary of Moira Petty's comments in 'The Stage:... ......The author writes thrillers and action TV series along with more experimental work. Here he merges the two strands. Tara Fitzgerald plays artist Anna, for whom dreams filled with symbols and prophecies seep into the daytime. It is a well-scripted thriller of the unconscious with a hint of Salvador Dali.

THE RELUCTANT SPY....2013
2,3,4 Jan 2013. By John Dryden; script editor Mike Walker. Another superb thriller from Goldhawk. 3 x 45m, broadcast on successive afternoons. Gillian Reynolds again....it was about Duncan Kavanagh, an expert on Coptic churches, eking out a living in Cairo. The time is now. His Egyptian wife went away to make a film and never came back. Their teenage daughter is caught up in student politics. He has a fling with an American tourist. She gets involved in what turns out to be a tangle of intrigue and killing....

The story was set against the backdrop of the Arab Spring. It gets behind the headlines and looks at the human consequences of political unrest and change of regime in a region where democratic rule is not the norm. Episode 1 set the scene; as usual, Goldhawk's 'technical presentation' goes for location recordings and realism. The tension builds during episode 2, with a terrific climax as we realise the threat to Duncan's daughter. In attempting to deal with it, Duncan releases forces which he is not strong enough to control.

Cast: Nigel Lindsay as Duncan, Alysha Hart as Ola, with Sarah Goldberg, Philip Arditti, Raad Rawiha, Karim Saleh, Sirene Saba, Jude Edriss, Rufus Wright, Baris Cerliloglu, Miriam Acharki, Nayef Rashed, Jonathan Bonnici. Other parts by Zayden Khalaf, Jumaan Short, Albert Welling and Omar Mustafa. Director John Dryden.

THE EUSTACE DIAMONDS....2013
R4, Dec 2012 - Jan 2013. Gillian Reynolds, Daily Telegraph: .........this has been a very good listen. Rose Tremain's subtle adaptation brought out the unexpected nuances of Anthony Trollope's novel. The plot: should pretty Lizzie Eustace own the diamonds her husband had given her, or were they a family heirloom; not his to give? 3 x 55m, Classic Serial. Cast: Pippa Nixon, Jamie Glover, Nicholas Boulton, Richendra Carey, Stella Gonet, Joseph Kloska. Producer Gordon House.