Olwynne Macrae
Radio Plays
Olwynne Macrae is recognised internationally as a writer of radio drama. Her plays have featured on radio in Australia and New Zealand with translations produced in Germany and other European countries. ....from Radio New Zealand website

Text of Olwynne's interview with Bill Leatwick, Radio NZ, 1979.


BBC RADIO PLAYS:
04.09.1980 That Bread Should Be So Dear: Fiona Walker, JohnRowe; rpt. 19.11.1983
09.02.1980 No Moon..........No Sun: Denis Lill/Nicolette McKenzie; serial, 8 episodes


RADIO NEW ZEALAND: PLAYS
17.03.1979 Turntable, 40m
21.03.1979 Person to Person, 55m
09.04.1979 The Jerusalem Report, 30m
30.06.1979 As Dies The Dolphin / No Sun, No Moon, 60m
........c1985? May I Have a Shower, Please? 45m.
..........1987 Grief
01.01.1989 A Kind of Killing 45m
01.05.1993 The Balloon Watchers
27.09.2009 Watermark



NOTES ON SOME OF THE PLAYS

PERSON TO PERSON....1979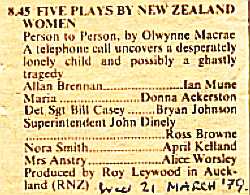 Our recording of this is slightly distorted but the plot and story is intact. 55m.


TURNTABLE....1979
17 Mar 1979. Radio NZ.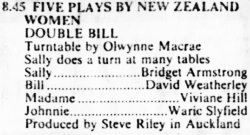 There is a little bit of marital disharmony; a man takes his wife too much for granted. She starts earning some money herself - in the only way she knows. An excellent play, with a twist at the end.


AS DIES THE DOLPHIN....1979
This play also went out on the BBC as a serial under the title 'No Sun, No Moon. Radio NZ details below: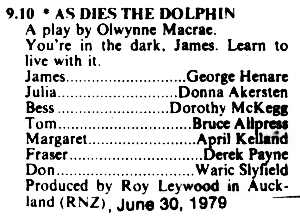 It's a play about what happens to a man who loses his sight in middle life. Olwynne was interviewed about it on Radio New Zealand by Bill Leatwick, 17 Jun 1979. I am transcribing the interview from the recording and the text will be put online when it's done.


THE JERUSALEM REPORT....1979
Apr 9,10,12,13 1979. Radio NZ, National Programme. A reporter travels back in time to 34 A.D, just before the time of Christ's crucifiction, and reports on events as they happen. 30m.


THAT BREAD SHOULD BE SO DEAR....1980
With Fiona Walker, John Rowe, Douglas Storm, Gordon Reid, Jenny Lee, Martin friend, Sion Probert, Amanda Murray, Clare Travers-Deacon, Jill Lidstone, John Church. Produced by Cherry Cookson. Recorded 31 Jul 80; broadcast 4.8.80. 54m 37s. BBC Tape 84115. Synopsis lower down the page, under the 'television' section.


MAY I HAVE A SHOWER, PLEASE? ....date nk. c1980?
Radio NZ. Cast: James - Bruce Alpress, Bruce - Roy Billing, with Christine Bartlett, Merv Smith, Elizabeth MacRae, Rex Merry, Meredith Blom. Produced by Anthony Grocer, in Auckland.
OM: "...the abdication of a woman who's run her home for fifty years and then has to go and live with her married daughter. It's a very sad situation when this occurs; where they have been autocrat and boss and then they have to start to say 'may I have a piece of toast' or 'may I clean out the 'fridge?' 'May I Have a Shower, Please?' is what I've called it. "..........(taken from Olwynne's Radio NZ interview on 17 Jun 1979; see above)

GRIEF....1987
Radio NZ. Story of a young woman whose husband is killed in a motorcar accident. Cast: Jacqui Dunn, Christine Bartlett, Lee Grant, Judith Gibson, Bernard O'Leary, Christopher O'Leary, Sam Tozer, Paul Gittins, Peter Davis, Grant Bridger, Ken Blackburn, Stephen Tozer, John O'Leary, Dai Evand, Judy Johnson. 42m. Production by John O'Leary in Auckland.


A KIND OF KILLING....1989
1 Jan 1989, Radio NZ. This is a play about incest. Cast: Jilly - Anita Cottance, Anne - Liddy Holloway, Paul - Michael Morrissey, Trudy - Brenda Kendall, Mrs. O'Neill - Elizabeth MacRae; with Dane Rodell, Ken Blackburn, Jane Thomas, Hariata Kingsnorth, Derek Payne, Christine Bartlett, Gilbert Goldie. Technical Producer Bruce Duske. Produced by John O'Leary for Radio New Zealand. 50m. Mobil Radio Awards finalist 1991.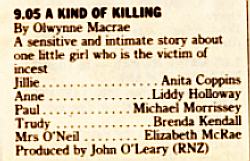 THE BALLOON WATCHERS....1993
1 May 1993; prize for Best Technical Production, Studio or Outside Broadcast Recording. Radio drama by Jean Watson, dramatized by Olwynne Macrae. National Radio, Auckland. 67m. Recorded 1989.

Cast: Miranda Harcourt - Katherine McRae, John Watson, Elizabeth McRae, Arthur Ranford, Maggie Maxwell, Andrea Kelland, Gilbert Goldie, Lorae Parry, Michael Morrissey, Roy Leywood, Madeline McNamara, Ross Duncan, Dorothy McKegg, Alison Routledge, Donogh Rees, Frank Whitten, John O'Leary, Frances Edmond, Peter McCauley, Stephen Tozer, Brenda Kendall. Music: Matthew Brown, Recording Engineer: Ian Gordon; producer: Jacqui Dunn. (info from NZ Sound Archives.)


WATERMARK....2009
Sunday Drama; second in the Worldplay season on World Drama, from Radio New Zealand. 27 Sep 09. Chris Blackthorne is an investigative journalist with a well-developed conspiracy-theory mentality. He believes there are those in the world who seek out and use people of exceptional mental ability as a means to gaining power.

Eve Drummond, Chris's editor and friend, mocks his suspicions and is furious when, during a live-to-air broadcast, Chris plays a recording of an interview which he believes backs up his theory. But there is an overwhelming listener reaction to Chris's offbeat ideas. One listener who phones in is of particular interest to Chris. She calls herself Maya and is associated with a group calling itself 'The Elite'. As a result of Maya's call, Chris takes on the most important investigation of his life.

Knowledge is power – exceptional knowledge is the road to abuse of power. Watermark is, ultimately, about the abuse of exceptional knowledge in exceptional individuals.

Cast: Mark Hadlow, Helen Medlyn, Elspeth Sandys, Gilbert Goldie, Jacqui Dunn, Deborah Elliot, Charles Pierard, Kay McKelvie and Bridget Donovan. Sound engineer Ian Gordon. Produced and directed by John O'Leary.



READINGS

THE TUNNEL....1979
Read by Pat Evison. 20 Apr 1979. Radio NZ. A short piece about an other-worldly experience.

SWALLOWS DO IT EVERY YEAR....c1990?
Autobiographical story in 5 episodes of Olwynne MacRae's emigration with her family. Radio NZ.

SOAP OPERA....1995
Short story from Radio NZ. 8m. A humorous piece about a fussy man in a hotel room.

THE INCUBUS....1998
27 Oct 1998; read by Susan Wilson; radio NZ. Looking after an elderly relative...

WATERMARK....2009
22 Jul 2009; 9.04pm. Radio New Zealand. Olwynne Macrae spent some years collecting newspaper articles on the subject of special intelligence and on the organisations – some genuine and some much less scientific – which sought to match the special mind with special knowledge input.

Chris Blackthorne is an investigative journalist who believes there are those in the world who seek out and use people of exceptional mental ability as a means to gaining power.



TELEVISION

THAT BREAD SHOULD BE SO DEAR
TVNZ's Loose Enz series was a series of 12 stand-alone dramas made in the early 80s. This episode, directed by television trailblazer Caterina De Nave, is a drama about married life featuring neighboring couples with two different relationship dynamics. Mary is trying to set off into the working world now that her kids have grown up, much to the irritation of her controlling husband David. Next door, Duncan and Judith have a modern, more equal, relationship. Increasingly dark, this episode is a trenchant criticism of patriarchical mores of the time.



Nigel Deacon / Diversity website.


I am grateful to Merrily Willis, daughter of Olwynne Macrae, for supplying many of her mother's recordings....ND