See also our Facebook page for recent updates and links to other sites.


............................................................................................................................






REDUCTION OF RADIO DRAMA - UPDATE
It is worth drawing attention to what is happening in radio drama. The BBC is still commissioning a lot of it, though there are signs that funding is becoming a problem. A number of the 45-minute slots in the afternoons have been replaced by 30min (about 25 slots this year so far; there were none last year). The 15 minute drama has disappeared, and the frequency of repeats has increased, more than doubling over the last decade. There is also more blurring of the Classic Serial and Saturday Drama slots, which are becoming interchangeable. It is interesting to look at the 'repeat count' for the 365 afternoon drama slots, including Sat-Sun; over the last few years the numbers of repeats have been:


2012 47
2013 57
2014 55
2015 47
2016 74
2017 51
2018 70
2019 107
2020 138
2021 90 repeats plus 25 'reduced' slots (30m instead of 45) up to 20 Oct 2021

The 30m episodes are: Nuremburg (8), The System (6), Angst (5), The Attendant (5) and Napoleon Moon (1). At least temporarily the Thur-Fri slots are 30m instead of 45.

15 Oct 2021


RADIO 3, 1961
Alistair Wyper has compiled the radio plays page for The Third programme, 1961; very few recordings have survived from sixty years ago, but it makes for an interesting read: Douglas Cleverdon, H.B.Fortuin, William Glen-Doepel, Henry Reed... and William Golding, Shelagh Delaney, Giles Cooper, Patric Dickinson. Again, many thanks..

15 Oct 2021


GB NEWS
Lead presenter is now Colin Brazier; some good contributions too by Neil Oliver.

14 Oct 2021


NESTA PAIN
Alistair Wyper has written a page for us about the multi-talented radio producer Nesta Pain. Thank you, Alistair.

27 Sep 2021


IMISON & TINNISWOOD AWARDS
Reminder -the closing date for entries is 3 October. Get your entries in straight away! Details on the Imison / Tinniswood pages, which give the necessary links.

10 Sep 2021


RADIO DRAMA REVIEWS
More reviews from Harry Turnbull - see August Reviews

20 Aug 2021


PIERS PLOWRIGHT
I am sorry to report that Piers Plowright, radio drama and feature maker from 1968 to 1997, has died. He retired from the BBC in 1997 but continued to listen, look and lecture.

He will be much missed.

Stephen Shaw has compiled a page about his radio career, which can be found on the Radio Producers index page, and there was a good obituary in the Daily Telegraph..

24 Ju1 2021


GILES COOPER
Radio 4 Extra has broadcast "The Return of General Forefinger" recently, to commemmorate the centenary of the birth of Muriel Pavlow. Our friend at R4X tells me that the drama dates from 1961. Duration is 90 minutes; highly recommended. This is earlier than the version already in circulation (not repeated as far as I'm aware) which dates from June 1984. It will be available for about a month on listen-again.

10 Ju1 2021


BBC GENOME
If you have tried using the BBC Genome pages recently you will have noticed a change in appearance and content. It is a work in progress, so will need time to bed in and for bugs to be eliminated.

18 Jun 2021


GB NEWS IN THE NEWS
In defence of his TV channel, Andrew Neil has described the political activists behind an advertising boycott on GB News as far-Left agitators and cranks.

Mr Neil, who is chairman of GB News as well as its lead presenter, said that Stop Funding Hate had started rounding up the lynch mob four months before the channel started broadcasting. Mr Neil described SFH as opponents of a free society, which sounds to me like an accurate summary.

He also criticised the companies giving in to their demands, saying that it is remarkable that serious executives and well-established companies can be so easily cowed.

"They have all taken the knee to Stop Funding Hate. It is important they - and you - realise to whom they are in thrall.

"Stop Funding Hate does not stand for a liberal, inclusive society. It is dominated by far-Left agitators and cranks that push for advertiser boycotts of any media organisation with which it disagrees."

I read that there will also be a radio feed from GB News as well as the normal TV output.

18 Jun 2021


GB NEWS
GB News starts in two days' time. It should provide a refreshing change from the diet offered by the BBC.

11 Jun 2021


RADIO DRAMA CUTS
More cuts in radio drama are occurring. Recently we have lost the 15-minute drama which was broadcast during Woman's Hour and repeated in the evning. Now I have been informed that the number of Saturday Plays is being reduced from 40 per year to 12. I also note that the current drama offering on Friday afternoons (The System) only lasts 30 minutes per episode instead of 45. I hope plenty of you feel moved to write to the BBC about this. I would also remind you that it is not many years since BBC World Service ceased broadcasting drama.

Martin Esslin, when Head of Radio Drama, said that he commissioned 800 dramas per year. We didn't know then how well-off we were.

11 Jun 2021


UK INTERNATIONAL RADIO DRAMA FESTIVAL
Thanks to everyone who attended our award ceremony this afternoon, 21 May. Viewers tuned in from all over the world, including Spain, Australia, Brazil, Georgia and the UK. The winners were announced by Jack Klaff, Melanie Nock and Jonathan Banatvala.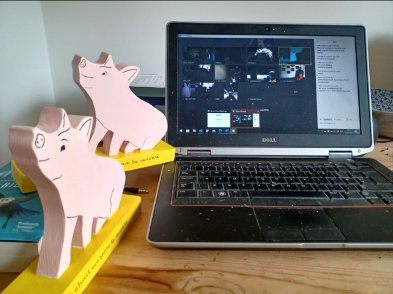 Now onto the winners:
ALCS Audience Award
1st place: A Haunting beyond the Lake - Richard Brooks (UK)
2nd place: Human Things - Grazyna Lutoslawska (Poland)
3rd place: Hunting Season - Georgian public radio (Georgia)
Honourable mentions: Notes from JJ - Georgian Public Radio, Fenland Symphony - Chris Bradbury, and Alvorada - Matheus Moraes.
20-Second Drama Award
1st place: Lady Macbeth - Festival consortium
2nd place: Spider - Pippa Brenchley
3rd place: Maths Problem - Darrick Wood School
4th place: List of Things - Festival consortium
Join us in congratulating the winners!
21 May 2021

HARRY TURNBULL
Harry's latest radio drama reviews (April) are now online; see Articles section on main radio drama page or click the link.
6 May 2021

COVID ISLAND DRAMAS,4
Episode 4 of this series has been recorded and will be out shortly.
6 May 2021

GORDON HOUSE
Over the years, ex-Head of BBC Radio Drama Gordon House has supplied a number of articles for the website. His latest contribution is a set of answers to questions posed by students about his chosen medium. I am grateful for permission to publish it - many thanks, Gordon.
15 Apr 2021

FRONT ROW & RADIO DRAMA
Front Row is now covering radio / audio drama more frequently. In the weeks following the David Mamet programme (mentioned earlier); they also reviewed the new Community Radio soap opera Greenbourne, spoke to Mark Ravenhill about his new play written as an audio drama and to Giles Terera about his new play for Radio 3. I also heard an extended interview last night with Tempest (the beatboxer, who was shortlisted for the Imison last year) about his new project 'Orpheus in the Record Shop'. Excellent; I trust that this will continue.
15 Apr 2021

RADIO DRAMA FESTIVAL UPDATE
The schedule is now published and on the website.
schedule
I've also put an easily printed one-side summary on our own festival page . For further news about the 2021 festival, plus a list of participants and winners, please go to the festival page. The Audience award will be made at the end of April.
25 Mar 2021

RADIO DRAMA REVIEWS by Harry Turnbull: a talk with Mary Peate about her new production of "Tess", plus Roderick Smith's "Brummie Iliad" and Christine Entwhistle's "Murmuration".
12 Mar 2021

FRONT ROW - STILL NOT INTERESTED IN RADIO DRAMA
One of the grumbles I have about the Radio 4 Arts programme is that it rarely mentions radio drama. I was hoping in these times of coronavirus that the attitude of the producers might change, but no such luck. Tonight they reviewed David Mamet's play "The Christopher Boy's Communion", but this is because it was David Mamet, not because it was good radio. There have been no other mentions of radio drama on the programme since 26 August 2020, when a lost play by Agatha Christie was aired on Radio 4..
UPDATE .... see note above, 15 Apr.
4 Mar 2021


7th UK INTERNATIONAL RADIO DRAMA FESTIVAL, 22-26 MARCH
News about the Festival: The unprecedented situation with the coronavirus has affected our plans, but they are now formulated. Canterbury won't happen this year; we will be online, but as for the festival itself, it's all systems go. Details below. You'll also notice a change in the title. We're now the UK International Audio Drama Festival ; there have been great advances this year in the number and quality of podcasts and 'Radio' no longer covers everything we do.

A note from the festival director, Jonathan Banatvala:
Covid 19 continues to create enormous restrictions on the festival world – on travel, on meeting, on creative expression .

We are determined that the 2021 festival will not just such survive through an online presence but be one of the most exciting Audio Drama Festivals yet – for the first time coming together to make audio drama as well as to listen to it.

This year's virtual festival 22 – 26 March 2021 will combine collaborative creative sessions with real-time and on-demand listening and real-time collective jury discussions.

For the listening sessions (they take place in the afternoons), click https://www.eventbrite.co.uk/e/uk-international-audio-drama-festival-listening-sessions-tickets-14368993145

We will send people a zoom link shortly before the event, and the start time will be announced soon.

1 Mar 2021


SHORTLISTS FOR IMISON & TINNISWOOD
The shortlists for the Imison Award and the Tinniswood Award are now out. These are accessible via the links on the main radio plays page.
10 Feb 2021

PHILIP MARTIN
Alistair Wyper has contributed a piece about Philip Martin, who died at the end of 2020. Philip worked in film, television, theatre and radio as actor, writer, director and producer. During the 80s he was a familiar figure at Pebble Mill. ....Many thanks, Alistair - Ed.
9 Feb 2021

DON TAYLOR
Don Taylor's play "The Jacobean Box", a tale of lost manuscripts, is being repeated on R4X on Saturday (more than once, though I know it's scheduled for 3 o'clock.) This is a very good drama; nice and light for a Saturday afternoon. Try not to miss it.
9 Feb 2021

GB NEWS: ANDREW NEIL
A new TV news channel is about to be launched: GB News, headed by Andrew Neil, who recently left the BBC. We are told it will be pro-UK. Andrew Neil has said that he joined GB News because he believes the direction of news debate in Britain is increasingly 'woke' (denoting extreme political-correctness) and out of touch with the majority of its people.
Ian Botham pointed out on 13 Jan that people from the countryside are tired of the Corporation's virtue-signalling presenters. He said that the Corporation was doing particularly badly in the countryside; many country people write to him. They dislike how the Corporation increasingly uses its programmes to promote the narrow 'woke' views of its senior staff. In Botham's words: "They say it abuses its power to push these urban-progressive ideas as if they were mainstream".
The Guardian is attempting to dissuade advertisers from supporting this new project; the paper no longer shows the open-mindedness which its followers used to be famed for. What better evidence could there be for the need for this new channel?
8 Feb 2021

THIS COVID LIFE
In April 2020, with the UK in the midst of the first wave of the Covid 19 pandemic, Script6, a Norfolk-based writers' collective, teamed up with award-winning scriptwriter Nicholas McInerny to launch a short film scriptwriting competition – 'THIS COVID LIFE', looking for ten minute scripts based around online facetime conversations during lockdown.

At the time it felt like the vast majority of online competitions were prioritising stories of cheerful reassurance and resilience as we all dealt with our new reality.

We knew even then this wasn't the whole truth. We wanted to find those stories that explored the darker side of life under Covid restrictions: tales that would possibly reveal a more complicated truth about ourselves, our hopes and fears, as the stress of lockdown inevitably exposed faultlines and gave us an insight into who we really are. ...more...
2 Feb 2021

RADIO REVIEWS
A new version of Heart of Darkness reviewed along with some input from the writer Anita Sullivan. Also reviewed: Rogers & Hart & Hammerstein; Breaking Blake. See reviews on main radio page. Thanks again to Harry Turnbull.
2Feb 2021

IN CONVERSATION WITH RUSSELL T DAVIES
WGGB member, screenwriter and producer Russell T Davies talks about writing, bringing gay drama into the mainstream, and his Channel 4 series It's A Sin, a dramatization of the 1980s HIV/AIDS crisis. He is interviewed by Nicholas McInerny on Youtube; click the link to hear it.
30 Jan 2021

HEDLEY'S LIMERICKS
Another contribution from my friend in London:

While visiting one of his aunties,
The writer Miguel de Cervantes
Said "My new word 'quixotic'
Sounds strange and exotic -
Does that make my work better than Dante's?"
7 Jan 2021

CHRISTMAS CRACKERS - HARRY TURNBULL
More radio drama reviews from everyone's favourite reviewer: Christmas Crackers 2020 - Harry Turnbull
2 Jan 2020