A very rare Norfolk variety; one known tree. Presumably the pips rattle when the apple is ripe. Apple with pink rather than red flesh. No other details at present. Pictures supplied by Danny Cotgrove - many thanks.

Update, Sept 2010: another tree has been located. Possibility of grafting next year.
Update, 2 Mar 2011 - I am indepted to 'Mr. Fawkes' who has supplied scions of Norfolk Rattlebox; I have grafted two trees. Now we wait.


4 Aug 2013.... first fruit, shown in the third and fourth fruit pictures below. The apple is unusually fragrant, with a pleasant aroma of 'apple' but also with a hint of rose blossom. The flavour - almost complete absence of acid, sweet, very soft texture, (would not keep for more than a day or two), delicate flavour. Very early to fruit; second apple of the year in the collection of 100 or so apples; 2 days after Hall's Pink.

SOUND MADE BY AN APPLE
You may be interested to hear the sound which this apple makes when ripe: click the link to hear it. norfolk rattlebox sound

Pictures (click on small images for detail):

Blossom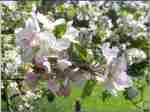 Fruit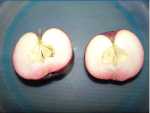 ....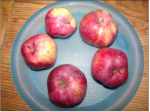 compiled by Nigel Deacon / Diversity website