PIANO MUSIC


Mervyn Roberts Piano Sonata, played by Steve Jones, on Youtube.
MERVYN ROBERTS (1906-1990)
Mervyn Roberts was born at Abergele, youngest son of the first Lord Clwyd. He read English and History at Trinity College, Cambridge. His musical qualifications were gained at the RCM, where he was taught by Gordon Jacob, Arthur Alexander and R.O.Morris.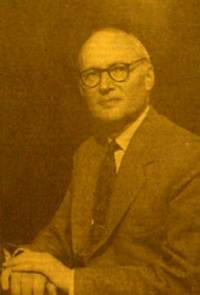 He worked in Wales as a composer and music journalist, for the Anglo-Welsh Review, Welsh Music, and Music in Education. During the war he worked in the Civil Service. Later he taught at Clarendon School in Abergele; then from 1963-67 he taught piano at Christ's Hospital, Horsham. He was always willing to assist other composers, and the present writer has reason to be grateful to him.
His music is distinguished by its richly melodic character, and by its thorough craftsmanship. There are similarities with John Ireland and Paul Ladmirault, though the harmonies are Mervyn's own; rich and sometimes very unusual, but not dissonant. Some of the solo pieces require considerable technique, and are not easily playable by amateurs, e.g. Wind of Autumn, the Sonata, and the Preludes. With the possible exception of the Rhapsody, the later works are more accessible, and the Sonatina is not too difficult. The piano duet "Passacaglia" is unusual, being in 5/4 time. Amongst his most effective pieces, in spite of their brevity and simplicity, are the Welsh Folktunes arranged for piano solo.
A CD has recently been released containing some of Mervyn's duet and two-piano music, played by the American pianists Bruce Posner and Donald Garvelmann. The pieces included are: A Christmas Prelude, Passacaglia, Two Chorales, and Elegy; the disc is entitled "On Heather Hill" and also contains works by Hamilton Harty, Alan Richardson and York Bowen.
Works held by N.D.:

RECORDINGS
Variations on an original theme for two pianos
Four miniatures
Sonatina
Let Mary Live Long (folktune arr)

SCORES
Sonata, 1934, pub. Novello 1949
Two Chorales (for two pianos),1936, pub Novello, 1947
Winter (1937, revised 1963, unpublished)
Sonatina, 1948, Novello
Four Preludes, Novello, 1949
Variations on an Original Theme, Novello, 1950
Christmas Prelude, unpublished (duet) 1952
Romance, unpublished, 1957, revised 1984
Elegy for Two Pianos, unpublished, 1958
Five French Nursery Tunes (duet) 1959 unpublished
Passacaglia (duet) unpublished, 1960
Wind of Autumn, Augener, date nk (c 1960?)
Summer's Day, Augener, date nk (c.1960?)
Three Pastoral Pieces 1961, Joseph Williams
The Day Before Yesterday 1964 Galliard
12 Folksongs from Wales, arr. piano solo, unpublished, 1965
4 Folksong Studies, unpublished, 1965
Slow Air, Associated Board, 1967
Rhapsody, 1969, unpublished
5 miniatures, unpublished, date nk (c 1970?)
Theme & Variations in A, unpublished, c1970
In Friendship: Four Pieces, 1973, unpublished
Albumleaf, unpublished, 1984
Chant, unpublished, 1985
----------------------
Nigel Deacon / Diversity Website