American.One of the best-flavoured redfleshed apples. Almost luminous orange-pink in sunshine; smooth translucent skin; slightly sticky when fully ripe. Slight similarity in flavour and texture to Laxton's fortune, but more delicate; tart, firm, crisp, very juicy. The apple is pleasantly scented. Prone to scab. Very prone to mites; attracts them like a magnet. Cortex wood green. Does not look like a typical redfleshed tree, apart from the deep coloured blossom.

The pigmentation in Mott's Pink is variable; sometimes it is very pale; sometimes it is crimson.

The blossom time is very early; this is among the first apple trees in the garden to flower in most years. First day of full blossom (90% of flowers out) as follows: 3 May 2008, 22 Apr 2009, 4 May 2010, 14 Apr 2011. For comparison: 2008 same day as Bramley, 2009 4 days before Bramley; 2010 2 days before Bramley; 2011 5 days before Bramley.

Ripens first fortnight of September. Keeps about a week in good condition.


....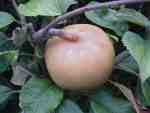 ....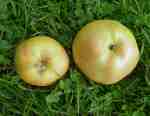 ....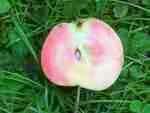 ....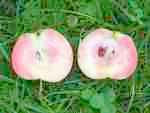 ....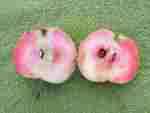 ....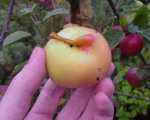 ....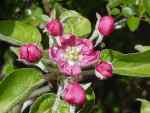 ....
compiled by Nigel Deacon / Diversity website