I was given seed tubers of this uncommon variety by a friend (thanks Mel) .... these plants look similar to Salad Blue and the tubers have blue skins, but apparently there are lots of Maori potatoes, all different colours. These look healthy and the haulms are smaller than Salad Blue, with less of a blue 'cast' to the stems. Other than that I have no information. Photos of the tubers will be posted later in the season if I remember....
Update ... seem to be blight-susceptible; potato slices more like 'Congo' than Salad Blue. Some have white patches. Relatively floury potato; needs boiling carefully or steaming. Yield lower than Salad Blue. A most unusual potato. Will be growing this again.


Pictures (click on small images for detail):

Flowers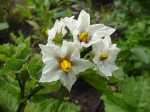 Tubers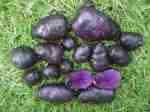 .....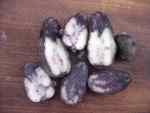 .....





Nigel Deacon / Diversity website