Graham Deacon (the Nursery, Godshill, IOW) comments: Pleasant mellow flavour, with bright colours. Compact growth, crops regularly and is a good alternative where Cox's orange Pippin is difficult. Ripens just before Cox and keeps until December. Self-fertile. James Grieve x Worcester cross".

Pictures (click on small images for detail):

Blossom: tree growing locally - picture next year?




Fruit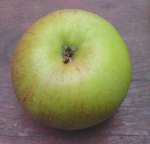 compiled by Nigel Deacon / Diversity website