Liz Wainwright is a playwright and novelist whose website can be found at www.lizscript.co.uk

Liz first started writing when she was a young Mum with two small children. She entered a novel writing competition in a magazine - she didn't win, but it taught her to type.

".......My characters do most of the writing for me, they become voices in my head and take on a life of their own. They're no angels, and they get into the sort of relationship situations which fascinate me. They make me care about them; they make me cry, and they make me laugh. I hope they'll do the same for you."

Her radio plays, plus associated notes, are listed below.

Her books are available through Amazon. Click the book cover ....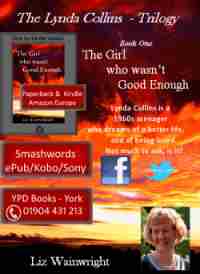 Articles by Liz


BBC RADIO PLAYS


SOMEBODY....1998
The Saturday Play; 25 July 98. Eileen and Roy have just won a second honeymoon to the south of France, but there is one slight snag - they split up six months ago. With David Ross, Lynda Bellingham, Kate Fenwick, Charles Simpson, Sarah-Jane Holm, Frances Jeater. Producer Marion Nancarrow. 55m. Favourably reviewed by Moira Petty in 'The Stage'.


MRS. DANBY'S DESTINY....1993
Nov 93; Thirty Minute Theatre with Pauline Yates, James Taylor, Lynda Baron. Producer Marion Nancarrow.


A SECOND SUMMER....1992
R4, 1992; rpt 4.4.94. 55m. Family story. With Gwen Watford, David Calder, Joanna Myers, Elizabeth Mansfield, Barbara Atkinson. Directed by Marion Nancarrow. Escaping Paris, her much-loved daughter finds help from an unexpected source in Normandy. The repeat was a tribute to Gwen Watford.


MADAME....1990
23 Aug 90, rpt. 30 May 91. 55m. Set in Paris; a tale of two embittered women and a black widow spider. Mary Wimbush, Carolyn Boyd. Produced by Marilyn Imrie. Favourably reviewed by Quentin Cooper in the 'Independent on Sunday'.


MRS. DONALDSON AT 60....1986
1 Mar 86; with Constance Cox R4 11am, Dulcie Gray, Okon Jones, Martyn Read, Natasha Pyne. Thirty minute theatre.


GWYN....1986
15 Jan 86; afternoon theatre.


SUNSHINE
An early play, produced by radio colossus Graham Gauld.




ND / Diversity website
Most of above plays known to exist in VRPCC collections