Hogg:

Nonesuch (Nonsuch; Langton Nonsuch)
Fruit, medium sized, two inches and a half wide, and two inches and a quarter high; roundish oblate, regularly and handsomely shaped. Skin, smooth, pale yellow, mottled with thin pale red on the shaded side, and striped with broad broken stripes of red next the sun. Eye, small and closed, set in a wide, shallow, and even basin. Stalk, short and slender, inserted in a shallow cavity. Stamens, marginal; tube, funnel-shaped. Flesh, white, tender, juicy, sweet, and slightly perfumed. Cells, ovate; axile, slit.

An excellent culinary apple, of first-rate quality, and, according to Mr. Thompson, excellent for apple jelly; it is ripe in September, and continues during October. The tree is a free grower, attaining about the middle size, and is an abundant and early bearer; young trees three years old from the graft producing an abundance of beautiful fruit.

Although an old variety, I do not think this is the Nonesuch of Rea, Worlidge, or Kay, as all these authors mention it as being a long keeper, for which circumstance it might otherwise have been considered the same. Rea says, "It is a middle sized, round, and red striped apple, of a delicate taste, and long lasting." Worlidge's variety is probably the same as Rea's. He says, "The Nonsuch is a long lasting fruit, good at the table, and well marked for cider." And Ray also includes his "Non-such " among the winter apples.


..........and - another reference: from "A Guide to the Orchard and Fruit Garden" by George Lindley, John Lindley, Longman, Rees (1831)

32. Nonesuch. Hort. Soc. Cat. No. 677.
Nonsuch. Forsyth Ed. 3. 121.
Langton Nonesuch. Hanbury.

Fruit middle sized, of a very regular round figure, and free from angles on its sides, about two inches and a half in diameter, and two inches and a quarter deep. Eyp small, with a short, closed calyx, in a very regular, rather shallow, saucer-shaped basin, without plaits. Stalk short, slender, inserted in a shallow cavity, seldom projecting beyond the base. Skin pale yellow, spotted and marbled with orange, with numerous broken stripes and patches of brick-red on the sunny side. Flesh white, soft, and tender. Juice plentiful, a little saccharine, and slightly perfumed. A handsome dessert apple from Michaelmas till nearly Christmas. Ray has a Nonsuch Apple, in 1668; but, as he has placed it among his winter or keeping apples, it is not certain whether that is the same as this.

Note from MW: ...... Apparently in Hanbury, Rev William Hanbury of Church Langton was the person who grew the Gumley groves and had 50 plus apple cultivars. Could this be a seedling of his ? If this is really the first recording of the name it seems likely.

Fruit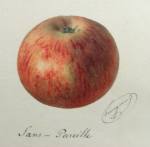 ....

....

Pictures taken from two out-of-copyright 19th century sources.

Update - we may have found this variety, in Germany. It looks right. Below is a picture.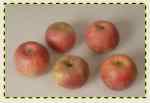 ....



UPDATE

The variety is definitely Langton's Nonsuch. We have grafted several trees. Here are our first blossom and fruit pictures.


....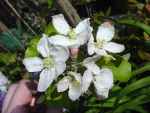 ....


FRUIT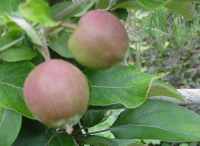 ....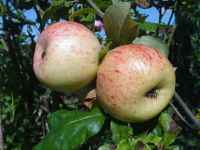 ....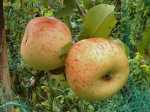 ....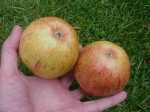 ....

Above: immature fruit, end-Jun, 2011; nearly-ripe fruit mid-Aug; ripe fruit late Aug. We are re-introducing this variety. Trees are available.




Text compiled by Mel Wilson/ Leicestershire Heritage Apples Project



ADDITIONAL NOTE ABOUT WILLIAM HANBURY:
The first-ever performance of Handel's `Messiah' in an English church took place at Church Langton in Leicestershire.
Before the performance, there were traffic jams all along the London Road from Market Harborough, and every inn in the area was fully booked.
The Revd. William Hanbury was rector of Church Langton in the late 1700s.
Revd Hanbury was a botanist who imported trees and shrubs from abroad and grew them at nurseries near Church Langton. He had many grand ideas, including that of turning the village into a major centre of learning with a vast minster church on a par with Oxford and Cambridge. The historic performance of Messiah was part of a music festival designed to raise funds for his project.
The project was never realised, but the money Hanbury raised was put to good use. Today, local children go to school in buildings put up with money from the Hanbury Trust, and local students can still apply for grant aid from the fund.