This is an eating apple from Poland; less well-known than it was years ago. The shape is round-conical, and the size about the same as a supermarket apple. The skin is green with a slight blush, gradually going greenish-yellow on full ripeness.
The flavour is unusual; it is warm, mellow, very mild, sweet, and not unduly juicy. It reminded me of Leicestershire Sweetings in that there are no strong flavour notes, but it is a much denser texture and more substantial. In 2017 (our first fruit) it was ripe in early September.
Blossom dates: It flowers early, at about the same time as Huonville Crab and Durrant, which means about 10 days before Bramley.

Pictures (click on small images for detail):

Blossom




Fruit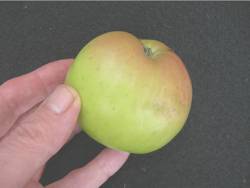 ........