Alara is the country's leading organic muesli producer, and was the first cereal company in the world to produce certified organic and Fairtrade products. It has been named as the first food company in the UK to go 'zero waste'.

Alara recently created a large garden on wasteland behind their factory. After removing fifty tonnes of rubbish, with the help of the local community, an organic Permaculture forest garden has been set up. The garden has provided a pleasant place for staff and locals to go back to nature in the heart of London. It is also home to 50 varieties of plants, from pomegranates to aloe vera, along with 3 beehives, a company compost heap, and soon, Kings Cross's first vineyard!

After taking advice from the Urban Wine Company, Alara are looking to expand their garden to include a small vineyard on a southerly facing slope on their edge of their land. The vines were planted during March 2009.

Alex Smith, the director of Alara, has been made a 'London Leader of Sustainability' for 2009. This project, backed by the mayor of London, takes individuals with initiative from all areas of business and gives them the task of inspiring others to start their own environmentally-sensible schemes.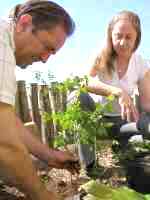 ....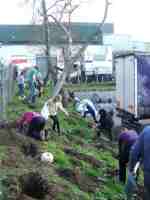 One of Alex's projects as London Leader is to turn more London wasteland into productive green space. He hopes that more urban vineyards will be planted across the capital.

Richard Sharp of the Urban Wine Company says that people think that the UK is poor for grape growing, but there is a range of varieties which grows well and which makes good wine.

Alara organised the Vineyard planting day to see Kings Cross' first vineyard start life…and supplied wine and organic lunches for those who helped with the planting.

The grape variety planted was RONDO, which produces a red wine. Graham Deacon (Deacon's Nursery, I.O.W.) describes this as a prolific black variety; a dwarf, short jointed vine producing masses of bunches, and an easy grower.

A picture of the grafted vines, before planting, is shown below.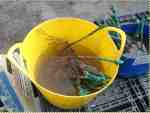 UPDATE:


Alara Wholefoods win Best Resource Management Project award at the Valpak awards 2009


Alex Smith, managing director of Alara, was at the Valpak Awards ceremony at the Shakespeare Globe Theatre on 24th October to collect the award for becoming a Zero Waste food manufacturer.

The award is sponsored by Coca-Cola Enterprises. At the Alara factory, nothing is thrown away, whether it be putting scraps from the canteen in the wormery instead of the bin, or creating a box sharing scheme with other local companies. Alara have now made a pledge to be 'carbon neutral' by 2010 and are well on their way to achieving this.

Alex now hopes to be able to pass on the message to other companies across the UK, on how to become more environmentally friendly. Linked to this is another of Alex's projects as a London Leader of Sustainability. He hopes to bring more wasteland into food production. Alara has already shown how this can be done. They have started three local projects - a permaculture garden, an organic vineyard, and a community food garden, for their employees and the local community to enjoy.

The projects illustrate the benefits of waste reduction and investing in the environment. Alara hopes that others in the community will follow suit.

compiled by Nigel Deacon / Diversity website, from information supplied by Ed Inett; reproduced by permission