Cox's Orange x Jonathan. Introduced 1974. Can be excellent, with aromatic flavour. Rather coarse flesh, tough skin. In poor years can have metallic taste and bitter skin, inherited from its Jonathan parent. Also known as Malling Kent.

G.D. adds - raised by H.Tydeman at East Malling Research Station. Heavy cropper and regular. Conical fruits with orange-red flush and stripes. Good aroma. A Cox seedling, outyielding Cox. Keeps until Feb.

Pictures (click on small images for detail):

Fruit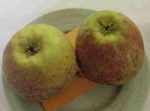 ....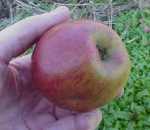 ....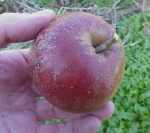 compiled by Nigel Deacon / Diversity website