Interesting member of the 'Solanum' family which I encountered for the first time at Ventnor Botanic Gardens, I.O.W.

Blossom picture below; click on the thumbnail for more detail. Very strong resemblance to a potato flower. The fruit are egg-shaped, about the size of large acorns; bitter but said to be edible when they turn from green to bright orange and finally red. More ornamental than edible; I only ever ate one.

The plants are not winter hardy. They can reach a height of 8ft or more in places where there is no frost, but in the Midlands they usually die during the winter, and the only realistic way to keep plants going is to collect the seed.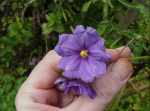 .....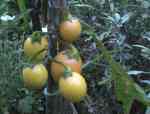 .....
compiled by Nigel Deacon / Diversity website