Jessica Brown (aka Jessica Mitic) is a young writer and producer for radio and is the daughter of radio producer Gary Brown.
Until now, most of Jessica's writing has been for theatre, but in 2014 her first radio play "Lost or Stolen" was broadcast as part of a series of new plays by young British dramatists. She has now finished another play which will be broadcast in Nov 2016.
The following is a listing of some of the radio plays in which she has been involved, most recent at the top of the page.

10 Nov 2016: Superstar Me
By Jessica Mitic. Comedy about two unlikely travelling companions backpacking across Thailand. Mike is searching for cultural enrichment, whilst Laura is searching for the perfect selfie. Laura: Gwyneth Keyworth, Mike: Liam Williams, Dada: William Thomas, Anna / Polly: Gwawr Loader, Guide: Jeffrey Ho. Producer: Helen Perry; director: James Robinson.

18 Apr 16: The Busker
By Joe Ward Munrow; his first radio play. (therefore eligible for the Imison Award). Actor and singer Brian Protheroe, who was in the pop charts in 1974, stars as an elderly busker on the London Underground, where Joe's real-life father is a licensed busker. When a young man stops to listen to his music, Wilfy's life takes an unexpected turn. Wilfy: Brian Protheroe, Richard: Dylan Edwards, Anna: Caroline Burns Cooke, Melissa: Nicola Ferguson, Billy: Ewan Bailey, Gary: Sam Rix. Producer: Jessica Brown.

9 Oct 15: Cuttin' It
By Charlene James. Two Somali teenagers go to the same south London school. They are from the same place and share a secret. Muna: Susan Wokoma, Igra: Nahel Tzegai, Mr. Dennis: Chris Pavlo, Leila: Hermione Amoah-Alexander, Muna's Mother: Suheba Mohammed. Producer: Jessica Brown. BBC Radio Drama London. This play was the winner in the "best single drama" category (judged by Kate Chisholm, Hattie Morahan and Roy Williams) at the Audio Drama Awards presented at the end of January 2016.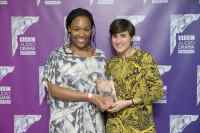 Edited extract from a review by 'thebiggj'
- see the complete review at http://mylondontheatre.co.uk/2015/10/28/cuttin-it-radio-4/
....a star writer and a great play which seems perfect for radio. That may be, in part, thanks to a subtle, intelligent and well-crafted production for BBC Radio 4. Everything works to build layers of the story, including the repeated snatches of Rihanna's Diamonds straight from the music on Muna's phone. The direction, by Jessica Brown, and the soundscape from the studio team help to take you right inside the lives and minds of two people.

The acting from Susan Wokoma and Nahel Tzegai is restrained and convincing. Muna and Iqra were both born in Somalia. They're both poor in a way that George Osborne will never comprehend. Muna's been in England for ever, and Somalia means those sweets her grandma used to give her. Iqra only arrived four months and six days ago. A refugee from a war that's killed the rest of her family. She's staying with an aunty who's not an aunty. And trying to keep the memory of her brothers alive in her imagination, as a way of not losing them completely...


ND note: This is a play whose main focus is the practice of female genital mutilation (FGM). As writer Charlene James said at the Audio Drama Awards: this is not just a practice occurring in foreign places with unpronounceable names; it is happening here in the UK. Producer Jessica Brown said: "As soon as I read Cuttin' It, I knew we had to do it for radio. It's such a powerful and relevant play, the characters are so truthful and beautifully written. And the story takes you somewhere, without you even realising."


Comment from the Sheffield Telegraph:
A statement on the Sheffield Safeguarding Children Board said: "It is acknowledged that some FGM-practising families do not see it as an act of abuse. However, female genital mutilation has severe significant physical and mental health consequences both in the short and long term, and must not be excused, accepted or condoned."

Read more: Sheffield Telegraph article

18 Mar 15: Dot
By Ed Harris. Dot's had quite enough of making tea in the Cabinet War Rooms. When she finds a cryptic message in the newspaper she enlists the help of her gals Myrtle and Pearl. Can they catch the spy? And will it prove to be the big break Dot's been waiting for? Dot ....... Fenella Woolgar, Myrtle ....... Kate O'Flynn , Pearl ....... Roslyn Hill, Millicent ....... Jane Slavin, Peabody ....... David Acton, Ken ....... Stephen Critchlow. Producer ....... Jessica Brown.

22 May 14: Lost or Stolen
By Jessica Brown, in the series "Ten Plays by New British Dramatists". A couple meet as they share a taxi after a night out in London. They are drawn to each other. Their unusual love story takes a turn when Sarah steals Dan's mobile 'phone. The couple: Annabel Scholey and Tom Bennett; other parts played by Michael Bertenshaw. Producer - James Robinson; BBC Wales.
Comment from the 'Sponditious' blog:
It made me think about what it is like to be a teenager and learning to get along with other people and working out how other people think and operate. Much of the dialogue was of the inner voice of each of these two characters and the conflict came from the difference between what they were thinking and what they ended up actually saying.

Short interview with Jessica Brown:
The idea came about because I wanted to write a modern-day 'rom-com'. I wanted it to be contemporary, and firmly set in London. The play is essentially about loneliness: what it's like to live in a big city with so much going on around you but essentially having no-one to share it with.

From the very beginning, I could hear Sarah and Dan's voices very clearly in my head, so it seemed natural to use them. I guess the play is about identity. Sarah pieces together Dan's identity though his 'phone, though looking at his messages, his internet dating profile; Dan pieces together who he thinks Sarah is through what she's told him - which may or may not be the truth - and what he imagines she'd be like, and what he hopes she's like.

I've mostly written for the theatre before, and this is my first radio play. I loved the idea of using inner voices, and creating a visual soundscape so that you felt you were with the two characters on their journey; they were telling you excatly how they felt and what they were experiencing. This was important in the writing of it, to be 'in the moment' with them.

29 Nov 13: On the Rocks: Spies
4-part series by Christopher William Hill, broadcast weekly, beginning 11.30am, 29 Nov 2013. It's set on the remote Scilly Island of St. Martin's in 1937. The islanders are resisting the attempts of the Penzance GPO man to modernise the post office - around which their world revolves. 30m. Episode titles: 29 Nov:Spies, 6 Dec: Omens, 13 Dec: Movies, 20 Dec: Barter. Cast: Frank Gunwallow ..... Joseph Kloska, Mary ..... Bec Applebee, Grace ..... Christine Absalom, Tommy ..... Stuart Fox, Ben ..... Alex Palmer, Len ..... Ed Gaughan, Tregarthan ..... Peter Marinker, Morwenna ..... Alex Tregear, Pender ..... Christopher William Hill, Anthony ..... David Seddon. Produced by Mary Peate. Sound by Jenni Burnett, Anne Bunting and Graham Harper. Production Co-ordinator: Jessica Brown.

19 June 13: London Bridge
By Nick Perry; Dangerous Visions series. Set in the future, London is divided in two. North of the river is a virtual police state. South is a lawless no-go area. When the body of young boy washes up on the banks of the Thames, a police detective crosses the dangerous divide in the search for his killers. Preston .... Justin Salinger, Ellis .... Tim McMullan, Amory .... Robert Blythe, Mrs Roberts .... Gabrielle Reidy, Paul Roberts .... Jerome Holder, Archer .... Nicholas Murchie, Smith .... Michael Shelford, Hajee .... Will Howard, Pathologist .... Joanna Brookes, Medic .... Hannah Wood, Martha .... Philippa Stanton, Christopher .... Isaac Andrews, Security Guard .... Ben Crowe. Producer: Sasha Yevtushenko. Production Co-ordinators: Jessica Brown, Selina Ream. Editor: Colin Guthrie. Studio Managers: Cal Knightley, Keith Graham.