Please note that this is the UNOFFICIAL WEBSITE for the International Radio Drama Festival. The latest material on this page is posted at the TOP; older information is lower down.
The OFFICIAL festival website is at radiodramafestival.org.uk/festival-2022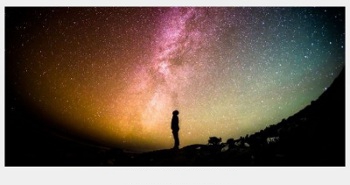 Welcome to our page about the 8th UK International Radio Drama Festival.
How does the festival work? 2021 2022

Detailed notes on the plays heard.
..........................................................................

WINNERS
All of the winners were judged and selected by the entire jury, by vote. They were:
SHORT FORM
1st: Masa
2nd: Vicious Dishes
3rd: The Dictator's Portrait

LONG FORM
1st: Let Me Tell You
Joint 2nd: Dans La boue et L'acier / Mondi Possibili
3rd Tu seras un homme papa

DEACON AWARD: YOUNG PRODUCERS
Winner: Hannah Tookey of 'This Little Rock', UK, for Two By Two

PICTURES FROM THE AWARDS PRESENTATION
Nicholas McInerny introduced Frances Barber to present the first two awards; Frances is well-known in radio and other circles and spoke for a few minutes about her career in radio. She has appeared in over five hundred radio dramas since the mid-80s; one of her most recent was 'Break of Day' by Colette, adapted by Nicholas Mcinerny, which was actually recorded when she was trapped in France, by Covid restrictions. The other members of the cast, all in England, were in their own homes, connected by computer links. The wonders of technology!
Thanks were given by Jonathan Banatvala to all of those who had participated in making the week so successful.
* * *
Nicholas McInerny, Jack Klaff, Frances Barber, Nigel Deacon, Pete Cudmore; second picture shows our jury chairmen Florent and Sebastian, with Oana and the winner of the long-form drama, Marta.
Florent being commended for his play by Jonathan; second picture shows Nigel speaking about the new award for young producers.
Applause for the winners; second picture shows Florent chatting to Xenia.
Festival director Jonatham Banatvala; visitor (last year's chairman of the jury) Jack Klaff.
Many thanks to Enric Thier for the photographs.
* * *

Nigel Deacon then made a few remarks (see below) about radio drama and the work of the festival before revealing the winner of the Young Producers' Award.
"Radio Drama is an intimate medium. It speaks to you directly; perhaps more so than any other art form. The works we have heard, from across the world, illustrate its enormous range, diversity and richness.

This award is for the best audio drama of the festival by a young producer.

We've heard some fine work by young producers over the last five days, and it's clear that quality is not dependent upon age. As we were reminded in Zurab's short audio piece, radio drama is always under threat.

We encourage you all to keep carrying the torch. As listeners rather than creators, Alison and I would like to thank everyone for the work you do in bringing radio drama to the listening public. "


NOTES ON THE WINNERS
SHORTS
MASA (Spain)
A soundscape constructed from archive recordings of political protests. From Laura Romero, Spain.
VICIOUS DISHES (Switzerland)
A comic look at two foods: Lucrezia Borgia's Belly Button and Caesar Salad. From SRF Swiss Radio.
THE DICTATOR'S PORTRAIT (Rumania)
A short, vivid glimpse into life in Rumania, three days before the 1989 revolution. From Portable Theatre, Timisoara. Produced by Rulaca Grumazescu.

LONGER PLAYS
LET ME TELL YOU (Poland)
A moving portrayal of the way Alzheimers disease has affected one family's life. By Marta Rebzda; Polish Radio Theatre.
CO(S)MIC (S)TRIP: MONDI POSSIBILI (Italy)
In German and English: A space voyage that began inside a toilet bowl leads an astronaut to stroll around the solar system. Structured like a comic strip in the form of a baroque opera. A spectacular soundscape of music, sounds and texts which is a pure musical delight. It even features a jazz fugue. Constructed, produced and recorded by Steffano Gianotti.
DANS LA BOUE ET L'ACIER (Belgium)
A construction worker: his conflicts at work affects his family life. The story of an imploding man and his exploding life. From Le Collective Wow, Belgium. Producer: Florent Barat.
TU SERAS UN HOMME PAPA (France)
A sensitive play about the birth of a very premature baby. From Arte Radio.

YOUNG PRODUCER'S AWARD
TWO BY TWO
Radio 4 Extra, 7 Jul 21: Two elephants with outrageous French accents bicker about how to cross an unexpected ocean. Where have all the other elephants gone? Producer: Hannah Tookey.
27 Mar 2022


A FEW PICTURES FROM THE FESTIVAL
Click the small pictures for a larger view.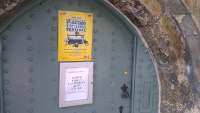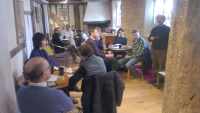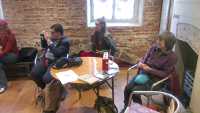 The way in; introductions from Jonathan; Enric, Anna and Alison intent.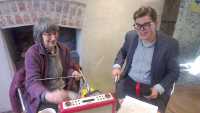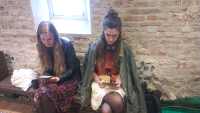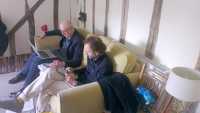 Enric: an early interview; Anna and her sister; Johann and Sebastian.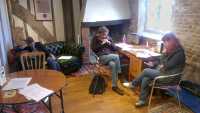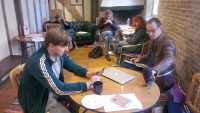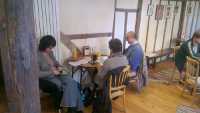 Alex and Raluca; Kristian and Dmitri; Marta, Oana and Steffano.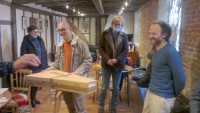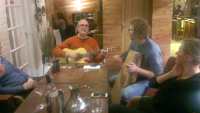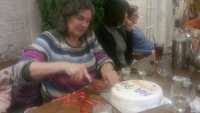 A birthday; Steffano sings assisted by Alex; Mel cuts the cake.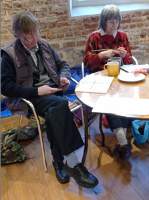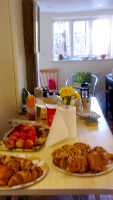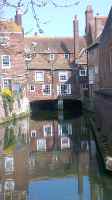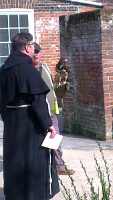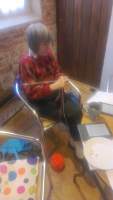 Nigel and Alison concentrating on an early morning play; the morning cake ration; the medieval hospital; keeping the pigeons off the roof; the play has finished; the knitting continues.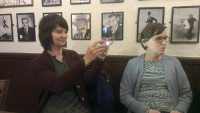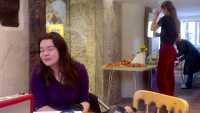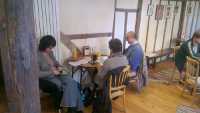 One for the album; Daisy; Marta, Oana and Steffano.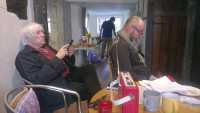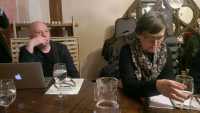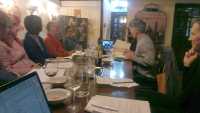 Jack and Nicholas; the jury: Johann and Oana concentrate; lively discussions; video links to Chuse (Spain), Christina (Czech Republic) and others via the computer on the end of the Long Table - as if they were in the same room. Our first hybrid jury combining face-to-face and international discussion. And ... I almost forgot: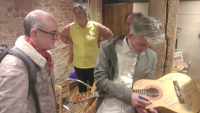 Florent advising Steffano on Flemish fingering.
27 Mar 22

FESTIVAL, DAY 1
Enric Thier interviews some of the participants and listeners in the festival at the end of day 1; click the link to hear it:
...day 1 impressions...
27 Mar 22

LATE ADDITION - UKRAINE PLAY
We're also hosting a live performance of a radio drama broadcast simultaneously from Kiev and Warsaw on Thursday evening at 7.30pm. Actors in both cities at this difficult moment in time for Ukraine. The play is in Ukrainian but if you register for the tickets you'll get the translation.
This was heard by over 2000 people in the first 24 hours .... it's now below and the play is online, along with the script.
There is some pre-play chat, and the play itself starts at 12 minutes and lasts for about an hour.
The title is 'A Time Traveller's Guide to Donbass'.

ABOUT THIS EVENT
The UK International Audio Drama Festival 2022 is back for an in-person event after 2 years online-only. A unique chance to hear wonderful audio drama lasting from 1 minute to 1 hour. A whole range of languages but English translations provided . A rare chance to hear work from other cultures and other countries. Everyone welcome to join the jury discussion at the end of the day and even to join the jury and make awards. Thanks to sponsors, ALCS, Arts Council England and Nigel and Alison Deacon.

For EVENTBRITE links to register, free, please click here
For the complete offical programme of plays, click here to print. The summary of it is below.

PROGRAMME
UK International Audio Drama Festival 2022 : Hang Out Our Banners
Programme as of 12 March
Live listening Eastbridge Hospital, High Street Canterbury
Online listening via hosted sessions in real time please sign up at
https://www.eventbrite.co.uk/o/uk-international-radio-drama-festival-18813576579
NB this programme is indicative and subject to amendment, including at short notice

The festival will begin on the Monday with welcomes, introductions and jury selection.
Listening will begin at around 10.30 am on Monday, 10 am the rest of the week.

Producer/Title/Country/Length

MONDAY
Janacek Academy, Life Under The Microscope, from Czech Republic, 21m
Xenthia Pettburg, Shadows, from the Netherlands, 59m
Documental Theatre, Three Chords and the truth, from UK, 24m
Laetitia Salsano, Au Secours, from Belgium, 22m
LUNCH
DWS Audio, Keep Your Friends Close, from UK, 18m
HRT Croatia, Down By Law, from Croatia, 41m
DWS Audio, Refugee,Snowball, Rad Skydive, from UK, shorts
Greg Arundell, Pete - a petrol station love story, from UK, short
Radio TV Suisse, Les Bisons Ravis, from Switzerland, 39m

TUESDAY
Czech Radio, A Study of Aphasia, from Czech Republic, 41m
Icebox radio, Sweep, from USA, 39m
Resonar, Trase I espejo, from Spain, 11m
Nicholas Rochette, La Ruee Vers l'Autre, from Canada, 59m
Christina Marras, the Smell of Naphtha I am a Podcaster, from Italy, 17m
LUNCH
Sud West Funk, The Cat Inside, from Germany, 55m
Benjamin Peel, The Student Who KNows, from UK, 13m
Polish Radio Theatre, Let Me Tell You, from Poland, 40m
Czech Radio, Hitchhiker Mystery Hitchhiker thriller, Hitchhiker war drama, shorts
Care and Feeding of werewolves, Missing Werewolf Report, from US, short
EVENING
Online event with Podbean and Ken Bentley, You And Your Audience, online 6.30-7.30; book a ticket.

WEDNESDAY
Quirky Voices/Sarah Golding, Rosa Krantz and Gilda Stern Aren't Dead, from UK, 20m
Radio Romania, Solaris, from Romania, 59m
Le Collectif Wow, Dans La Boue Et l'Acier, from Belgium, 37m
Steffano Gianotti, Mondi Possibili, from Italy, 52m
AFTERNOON - an opportunity to explore Canterbury or visit London

THURSDAY
Radio Art, Dr. Faustus Lights the lights, from Sweden, 36m
IRIB, Artist, from Iran, 21m
Dean Drinkel, the Tale Eaters, from UK, 29m
Chelmsford Community Radio, Untitled Pantomime, from UK, 49m
This Little Rock, Two By Two, from UK, 15m
LUNCH
Swiss Radio and TV, The Mechanical Turk, from Switzerland, 40m
James O'Neill, The Scarlet Cross, from UK, 18m
Bremen Zwei, Do You Like Emily Dickinson?, from Germany, 55m
Benjamin Peel, Breakdown, from UK, short
Catalina Florina Forescu, In her head, in the kitchen, from Romania, short
Georgia Public Radio, Do We Need Shakespeare?, from Georgia, short
Laura Romero, Masa, from Spain, short
Portable Theatre Timisoara, The Dictator's Portrait, from Romania, short

FRIDAY
Ryan Walker Edwards, Safari, from UK, 14m
Arte Radio, Tu Seras Un Homme Papa, from France,47m
Georgia Public Radio, Me,Granny,Iliko and Illarion, from Georgia, 28m
RTV Vojvodina, Survival for Fourth Graders, from Serbia, 53m
LUNCH
MA Scene Nationale, La Nuit Peut Tomber a Tout Moment, from France, 57m
Christian Elming, Onsdag, from Denmark, short
SRF Swiss radio, Vicious dishes, from Switzerland, short
Radio Romania, Avec Mes Amis, from Romania, short

Jury deliberates and votes; award ceremony and dinner; all welcome.

For my easy-to-print version of the above, single page, click here

IN-PERSON LISTENING SESSIONS
The UK International Audio Drama Festival 2022 will be offering free in person listening sessions, online collective listening sessions and a special event to talk about getting your podcast audio drama to an audience. Wonderful work in 15 languages!
5 days of brilliant audio drama from 18 countries in 15 languages. Listen live, with other people and a cup of tea. Drop in or stay all week.
Location: Eastbridge Hospital of St Thomas the Martyr, 25 High Street, Canterbury, CT1 2BD

ONLINE LISTENING SESSIONS
The UK International Audio Drama Festival 2022 will be available for real time collective online listening in our new hybrid festival format
Listening to audio drama with others is a rare treat! After the success of last year's online festival, we are offering those who cannot make the journey to Canterbury, the opportunity to enjoy the spirit of the festival but online. Hosted, collective zoom sessions will bring the festival to you where you are and enable you to share the joy with others around the world. We hope also to enable remote participation in the jury sessions too.
..........................................................................
..........................................................................

THE 8TH INTERNATIONAL AUDIO DRAMA FESTIVAL - LATEST
As we emerge from a global pandemic into an uncertain world, so gather again to celebrate the special pleasures of Audio Drama.
The 8th International Audio Drama Festival is titled 'Hang out your banners' and takes place at the East bridge Hospital in Canterbury from 21 – 25 March 2022.
Click on   360° Tour - East bridge Hospital – for a live tour
71 submissions from 18 countries in 15 languages – from Iran to Denmark, Georgia to Sardinia – and by far the largest we have ever had – this is the only outward looking Audio Drama in the UK. From this embarrassment of riches, we have picked 34 plays for the Long Form category and 11 for the short form.
This is a hybrid festival – where you can either join actual listening sessions with your fellow enthusiasts or listen to the plays online.
However, the jury will be live, and we are delighted to welcome Florent Barat and Sebastien Schmitz from Le Collectif Wow (Belgium) and previous winners, who will co-chair.
In addition to the Awards for the Long Form and Short Form we are also able to announce a new Award – the Deacon prize for a young producer – a wonderful way to look to the future in this ever-expanding world.
So why don't you come and join us at the Eastbridge which has welcomed pilgrims to this beautiful city since 1190 – or join us online through the link on our website – and experience the amazing and varied ways of telling stories to each other – stories in which we find our common humanity and our mutual respect.
https://radiodramafestival.org.uk/
We'd like to thank both the ACE and ALCS for their continued support
Nicholas McInerny

WHICH PLAYS ARE INCLUDED IN THE FESTIVAL?
Final selection of plays included in the festival is here.
The schedule, with broadcast times, will be shown soon. After the joint listening sessions, the plays will be made available online.
1 Mar 2022

ABOUT THE UK INTERNATIONAL AUDIO DRAMA FESTIVAL
Our festival is the UK's only celebration of audio drama from across the globe; we hold it every year in the last week of March in Canterbury.
Our 2021 Festival was held entirely online with great success, but we are pleased that we will be able to welcome everyone back to Canterbury and the Eastbridge Hospital for an in-person festival this year. Last year taught us that online access enabled people very far away or unable to travel to join us, and to dip in when they felt like it. We'll be keeping that as an option too.
This year's title: "Hang Out Our Banners".
27 Feb 2022

Comment from a recent festival, from Kate Chisholm, writing in 'The Spectator'.
It was weird to hear people around me laughing at the jokes in RTE's Surviving Ireland drama-documentary as if there was a studio audience, only to realise the laughs were coming from inside the room, not out of the radio set on the sideboard. It probably also makes you more open to the unusual, more willing to keep listening, to be taken out of your comfort zone. But the festival is also intended as an opportunity to bring to the UK plays from across the world.


INTERNATIONAL RADIO DRAMA FESTIVAL
We invite you to the annual Audio / Radio Drama Festival which will be held in-person and also online on five successive days, 21-25 March 2022.
Florent Barat and Sebastien Schmitz from "Le Collectif Wow" who won a few years back with 'Beaux Jeunes Monstres' will be chairing the jury. The venue is the Eastbridge Hospital in Canterbury.
We have had a record 71 submissions, which is why it's taking a while to finalise who will be featured in the festival. The plays submitted are from 18 countries in 15 languages, and this includes a sharp rise in entries from North America, which previously was rarely represented.
All being well we are expecting jurors from about 8 countries.
There will be four substantial prizes: best drama (short form), best drama (long form), the audience award and a new award, the Deacon Award, for the best play by a young producer.
Winners of the awards (apart from the audience award) will be decided by the jury on the Friday.
We are planning a couple of additional events plus an outreach programme for the Herne Bay community, which is where some of the earlier festivals were held.

WHAT ABOUT ALL THOSE LANGUAGES?




2022 Entries
We are now past the deadline, and there are plenty of entries. More information soon.
18 Jan 2022


REMINDER - ONE MONTH LEFT FOR SUBMISSIONS
You still have one month in which to submit your radio or audio drama for the 2022 festival. We are looking for:
*Full length dramas
*Short Form dramas
*International applicants
*Producers of all ages

This year we have a new award for Producers under 35 - we are keen to hear your work.

Deadline is 10 Jan 2022. Download the application forms and regulations from this page:
10 Dec 2021


THE 2022 FESTIVAL IS NOW OPEN FOR SUBMISSIONS
We're excited to announce that our 2022 Festival: "Oh Brave New World" has opened for submissions with a closing date of 10 January 2022.
There are two categories for this year's event: full length and short form. Cash prizes are available in both categories for the winning works chosen by the jury. Application forms and regulations are available on the website.
The regulations and appplications forms can be found on the Festival website, here .
The festival will take place at the Eastbridge Hospital in Canterbury from 21- 25 March 2022.
And we are very much looking forward to welcoming everyone back in person for a week of wonderful listening, and conversation.


Announcing our new Deacon Award
We are delighted to announce that there will be a new award next year for young producers under the age of 30. The Deacon Award will chosen by the jury from the shortlisted works. This award is generously sponsored by our long time supporters, Nigel and Alison Deacon.
25 Oct 2021


Back to Canterbury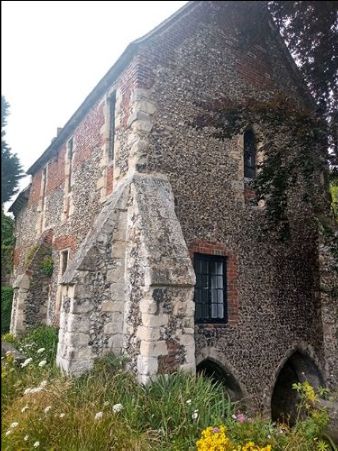 We're thrilled to confirm that we will be returning to Canterbury from 21-25 March 2022 for next year's festival which will be held in the lovely surroundings of the Eastbridge Hospital - a former pilgrim's hostel and now an almshouse.
The venue has a range of public spaces, many with interesting historical associations and an extensive garden.


A whole new blended event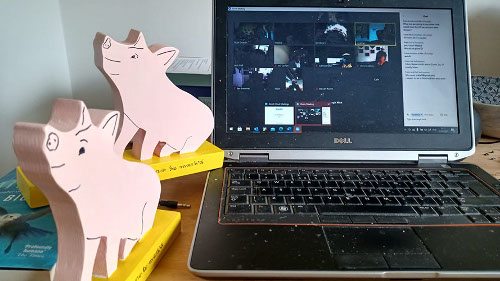 We are very much looking forward to welcoming everyone back to Canterbury for an in-person event. There is no substitute for a conversation over a cup of coffee or pint of beer and the opportunity to get to know people and their work in more depth. And we know how much audiences love listening to audio drama together.
But we also understand that a range of constraints will always prevent some people from travelling so we are building on the success of last year's online festival and will ensure that anyone can tune in remotely too.
Feel free to contact us if you have any questions.

SUBMISSIONS
Deadline is 10th Jan 2022
We can't wait to listen to the amazing works you send us this year. Hope to see you all in Canterbury!
To get in touch with the Festival team, please email radiodramafestival@gmail.com


FULL SCHEDULE FOR LAST YEAR'S FESTIVAL
Schedule for radio drama festival: title, time, country of origin, name of production team.
https://radiodramafestival.org.uk/wp-content/uploads/2021/03/Schedule-of-listening.pdf
Jury sessions will be at 5.30 each day and will last about an hour. Those who have listened to all of the plays on the five days can be considered for a place on the jury.
Full programme, with notes on each of the plays:
ND, 20 Mar 2021

LAST YEAR'S SCHEDULE, SUMMARY

MONDAY
1330 To the infernal rhythm of the bomba, from Belgium, in French, 21m
1355 Walking in My Sleep, from USA, in English, 27m
1430 Leaba An Bhais, from Ireland, in Irish, 45m
1515 Room With No Windows, from Egypt, in Arabic, 37m
1600 Zamolxe, from Romania, in Romanian, 35m
1645 All Go Kaboom, from USA, in English, 6m
1650 Bzzzzz! from Czech Republic, in Czech, 5m
1655 Dans La Tenaille (entre le coq et le fou), from Belgium, in French, 7m
1700 Declaration of Love audio anthology: Constellation, in English, 7m

TUESDAY
1330 Helena, from Germany, in German, 57m
1435 Paper Man, from UK, in English, 18m
1500 Cerna Voda, from Czech Republic, in Czech/Serbian/English, 48m
1600 Bauhaus, from Serbia, in German, 10m
1610 Earth Day, from UK, in English, 7m
1620 Everyone/Everywhere, from Belgium, in French & English, 6m
1625 Kelner weiss was, from Austria, in German & English, 4m
1630 No Milk Today, from UK, in English, 3m
1635 Noc plna prani, from Czech Republic, in Czech, 3m
1640 Note From J.J., from Georgia, in Georgian, 7m
1645 Nothingnesslessness, from Belgium, in English, 6m
1700 Safety First, from UK, in English, 5m

WEDNESDAY
1330 Oil On Water, from Spain, in English with Igbo & Yoruba, 57m
1435 Wie Mij Prikt Ga U Prikke, from Belgium, in Flemish, 15m
1450 Remnants, from UK, in English, 59m
1600 Dans La Creux Dangereux, from Belgium, in French, 26m
1630 Send to Sender, from UK, in English, 3m
1635 Series 3 - Stottie Shields, fromo UK, in English, 5m
1700 Stories about People - The Egyptian, from Germany, in English, 6m

THURSDAY
1330 Selkie,from UK, in English, 37m
1415 Sufletul Pereche / The Other Half,from Romania, in Romanian,39m
1500 En La Ausencia. Capitulo 16.
1510 The Cat Inside, by W.S.Burrows, from Germany, in German, 54m
1610 Pilot, from India, in English, 7m
1616 The Boxer, from Spain, in English, 4m
1626 Togetherness, from England, in English, 7m
1630 Maasat Shitan, from Egypt, in Arabic, 7m
1635 3 minutes of silence, from Belgium, in Dutch/Romanian/English, 3m
1640 About The Future, from Belgium, in German, 7m

FRIDAY
1230 The Hunting Season, from Georgia, in Georgian, 46m
1320 TKO by D.Z.Mairowitz, from France, in German, 52m
1420 Tri zivoty Dmitrije Sostakovice...from Czech Rep, in Czech, 51m
1520 Vila, from Czech Republic, in Czech, 5m
1525 Vocaloptomy, from UK, in English, 7m
1530 Wordsworth Writes, from UK, in English, 4m
1535 Ali Mama, from Egypt, in Arabic, 7m
1540 20-second dramas

Times may vary slightly.

EASY-TO-PRINT-SINGLE-SIDE-SUMMARY
...The Team, 20 Mar 2021


TO REGISTER FOR THE LISTENING SESSIONS...
To register for the listening sessions, which take place in the afternoons UK time, click the link: https://www.eventbrite.co.uk/e/uk-international-audio-drama-festival-listening-sessions-tickets-143689931453
We will send people a zoom link shortly before the event. The start time will be announced soon.
1 Mar 2021

COVID ISLAND DRAMAS, 3
Jonathan Keeble, radio actor, and voiceover artist, interviewed by Clive Perrott.
Covid Island, episode 3


COVID ISLAND DRAMAS, 2
Jack Klaff, actor, writer and academic, interviewed by Maureen Younger.
Covid Island, episode 2

COVID ISLAND DRAMAS, 1
Nigel Deacon, radio drama collector, chemist and apple breeder, interviewed by Jack Klaff.
Covid Island, episode 1



Sitemap