Please note that this is a page DEDICATED to the International Radio Drama Festival; it is NOT the official website. The latest material on this page is posted at the TOP; older information is lower down.
Selected plays are gradually being listed in alphabetical order of country, below.
The official festival website is at radiodramafestival.org.uk

This event is now ticket-only. Please click HERE to register for your FREE ticket. Thank you.
LATER NOTE ... This year's festival is online only. We will be having the next live festival early next year; stay tuned!



COVID ISLAND, EPISODE 2
Jack Klaff, actor, writer and academic, is interviewed by Maureen Younger.
Covid Island, episode 2
Jack was also interviewed by Michael Berkeley on "Private Passions", on Sunday 27 Sept, choosing music by Schubert, Beethoven and Maria Callas. At the time of writing, the programme is still available:
Private Passions
3 Dec 2020

COVID ISLAND, EPISODE 2
This is now being compiled and will be available fairly soon.
14 Aug 2020

COVID ISLAND DRAMAS
Being kept under 'lockdown' is a bit like being trapped on a desert island. Isolation and not a lot to do. The UK International Radio Drama team decided to use the 'Desert Island Discs' format and to ask a guest to choose 8 favourite radio dramas, one tune and a favourite lockdown memory to keep forever.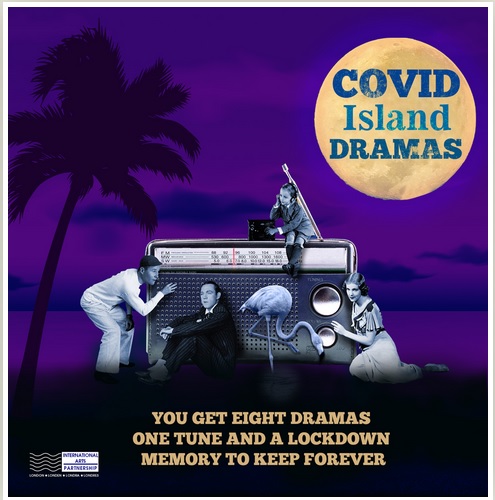 This is the first episode, hosted by Jack Klaff. Guest is Nigel Deacon, radio drama collector.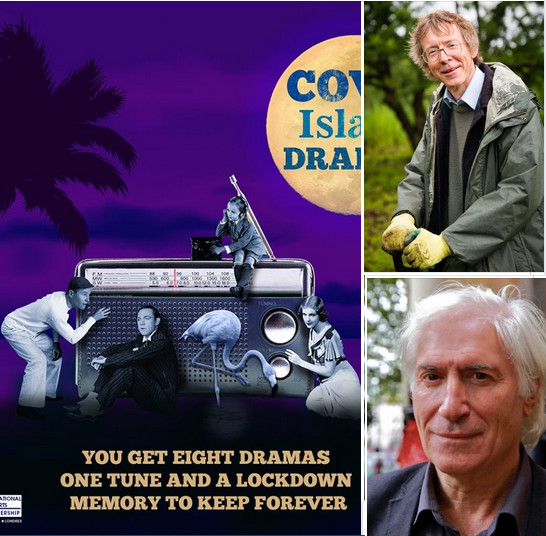 Radio Drama enthusiast, and owner of Diversity Website - Radio Drama, Nigel Deacon joins host Jack Klaff to discuss which Radio Dramas would make it on to his Covid Island and why.
About Nigel: Nigel is a man of many talents and interests; he is an accomplished pianist and a composer; a breeder of rare apples; formerly a science teacher - and most importantly for UK International Radio Drama Festival, a radio drama enthusiast. Nigel's website "Diversity" has the most complete catalogue of radio drama produced by the BBC. His website - originally a gift from his wife - has lists of radio plays dating back to 1943. Along with a comprehensive catalogue, Nigel has an encyclopedic knowledge of the plays and has listened to most of them.
Our host, Jack Klaff, was due to chair the jury at this year's (still postponed!) festival. Another polymath, Jack describes himself as an actor, writer and academic. His greatest claim to "fame" comes from playing a James Bond baddie and for roles in Star Wars and Red Dwarf But he has also been professor of public understanding of science in Brussels and held an academic post at Princeton. He has also written plays himself, including co-writing the UK's entry into The Speak Softly Shop, also available on our website.
9 Jul 2020

COVID-INSPIRED DRAMAS: TOGETHERNESS (UK)....2020
By Jack Klaff and Nicholas McInerny. Produced by International Arts Partnership, 'Togetherness' has been hailed 'a work of genius' by Susie at Star Inn, Old Heathfield. A short form work inspired by the Covid-19 pandemic, this 7 minute drama gives a snapshot response to England's wave of community volunteers. Recorded in lockdown, via Zoom, this recording reflects the versatility and determination of producers and teams across the world who have worked creatively to form their entries into The Speak Softly Shop. Ed: Clive Perrot, Bea: Jackie Stirling, Samuel Pepys: Jonathan Keeble, Kathrine Mansfield: Mufrida Hayes, Giovanni Boccaccio: Jack Klaff, Franz Kafka: Peter Svatik, Daniel Defoe: Cavin Cornwell. Directed by Jonathan Banatvala, edited and mixed by Justin Farndale, production coordination by Jimmy Fay: created for the The Speak Softly Shop; producer Melanie Nock, Artistic Director Jonathan Banatvala.

UK ONLINE INTERNATIONAL RADIO DRAMA FESTIVAL
The Speak Softly Shop:
A season of newly made shortform dramas from around the world. They are created as a response to the pandemic and are a powerful reminder of the versatility of audio drama as an art form. Covid 19 made us postpone the 2020 festival but it brought this extraordinary cycle of work:
https://radiodramafestival.org.uk/works/
The Speak Softly Shop is an international cycle of new short-form work inspired by the Covid-19 pandemic. We asked contributors to make a piece under 7 minutes which was in some sense a snap-shot response to their country's experience. As much as nation to nation, they are a quiet word; person to person. Some came in over 7 minutes; but these recordings have all been about rule-breaking. Each has been made during the pandemic and under unusual secret recording conditions. They reflect the versatility and determination of producers and their teams who have had to work creatively and nimbly. We will be adding to the season as we go so come back often.
The Plays:
SWEDEN:
Will It Last? Produced by Dark Duck Studio, Sweden
ENGLAND:
Togetherness Produced by International Arts Partnership, UK
SPAIN:
Ralph Produced by Escuela de Radio TEA FM Spain.
GERMANY:
Sprache Mein Stern Produced by Radio Berlin Brandenburg, Bavarian Radio 2 and Deutschlandfunk Kultur 2020, Germany
BELGIUM:
Everyone Everywhere Produced by Le Collectif Wow, Belgium
ITALY:
Supermarket Produced by Instituto Barlumen Italy.
GEORGIA:
Note from JJ Produced by Georgia Public Radio
22 May 2020


NOTES COMPILED AFTER LISTENING TO THE PLAYS


THE BOXER AND THE BOMBER
In English. A little-known episode from Irish history. Based on a true story. It's St. Patrick's Day, 1923. The civil war has been raging in Dublin for nearly two years. The new state has started to execute dissidents to try to restore order. Public amusements are to be shut down. Amongst this chaos is staged the world championship boxing match, between the Senegalese "Battling Siki", the current champion, and Mike McTigue, the Irishman. McTigue's Wikipedia page is worth a look; it makes no mention of the events surrounding the bout, or the nature of the result. 38m.
5 Apr 2020

THE FUN THEY HAD
In Spanish. 7-minute short. Based on the well-known short story by Isaac Asimov, set a century into the future. Children learn individually at home from a robotic teacher. One day, a young girl's neighbor Tommy finds a real book in the attic of his house. Margie remembers what her grandfather used to tell her about school in the olden days, before the robots came.
5 Apr 2020

THE LESSON
David is bullied violently at school. Depressed and isolated, he gets revenge from after finding someone to help him from an internet chat room. However it escalates out of control. It is not so much a play as a parable about the nature of evil and how it can spread. The drama was a finalist at the Audio Drama Awards 2020 in London.
4 Apr 2020

OF MYTH AND MAGIC
A musical from California.
4 Apr 2020

THE VAMPIRES OF KILLASPLEEN
By Jason Gill; producer Alan Meany; Ireland, 50m. A comic vampire tale from Ireland. If you like Irish blarney you will love this.
3 Apr 2020

THE DAY OF THE MARTIANS
This is by H.E.Wilburson; in English. An unusual sci-fi tale; Earth has lived through one Martian invasion and they think another one is coming. Somewhat underplayed; the interest is in the story. Not drama as such, but a reading (monologue) with good sound effects and background music.
2 Apr 2020

AUTOPOESIS
Last night's play was from Belgium and in French. It illustrated the much wider range of what is regarded as 'radio drama' in other parts of Europe. No real plot or story; it was a sound collage with an interesting soundscape, which would have been in the 'experimental' category if it had aired on radio 3 in English. It seemed to me to be a represntation of what flashes through the mind of a person having an operation, whilst under the influence of anaesthetic; a curious mix of sound images and monologue and dialogue, some linked, some not. It would have helped (since I am not good at French) if there had been some explanatory remarks; it took a while for me to work out what I was listening to.
31 Mar 2020

ONLINE PLAYS
It has been decided that the plays selected for the festival, and others, are being made available online for people to hear during the coronavirus period. Please see the festival website link above. I am listening to an hour's worth of plays each evening. So far I've heard a little-known story by Dickens (THE GOBLINS AND THE GRAVEDIGGER) and THE LEISURE OF CAPTAIN HOSTE.
The Dickens tale tells of a mean-spirited man who is shaken into altering his life when a goblin gives him a glimpse of his fate if he doesn't.
The Captain Hoste story was based on true events; one of Nelson's sea captains who earned his money sinking French frigates used to moor his ship at the remote Croatian island of Vis. For relaxation he played cricket with his crew and some of the islanders. Hoste wrote home about it at the time, and said he hoped the islanders would continue to play it after he left, but it didn't catch on. However in 2001 a resident of Vis discovered his letter in the book Remember Nelson by Tom Pocock. He showed it to his neighbour, Oliver Roki, 31, a winegrower, who was fascinated by the passion for the game which the letter evoked and decided with some friends to try to re-start the game. Mr Roki said: "together with other people here we looked into what cricket involved. We'd never played it, but now it is talked about by everyone. Sir William Hoste's letter struck a chord and it just went from there." (see Daily Telegraph, 23 March 2003; a quick internet search for "Island of Vis" "Cricket" will find it.)
1 Apr 2020

IMPORTANT ANNOUNCEMENT - FESTIVAL POSTPONED
Given that so many of our international friends are unable to travel next week, we have taken the reluctant decision to postpone the festival until the autumn. We are very disappointed about this but we have a festival all ready to go and look forward to celebrating the end of the lockdown with superb radio drama later this year. Thank you all for all your support and understanding.
16 Mar 2020

CORONAVIRUS
A number of countries have imposed travel restrictions, which has implications for us. Many of our delegates and visitors are not from the UK - it's an international festival. Please stay tuned......
14 Mar 2020

JURY CHAIRMAN
I am pleased to report that the chairman of the jury for the festival will be Jack Klaff, who has wide experience of radio drama.
11 Mar 2020

PROVISIONAL SCHEDULE DAY BY DAY:
MONDAY
10.00 Welcome
10.30 13m, Dad's Ashes, in English
10.45 21m, To the Infernal Rhythym of the Bomba, in French & Spanish
11.15 26m, Munch and Munch, in Croatian
11.45 9m, &nbsp This is a poem that heals fish, in Slovenian
12.00 22m, Late Awakening, in Danish
12.30 23m, The Lift, in Farsi
LUNCH
14.00 52m, Frequency Interference, in English
15.00 26m, No Words, in English
15.40 41m, The lesson, in Spanish
16.15 44m, When weather was Wildlife, in English

TUESDAY
10.00 45m, Christie, in English
11.00 58m, Radio Amateur, in Polish
12.15 38m, The Boxer and the Bomber, in English
LUNCH
14.00 15m, Bots & Spammers Dating Club, in Russian
14.15 49m, A funeral march for the first cosmonaut, in English, German and Arabic
15.10 33m, The Cavendish Gift, in English
15.45 4m, &nbsp The other side of the bridge, in Lithuanian
15.50 6m, &nbsp Secret Voyage, in Serbian
16.00 4m, &nbsp Lili Marlene - Serbian cutting, in Serbian
16.05 6m, &nbsp Love, in Slovenian
16.15 55m, The Wonderful World of Dissocia

WEDNESDAY
9.30 &nbsp 35m Macbeth, pt.1, in English
10.10 34m, Human Things, in Polish
10.55 4m,&nbsp Tattoo, 4m, Automated, 6m, Alien. All in Czech
11.15 30m, Doubt is our Product, in English
11.45 6m, &nbsp In Transit, in English
11.52 4m, &nbsp Birds on a Wire, in English
11.56 3m, &nbsp Public House, in English
12.00 23m, The Call of the Void, in English
12.30 23m, Schools in Marseilles, Watch the Work, in French
13.00 41m, Autopoiesis, from Belgium and in French
LATE LUNCH (no afternoon session)

THURSDAY
10.00 17m, The Day the Internet Stood Still, in English
10.20 33m, Several ...episodes about Soaps, in Georgian
10.45 17m, Ess...y, in Czech and Slovenian
..........4m, A Christmas Story, in Spanish
..........6m, War News, in Farsi
..........1m, To Clear Conscience, in Russian
..........7m, Toys, in Romanian
..........7m, The Fun They Had, in Spanish
..........3m, Three Minutes of Silence, in Dutch
11.30 55m, Fifty Shades of Dave, 1, in English
12.30 7m, Mom Kills the Giant, in Romanian
12.40 10m, The Listening Jar, in English
LUNCH
13.45 50m, Kosingas - The order of the Dragon, 1, in Serbian
14.45 47m, Someone should walk the Dog, in Slovenian
15.35 13m, The Project, from Italy and in English
..........7m, Previously, 1 - The Party at the Country Club, in Italian
..........7m, Fly Me, in French
..........7m, Grandfather and Grandmother, in Polish
16.15 28m, All Of These Things, in English
16.45 42m, 101 FM, in Romanian

FRIDAY
10.00 57m, Hanna, a life from the perspective of the Securitate, in German
11.00 50m, The Goblins and the gravedigger, in English
12.00 47m, Pig's Weather, in French
12.50 43m, The Beautiful Now, in English
13.40 6m, Next Revolution, Please! in English
..........4m, Adore, in English
..........3m, Consumers, in English
LATE LUNCH (NO AFTERNOON SESSION)

COPY FOR PRINTING
***************************************************************


THE PLAYS

BELGIUM - INFERNAL RHYTHM
Davilara is a living legend of the bomba, a percussion instrument played in the Chota Valley, a remote area inhabited by communities of African descent in Ecuador. But one day, the Devil himself comes to challenge him. Way up, at the top of the mountain, the musician has to prove his courage, his dexterity, and his endurance. A story to listen and dance to, for people aged five and over.(in French & Spanish) 20m.

BELGIUM - THREE MINUTES OF SILENCE
By Wederik de Backer. The story of the quietest car ride I ever experienced. (in Dutch) 3m.

CANADA - DAD'S ASHES
By Pilgrim Falcon Productions. This tells the story of a man who wakes up in a strange motel room, unable to remember how he got there or what happened to the urn with his dad's ashes. In this play, actors were asked to learn their lines and perform as if it were a stage play or movie rehearsal. (in English) 13m.

CANADA - FREQUENCY INTERFERENCE
Montréal-based musician and radio producer Julia E Dyck invites listeners to immerse themselves in a live sci-fi drama in five acts. The play explores concepts of automation, posthumanism, and the relationship between identity and voice. It also looks into the potential of publicly-accessible sonic infrastructures. (in English) 52m.

CROATIA - MUNCH AND MUNCH
By Jasna Mesaric (1893 – 1910). The scream. He felt it was everywhere – in the throat, the tongue, the forehead, nails … in the sky … in the sand. As if it were all one image of the painting: "A man thinking about his failed life".The play is inspired by Munch's "The Scream" along with his other paintings, diaries, and letters, along with the philosophy of Friedrich Nietzsche. The soundscape is by Marija Pecnik Kvesic. "An almost-demonic radiophonic vortex of questions dealing with the uncompromising quality of art". (in Croatian) 26m.

CZECH REPUBLIC - TATTOO
Imagine the situation of a fifty-year-old guy wanting a tattoo... But of what? And where? To be original without risking that half of the town of Šumperk will have the same motif, or to blend into the tattooed half of the town. To avoid having the name of an ex-beloved eternalised,what about having an ostrich added to the tattoo? Should it be hidden from sight or visible to everyone? It's not easy to decide. Also - will it hurt? (in Czech) 4m.

CZECH REPUBLIC - AUTOMATED
"It's just going to sting a little", says the nurse to a patient in an intensive care unit while giving him an injection to alleviate his pain. The automated voice will use the same sentence after the patient uses the keys on his mobile phone to opt for death. In our technologised times where there are automated systems for everything – from coffee machines to photo booths – why couldn't there be one to leave this world? A process provided, for example, by Celestial Repose, Ltd. (in Czech) 4m.

CZECH REPUBLIC - ALIEN
Deep universe, mother ship and a computer on which the life of the crew depends gets out of control during the crew's hibernation and interrupts the mission. Because there is a foreign element onboard. Nervousness escalates and so does the appetite for a cigarette. The crew is getting ready to hunt for the unknown organism that doesn't let itself be caught off guard and pretends to be a repairman. The computer intervenes again. (in Czech) 5m.

CZECH REPUBLIC - ESS...Y
The broadcasting of essays by students from the radio/TV script/drama dept. at Janácek Academy of Music and Performing Arts in Brno is suddenly interrupted by strange sounds. A mysterious voice is trying to connect with his management in Prague. Fragments of conversation blend with student essays. Are we still listening to the show or should someone have pulled the plug? The radio play is by students of the Janacek Academy, broadcast by Czech Radio Brno in the cultural programme Zelný rynk. (in Czech and Slovak). 17m.

DENMARK - LATE AWAKENING
A modern adaptation of a well-known Danish short story, written in 1828 by Steen Steensen Bliche. It's about lust, secrets and death in a small village. This is the first time the story has been told in a modern language. (In Danish) 23m.

FRANCE - FLY ME
Fly Me takes place somewhere inside a woman's brain. Or mind. Or interior design. Somewhere between the earth and Jupiter. Somewhere between her dead car and her brand new space rocket. Maybe reality is even a part of it, but I wouldn't be sure about it. 7m. (in French)

GEORGIA - SEVERAL AMUSING AND SOMETIMES THOUGHT-PROVOKING EPISODES ABOUT SOAPS
Any kind of joke contains a grain of truth. So does our radio-joke about soaps. In the Soviet Union all the soaps used to have their own names. After the Soviet symbols, soap manufacturers favored opera most of all. The soaps "Carmen", "Tosca" and "Chio –Chio-San" were once very popular. This inspired the authors to create this interesting radio piece. (in Georgian) 33m.

GERMANY - A FUNERAL MARCH FOR THE FIRST COSMONAUT
A radio-poem by Etel Adnan and Ulrike Haage. On April 12, 1961, Yuri Gagarin with the spaceship Vostok 1 orbited the earth in 108 minutes, writing space history. Barely seven years later, the space pioneer died in the crash of his MiG near Moscow. The cause of the accident is still not exactly understood... [Ulrike was the winner of the 2019 Radio Drama Festival (feature length category) with Andreas Ammer.] (in English, German and Arabic) 50m.
Lebanese-American poet, philosopher and painter Etel Adnan was interested in the space programs of the great powers. Gagarin particularly impressed her. In 1968, after his death, she wrote the eleven-part poem "A Funeral March for the First Cosmonaut", a metaphor on flights of fancy and crashes of mankind.

Fifty years after its release, Etel Adnan entrusted the typewritten version to composer and pianist Ulrike Haage. Ulrike composed an experimental requiem and at the same time a radio-poem in which text and sound, composition and improvisation, singing and voices, languages and noises are intimately linked.

GERMANY - WHEN WEATHER WAS WILDLIFE
The desire to influence weather patterns is as old as humanity itself. At present, climatologists, poiticians, economists and the military are discussing options to modify the chemical and physical properties of the atmosphere up to the stratosphere on a global scale. In the human age, geo-engineering has replaced ritual and religious invocations. Today we are confronted with a jumble of dystopies, concrete plans to save the planet, terror, facts and fake, whether we like it or not.
This audio piece joins historical and up-to-date documents: descriptions of a volcanic eruption two centuries ago, Byron's poem "Darkness" from 1816, the Year Without A Summer, patents in geo-engineering from the US Patent office, rituals on Mount Etna and apocalyptic storms, lost idylls and bizarre soundscapes. *(in German). 44m.

GERMANY - HANNA, A LIFE FROM THE PERSPECTIVE OF THE SECURITATE
By Senta Hofer, who says 'Based on my family's security police files from Romania in the 70s and 80s, "The Hanna Files" gives insights into the life of the journalist Helga Höfer (my mother) from different perspectives." There are 850 pages of wiretap transcripts, copies of the family's letters, police action plans, description of persecutions, informants' reports and personal memories from a child's and adult's perspectives, along with interviews with witnesses. There is also TV-archive material from the 80s. In spite of the seriousness of the narrative it is essentially a positive story. (in German) 57m.

GERMANY - THE BEAUTIFUL NOW
By Susie Kahlich. The play is an Opera Electronica following the journey of life in 7 movements based on Shakespeare's Seven Ages of Man. It is written for a 4-part spoken word chorus, with each text written in a genre reflecting that particular stage of life. For example, "childhood" is nursery rhymes and fairy tales, "adolescence" is a power ballad and diary entries, "wisdom" is a minimalist poem... and birth and death are abstract poems reflecting each other: birth starting with many voices that distill into one (solo), and death beginning with one voice that diffuses to many, thus beginning the cycle of life all over again. (in English) 43m.

IRAN - WAR NEWS
By Mahdi Azari. Exploring old style radio drama such as Orson Welles', this short radio drama reports on an ongoing war. From Iran (in Farsi). 6m.

IRAN - THE LIFT
Using a rarely-used style in radio drama, the play tells of a young woman going on a magical journey after getting stuck in the office lift. She was the last person to leave the office just before the New Year holiday. (in Farsi) 23m.

ITALY - THE PROJECT
The Artist, an Italian, has a big project. He has it translated into English and goes to London to meet an important theatre producer. He has to contend with the hostile behaviour of the producer's guard dog. (in Italian) 13m.

ITALY - THE PARTY AT THE COUNTRY CLUB
Two narrators give introduce an array of situations and become characters and actors themselves. The different sections are linked by words and sound. Each episode lasts 7 minutes and ends where it had started. This is the first episode of a future series. (in Italian). 7m.

THE BOXER AND THE BOMBER
Based on a true story. Dublin, St. Patrick's Day 1923. A bloody civil war has been raging in the city for almost two years. Brothers, sisters and friends have often found themselves on opposing sides. In an attempt to restore order the new state have started executing dissidents in large numbers. Opposing forces react by calling for a compulsory period of national mourning. All public amusements are to be shut down. Those staging or attending public events risk exposing themselves to terrorist attacks by the opposition. It sounds like the perfect time to stage a world championship boxing match in the city. What could possibly go wrong? (in English) 38m.

IRELAND - CHRISTIE
Marie & Joey are from the Liberties area of Dublin. They are a match made in heaven but the challenges they face in trying to become a family, with baby on the way, in modern-day Dublin can be hellish. The plucky couple carry on regardless. It's the only thing to do. (in English) 45m.

POLAND - RADIO AMATEUR
A docudrama about events from late 1950s and early 1960s, restricted and not generally known to the public. The key person is Stanislaw Jaros, a self-taught electrician from the mining region of Poland who constructed and detonated two bombs. The first targeted the Soviet leader Nikita Khrushchev "visiting" Poland at the time and his companion Wladyslaw Gomulka, the first secretary of the communist party of Poland. The second targeted Gomulka alone. We learn the history from secret services' documents, archived investigation and trial records, and stories from eye witnesses. The drama shows the broader context of the decade of relative calm after the period of political terror. The title comes from a monthly magazine used by Jaros as a source of knowledge about wireless technology which he used to conduct the attacks. (in Polish) 58m.

POLAND - GRANDFATHER AND GRANDMOTHER
A story about old people and the end of life. (in Polish) 7m.

POLAND - HUMAN THINGS
This is a story about common everyday objects. They may trigger astonishing memories, thoughts, and tales. What we say about them can be intriguing. But wouldn't it be interesting to hear what they have to say about the way we, the humans, use them? What do they say about themselves, and about us? (in Polish). 34m.

ROMANIA - TOYS (short)
A dramatic version of the poem by Marin Sorescu, part of the volume of "Don Quixote's Young Years (1968)". (in Romanian) 7m.

ROMANIA - 101 FM (feature length)
A playful scenic commentary on the themes of identity, the relationship with one's own nature and the legacy of the past. We cannot choose either.(In Romanian) 42m.

ROMANIA - MOM KILLS THE GIANT
The play explores the mechanisms of memory triggered by tuning in to Krapp's Last Tape by Samuel Beckett, on the kitchen radio. The character, who is old by now, rememorates a dramatic childhood episode, perceived with a child's innocent eye and with a fantastic fairy tale aura. Mother and child walk back home at night, crossing a city wrapped in darkness. On their way they meet an aggressor which the mother desperately tackles. The child perceives the fight as a struggle with a giant.7m. (in Romanian)

ROMANIA - TOYS
A poem by Marin Sorescu, part of the volume of Don Quixote' s Young Years (1968). A view of life, facing the loneliness of old age and yearning for lost childhood. In this version of the poem, the drama of life unfolds in Grandma's mind. 7m. (in Romanian)

ROMANIA - 101 FM
Great grandmother's 100th birthday gives an opportunity to examine some of the facets of Romania's history. Great grandmother's house, described as an old radio, tunes in to the frequencies of family members, but only Toma, the adolescent grandson, can tune in properly to great-grandmother's message. The relationship with one's ancestors and the legacy of the past is something which we cannot choose. The story is viewed through Tomas's eyes. (in Romanian) 42m.

ROMANIA - ADORE
Two or more covered strangers dancing to the mantras of our modern days adoration. A real-fake encyclopedia of the categories we adore, presented as a carefully-crafted soundscape. The sequence is taken from "The Great Scheme Of Things" - a multidisciplinary project made of an LP, a performance involving dance, visuals and theatrical elements, a concert, and an experimental film. The authors, Cristian and Gabriela Fierbinteanu (www.fierbinteanu.com) are a multi-laureate independent art duo. (in English) 4m.

ROMANIA - CONSUMERS
A glossy acoustic-textual-musical experiment on the theme of Consumerism. The piece explores the passivity lying behind any activity involving political movements. (in English) 3m.

RUSSIA - BOTS AND SPAMMERS DATING CLUB
A Russian story (oontz.ru) about unwanted spam calls. Who said that audio dramas have to be serious? A Christmas Story by Viva Voice UK is one of the short dramas in this year's festival - dedicated to all those who live Christmas with a very different perspective to the one that appears in TV commercials or Hollywood movies. (in Russian) 15m.

RUSSIA - TO CLEAR CONSCIENCE
A sound joke. Listening to it should clear your conscience! 1m. (in Russian)

SERBIA - KOSINGAS
On the eve of the great battle of Kosovo, the Order of the Dragon of the Serbian knights finds itself confronted by the fulfilment of the ancient Oracle of Fire, according to which one of their own knights will forever stop the onslaught of hordes of creatures from Hades. While the knights get ready for the final battle, the powers of the Hades try to kill the Warrior from the Oracle and an invisible, silent war is fought between the old Slavic faith and Christianity. (in Serbian) 50m.

SLOVENIA - SOMEONE SHOULD WALK THE DOG
This is a drama about a dying man, his former girlfriend and his father. A single day of the man's life is presented to us. What does a man do when his time has almost run out? This is not easy to answer, and what matters cannot always be spoken. The text was originally written for the theatre. It was performed with great success in Croatia and elsewhere and later made into a film. In 2018, it received the award for foreign drama at Les Journées de Lyon des auteurs de théâtre, the most notable contest for playwrights in the French-speaking world. It was shortlisted for the Prix Italia 2019. (in Slovenian) 47m.

SLOVENIA - THIS IS A POEM THAT HEALS FISH
Zoja, a young girl, is trying to find a poem to help her fish Leon, who is dying of boredom. The drama is rather like a children's picture book. It encourages us to hear everyday sounds in a completely new contextand to find poetry in prosaic, seemingly dull things. The drama allows the audience to experience wonder and the magic of the world around them. (in Slovenian) 9m.

SPAIN - THE LESSON
David is, like many other teenagers, a victim of school abuse. He is depressed and isolated. Without the support of parents able to understand the magnitude of the problem, he finds help in an internet chat room - "The Lesson", which gives the support he needs. (in Spanish) 41m.

SPAIN - CHRISTMAS STORY
This short piece is dedicated to all those whose Christmas is not the same as the ones in the movies. In the words of the writers: "we wanted to get the attention of the listeners with a wake-up call and a reflection about the times we are living in." (in Spanish). 7m.

SPAIN - THE FUN THEY HAD
Based on the short story by Isaac Asimov. It is set in the year 2157, when children learn individually at home from arobotic teacher. One day, a young girl's neighbor Tommy finds a real book in the attic of his house. Margie remembers what her grandfather used to tell her about school in the olden days, before the robots came. 7m. (in Spanish)

UK - FIFTY SHADES OF DAVE
This has been best described as an honest exposé of the perception of male mental health in modern society. Part One of this podcast - based on the writer's life and narrated by the troubled character of 'Dave' - is included in this year's festival in the feature length category. It contains strong language and themes of an adult nature, plus accounts of grief and suicide.(in English) 55m.

UK - NO WORDS
Naomi is in Rome with her husband Robert who is a fashion photographer. As problems start to develop in their relationship Robert becomes more and more absent with his photography while Naomi becomes absorbed in art; in particular, the sculpture Apollo and Daphne by Bernini which becomes a metaphor for her predicament. (in English) 26m.

UK - MACBETH
Macbeth by Almost Tangible is a 4-part adaptation of William Shakespeare's epic drama about ambition, passion, power and betrayal. After being told that one day he will be king, Macbeth embarks on a path of murderous treason, stopping at nothing to seize the throne. (in English) 35m.

UK - IN TRANSIT
Katy is waiting for a train; so is Harley. Both are on-route to job interviews – and the prospect of a new life. But when Katy recognises Harley as the object of her school-girl dreams, a different horizon suggests itself. Is this chance encounter fate, or false dawn? (Darrick Wood School; 6m short. In English)

UK - BIRDS ON A WIRE
Ever wondered what your pets really think about you? Or what the birds actually say to one another? Suburban Tales looks at life from the perspective of the birds and animals that inhabit our towns and cities. Hetty the House Sparrow just wants a place to sit and enjoy the sunset. Sadly for her, a bunch a starlings have other ideas. (Darrick Wood School; 4m short. In English)

UK - ROUGH DIAMONDS: PUBLIC HOUSE
Set in a fictitious secondary school, the play follows the lives of a group of students and sixth formers at Danson Wood High School. Meet Year 11's Oscar, Harry and Jade. In this episode, Oscar and Harry go in search of alcohol. (Darrick Wood School; 3m short. In English)

UK - THE DAY THE INTERNET STOOD STILL
From BBC Sounds, 18 Sep 2019. The internet goes down for just one day, and we follow diverse stories of the seismic event. (in English) 17m.

UK - THE LISTENING JAR
Geoff is abroad and about to seal the business deal of his career. Then his personal assistant Margot goes missing in a local bazaar. The souvenirs she finds there are listening, they areand prising the lids off everyone's darkest secrets. 10m. (in English)

UK - ALL OF THESE THINGS
A play about lost love, found love and secrets, written by Stella Feehily. It was commissioned by International Arts Partnership for the 2018 International Radio Drama Festival with the specific needs of an audience of people with early-stage dementia in mind. The play is made up of a series of connected episodes. Each can be enjoyed on its own and offers a complete story – but they link together to make a longer drama. (in English) 28m.

USA -DOUBT IS OUR PRODUCT
Following the release in 1964 of the Surgeon General's report linking cigarette smoking to lung cancer, Hill & Knowlton, the biggest public relations agency in the U.S., was engaged by RJ Reynolds. The agency devised a PR campaign to cloud the science behind the Surgeon General's report. The title "Doubt Is Our Product" was taken from a quote by a Hill & Knowlton executive when asked what they did for a living. I tried to imagine what it may have been like back then, inside the H&K conference room brainstorming that campaign. As the story takes place in 1964, I also wondered about the attitudes of the people in the room, towards smoking and towards each other. Produced by Joseph Graceffo and Scratched Up Radio Theater of Redding, CA; aired by KKRN Radio (88.5 FM located in Round Mountain, CA) on 18 March 18. The station is also available online at KKRN.org. [summarised by ND] (in English) 30m.

USA - THE GOBLINS AND THE GRAVEDIGGER
Adapted by ky Kenny Chumbly.It is Christmas Eve. A wretched gravedigger stands on the brink of doom, and his only hope is a band of goblins. This is taken from an early Dickens story included in the Pickwick papers in 1836. It bears some resemblance to A Christmas Carol (1843) but instead of ghosts, there are goblins; instead of Evenezer Scrooge, there is Gabriel Grub. Both stories occur on Christmas Eve; both involve the redemption of a mean, miserable old man. The Goblins has all the warmth, drama, joy, and love of Christmas Carol. Because it is Dickens, it is familiar; because it is a forgotten Dickens, it is fresh.

SWITZERLAND - PIG'S WEATHER
By Benoit Bories (Switzerland / RTS Espace 2). In 1939, before the advance of Franco's troops, hundreds of thousands of Spaniards and Catalans crossed the border of the Pyrenees to take refuge in France. This desperate and forced retreat, called "Retirada", was experienced by Mercedes, Floreal, and Joaquim. They finally arrived in the Tarn and Garonne, near Toulouse. Joachim was locked up in the Septfonds concentration camp, which could be transformed nowadays into an industrial pigsty, an unbearable symbol for Spanish exiles and their descendants who remind everyone of the painful memory of these places. (in French) 47m.
***************************************************************




THE ENTRIES
The first stage has been completed successfully; approximately 70 entries from about 20 countries. The organisers are now selecting the ones which will be aired during the festival. This is the only drama festival to use paperless technology rather than printed scripts.
31 Jan 2020

CALL FOR ENTRIES
This takes place in Canterbury again in 2020; five days, M-F, 23-27 March 2020. Venue is the Eastbridge Hospital. Keep the dates free in your diary! Website is at http://radiodramafestival.org.uk
The festival brings diverse work from across the world, introducing a UK audience to the European tradition of radio drama often anchored in soundscape whilst celebrating our own more text based tradition. The festival provides a UK audience with the rare pleasure of listening to radio drama in other languages, supported by English language translations of the script. It also brings together work from national broadcasters with that of emerging independent producers.
It is organized by International Arts Partnership, a theatre producing company.
Both full length and short form dramas are welcome. There will be awards for the best in each category as well as an audience award.
Entries are open from now until 19 January 2020.
4 Dec 2019
----------------------------------------------------------------------------------------

Welcome to our page about the 6th UK International Radio Drama Festival which will take place from 23 – 27 March 2020.
The festival is currently being planned. Information will be posted here as I receive it, subject to my time constraints. This year's theme is: FOR ALL BENEATH THE MOON
NOTE THAT UPDATES ARE POSTED AT THE TOP OF THE PAGE
24 Nov 2019



Sitemap