Karting at Sutton Circuit, Leicestershire, 2015
Sutton Circuit, South Leicestershire:
on YOUTUBE; also on Facebook and Google+
JAMIE'S RACE REPORTS:

Many more race reports, Oct - Nov 2015, on the Race Reports page of the Suttoncircuit website.

September 2015
Wednesday Night Championship Round 6 Race Review (Part 3)
The final group was led away by Peter James Kitchener for their first race, with Richard Warren and Richard Andrews just in toe. The action started straight away when on the opening lap, Glynn, who had started in 5th place, spun out after he locked his rear brakes at the hairpin. Tom Wilkinson went left and Jon Pembleton had to jink right to avoid a collision....


August 2015
26 Aug: Wednesday Night Championship Round 6 Race Review (Part 2)
Group two was set and ready to pick up the action following the events of the group one racers. Mike Waterfield led them away after he secured Pole Position, followed by Todd White and "Ducati" Don Bowen. Looking back, it was another intense line-up for the second tier group, with Russell Lewis, Kai Rose, Martin Taylor, Mark Bates, Simon Lee and an impressive group two appearance for Jack Warren filling out the rest of the field.

24 Aug: Ladies' Night
We interrupt the usual race reports for a very special write-up. On Tuesday 18th of August, Sutton played host to a ladies night of karting. In a complete role reversal, it was Sutton's regular championship runners watching from the side lines rooting on....their mothers.
The sense of excitement, nerves, and all around enthusiasm was felt by all as the ladies strapped on their son's lids, donned some snazzy Sutton overalls and slipped on some protective handwear.
Full report on the Suttoncircuit website.

Wednesday Championship Round 6 Race Report (Part 1)
It was a beautifully gorgeous evening as Sutton's flagship series entered its second half. Jam Wesson secured pole position ahead of Tom Kitchener, with Isaac Raine doing a super job to line up third. Kallum Jones and Alex Harding were fourth and fifth respectively while it was another impressive qualifying run from Graeme James who placed sixth. Connor Smith also made the top flight with Bryan White bagging the final spot.....

Team 175 Round Three Review
There was a full grid of teams out in force once again at Sutton circuit for the latest instalment of the Team 175 series. Thank you to everyone who came to support the event, it was a brilliant race with battles up and down the field. So the teams were:
Kart 1: Ian Noddy Noden & Neil Summers
Kart 2: Ian Williams & Ash Steventon
Kart 4: Jake Chilton & James Hanessy
Kart 5: Jamie Wesson & Bryan White
Kart 6: Don Bowen & Sean Cassidy
Kart 7: Luke Hornsby & Karl Spencer
Kart 8: Kurt Partridge & Dave Windridge
Kart 9: Alex Haydon Williams & Andy Summers
Kart 10: Richard Warren & Jack Warren
Kart 11: Sam Foster & David Foster .......
For the full reports, see the Race Reports page on the Suttoncircuit website.
FASTEST OF 2014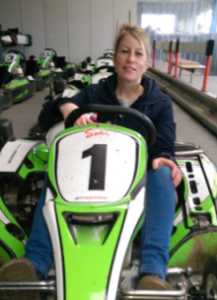 &nbsp &nbsp &nbsp


....in under-85kg and over-105kg categories: Rachel Summers and Bruno B.

Karting - the most exciting sport, with the possible exception of Formula 1.
Some videos filmed at Sutton Circuit are highlighted above; other karting resources are shown further down the page.


SUTTON CIRCUIT ...................................archive......2014


OTHER KARTING ON YOUTUBE
Lewis Hamilton
1998 footage
Filmed at Buckmore Park, 1998
Dirt Track Racing
Lost Creek Raceway
From Southern California
Winter Cup
action & clips
Highlights from 2014
Lewis Hamilton
Buckmore Park, 2014
Lewis returns to the track where he learned to race


SUTTON CIRCUIT WEBSITE:
www.suttoncircuit.co.uk



PUBLICATIONS & OTHER SITES
Karting Magazine
You'll need to be on Facebook for this link:
https://www.facebook.com/kartingmagazine
UK Karting News
www.karting.co.uk/news.html
This site provides comprehensive information on karting in the UK.
Retroracer
www.retroracer-hks.com
For anyone interested in Historic Kart Racing as competitor, spectator or enthusiast.
Real Historic Kart Club
www.trhkc.com
The club charts and preserves the history of Kart Racing. Based in UK Midlands.
British Historic Kart Club
www.trhkc.com
Home of historic and vintage karting in Great Britain.
Historic and Classic Kart Photographs
www.np.rpsys.net/hckc
Site run and maintained by Nick Purdie to assist in the promotion of karting.



OLDER POSTS
LEADERBOARD
2 Jan 15 .................................. 24 Jan 15

....

....




ND, Diversity website